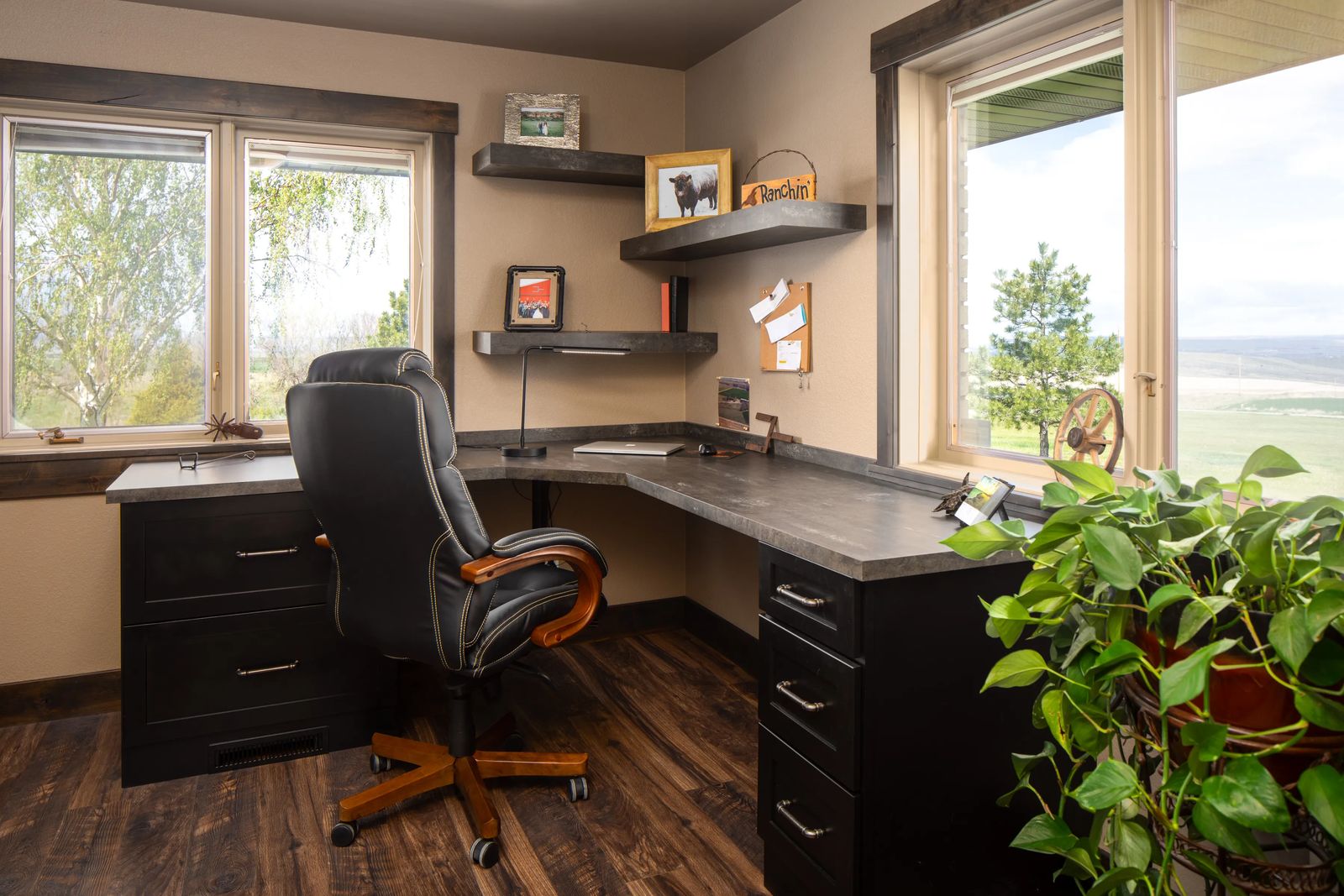 Home Office Revamp
Creating a Sacred Space for Thought & Creativity
A sacred space inspires thought and creativity. In our home, the place to ponder, dream and accomplish is the home office. Whether we are writing our next novel, generating a contract or paying bills, this room should allow for efficiency and productivity while giving light to reflection.
During the COVID-19 pandemic, our offices provided an escape. While working at home, this was the place we walked to in our pajamas in the mornings instead of getting dressed and starting up the car. This was also where we went to separate from our family, to collect and regroup.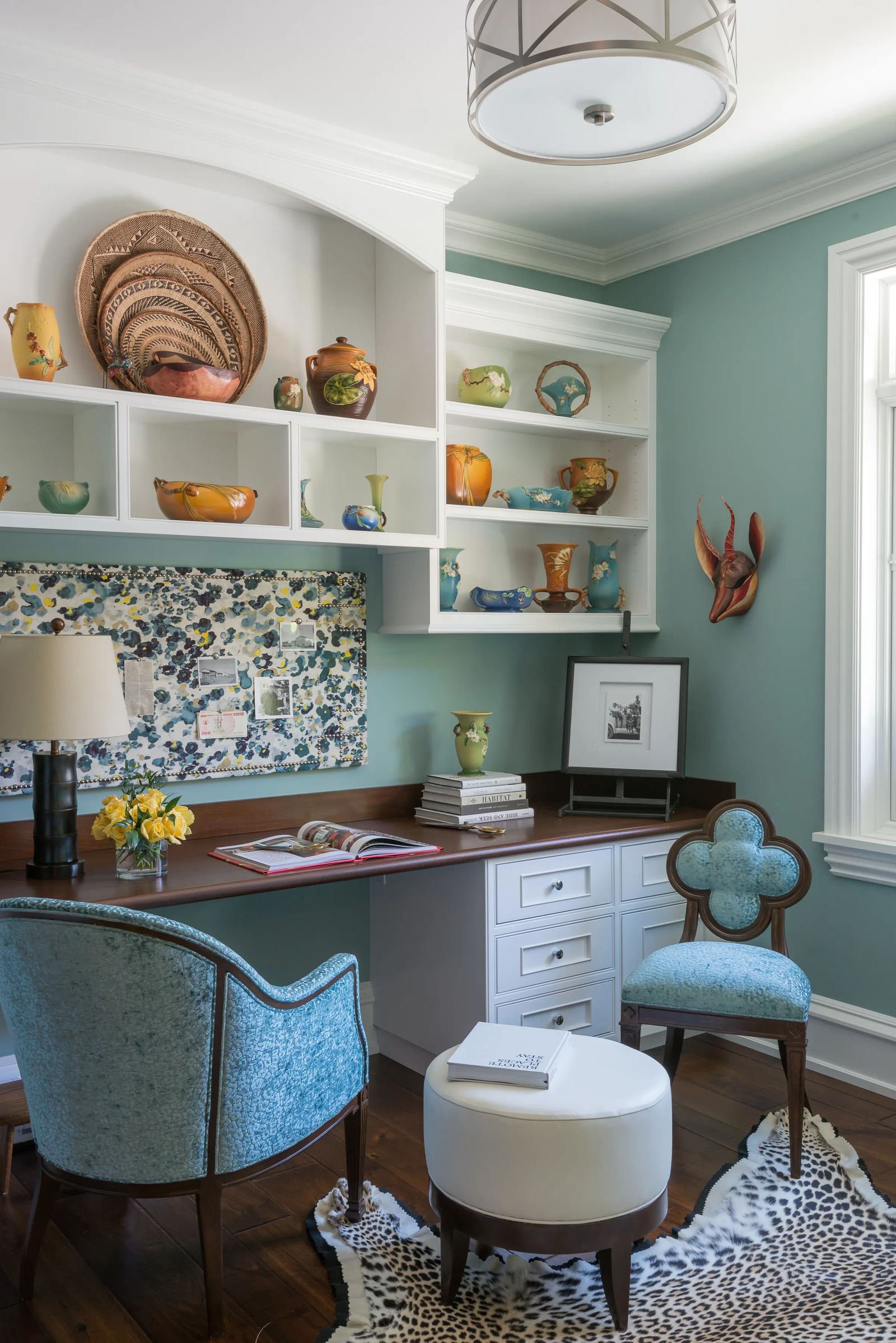 FOCUS ON FUNCTION
Designer Jeremiah Young of Kibler and Kirch focuses on functionality when embarking on a project. The standard furnishings in a study/home office are a desk and a chair, but there are other things to consider when transforming it into a sacred space.
"We address the architecture first. What are the confines? Then, what are the needs of the client?" he says. He considers the practical necessities initially because he is confident that "we will always create something beautiful" in the end.
Young acknowledges a study/home office as a very personal space. In one of his latest projects, the owner's pottery collection began the conversation on the design. Young's challenge was putting together "a place of reverence," and solving the question, "How are we going to display her treasured collection?"
"The whole idea of that space is a place that gives her energy, brings her delight, makes her happy," Young says. It is a place that she can claim as her own, somewhere she can "close off and shut the world out."
With a client who is an adventure traveler, Young designed a place that expressed elegance and femininity camouflaged with wild undertones. Chairs covered in leopard print and a pinboard patterned with wildflowers subtly whisper the spirit of the untamed, and the colors of orange and blue show confidently in the room. "With that shock of color, it is impossible not to be happy," Young said. The colors of ocean and spice are lifted by white bookcases and anchored by a rich walnut desktop and floors.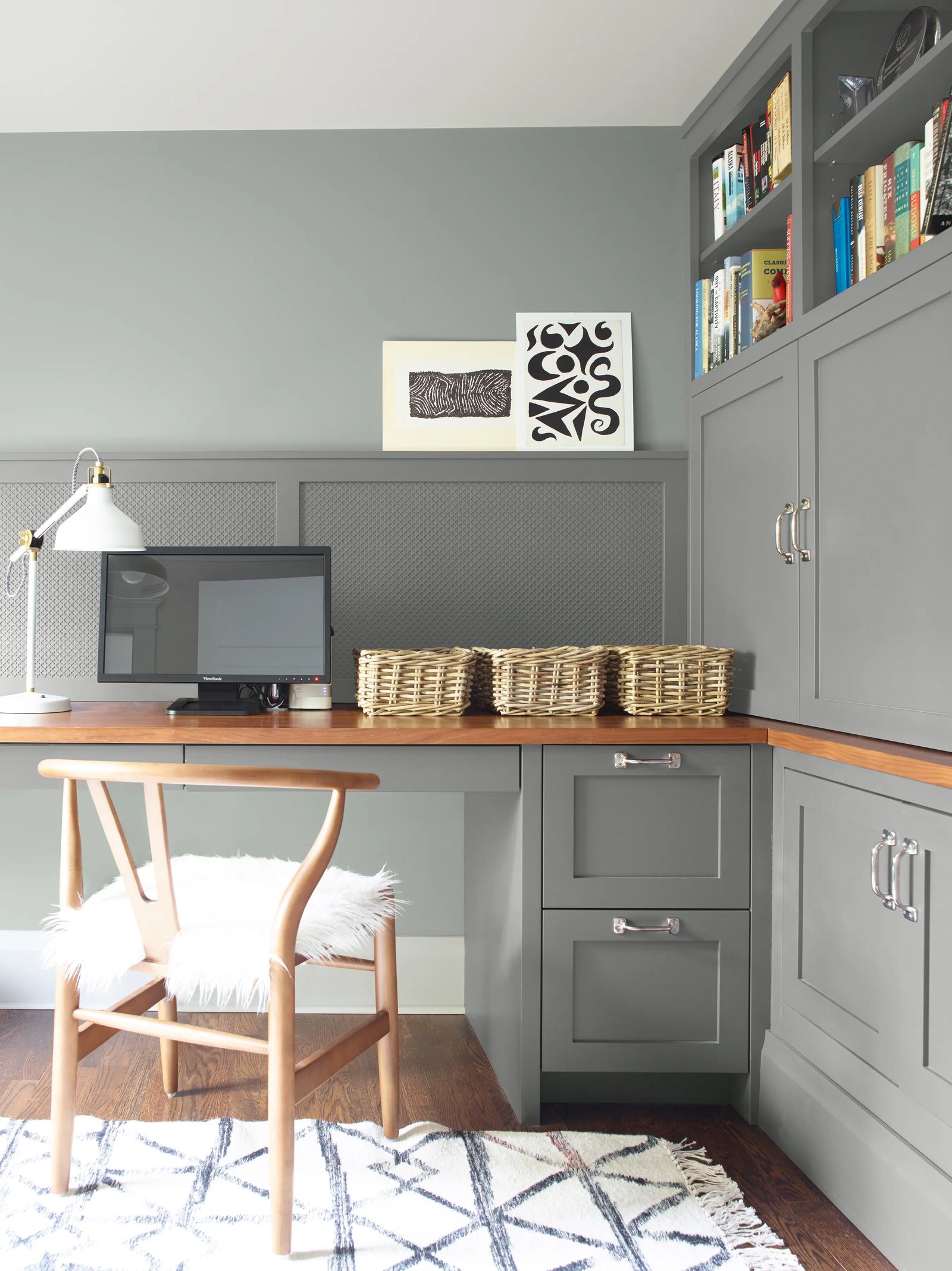 COLORS FOR PRODUCTIVITY & CALM
If you ask Pam Kuntz, co-owner of the Paint Center in Billings, white, gray and blue reign as the popular colors for home office walls. "White gives you serenity while darker shades are associated with intelligence," Kuntz says. "Light colors inspire creativity and green promotes productivity and calm." For an office, Kuntz recommends light and soft colors — "shades of white with soft gray to cream undertones," as well as "earth tones, rock tones."
"Put a color in there that makes you happy, such as blue-green," she says. "A home office should make you feel like you want to go there."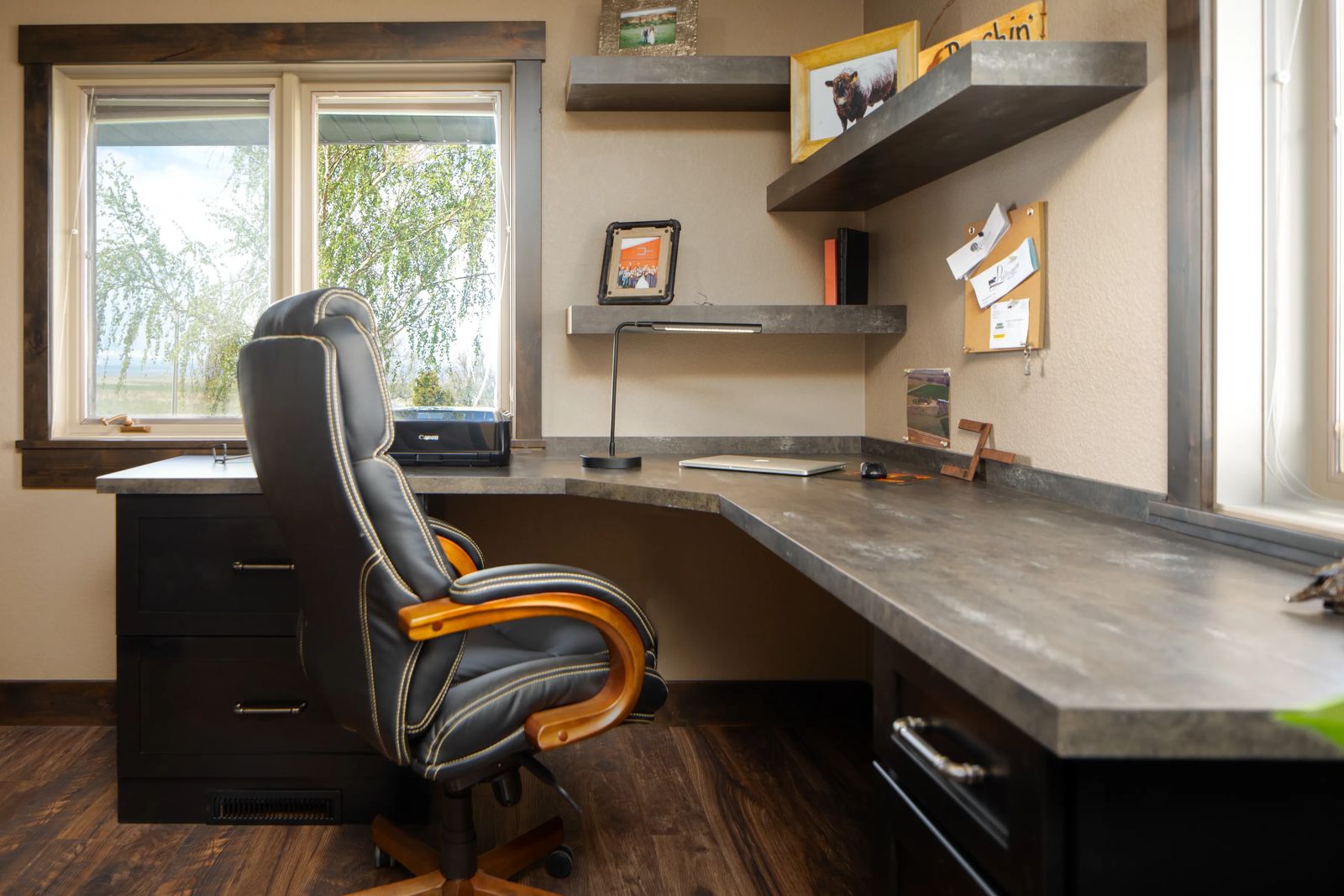 DECLUTTER TO REMOVE DISTRACTION
Kristy Berckmoes, designer and owner of Beyond the Box, advocates decluttering. "Keeping things behind closed doors," such as a filing cabinet or a closet, puts everything in its place, Kristy says. Shelves can add visual interest and provide organizational ease. As a result, Kristy says, "There will be a more open floor plan. Most people need room to think."
In one of Berckmoes' home-office remodels, a corner desk with filing cabinets situated between two sets of windows under floating shelves serves as the place where the owner can carry on the ranching business she inherited from her mother. The laminate desktop and shelves mimicking steel, black cabinetry and dark barn wood floors suggest a ranch-industrial theme. Flanked by two windows, natural light floods into the room and affords views of their land.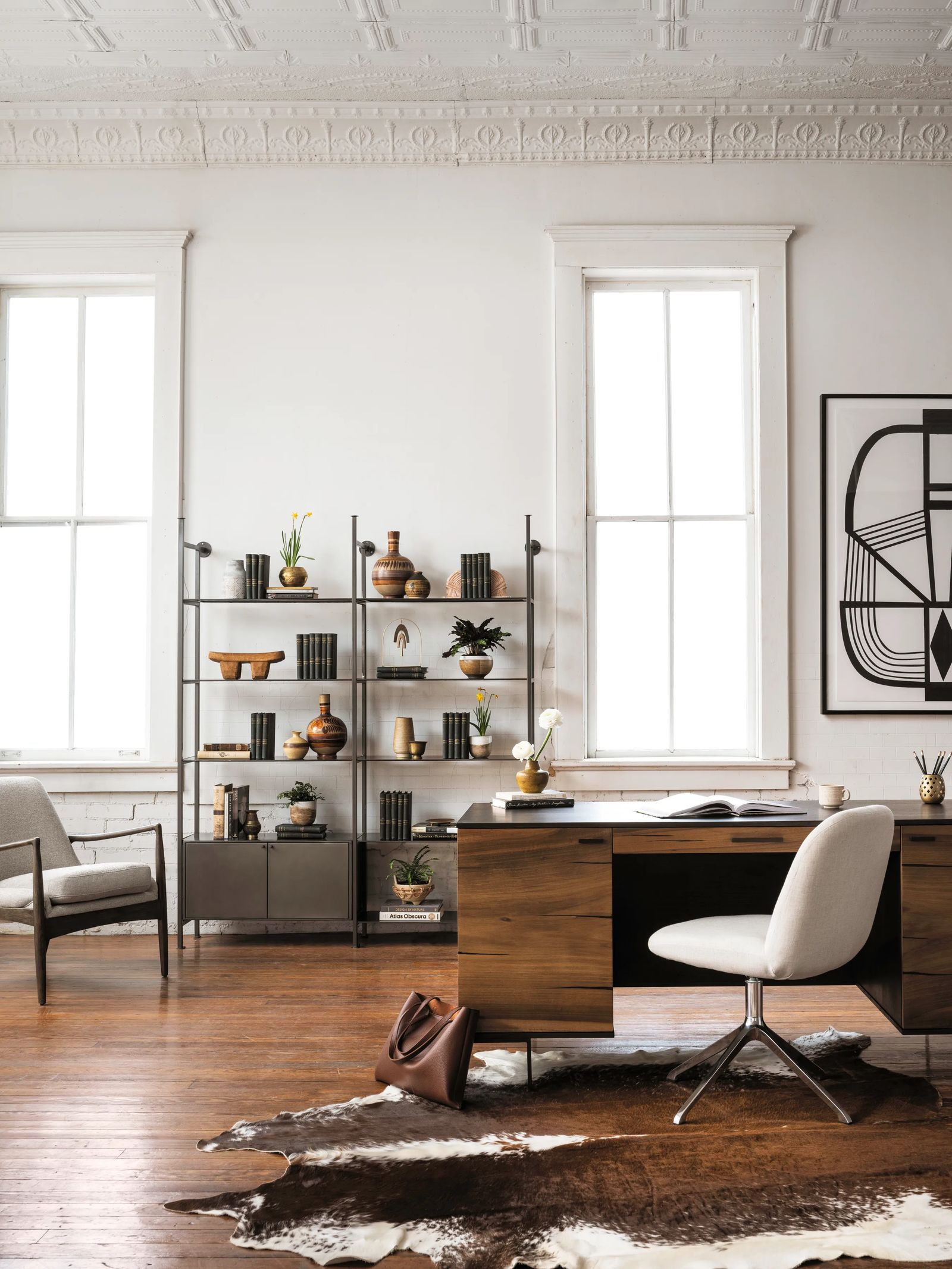 MAKE THE SPACE YOUR OWN
Tiff Blades, a designer at Davidson Home Furnishings and Design, says, "A space with great natural light is ideal, as well as overhead and task lighting for late nights. Typically, home offices are smaller in square footage, so high ceilings are perfect to create the feeling of spaciousness."
With colors, Blades says, "I like to specify softer cool colors such as greens and blues, which are calming and thoughtful colors." More essential, "An important aspect of any office is the personal touches that are vital to our well-being. Surround yourself with pictures of your family, friends, whatever is important to you."
Blades also emphasizes, "Clean, not clutter. The biggest 'fail' is to put mix and match office furniture which may function in a space but clearly lacks the esthetic. A chaotic workspace equals non-productive work." When you need a break, Blades recommends additional furniture such as "a great reading chair and ottoman for those times you need to get out from behind the desk and breathe."
The home office can be the space where productivity, thought and creativity reign. Remove the clutter, bring in personal treasures, light and color along with touches of comfort, and options of privacy, and in the end, there's the sacred place for working and dreaming.
CREATING THAT SACRED SPACE
Tips at-a-glance
Function
First and foremost, a desk and a chair are the basics of an office.
Declutter
Clutter can create a distraction. Kristy Berckmoes of Beyond the Box says, "Keep things behind closed doors. Everything has to have its own area."
A Personal Touch
Those personal touches are vital to our wellbeing, so surround yourself with photos or items that are important to you and make your heart happy.
Light
The rule is, the more natural light the better. Jeremiah Young recommends layers of light that could be raised or dimmed with task lighting, natural light and a broad overall light.
Color
While neutral colors such as white, black or gray can form the backdrop of an office, Pam Kuntz of the Paint Center says you should use a color that makes the space a place where you want to be.
Comfort
"It is important to have comfort, which allows the mind to work freely when distractions are eliminated," says Jeremiah Young. "Also, add custom components such as tailor-made seating."
Privacy
"To create that perfect sacred space. You need to have the ability to close it off and shut the world out," Jeremiah Young says.