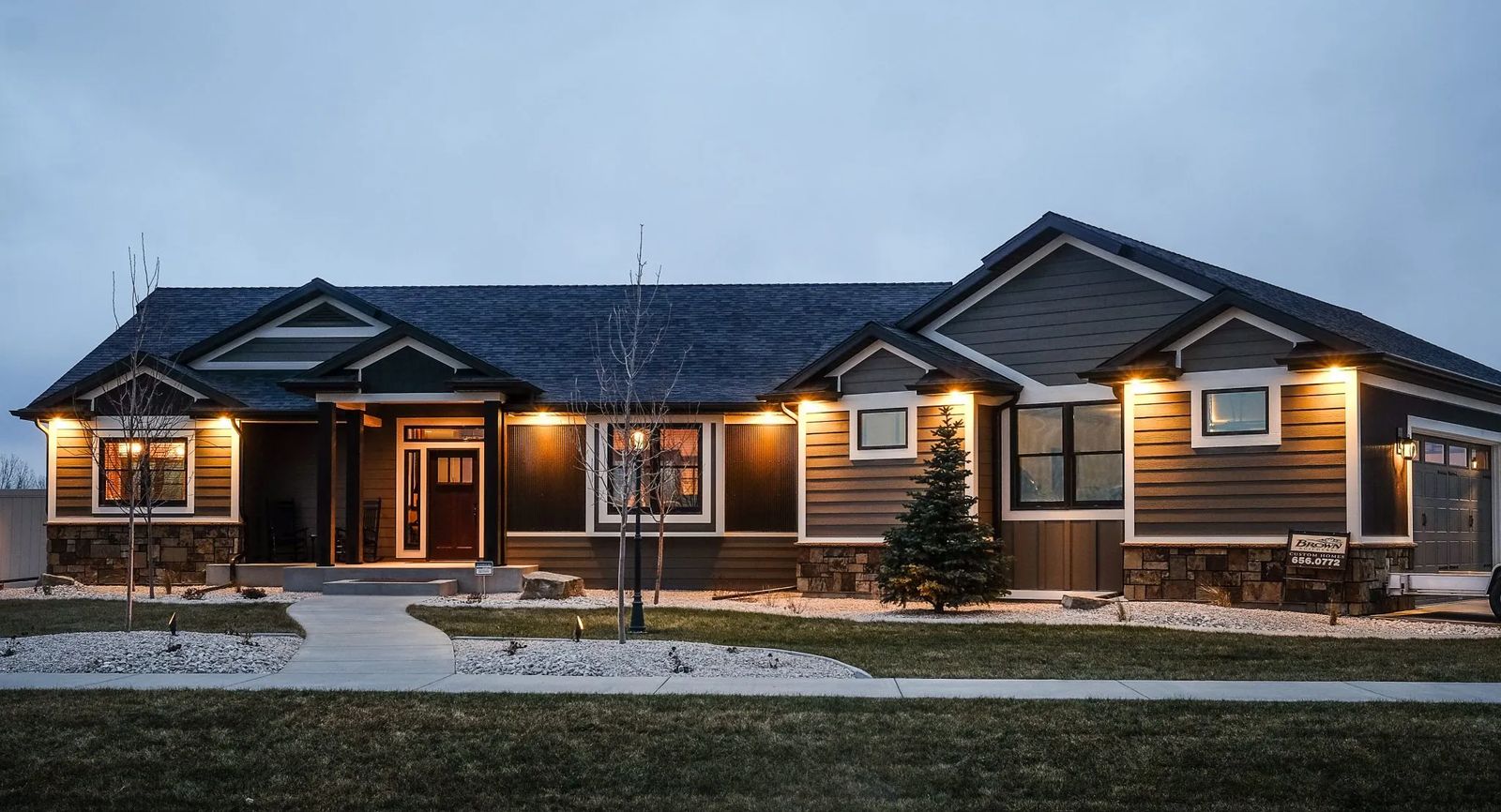 Homeowner's Happy Ending
Coming Home with No Regrets
Kim and Kurt Weber look back and share how everything has worked out perfectly for them despite some discouraging upheavals. At one point this past year, they weren't so sure that anything pertaining to their plans to move would turn out in their favor. It started out okay with the sale of their home. The would-be buyers were emphatic about paying cash and the real estate negotiation appeared to be going so smoothly. So smoothly that Kim and Kurt packed up all their things.
"We were ready to close on our house so we moved out," says Kurt. "We were going to build a home, so we thought we would rent while we built." Unfortunately, the sale of their home fell through at the last minute. The buyers' cash failed to materialize. So, the moving boxes were shuttled back to Kim and Kurt's old home.
It wasn't long, however, that Kurt walked into something that soon had them packing and moving once again. Since Gary Weber Construction does the preliminary dirt work for Brown Builders, Kurt, who works the Weber Construction business with his dad, along with his son Shawn, walked through one of the homes they'd been working on. This particular home was designated as a Parade home for the 2015 Parade of Homes.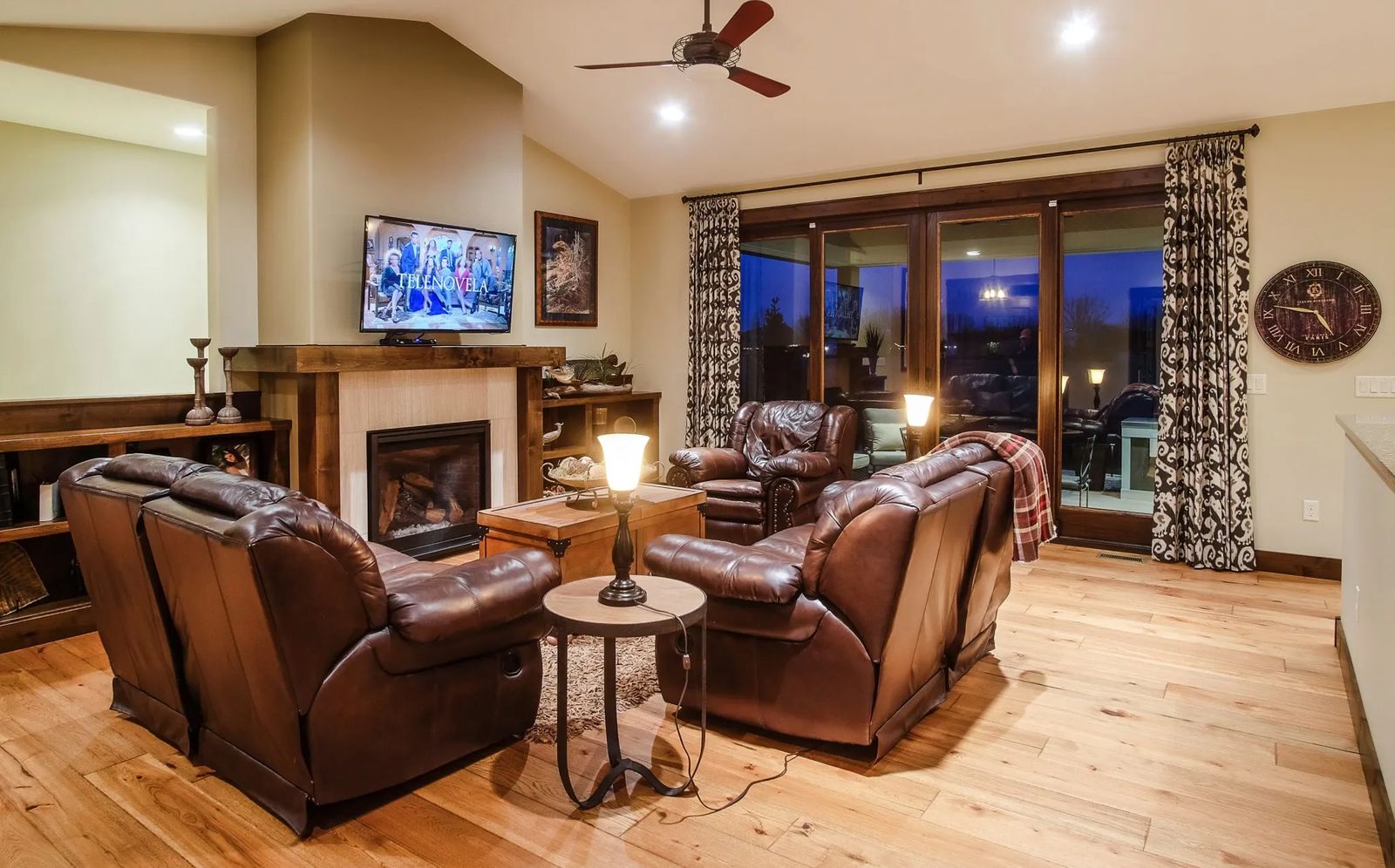 Kurt excitedly told his wife about the spacious three bedroom, four bath home and how it may just fit their needs.  During the Parade's second weekend last September, Kim strolled through the house for the first time. "We decided right then, 'let's do it,'" recalls Kim.
"The timing was good," notes Kurt. "Todd Brown (owner of Brown Builders) was gracious enough to get the appraisal and all the paperwork done. He let us move in. That's the kind of guy Todd is. The stars lined up for us."
Kim certainly agrees, "This was a blessing that it happened like it did. We moved from the old house to here. We went from 6,000 square feet to 4,000 square feet and from two acres to a half acre." With their son, Shawn, and his sister, Kelsie, now grown, the couple's desire to downsize was coming to fruition.
Kim and Kurt's new residence, located in BlackRock Estates at Central and 52nd Street West, offers a composition of craftsmanship. From the exterior, with its natural stone and metal accents, to the interior, highlighted with warm wall colors, warm woods and distinctive design, this traditional home hits a contemporary note. "We wanted to show our finishes in this home," says Todd Brown. There's no doubt this home does exactly that.
In the great room, high cathedral ceilings deliver bodacious beauty while vanilla-colored walls (Urban Putty, Sherwin Williams paint) draw the space together. Dark alder trim gives a dramatic contrast. Eye-catching IKAT-patterned custom draperies from Davidson Home Furnishings & Design LTD. complete the well-constructed Anderson windows and double sliding wood doors that lead to the covered patio and outdoor kitchen.
"Draperies make a big difference," says owner Tiff Davidson-Blades. "It's like adding the earrings to your outfit!" A striking "modern flame-stitch transitional fabric" complements the windows in the front office.
The two-level home also features wide-plank hickory flooring from Rich's Flooring Abbey Carpet. Flowing throughout most of the main level, this rich wood further fuels the invitingly cozy ambiance of the home. Montana influence, another trademark of Brown Builders, is reflected with built-in bookcases flanking either side of the simplistic, yet, elegant fireplace in the great room. Touches of rustic character share the traditional and contemporary influences in the kitchen, as well.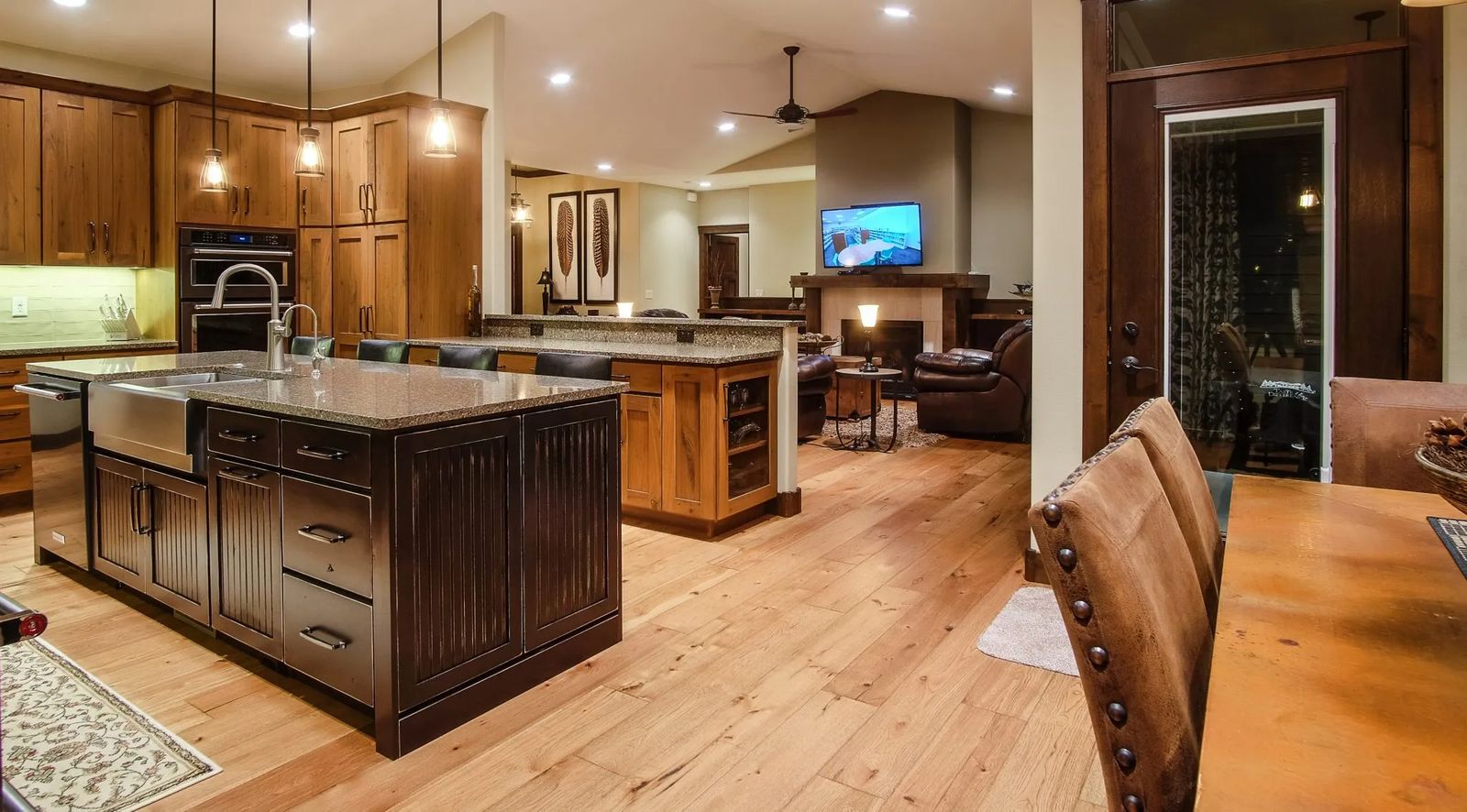 Staggered knotty walnut cabinets with shaker-style doors fill the Weber kitchen. "This adds dimension," says Steve Wylie, manager and part-owner of Rimrock Cabinet Co., referring to the cabinets' staggered height. "Crown molding finishes them off. It was a fun house to do," he remarks. "We did an apron sink, a 54-inch-tall spice roll-out cabinet next to the oven, and the accent on both ends of the center island is a black-glazed bead board. The color is Charwood."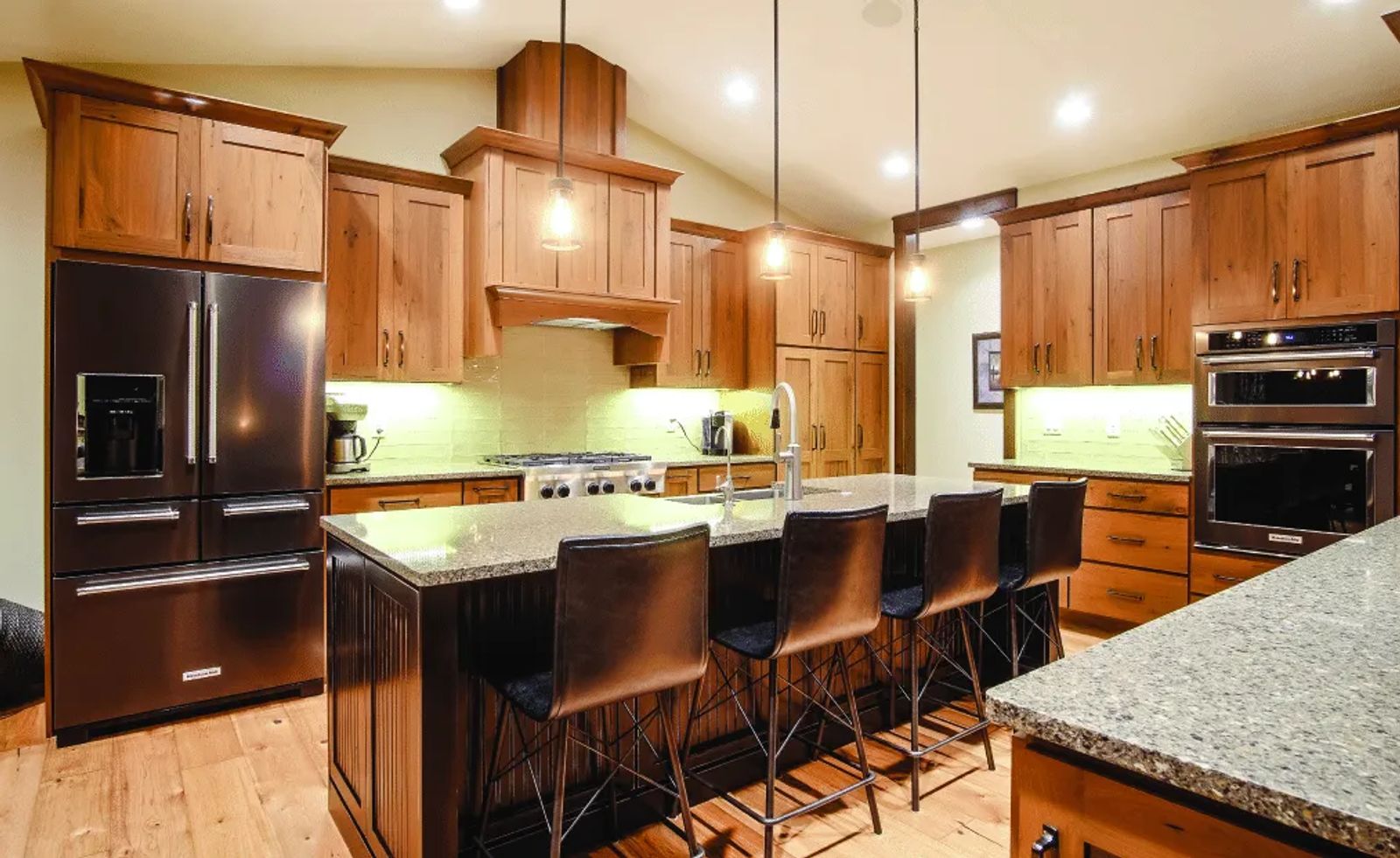 A warm latte-colored subway backsplash from Rich's Flooring Abbey Carpet lends another layer of depth to this exquisite cooking and gathering space. Dark quartz countertops from The CounterToppers highlight the long center island, as well as the front and back counters.
Black slate stainless steel KitchenAid appliances breathe a new color into the heart of the home. Not only is this absolutely a stunning color choice for any kitchen, Kim happily points out that it's fingerprint resistant. "The home is very well designed," she says.
Kim loves every detail of the new home. "I now have central vac that I'm in love with," she exclaims. While checking out the master bedroom after oohing and aahing over the kitchen, she hesitates, "Notice how quiet it is. It's a solid house. I love the warm, homey feel and I like the open and wide hallways. It's us!"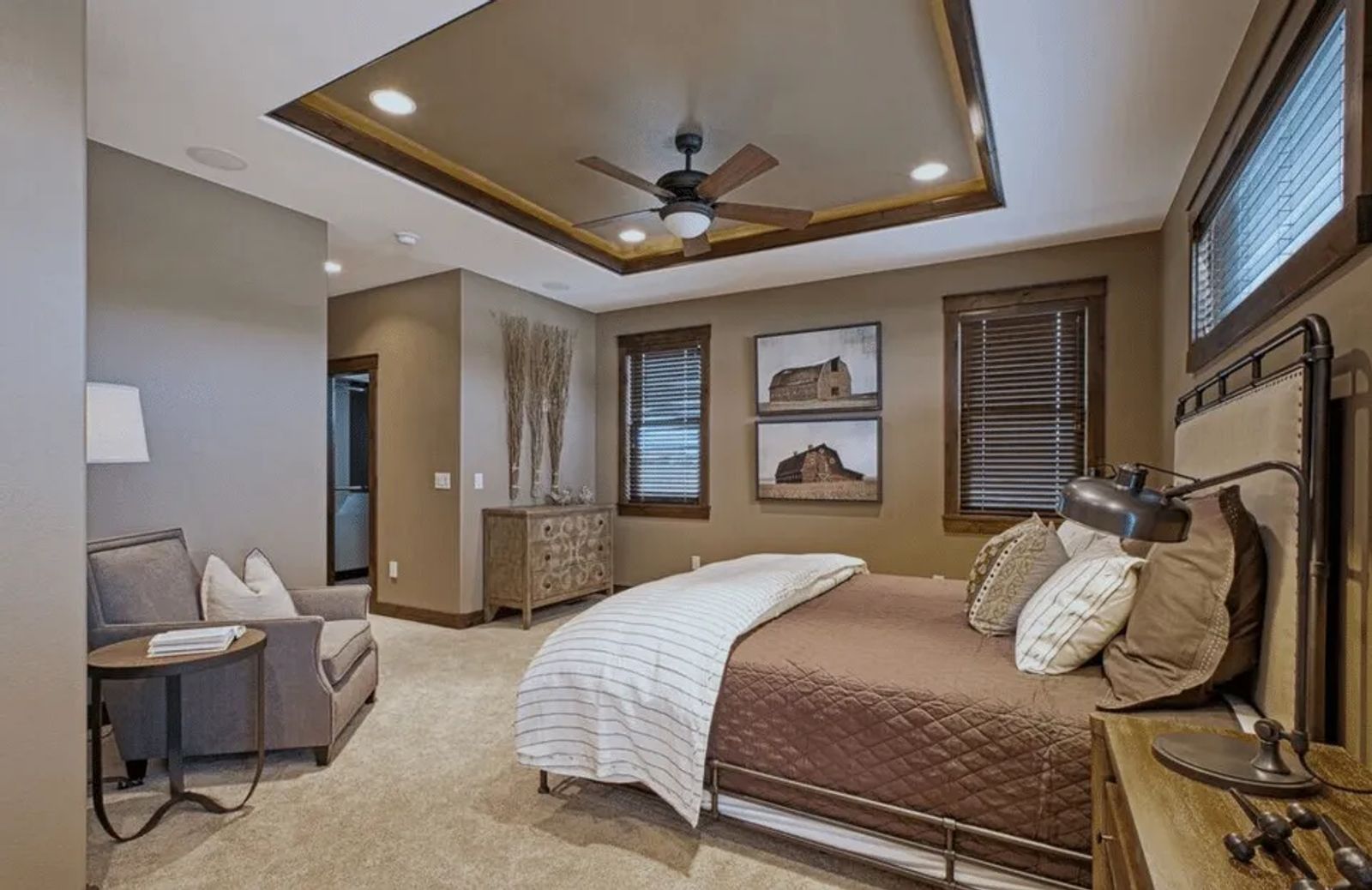 Whether it's the roomy master suite with his and her closets, soaking tub and huge walk-in shower boasting a Rainforest shower head or the large mudroom just off the laundry room on the other end of the house, the home definitely suits Kim and Kurt's lifestyle.
The family enjoys fishing and hunting together so there's plenty of space on the main level and on the lower level to place a few prized possessions. There's a 3-car attached garage, easily accessible from the generous mudroom at the south end of the house. Kurt is also building a separate shop/garage on their property "to store his toys," mentions Kim.  It's a home that supplies all their needs.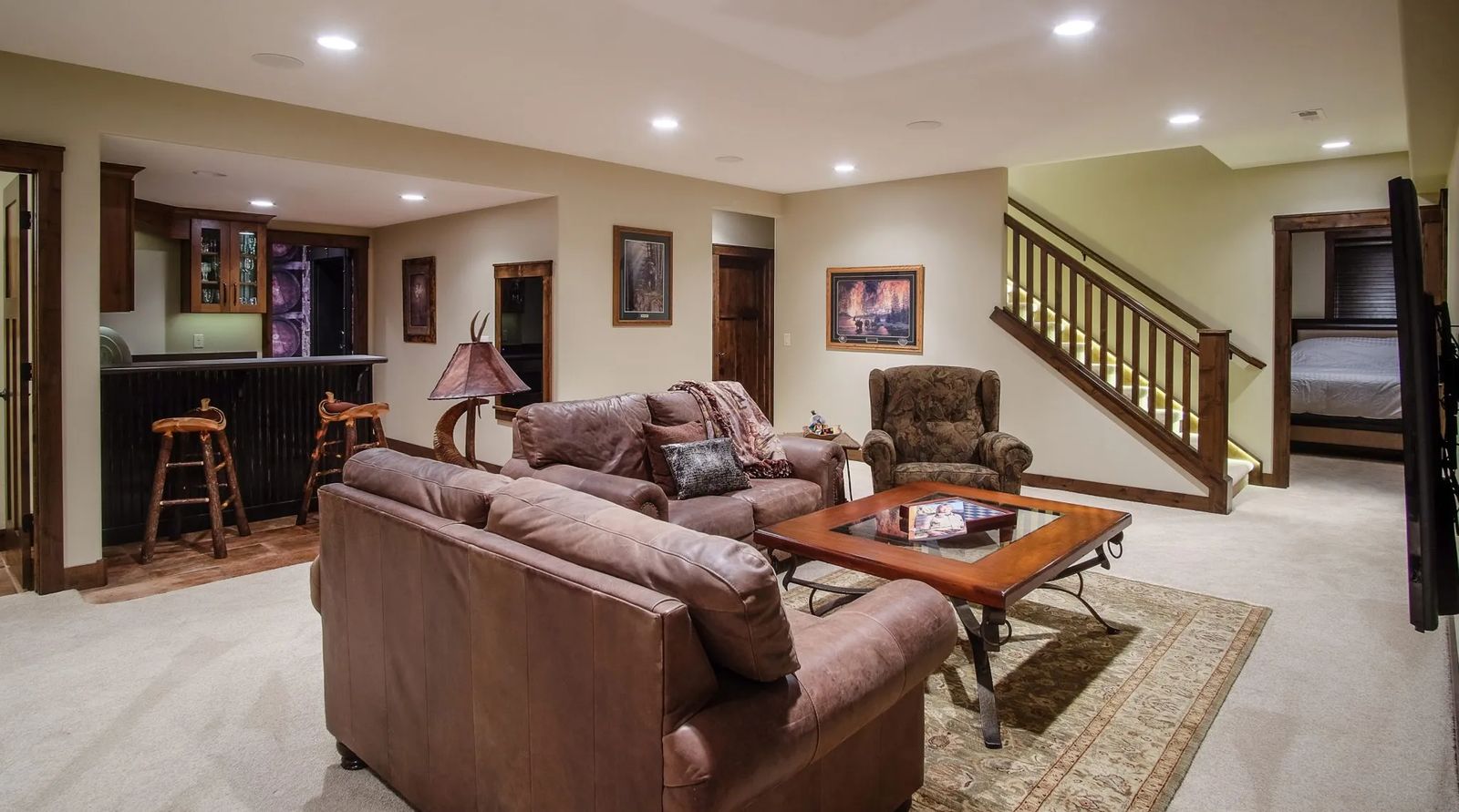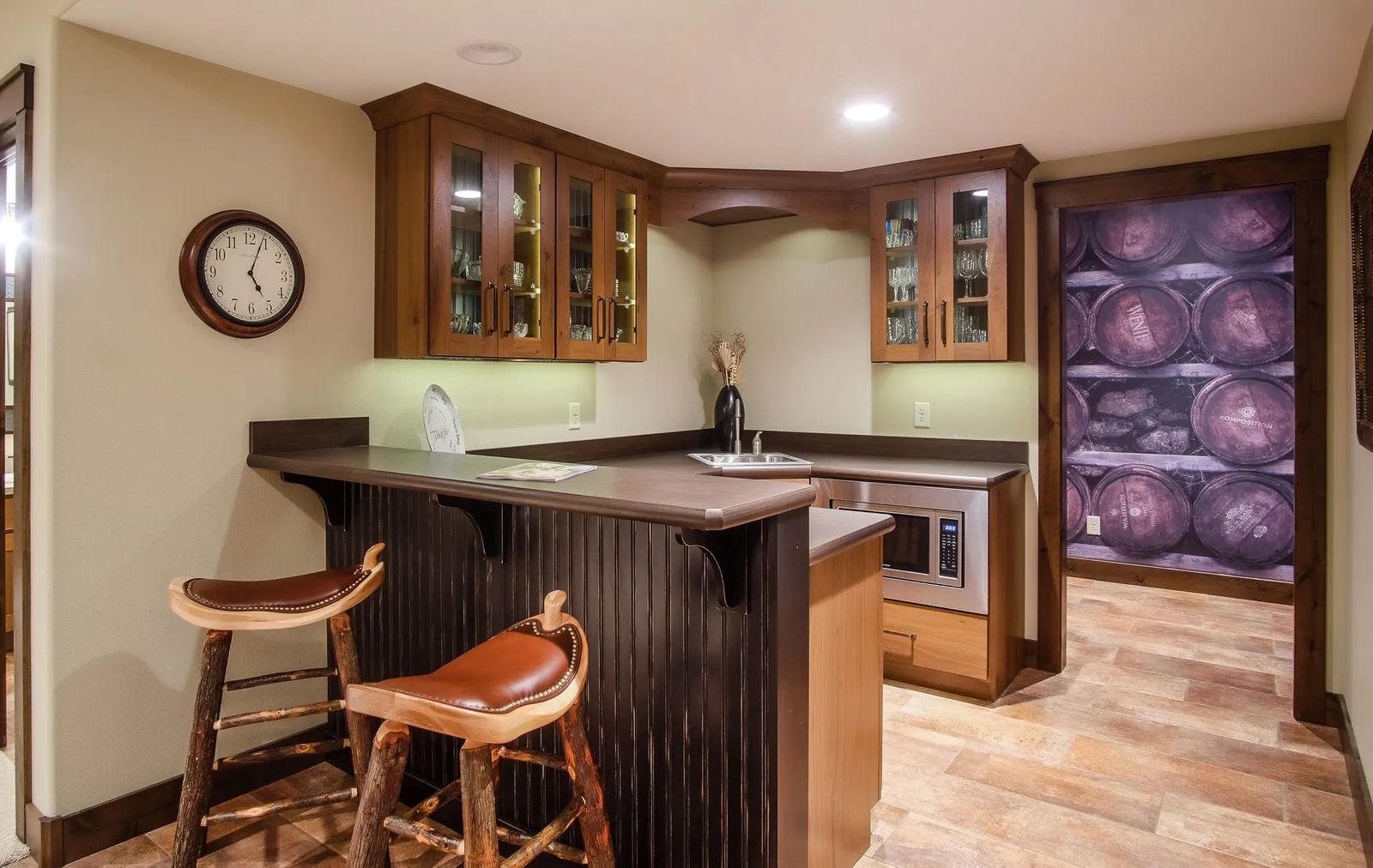 A wet bar with KitchenAid appliances enhances the mood here in the lower level. Behind this immaculate mini kitchen is the most endearing wine tasting room with, of course, a wine fridge. A wall mural composed of wine barrels conveys the intimate atmosphere of an old winery. A giant medieval-style black door custom made by Steve at Rimrock Cabinet Co. opens into the wine cellar.
Topping off this downstairs oasis are two bedrooms with a Jack & Jill bath and an additional powder room.
The home is a Smart home, too; another signature trait of Brown Builders. It offers the latest in high-tech offerings from COMTECH Audio Theater Security. Kim is still getting used to the radio turning on unexpectedly when she's home. Kurt gets a kick out of startling his wife with the sound system. He turns the music on when he's not home simply by using his cell phone. The home is fully automated to command the security, electronics and lighting from personal hand-held devices.
Kim and Kurt settled into their new home within weeks of Kim's first look at this lovely home. They've placed their personal stamp of approval on it, making it their forever home. The couple considers it a happy ending to their quest for the quintessential home that's built and tailored to their specific wants and needs. "We have no regrets," says Kim.
ADDITIONAL PHOTOS