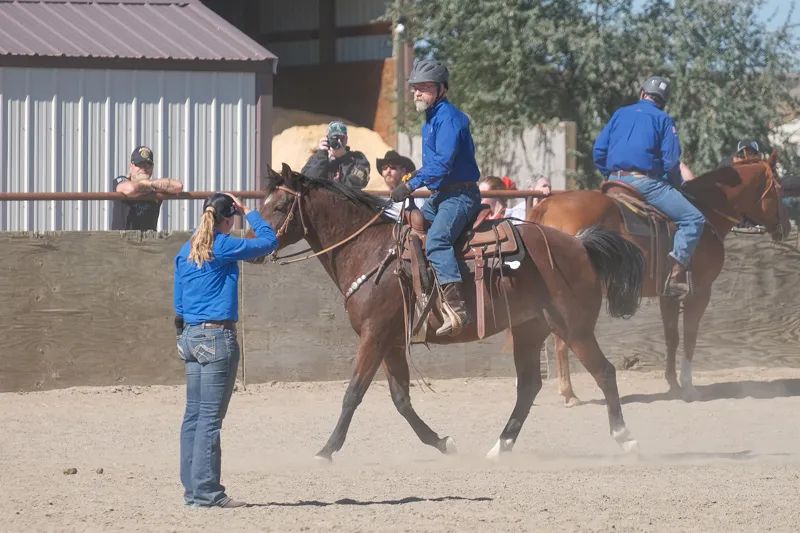 Horses, Spirits, Healing
Amanda Tusler uses horses to help veterans heal
It's been said that horses can hear your heartbeat from four feet away. In fact, studies have revealed that a horse's heart will synchronize with a human as they interact. That might be one reason they make such good companions.
"They mirror our emotions," Amanda Tusler says. "Within 30 minutes, a horse's heart rate will match up to whomever is working with them. They really connect with humans."
Amanda is the program director at Horses Spirits Healing Inc. (HSHI), a nonprofit equestrian center for veterans, located north of Billings on Highway 3. Just 10 miles away from the bustle of town, the property is flanked by public land and dotted with sagebrush and sandstone bluffs, giving it privacy and a sense of tranquility.
Several corrals hold horses that are the nucleus of the program. Cuzco, a miniature horse, can pull a small cart large enough for one person and is a favorite of the veterans.
"He's strong, and so good," Amanda says proudly. "Our veterans love him. Kids do, too."
In the adjacent corral, a draft horse, a bay and two ponies wait to be pampered and exercised by the volunteers between lessons. There are 11 horses in all, and Amanda oversees all of them.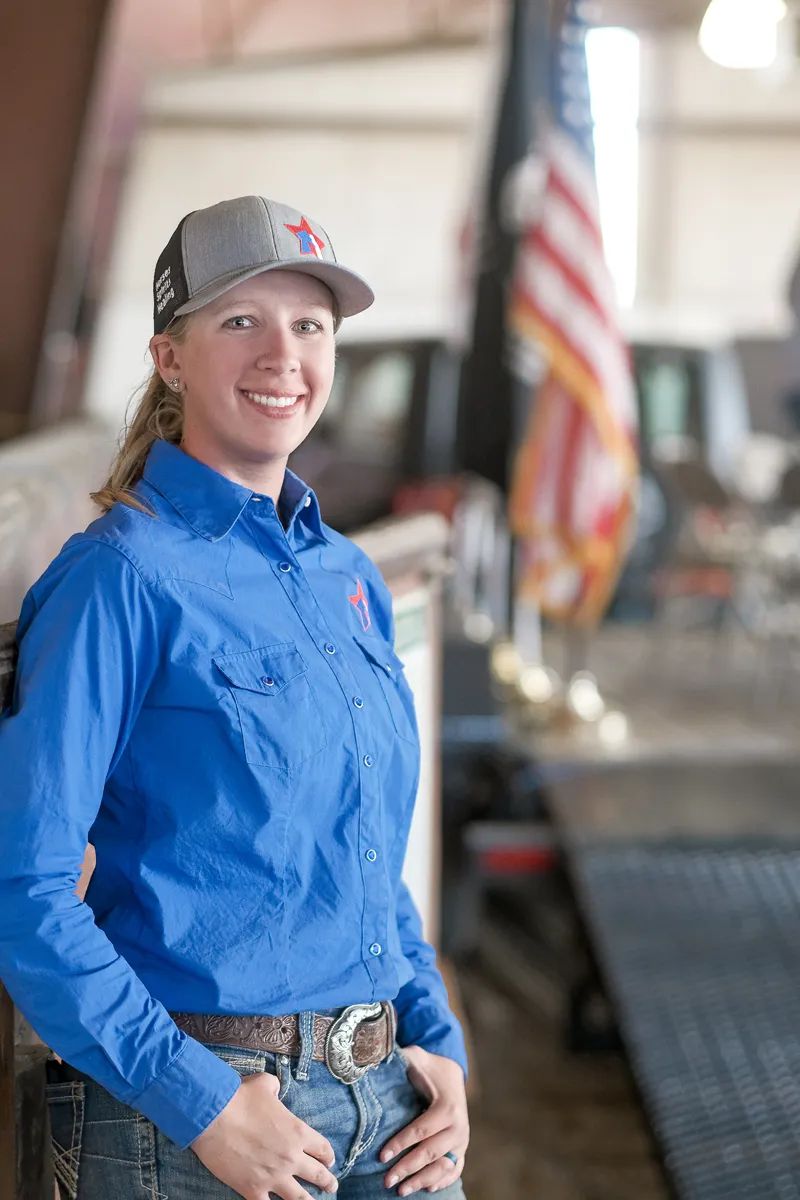 Amanda graduated from Rocky Mountain College with degrees in psychology and equine science with an emphasis in therapeutic training. She graduated in 2018 and began her career at HSHI just two days later.
"It's been a really good fit for me," she says. "I'm proud to be a part of this. It's amazing to see the healing that takes place here."
The mission of Horses Spirits Healing is to offer alternative therapy to veterans. In the Billings area alone, there are more than 25,000 veterans, and 15 percent of them have a disability or suffer from brain injuries, depression or post-traumatic stress disorder. That equates to more than 3,000 veterans in our area alone. HSHI has seen positive results in the veterans who have taken advantage of the program and they hope to reach more.
"We try and reach the veterans by introducing them to the program slowly," Amanda says. "We meet them where they are at. Some have never even been around horses, so we start with horsemanship, grooming and safety from the ground up."
Many veterans enjoy just being around horses. The non-threatening atmosphere, which allows them to move at their own pace, seems to help them relax.
"Sometimes even the repetition of brushing a horse soothes both the horse and the groomer," Amanda says.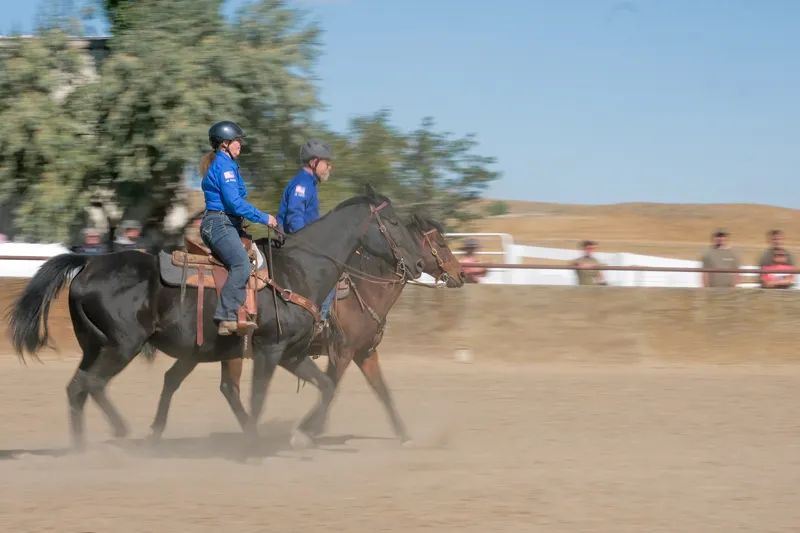 Lorraine Schleder, retired Air Force, can't say enough about what the program has done for her. As an ICU and flight nurse, Lorraine was heavily involved in the patient movement in the aftermath of the 9/11 terror attacks and later in the war in Afghanistan and Iraq.
Lorraine is now the sole caregiver for her elderly parents and operates the family farm near Shepherd. She struggles to find time for herself.
"This has been an absolute godsend for me," Lorraine says. "With all that's going on in my life, I'm never able to turn off and catch my breath. When I'm with the horses, the world stops, my mind and heart go quiet and a peace comes over me. I can't say enough about the good that has come out of being part of the program."
The facility was established in 2014 when husband-and-wife team Barbara Skelton and Paul Gatzemeier decided to honor Paul's father, a World War II, by offering something to veterans combating psychological trauma and physical disabilities.
They have owned the facility for several decades. Rocky Mountain College once ran its equestrian program there, and after the college moved to another site, it seemed to be the perfect time to move forward with their dream.
Over the last five years, dozens of veterans have taken advantage of the program, and HSHI hopes that even more will try the free program.
"There's something for everyone out here," Amanda says. "We teach riding lessons and care of the horses. We work in the arena and even go on trail rides."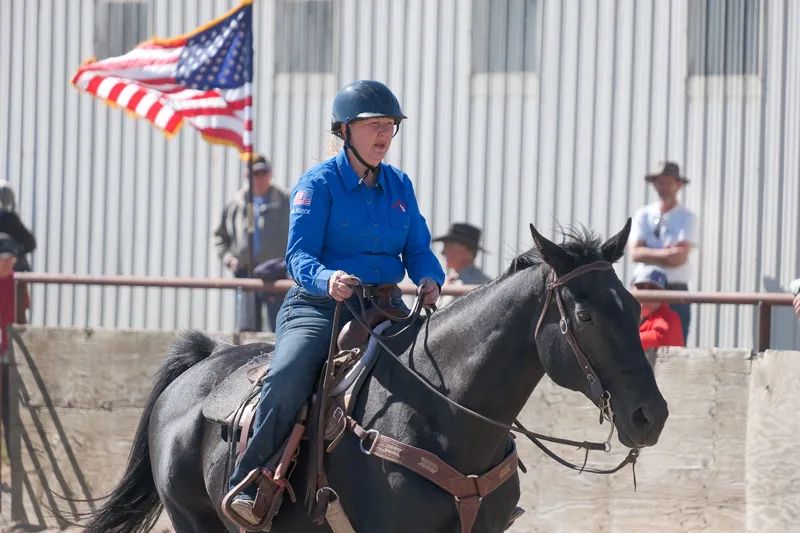 Funded through the Veterans Administration along with state and federal grants, the programs are free to any veteran and their family members. It's also free for active-duty military and their families and for first responders. Amanda is quick to add that without the help of private donors and a slew of volunteers, they wouldn't be able to do what they do.
"Every veteran has someone with them all the time," she says. "There's someone to show them, teach them and listen to them."
Along with Amanda, several other staff members hold degrees in equestrian therapy, and one day per week a counselor is on site for more extensive counseling. Programs include private lessons and group lessons. Veterans are thoughtfully paired with the program that works best for them.
Amanda recalls one veteran who still holds a place in her heart. "Tom Angel was a Vietnam vet," she says. "He grew up riding horses, but several years ago he lost his leg. His daughter brought him out to HSHI and we started to work with him. At first, he was very hesitant."
After the amputation, Amanda says, Tom had to relearn balance and how to walk. HSHI installed a ramp for him in the barn to ensure he could walk up and mount the saddle.
"Tom became determined to ride," Amanda says as tears fill her eyes. "It was so fun to see his progress."
Finally, Tom invited his family and close friends, including the owners of Adaptive Performance Center, Karen Pearson and Mitch Crouse, to witness the progress he made. Before all of them, he loped his horse around the arena carrying the American flag. It was a moment worthy of celebration, made even more special when Tom died not long afterward.
"We miss him," Amanda says. "It's people like Tom that make this facility so special."
As the need for equine therapy increases, HSHI is keeping up with public awareness. An information booth was set up at the Food Truck Battle in August at the Montana Army National Guard. An open house was held in September with Aaron Flint, host of Montana Talks Radio and an Afghanistan veteran serving as emcee. In October, HSHI took part in the Veteran Career Fair. With each event, the team at HSHI hopes to bring more awareness of their horse therapy program to other veterans and the community.
"There's atta-boys out here," Lorraine says of HSHI. "From the horses, the people, and yourself. While life might not be OK, at least out here, you realize that you will be."
FOR MORE ON HORSES SPIRIT HEALING, you can visit their website at horsesspirithealing.org or find them on Facebook by searching Horses Spirit Healing Inc. You can also call them at (406) 245-4076.