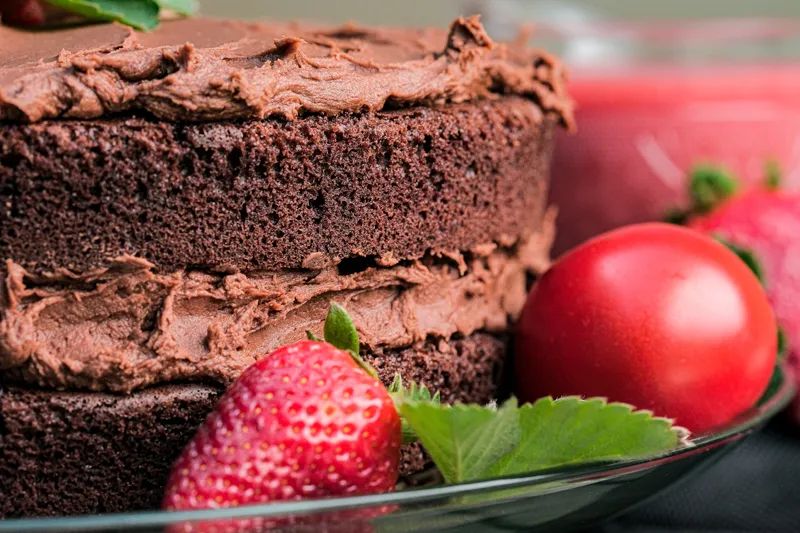 In Season
One Tomato, Two Tomato & Many More
Summertime is tomato time, when we pluck them from the vine while screaming "Yum!" The Tomato Corn Crostata is one of the most delicious ways to show off this summer's bounty, while the Chocolate Tomato Cake is a good way to use up extra harvest. Beef Tomato Chow Mein is one of my sister's favorite dishes, one that my father used to make for us as children. With the variety of ways to enjoy them, for me, there's no such thing as too many summer tomatoes.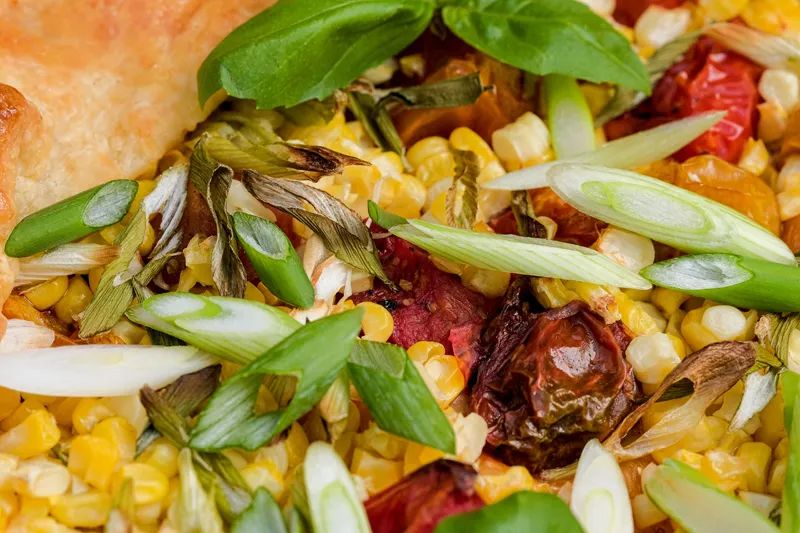 TOMATO CORN CROSTATA, serves 4 to 6
During the summer season, when bounty abounds, use this crust as the base for whatever you have growing in your garden and what you find at the farmer's market. Sliced zucchini with thinly sliced fennel sprinkled with chives as well as cooked sliced potatoes with bacon and sprinkles of fresh thyme are other possibilities for toppings. I use Dubliner cheese because I love the cheese's flavor of cheddar and Parmesan cheeses.
2½ c. unbleached white flour
½ t. salt
1 c. unsalted butter, cut into ½-inch cubes
8 ounces grated Dubliner, cheddar or Swiss cheese
¾ c. ice water
6 c. cherry tomatoes
2 T. extra virgin olive oil
Salt, to taste
Ground black pepper, to taste
3 ears of corn, kernels removed to make 3 cups
3 stalks green onions, sliced
1 large egg
Fresh basil for garnish, optional
FOR CRUST
In a food processor, pulse flour and salt. Add the butter and pulse until mixture resembles a coarse meal. Add the cheese and pulse to combine. Add water and process until dough comes together. Form dough into a 1-inch-thick disk. Wrap tightly and refrigerate for at least 1 hour or overnight.
FOR FILLING
Preheat oven to 400 degrees. In a medium bowl, combine tomatoes and olive oil. Season with salt and black pepper to taste. Spread tomatoes onto a baking sheet. Bake for 25 to 30 minutes until tomatoes are slightly browned. Cool completely. Drain extra liquid from tomatoes and pat with some paper towels. Set aside. With aluminum foil, assemble sheets to accommodate a 15-inch square crostata. Set aside. On a lightly floured surface, roll dough into a 17-inch round, about ¼ inch thick. Place on foil.
Spread tomatoes onto dough to 2 inches from the edge. Sprinkle on corn and green onions. Dust with salt and ground black pepper to taste. Fold outside edges over the filling. In a small bowl, whisk egg with 1 tablespoon water. Brush egg wash around the outside edge of the crust.
Bake until crust is deep golden brown, about 50 minutes to 1 hour.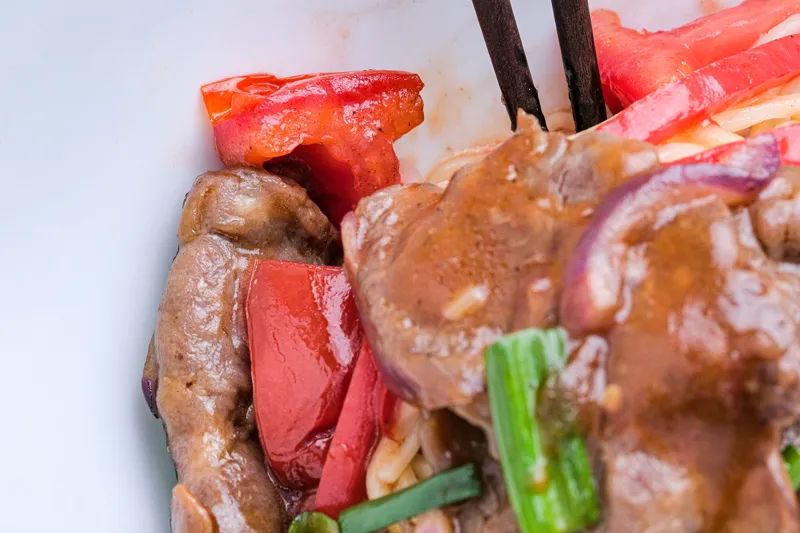 BEEF TOMATO CHOW MEIN, serves 4
Beef Tomato Chow Mein combines Chinese and American, flavors giving the dish a sweet and sour taste. For a stir-fry dish to come out right, meat and vegetables are cooked separately, and then combined at the end. Have a medium bowl ready by your wok or skillet to hold the cooked meat and vegetables.
FOR MEAT
1 pound flank steak, thinly sliced
1 t. sesame oil
2 t. soy sauce
¼ t. baking soda
1 t. cornstarch
1 clove garlic, minced
FOR SAUCE
1 c. beef broth
1½ T. cornstarch
1 T. sugar
1 T. rice vinegar
1 T. dry sherry
½ t. salt
2 T. ketchup
1 pound chow mein or yakatori noodles
2 T. sesame oil
2 T. soy sauce
3 T. vegetable oil, divided
1 red bell pepper, stem and seeds removed, sliced
1 medium red onion, sliced
1 large tomato cut in large chunks
4 stalks green onions, cut into 1-inch pieces
In a medium bowl, mix together beef with sesame oil, soy sauce, baking soda, cornstarch and garlic. Marinate for 30 minutes and up to 1 hour in the refrigerator. In a medium bowl, stir together broth, cornstarch, sugar, vinegar, sherry, salt and ketchup. Set aside.
Follow cooking instructions on chow mein noodle package. Put drained noodles in a large bowl, and mix in sesame oil and soy sauce until noodles are evenly coated. Set aside.
Heat wok or heavy skillet over medium high heat. Add 1 tablespoon oil, add noodles and brown on bottom, about 4 minutes. Scoop out and set aside on a serving platter. Add 2 tablespoons oil and stir fry beef until just browned, about 2 minutes on each side. Scoop meat out of wok and set aside.
Add onion and stir-fry until browned, about 2 minutes. Then add peppers and stir-fry for 1 minute. Scoop out vegetables. Add tomatoes and let brown, about 2 minutes.
Add beef, onions and peppers back into wok and stir fry beef with tomatoes for 1 minute. Stir up sauce to add to wok. Stir fry until sauce thickens. Add green onions and stir-fry for another minute. Spoon meat, vegetables and sauce over noodles. Serve immediately.
CHOCOLATE TOMATO CAKE WITH CHOCOLATE BUTTERCREAM FROSTING AND STRAWBERRY TOMATO COULIS, serves 8
When tomatoes are ripening fast, I find myself putting them into everything, and why not chocolate cake? Adding the tomatoes gives the cake a slight savoriness to this moist buttery cake.
2 Roma tomatoes, skins and seeds removed
1 c. unsalted butter, softened to room temperature
1¼ c. sugar
1 t. vanilla extract
3 eggs, separated
1 c. cold water
2½ c. cake flour
½ c. cocoa powder
1½ t. baking soda
½ t. salt
Preheat oven to 350 degrees. Butter and flour two 8-½ inch cake pans. Set aside.
Peel tomatoes and squeeze out seeds. Put tomatoes into a food processor and process until pureed. Scoop puree into a small bowl. Set aside.
Cream together butter and sugar. Whip in tomato puree, vanilla extract and egg yolks. In a separate bowl, beat egg whites until stiff. Fold into butter mixture.
Sift together flour, cocoa powder, baking soda and salt. Add dry ingredients to butter mixture, stirring until just mixed.
Divide batter equally into two pans. Bake for 35 to 40 minutes or until a toothpick inserted into the center comes out clean.
Frost cake with Chocolate Buttercream Frosting and serve with a drizzle of Strawberry Tomato Coulis.
CHOCOLATE BUTTERCREAM FROSTING, makes about 5 cups
1 c. butter, softened to room temperature
3¾ c. powdered sugar
½ c. cocoa powder
Pinch salt
1 t. vanilla extract
4 T. milk
With a hand or stand mixer whip softened butter until light and fluffy, 1 to 2 minutes. Add powdered sugar, cocoa powder, salt, vanilla and 2 tablespoons milk. Mix on low speed until ingredients are combined. Add 2 tablespoons milk and mix until frosting is creamy and fluffy. Add more sugar or milk for desired thickness. Use immediately or store in refrigerator, covered, for a couple of days.
STRAWBERRY TOMATO COULIS, makes about 1 cup
We often forget that a tomato is a fruit so why not blend them with strawberries? Adjust the sweetness depending on the ripeness of the tomatoes and strawberries. I love adding a dash of Grand Marnier or orange juice to the coulis. Add fresh ginger to make it even more interesting.
6 fresh strawberries
2 small tomatoes
2 T. sugar
1 t. lemon juice
Add strawberries, tomatoes, sugar and lemon juice to a blender. Puree until smooth. Serve with Tomato Chocolate Cake.