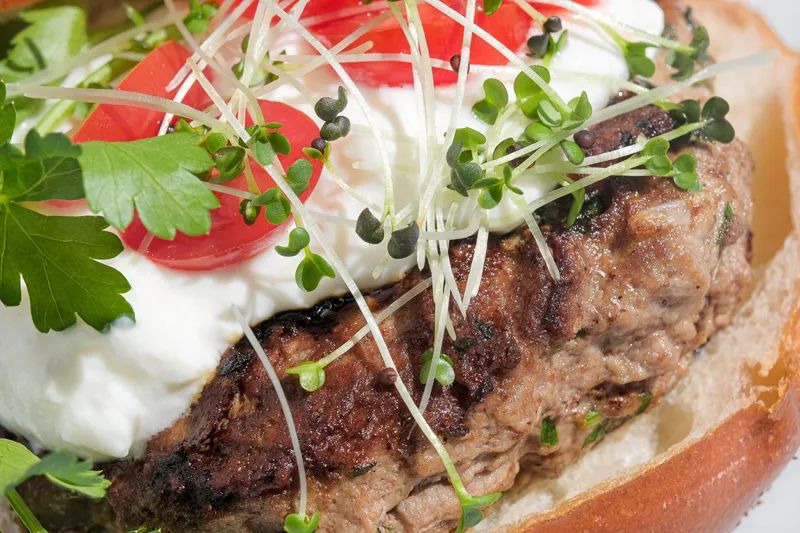 In Season
Microgreens for Dressing up Dishes
Spring is in the air, but at Swanky Roots eternal spring brings fresh lettuce, super greens, edible flowers, herbs and microgreens year-round. With their aquaponics system of growing, owner Veronnaka Evenson brings leafy greens to our table every mo
When the weather warms and days are longer, this is the time of the year to bring people together for brunch. It's more than breakfast and has a spirit of celebration about it. The fun comes from embracing what's freshly available and sharing it with others. With the availability of beautiful microgreens and flowers from Swanky Roots, a dish can be prettied and enhanced in flavor with a sprinkling of sprouts and petals.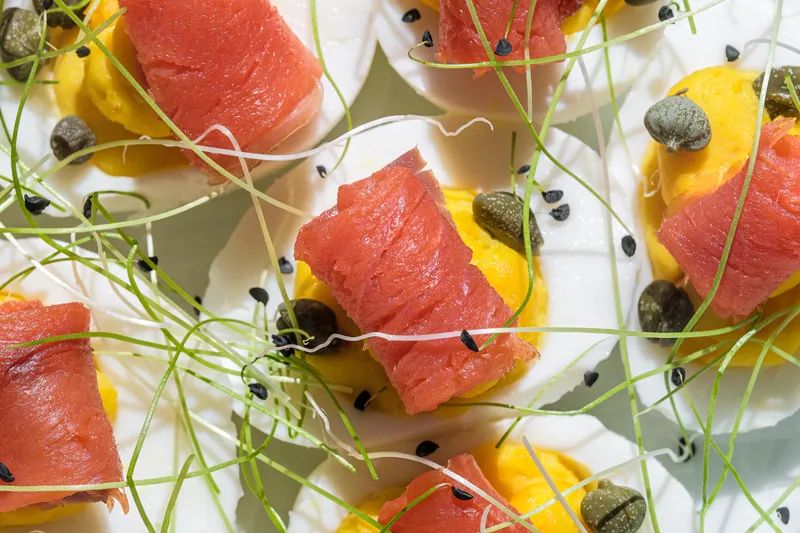 Smoked Salmon Deviled Eggs with Onion Microgreens
Serves 6-8
Deviled eggs are easy to make and even easier to eat. There's not a whole lot of chewing involved and with the enriched yolks, I find I can savor countless deviled eggs. Smoked salmon screams brunch and is a perfect partner to enhanced boiled eggs. The eggs can be made ahead of time, about two hours before, and stored in the refrigerator until ready to serve.
· 8 large eggs
· 1/4 c. mayonnaise
· 2 t. Dijon mustard
· 1 t. lemon juice
· 2 ounces smoked salmon
· 1 T. capers
· 1 green onion stalk, finely chopped
In a medium saucepan, cover eggs with 1 inch of water. Bring to a boil. Remove from heat. Cover and let stand for 12 minutes. Drain eggs and run under cold water until cool enough to handle. Peel and halve eggs lengthwise. Remove yolks and place in a bowl. Mash with a fork. Mix mayonnaise, mustard and lemon juice until smooth.
Spoon egg yolk mixture into a plastic sandwich bag and cut a corner off the bottom. Pipe mixture into hollow of egg whites. Garnish with salmon, capers and green onion.
Serve immediately or chill up to 2 hours.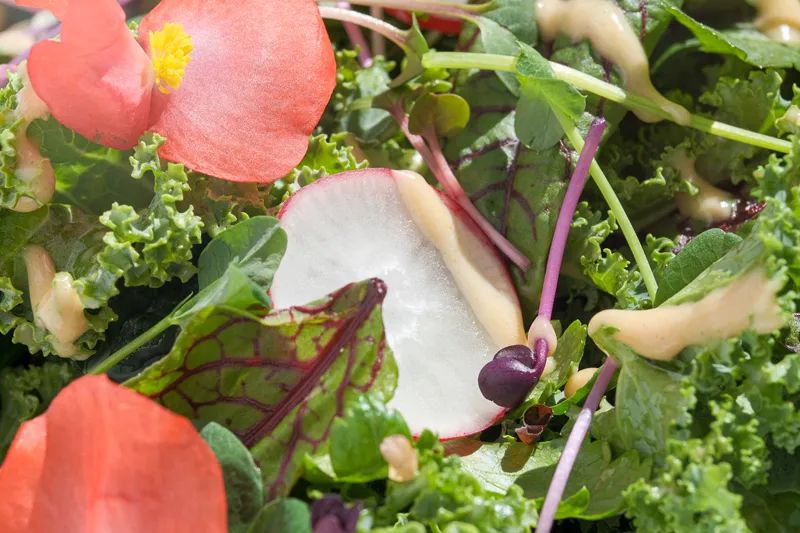 Radish Salad with Date Miso Dressing & Radish Microgreens
Serves 4
When I eat this salad, I can close my eyes and picture myself picking fresh greens directly from the garden and immediately devouring the bounty. Radishes are usually the first sign of spring, along with sorrel, growing well when the soil warms. While kale contributes roughness and structure to the salad, pea shoots lighten the mix, with sorrel providing citrus notes and parsley fresh bitterness. Use less kale if you want less bulk and more pea shoots if lightness is what you desire. The radishes and radish microgreens bring a bite to the salad that is nicely balanced with the sweet and savory flavors from the dressing. Fresh flowers can be added to pretty the greens.
8 c. of greens: baby kale, pea shoots and sorrel, cut into large bite-size pieces
6 radishes, thinly sliced
1 ounce of radish microgreens
Edible flowers for garnish (optional)
DRESSING
Makes about 2/3 cups
· 1/3 c. water
· ¼ c. lemon juice
· 2 T. sweet white miso
· 6 pitted dates
· 2 T. olive oil
· 2 T. Dijon mustard
· Salt and fresh ground black pepper, to taste
Into a blender or food processor, add water, lemon juice, miso, dates, olive oil, mustard and salt and pepper. Blend until smooth. Transfer to an airtight container and store in refrigerator for up to 2 weeks. Shake well before serving.
In a large bowl, add the kale. Drizzle dressing over kale and with your hands or a pair of tongs, massage the dressing into the greens, working dressing in for several minutes. (At this point the salad can hold in the refrigerator for up to a day.) Then add the rest of the greens and toss lightly with more dressing. Top with radishes and garnish with microgreens.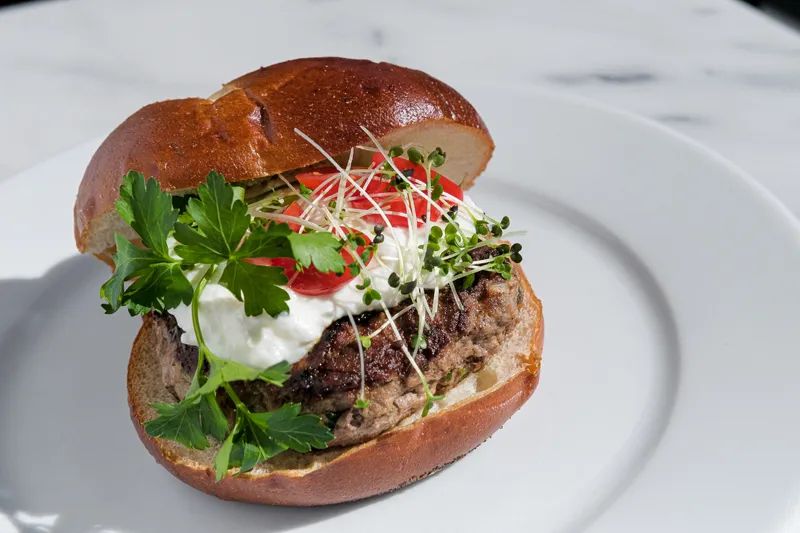 Lamb Burgers with Feta-Yogurt Spread with Mustard Microgreens
Makes 4 burgers
At the High Five Ranch in Molt, owned by Sara Hollenbech and her husband, Henry, and father-in-law, Mike Hollenbech, they raise sheep and cattle. Their meat is available through the Yellowstone Valley Food Hub. Because lamb meat is lower in fat, the addition of oil helps in caramelizing the meat and keeps everything from sticking to the pan. My oil of choice is safflower oil because it is mild in flavor and available from The Oil Barn, a women-operated business in Big Sandy.
· 2 pounds ground lamb
· 2 T. chopped Italian parsley
· 1 shallot, minced
· 2 cloves garlic, minced
· 1 t. ground cumin
· 2 t. Worcestershire sauce
· Salt and fresh ground black pepper, to taste
· 4 potato or brioche hamburger buns
· 6 cherry tomatoes, sliced
· Parsley sprigs for garnish
· 1 ounce spicy microgreens for garnish
SAUCE
· 4 ounces drained and crumbled feta
· ¾ cup Greek yogurt
· 1 T. safflower oil
DIRECTIONS: In a bowl, mix together lamb, parsley, onion, garlic, cumin, Worcestershire sauce, salt and black pepper, to taste. Let sit in refrigerator for about an hour to marinate. Divide in four parts and shape into patties.
Heat a large skillet over medium heat, then add oil. Place patties in the skillet and cook until browned on both sides and cooked to medium, about 5 to 7 minutes per side
Assemble by placing the burgers on the buns and spooning sauce on top. Garnish with parsley sprig, tomatoes, and spicy mustard microgreens. Serve immediately.