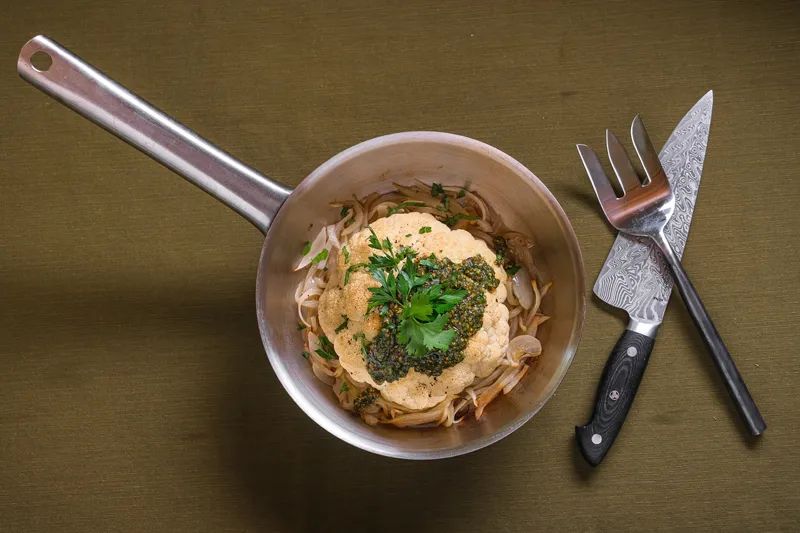 In Season
The Rustic & Savory Flavors of Fall
As the days become longer and the temperatures drop, it's the perfect time for rustic comfort food. Bread pudding is mostly associated with dessert, but it makes for a great substitution for baked stuffing at the holiday table. Kale and mushroom give the dish a savory flavor. Cauliflower is a neglected vegetable and serving it roasted and whole showcases its floret bouquet. Bring it to the table whole and carve it to give it the respect it deserves. Spinach and feta are the perfect accompaniment to sweet potatoes. If there are leftovers, the potatoes make for a great school or office lunch. Finally, a mousse made with cranberry sings the holidays with the berry's beautiful color.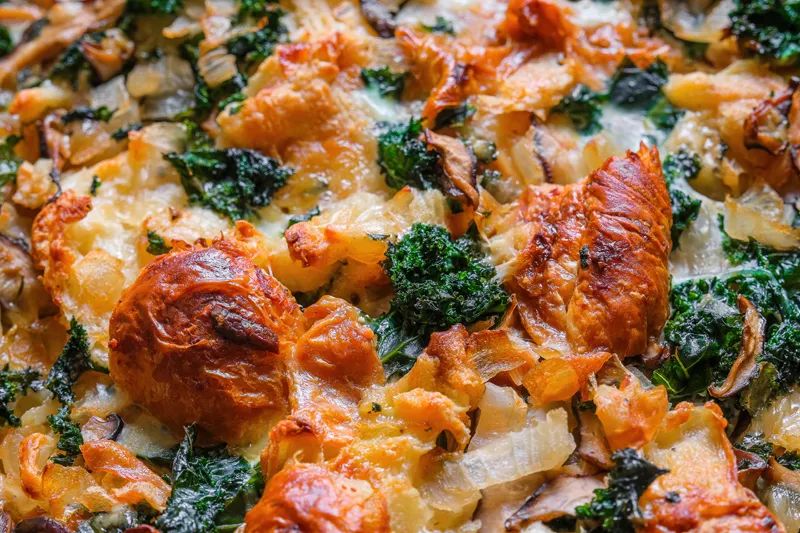 Kale and Mushroom Savory Croissant Pudding, serves 6
To make this bread pudding all the more special, it uses croissants at its base. This dish is a vegetarian option, but the addition of 1 cup crumbled bacon or cubed ham would be delicious.
1 bunch kale, thick stems removed
1 white onion, diced
2 T. extra-virgin olive oil, divided
1/2 pound mushrooms – brown, shiitake or oyster, sliced
1 t. fresh thyme leaves, coarsely chopped
2 cloves garlic, minced
Salt and fresh ground pepper, to taste
6 croissants, torn into large pieces
½ c. grated smoked Gouda
1/3 c. grated Parmesan cheese
4 eggs
2 c. whole milk
Bring a pot of water with a pinch of salt to a boil. Add kale and cook for 2 to 3 minutes. Transfer to a bowl of cold water, drain and squeeze out excess water. Coarsely chop and set aside.
Heat one tablespoon of oil over medium-high heat in a heavy skillet, add onions and cook until browned and translucent, about 5 minutes. Add remaining olive oil, stir in mushrooms and cook until they soften, about 3 minutes. Add thyme, garlic, salt and pepper. Continue to cook for another minute. Stir in kale, toss together and remove from heat.
Preheat oven to 350 degrees. Grease a 2-quart baking pan and set aside. In a large bowl, toss together bread, mushrooms, kale and cheeses. Pour into baking dish.
In an empty large bowl, beat together eggs and milk. Season with salt and pepper to taste. Pour mixture over bread and let sit for 15 minutes.
Place in the oven and bake for 45 to 50 minutes or until puffed and browned. Remove from oven and serve warm.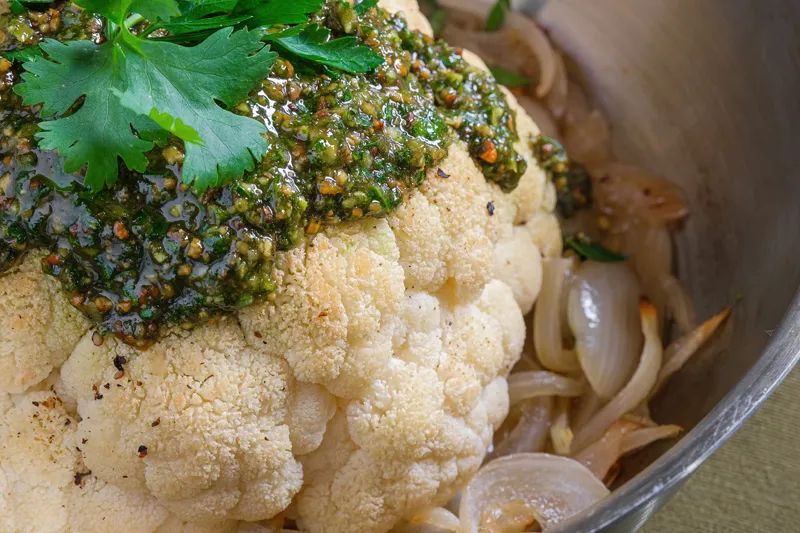 Whole Roasted Cauliflower, serves 4 to 6
Presenting this whole cauliflower and then cutting it up at the table for service will be a showstopper. Make extra pesto to accompany the dish.
1 head cauliflower, bottom stem removed and leaves trimmed
2 T. extra virgin olive oil
1 large yellow onion, sliced
¾ c. water
Salt and ground black pepper, to taste
Pesto
Zest of 1 lemon
2 t. lemon juice
½ c. packed cilantro and parsley leaves, extra for garnish
¼ c. extra virgin olive oil
¼ c. pistachios, roasted and salted
1 clove garlic, minced
Salt and ground black pepper, to taste
Heat oven to 400 degrees F.
In a medium heavy ovenproof skillet, heat one tablespoon oil over medium heat. Add onions and salt. Cook until translucent, about 10 minutes.
Rub cauliflower with remaining oil. Season with salt and pepper. Move onions to the side of the pan. Place cauliflower in an empty space. Add water and bring to a boil. Cover the pan tightly with foil and place in the oven. Bake 30 to 40 minutes or until a knife cuts easily into its center.
In a food processor, add zest, juice, herbs, oil, nuts, garlic and salt. Pulse until blended and then set aside.
Turn the oven up to 450 degrees. Uncover the cauliflower and baste with pan juices. Add more water if juices have dried. Bake for 30 minutes more, basting often until the top browns. (Brown under broiler if needed for about 2 minutes.)
Spread pesto on top and garnish with herbs. Serve immediately.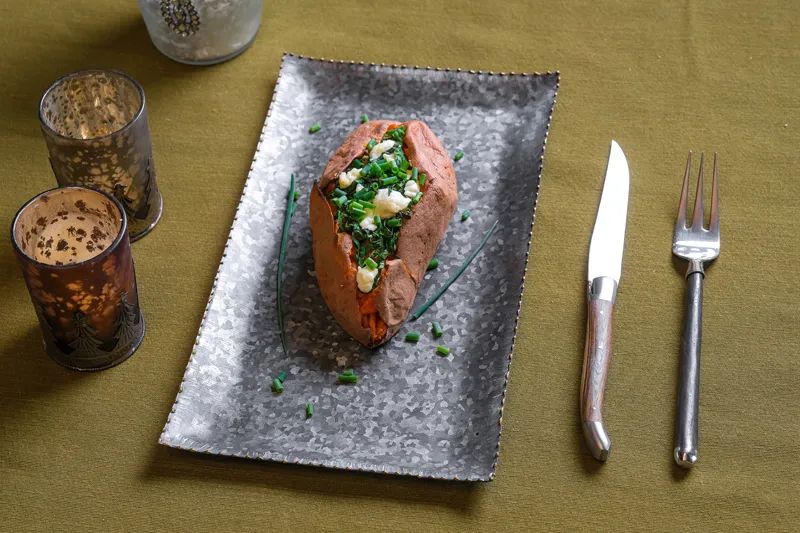 Baked Sweet Potato with Spinach and Feta, serves 4
I prefer jewel potatoes for this recipe and after cutting the potatoes open, butter can be drizzled onto the flesh instead of olive oil. If a meat option is wanted, chicken apple sausage would be a good addition.
4 sweet potatoes
1/2 t. sea salt
1/2 c. of extra-virgin olive oil, extra for drizzling
1 c. crumbled Feta, extra for garnish
1 c. chopped spinach
1/3 c. chopped fresh chives
Salt and ground black pepper, to taste
Heat oven to 425 degrees. Line baking sheet with parchment paper. Set aside.
With a fork, poke potatoes with a fork 4-5 times and place on lined baking pan. Bake about 40 to 50 minutes or until tender.
Cool for about 10 minutes or long enough to handle. Loosen flesh of potato with fingers. Split the tops with a knife then pinch the ends with your fingers and push in flesh. With a fork, break up meat and season with salt and pepper. Divide spinach evenly and add to potatoes. Top with feta cheese. Broil for 2 minutes or until cheese is melted and lightly browned.
Season with salt and pepper, drizzle with olive oil and garnish with chives and feta. Enjoy!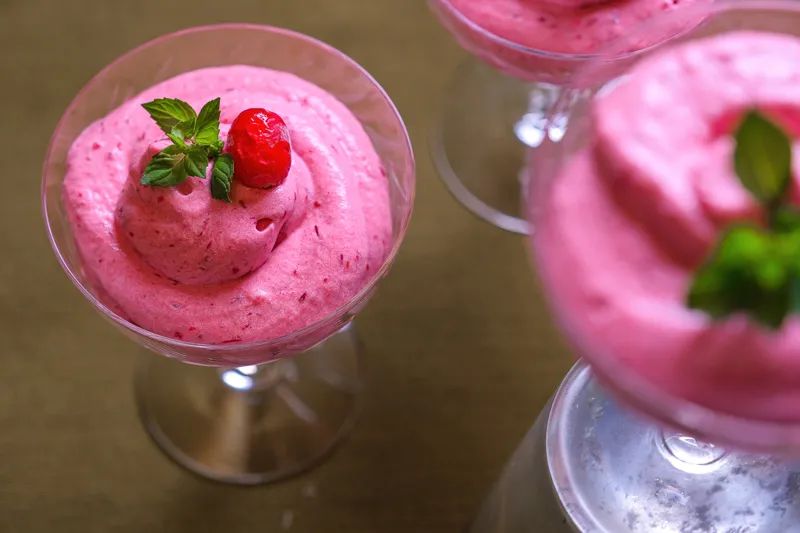 Cranberry Mousse, serves 6
This dessert sings winter holiday. I love serving this mousse on top of chocolate wafer crumbles with more sprinkled. A dollop of whipped cream is a great garnish for this pretty dessert.
1 pound fresh or frozen cranberries, extra for garnish
2 c. sugar
¼ c. orange juice
1½ t. gelatin
2 c. whipping cream
1 T. orange zest
In a saucepan combine cranberries, sugar and orange juice. Cook on medium heat for about 30 minutes. Once berries have started to pop, pour the mixture into a blender and blend on high until smooth. Pour back into the pan and sprinkle in gelatin. Cook for 5 minutes to dissolve gelatin. Remove from heat and cool to room temperature. Refrigerate for 1 hour.
Beat whipping cream on high until stiff peaks form. Fold in orange zest and cranberry sauce.
Spoon into bowls and enjoy!