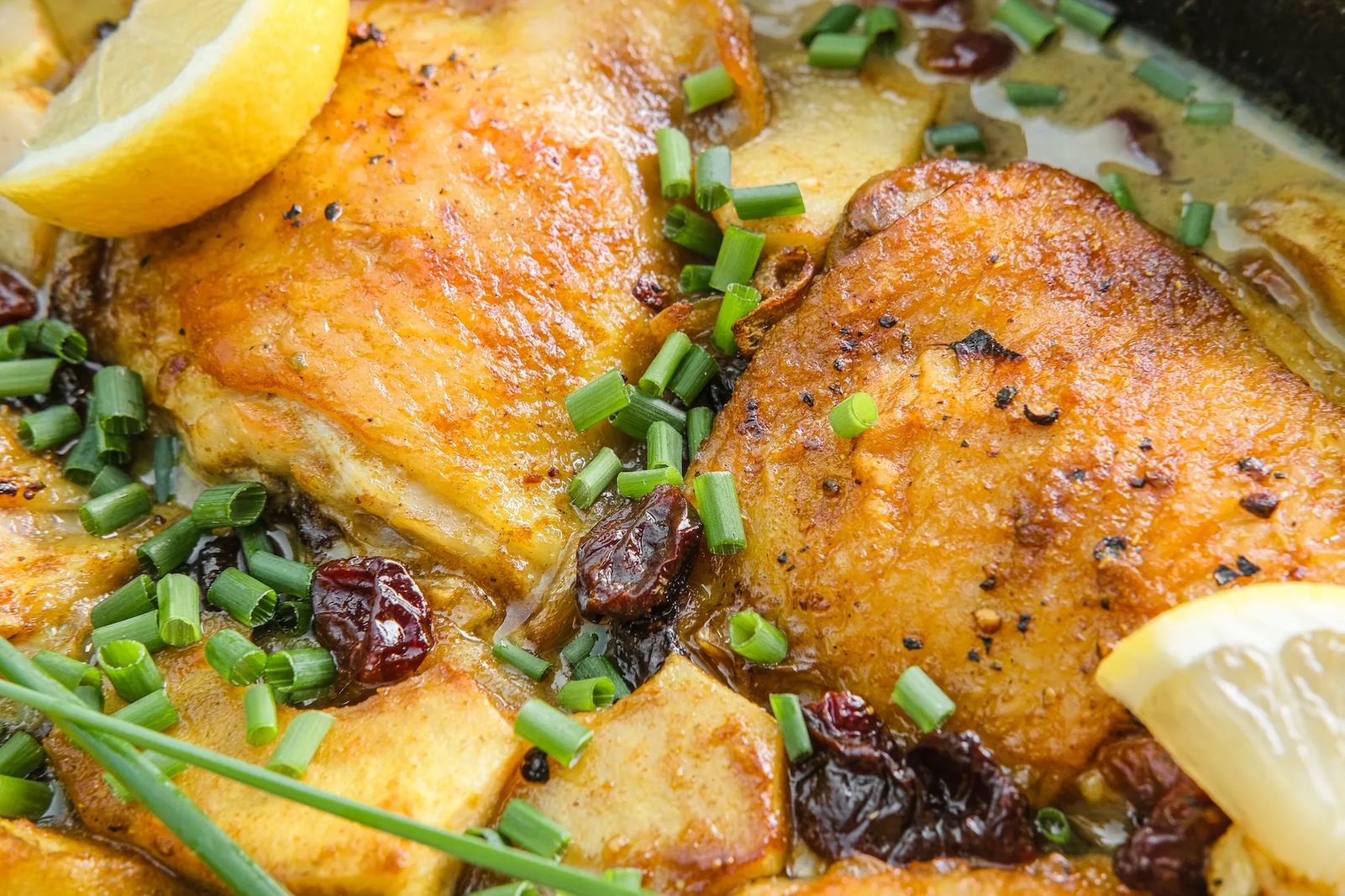 In Season
Comfort Food for Fall Eating
When fall arrives, I welcome its presence, though there's a piece of me that still hangs on to the memory of summer. In my garden, I am putting to bed the final harvest of a sun-kissed bounty. Zucchinis, carrots, apples and pears that are found in my refrigerator make for great ingredients to transition into the delicious flavors of fall. It's now time for heartwarming soups, wholesome cookies and hearty braised dishes.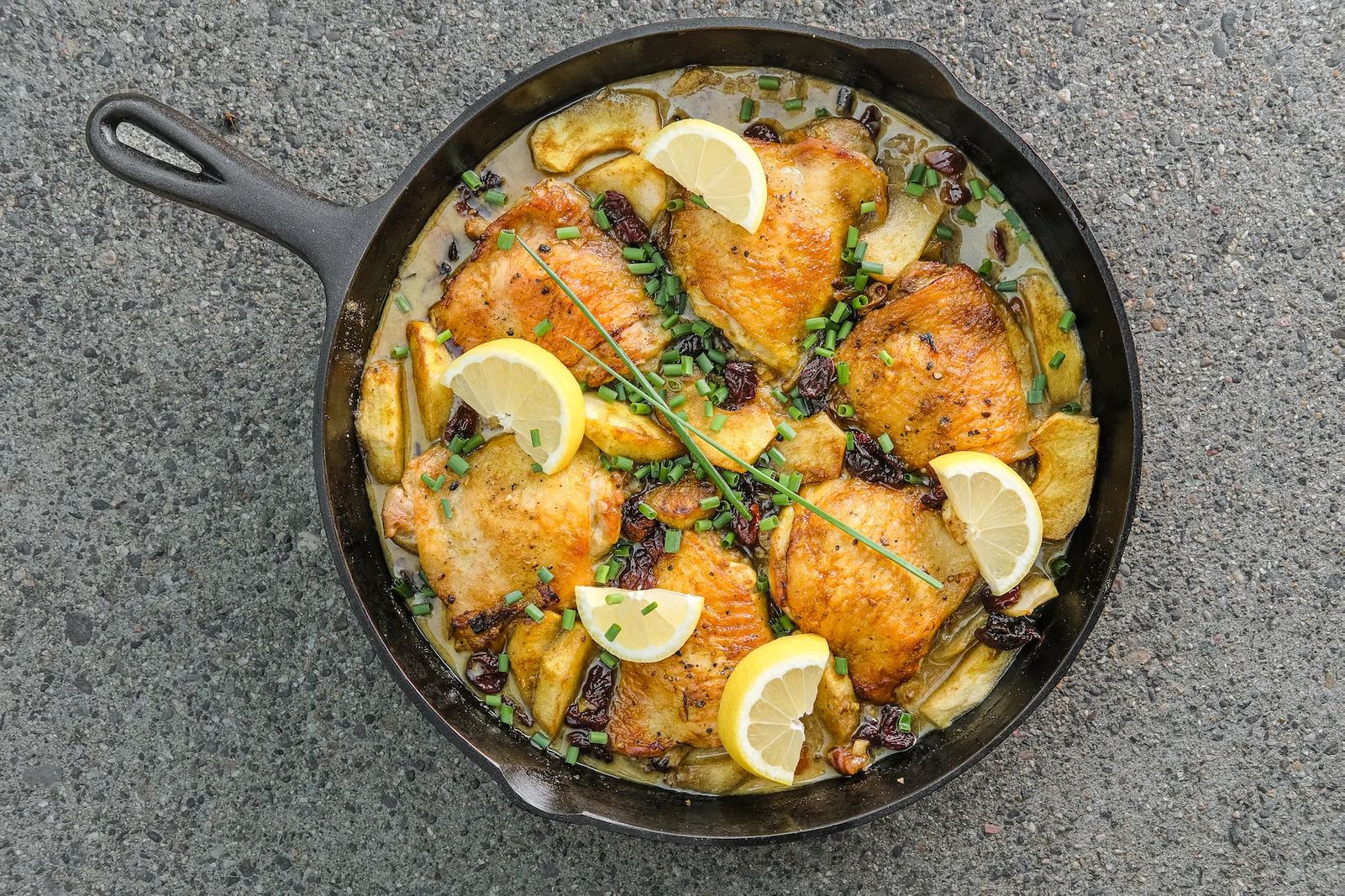 CIDER BRAISED CHICKEN WITH APPLES & DRIED CHERRIES, serves 4
Chicken cooked in the spices of cumin, turmeric, ginger and coriander fills the kitchen with enticing aromas and the stomach with savory warmth. Garnish with chopped chives and spritz with some lemon juice. Mop up the flavors of fall from the apples and the lingering spirit of summer from the cherries with a slice of warm bread.
6 bone-in, skin-on chicken thighs
1 T. vegetable oil
Salt, to taste
Fresh ground black pepper, to taste
1 large red onion, sliced
2 large red apple, peeled, cored and cut into thick slices
1 t. cumin
½ t. turmeric
½ t. ground ginger
½ t. ground coriander
4 T. dried cherries
2 cloves garlic, minced
1 c. dry hard cider
1 c. chicken broth
Fresh chopped chives
Lemon wedges
Preheat oven to 400 degrees. Pat the chicken pieces dry. Heat an oven-proof skillet over medium high heat. Add oil and swirl to cover bottom. Sprinkle thighs with salt, and place skin side down onto pan. Sear for three minutes. Add onions and sear for another three minutes. Stir onions and check for the browning of chicken. When golden, flip the chicken and sear for another three minutes. Push the chicken and onions to the side of the pan, add apples and sear for three minutes.
In a small bowl, combine the spices and sprinkle on the chicken, apples and onions. Stir and cook for one minute. Add garlic and cook for another minute. Carefully and slowly pour in cider. Simmer for five minutes until reduced by about half. Add the broth and bring to a boil.
Put pan in the oven and roast for 10 to 15 minutes or until chicken reaches an internal temperature of 165 degrees or when juices are no longer pink when pierced with a knife. Juices will be thin. Season with salt and black pepper to taste. Garnish with chopped chives and lemon wedges. Serve with thick slices of toasted rustic bread.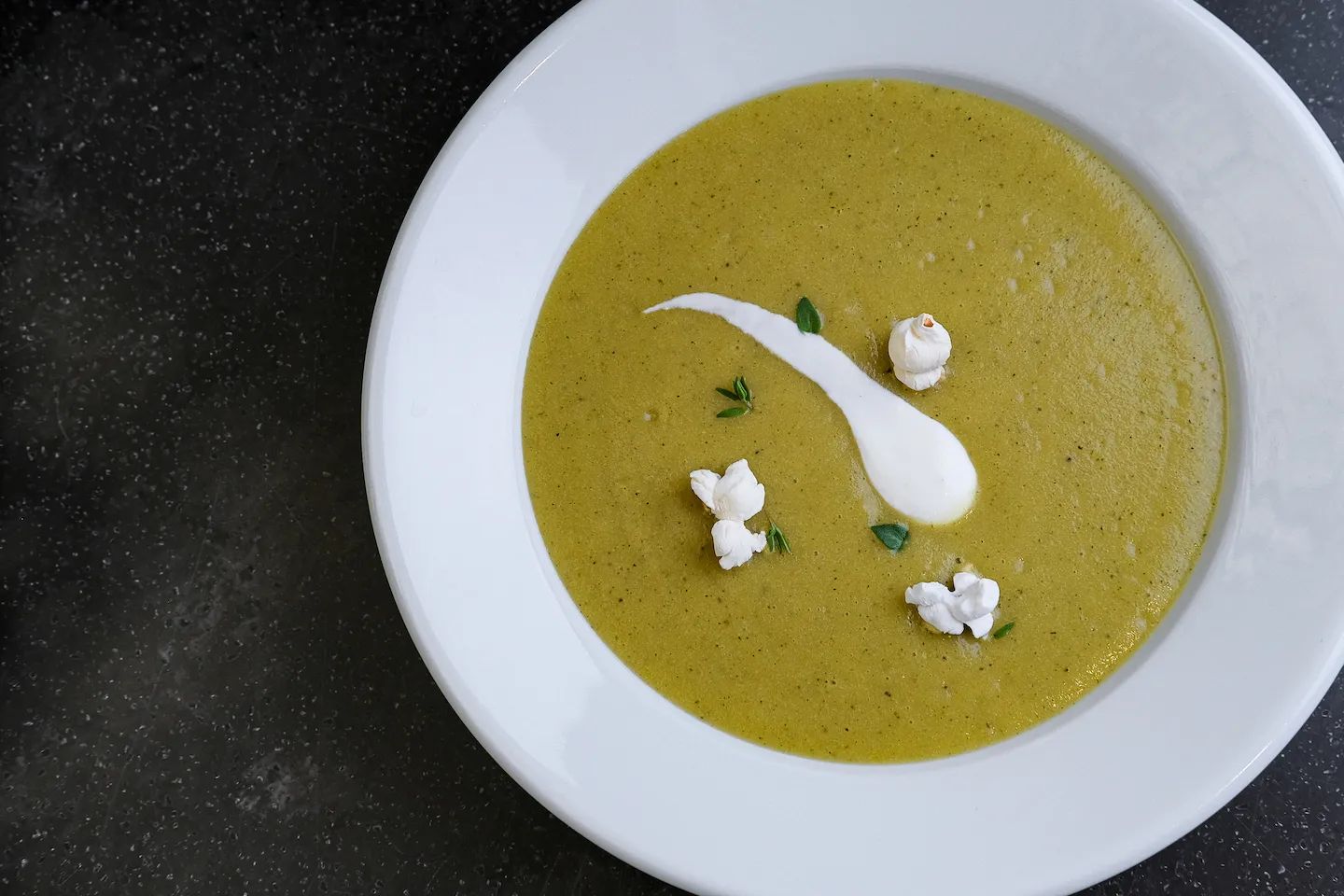 ZUCCHINI PEAR SOUP, serves 4
This soup combines summer and fall bounty with pear bathing the palate with fall flavors. Garnishing this soup with popcorn adds a bit of fun and thoughts of summer corn on the cob.
3 T. butter
1 medium carrot, peeled and diced
1 medium white onion, peeled and diced
1 medium russet potato, peeled and diced
½ t. fresh thyme leaves
Salt and ground black pepper, to taste
4 medium zucchini, trimmed and diced
4 medium ripe pears, peeled, cored and diced
4 c. vegetable stock
Dollops of sour cream or plain yogurt, for garnish (optional)
Popcorn, for garnish (optional)
Fresh thyme leaves, for garnish (optional)
Over medium-high heat, melt butter. Add carrot, onion and potato. When onion is softened, about five minutes, add zucchini, thyme, salt, and pepper and continue to cook until everything is tender, about 10 minutes.
Add pear and cook until softened, about five minutes. Add broth and bring to a boil. Cool mixture and puree. Season with salt and pepper, to taste. Serve cold or reheat and serve hot. Garnish with sour cream, fresh thyme and popcorn, if desired.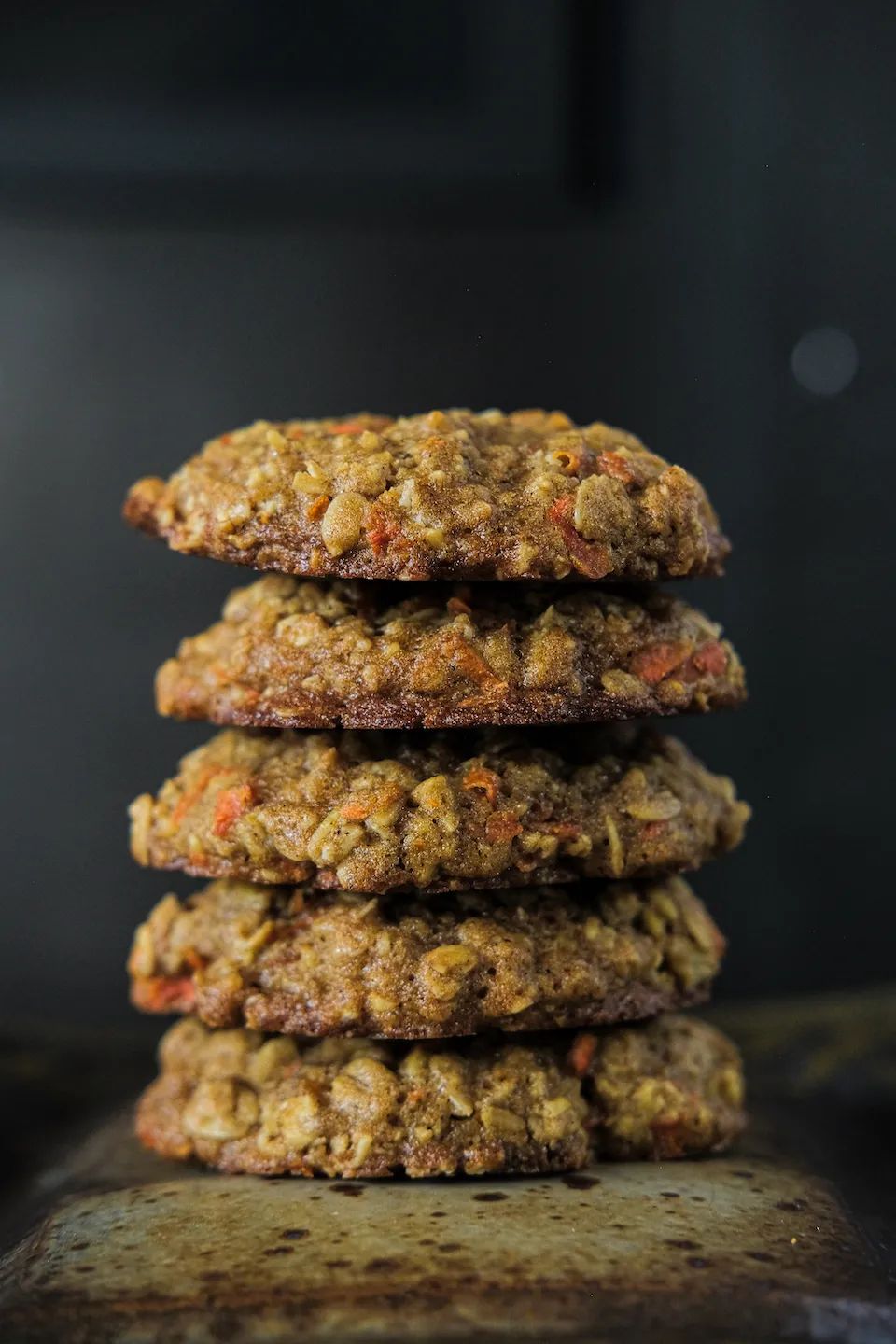 OATMEAL CARROT COOKIES, makes 24 cookies
These cookies are rustic in color and flavor. When the cookies come out of the oven, the edges are crispy with the middle somewhat cakey. I love the softness in the middle as it reminds me of carrot cake, but the oatmeal gives the cookie texture.
1½ c. unbleached all-purpose flour
1 t. ground cinnamon
1 t. ground cardamom
¼ t. ground nutmeg
½ t. baking powder
1 t. baking soda
½ t. salt
1 c. unsalted butter
1 c. packed dark brown sugar
½ c. sugar
2 large eggs
2 T. maple syrup
2 T. vanilla extract
3 c. old-fashioned rolled oats
2 medium carrots, peeled and grated
In a bowl, add flour, spices, baking soda and salt. Mix to combine and set aside. In a mixing bowl, beat together butter with sugars until light and fluffy. Beat in eggs, one at a time. Add maple syrup and vanilla extract. Add flour mixture and mix on low until just combined. Stir in oats and carrots. Cover and chill dough in refrigerator for 1 hour. Preheat oven to 350 degrees and line a baking sheet with parchment paper.
Scoop out dough, about 2 rounded tablespoons, onto prepared baking sheet, about 2-inches apart. Bake for 12 to 15 minutes until the edges are lightly browned.