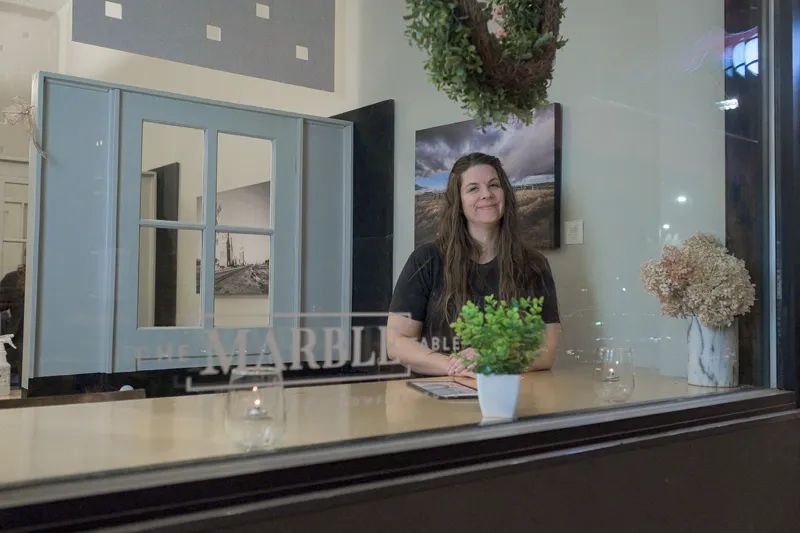 Jen Marble
The Marble Table Serves Up Comfort & Support
At the Marble Table, elegant comfort food is served nightly, and there to greet guests is restaurant co-owner Jen Marble, who invites them into what she lovingly calls her "home."
"I want to help people in the least expected ways," Jen says. "When they come into the restaurant, I never know what they have going on outside of here. When they come through the door, I say 'hello' and smile," she adds. "We want them to feel that they belong here. It's family here."
Jen runs the popular establishment with her husband, Jason. He oversees the kitchen operations. She takes care of most everything else. Their eldest son, Michael, cooks alongside his father, while their daughters, Madeline and Briella, help the service staff. The youngest, Logan, buses tables.
In redesigning the space of their new restaurant at 2515 Montana Ave., Jen says, "I wanted to have a comfortable place here. I am here more than I am at home." The gray walls at the restaurant are one shade different from the ones at their home.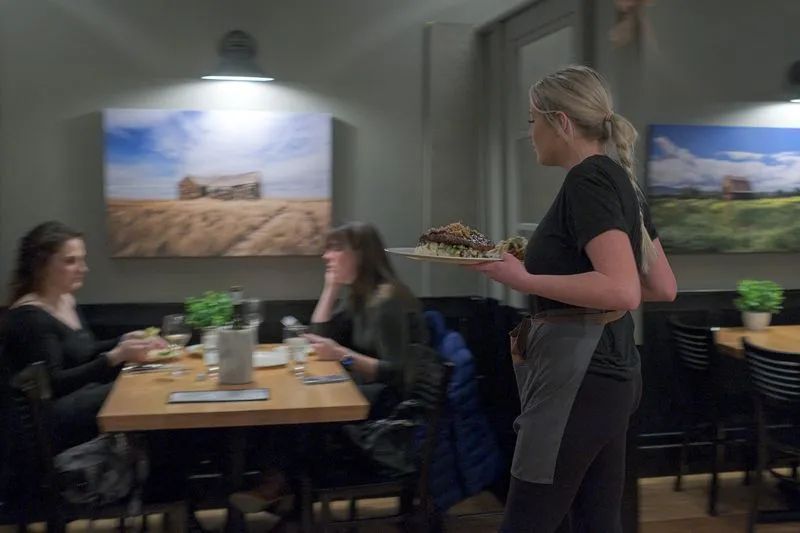 Weathered wooden doors with windows inserted up top serve as dividers between tables. Family stepped in to help when her father-in-law, David, fashioned the Covid-friendly partitions for the restaurant's opening on Black Friday in 2020, in the middle of the pandemic. Initially designed for social distancing, the partitions now offer privacy for diners.
Jen, who once owned Rustic Nest Designs, refreshes the dining space with seasonal touches on a monthly basis. In her former business, she created handmade custom decor and offered DIY classes as well. You'll see her handiwork at the Marble Table as well. On this day, the words "believe" grace a wooden board hung just outside the kitchen. Next month, a different message of inspiration might be in this space.
Jen and Jason were sweethearts at Senior High. They were in pep and jazz band together, where Jason played the trumpet and Jen played the alto saxophone. "Jason was a prankster, a jokester," Jen says. "I found him annoying, but he was always really funny and he made me laugh."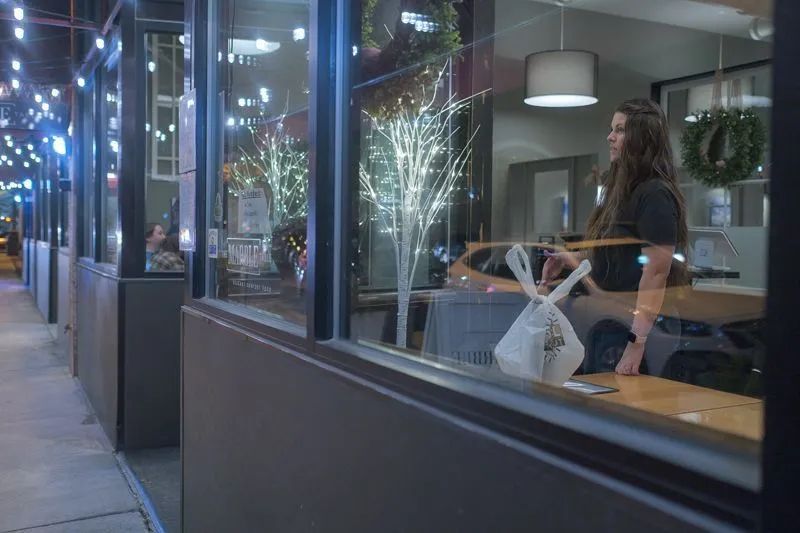 Then one day, she says, "My mom forgot to pick me up at school. I was carrying the sax and it was really heavy. Jason walked up and said, 'Hey, do you need a ride home?'" His metallic blue 1972 Chevy Stepside Truck proved to be the right calling card.
"I loved that truck ever since I first saw it," Jen says. She remembers seeing it illegally parked in the teacher's parking lot. Quickly, she became part of a trio, along with Jason's best friend, Colin Peters. "Only three of us could fit in that truck," she says.
Jason is a "third-generation nursery man," part of the family that owns Billings Nursery. Jen recalls working at the nursery in the summers. Her fondest memories were the meals Jason would prepare. "He cooked formal meals in high school. We would eat on the family's antique table at the nursery."
In 1999, the "trio" moved to Portland, Oregon, where Jason attended the Le Cordon Bleu College of Culinary Arts. The new-found freedoms created conflict, Jen says, and "we got engaged but broke it off. Instead of telling Jason what to do, I wanted him to figure things out for himself, so I moved back to my childhood home in Hibbing, Minnesota, and married someone else." After giving birth to Briella and Logan, Jen's marriage turned abusive. She was too embarrassed to tell anyone.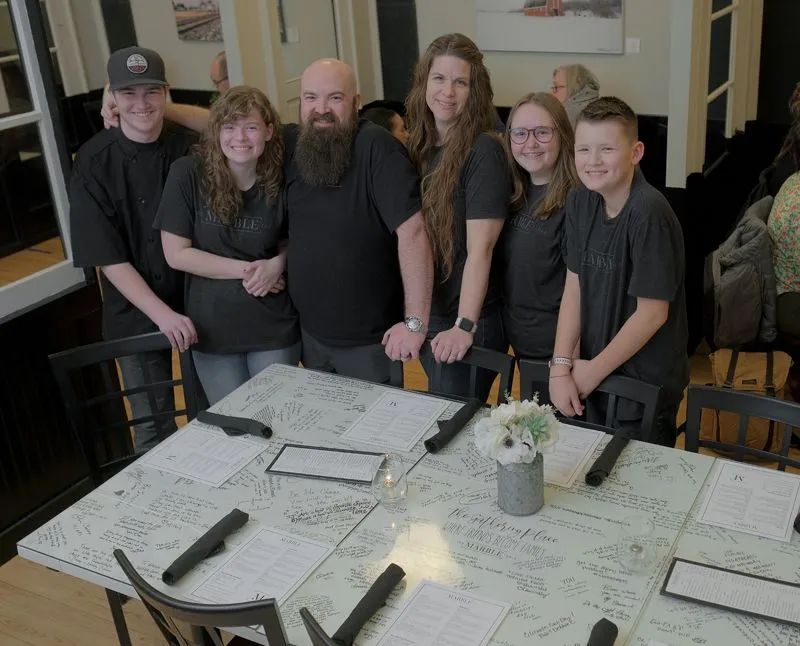 Meanwhile, Jason had married, divorced, and had two children of his own. He was back in Billings, working at the nursery. Not knowing what else to do, Jen called Jason — the number at the nursery hadn't changed. He answered the phone, recognizing the desperation in her voice and asked, "Where are you? I'll come get you."
Jen and Jason married in 2015.
Finally, Jen found security. With introspection and healing, she's gained strength from the difficulties she encountered, which started as she was growing up. "I had a dysfunctional upbringing." Now she realizes, "His family is my family. I didn't know what real family was until I met his family."
Today, that feeling of family spills over to the Marble Table. The restaurant opened in what was previously Lilac restaurant. At the time, Jason was working as the head chef at Uberbrew and Jen was making a go of her Rustic Designs business. They asked his parents for financial help, but with the pandemic putting most other restaurant businesses at risk, his parents didn't believe they were making a sound business decision. Yet Jen had experience in all kinds of careers — legal secretary, medical assistant, office manager, hostess — all suitable for restaurant management. And, just as important, both possessed entrepreneurial spirits.
While overnighting at a hotel in Minneapolis, waiting for an airline flight, Jason scribbled down some numbers on a piece of paper and asked Jen, "I want you to run these numbers." After she analyzed them, she says, she realized, "We can do this. Let's do it." With the help of accountant Michael Morrison and guidance from the Downtown Billings Alliance, they opened in the depths of the pandemic, on the Friday after Thanksgiving in 2020. By year's end, they exceeded their projected earnings and received recognition from the James Beard Foundation as a semifinalist for Best New Restaurant in 2022.
"I am not a negative person," Jen says, "There's a reason for why things happen. Doors open and you don't know what doors to go through. It's not easy to decipher. This is why we don't say 'no' right away."
Jen believes in her husband's cooking skills and says, "It's an added bonus that Jason is a pastry chef." She always saves room for the sweet endings. "I like them all. I can't have chocolate, but I love his Apple Pie Cheesecake. It's my favorite."
Jason may express his affection for Jen through his food but, he says of his wife, "She is my best friend. Her love for all people comes with a tender heart and compassion, yet with firmness when needed." With their children, "She is an advocate for every child. Fiercely protective," and he adds, "She is genuine and just a good person."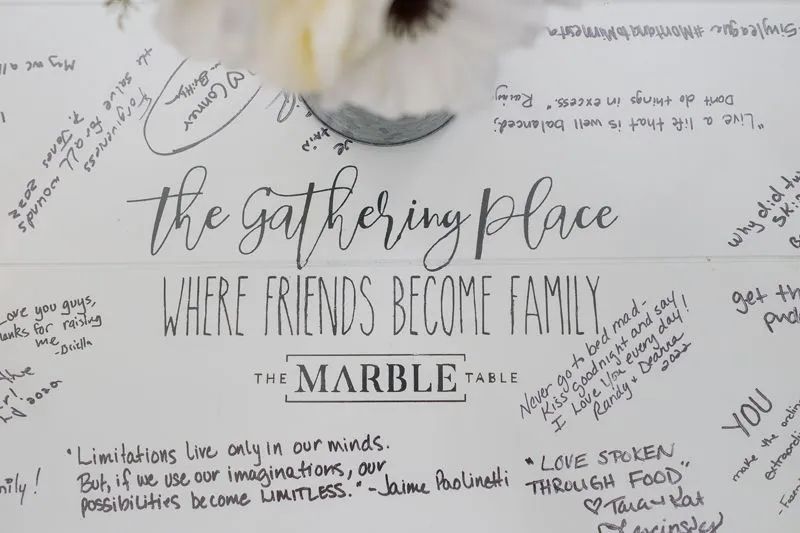 Even with the bustling Marble Table, this culinary power couple is starting a new enterprise just down the road. The space that once housed Café Zydeco will be replaced with the Bearded Bulldog Pub Grub.
Jen describes the concept of the restaurant as a "speakeasy with upscale bar food. Nachos. Salads. Smashed burgers. There will be no sit down. The food will be to-go only." With a mischievous look, she says, "I may have a password for the backdoor in the well-lit alley."
The operation began out of the Marble Table originally. Guests at Carter's Brewing, Thirsty Street, Undammed Distillery and the Rainbow Bar could order with a QR Code and the Marble Table would deliver the order right to the table when ready.
With two businesses serving diners along Montana Avenue, the Marbles are members of the Historic Montana Avenue Association, an advocacy organization devoted to restoring the vitality of this section of downtown Billings.
"This is the beginning. This is where the Magic City started," Jen says. "The more we shed light on Montana Avenue and see the beauty of the storefronts and the wonderful people here, it will flourish." To this end, the group plans on upgrading the lighting, reducing traffic, establishing diagonal parking and replacing unsafe sidewalks.
As the couple's enterprise grows with the love of this historic neighborhood, Jen often reflects on the blessings it has brought. "This is the best job I have ever had," she says, "Our customers mean the world to us."
On a large communal dining table in the side annex of the restaurant, customers share their appreciation by signing the table top. Tara and Kat write, "Love spoken through food," while Bob and Kathy wrote, "From craziness in high school to outrageous success in adulthood. Who knew! We are so happy for you!"
As many can testify, at the Marble Table, comfort and support come in many ways.