Karen Pearson
A Warrior for Veterans
"When a veteran has the courage to walk through our front door, it's because he or she wants to change," Karen Pearson says. "We help grow that. We accept them as they are, where they are and work with that."
Stepping into Adaptive Performance Center (APC), you'll see those words in action. Karen and co-founder Mitch Crouse opened the center, the only "veterans-only" gym in the country. The gym was the brainchild of Karen, a licensed clinical professional counselor and certified fitness coach, and Mitch, a certified personal trainer.
In two years, the gym has grown to more than 550 members ranging in age from 18 to 80. It's a concept that was in the works for some time before Karen and Mitch took it from paper to opening the doors on this business.
"It has been a long haul, but worth it," Karen says. "I love spending my days here."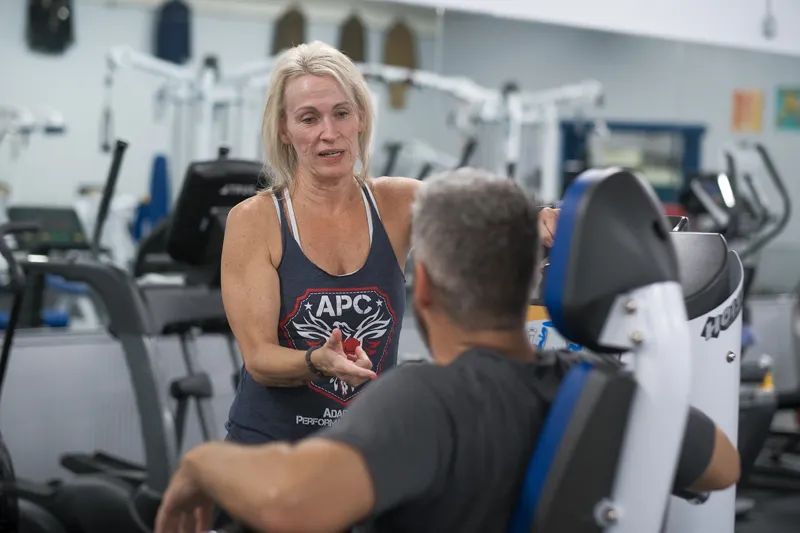 Karen began her professional career working at the Yellowstone Boys and Girls Ranch, where she specialized in behavior disorders.
"I knew fairly quickly that I couldn't spend my career rolling on the floor with kids," she laughs. "So, I decided to get my master's." She has a master's degree in special education and community counseling, which enabled her to become a licensed clinical professional counselor.
From there, Karen opened her private practice, Alpine Counseling, which she operated for 17 years. The O.J. Simpson trial was making headlines at the time, and legislative change regarding domestic violence began to take place. Karen got on board and designed a 10-week anger management program, which was later required for anyone convicted with domestic violence.
"That's when I realized that you treat people like people, not criminals," she says. "If you treat people like they are objects and not worthy of respect, you won't get anywhere with them."
Her approach worked. In the years she offered the program, she was given 90 percent of the referrals from agencies that required the program. It was from there, and the effects of the 9/11 attacks, that Karen became increasingly aware of difficulties that veterans suffer after returning to civilian life.
"PTSD, depression and suicide, they dealt with it all," she says. "After 9/11, it felt like the world had gone to hell in a handbasket. Guys that were returning home weren't the same. There was plenty of money being spent by the government on studies that revealed what they were suffering from, but there wasn't any being spent on programs to help them deal with it. It became very frustrating."
Determined to do what she could, Karen came up with a program geared toward veterans that was similar to her anger management program. She took it all the way to the Pentagon in 2006 before she was shut down.
"It's hard to get anywhere with the government," she explains. "I had one connection that helped me get that far and then he was transferred, and I was back to ground zero."
Discouraged, but not ready to give up, Karen decided to change careers. She shut down her private practice and began pursuing a career in physical fitness.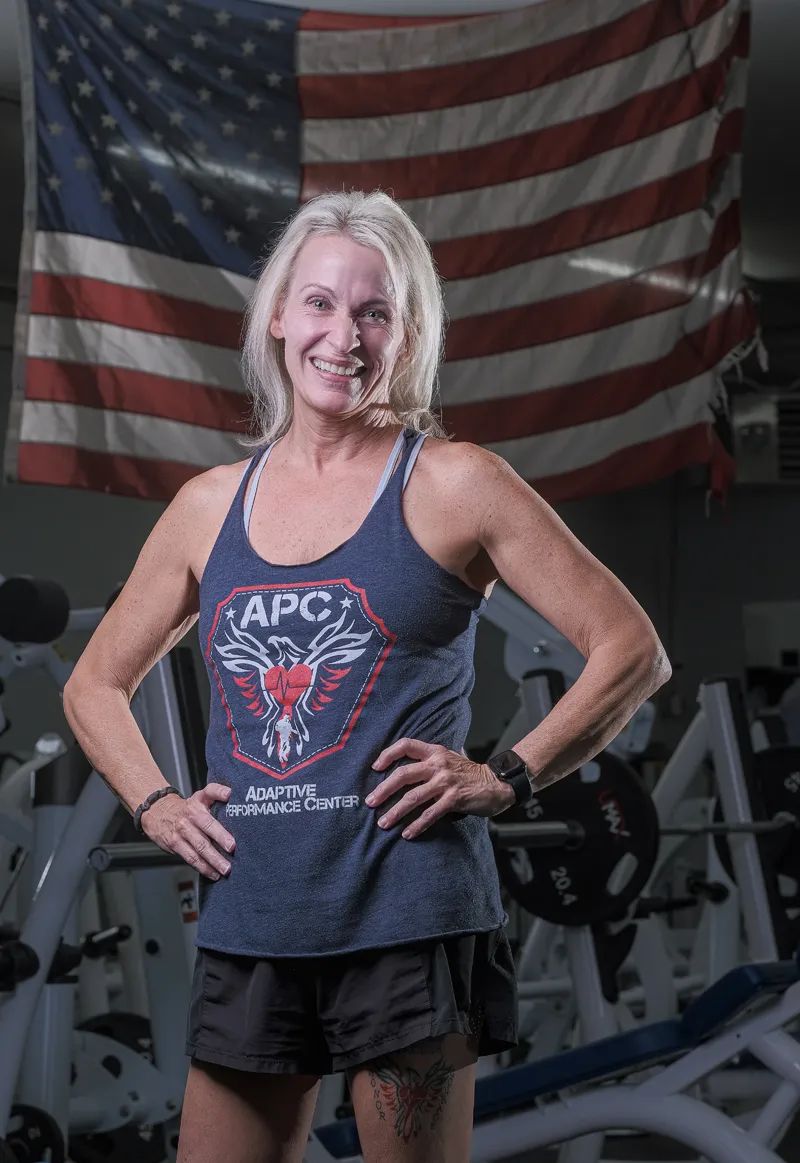 "It was a far stretch from counseling," she says, "and at first I did it for me."
Karen had a heart scare that woke her up to the need to get in shape. Both of her parents had heart trouble, and when she did a stress test at age 47, her doctor told her, "You're a skinny fat woman," meaning that even though she was in her target range for weight, her heart was not healthy.
"It was then that I quit being a 'competitive sitter' and decided to take my health seriously," she says.
Karen became a certified yoga instructor and a personal trainer at Yellowstone Fitness and her life took a turn from there. In 2014, as a single mom realizing she needed to take control of her health, she started working out with her son's swim coach, Mitch Crouse.
"Mitch was a personal trainer at YF and taught me weights," she says. "After a while, we decided since we both worked there, we should partner up and offer fitness challenges to the members. We decided to do something that makes fitness fun, otherwise people won't keep doing it."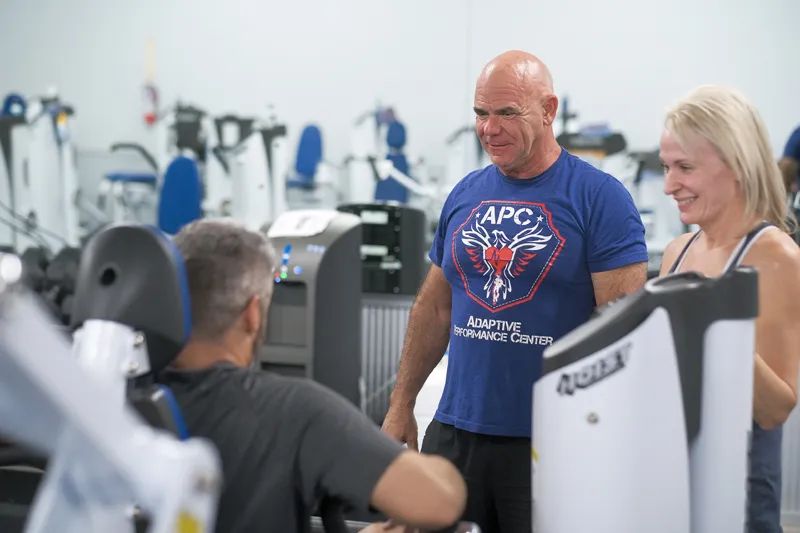 It went over well and became very popular with the members. But she hadn't lost the urge to help veterans. Every time Karen would see the latest report on veterans' suffering, it hit her harder. Mitch was soon caught up in the same frustration. While watching the Super Bowl in 2017, an ad appeared that showed an NFL player mentoring a wheelchair-bound veteran at a gym in Texas. The idea was to match up vets with a mentor to help them with their physical fitness.
"It triggered something in both of us," Karen says. "What if we had a full gym? What if we could find a place for these vets to come work out and hang out? What if it was all veterans?"
Research had already proven that exercise can provide healing to a body wracked with PTSD, anxiety and depression. The energized duo jumped in with both feet, coming up with a marketing plan, submitting paperwork for nonprofit status and networking with anyone willing to listen to their ideas. Things began to happen.
"It was unreal," Karen says. "Every step we took was difficult, but from the beginning, we've had incredible support from the community."
The owners of the building held off on collecting rent for a period. The company that sold them exercise equipment gave them an incredible discount and then offered months to pay it off. Donations started coming in, even while the concept was still just an idea. And then Covid-19 hit.
"We opened on March 2, 2020, and Covid hit a few weeks later," Karen says. "That first week we gained 45 members, and everything shut down. We didn't know what was going to happen."
Thankfully, their business was classified under rehabilitation instead of a gym and deemed essential, allowing them to stay open.
"It was a godsend," Karen continues. "We tried so hard to get veterans to come and we didn't want to close on them. They may be resilient, but lots of them are fragile too."
What happened next was nothing short of a miracle. Veterans began coming. Some, who followed every post on APC's Facebook page, finally had enough courage to walk through the front door. They continue to come. No members are turned away and many memberships are paid by donations.
APC is not a typical gym. Instead of seeing exercise equipment when entering, a relaxing, welcoming lounge is the first impression. The couple has intentionally decorated the front with comfy couches, inviting veterans to sit and visit for a while. The coffee pot is always full and two golden retrievers make up the welcoming committee.
"We want veterans to feel safe here and it's been amazing," Karen says. "Guys generations apart in age have a camaraderie that they wouldn't have if they hadn't served. They really support each other. And we get to be part of that every day."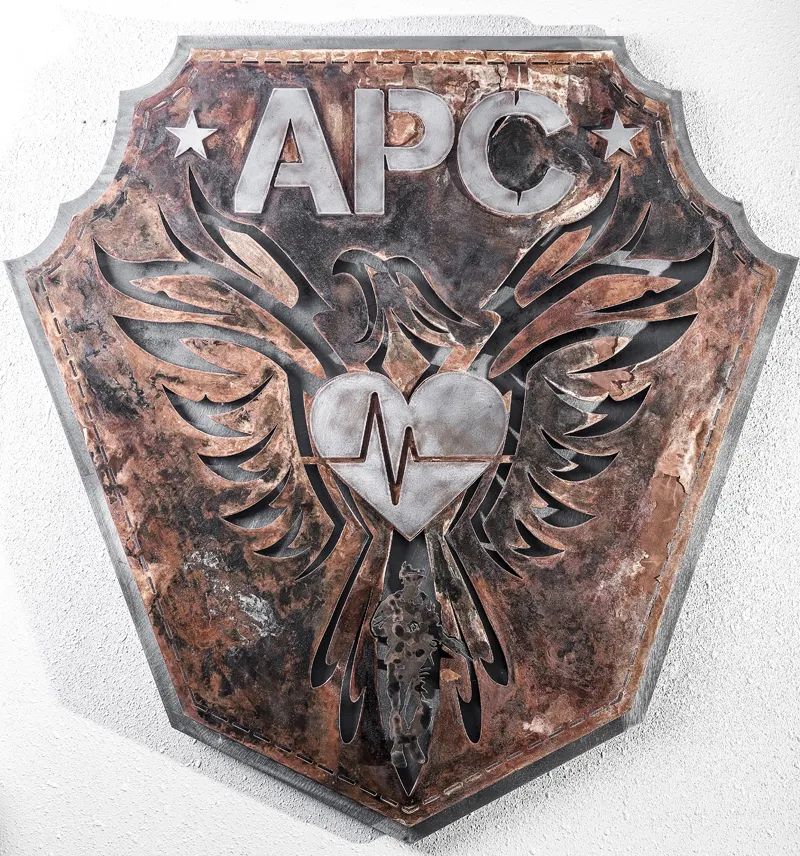 Besides working at the gym, Karen and Mitch worked for the past two and a half years on the production of a full-length documentary highlighting the phenomenon of veteran suicide. Every day, 22 veterans in the United States take their own lives. During Covid, that number was slightly higher.
"The suicide rate is unacceptable," Karen says. "This film exposes how difficult it is for veterans."
The documentary, featuring several members of the gym along with veterans and their families across the country, shares heartbreaking stories of veterans taking their lives, of the guilt that they live with because they survived war and others did not and the difficulty of adjusting to civilian life.
"It's heart-wrenching," Karen says. "But it's real. We're trying to do something about it by working toward eliminating the rate of veteran suicide through physical fitness and recreate a community for them."
The 90-minute film has been shown multiple times in Billings and is making its way across the nation. It's been entered at the Sundance Film Festival competition and the couple hopes to have it streaming soon.
In August, APC brought another national event aimed at veteran suicide prevention to Billings by hosting the first Walk the Bridge at Sword's Park atop the Rims. Entrants walk 2.2 miles symbolizing the roughly 22 suicides witnessed in this country each day. The first event attracted more than 40 people, most having a close connection with someone who committed suicide. From here on, APC plans on having the walk on the 22nd of each month, year-round, and they'd love the community to join them.
"Our desire is to help as many veterans as we can," Karen says. "Something magical happens every day at our gym. We see life come back in the eyes of our veterans as they rediscover themselves and heal. That makes everything we do worth it."
TO LEARN MORE ABOUT THE ADAPTIVE PERFORMANCE CENTER, visit adaptiveperformancecenter.org. You can also find them on Facebook or by calling (406)281-3848.