Let's Get Away
Sage Lodge sets the scene for hospitality
At Sage Lodge, I felt safe, swaddled and spoiled. It has been many weeks since I journeyed to Pray with friends Susan Carlson, Sandy Kunkel and Debbie Sundberg for a girls' getaway. Much has happened since that time, but in those 20 hours, I clearly recall what happened when kinship and hospitality united, and that memory has carried me through these latest times.
In Montana fashion, when the weather can be unpredictable, clouds gathered as Sandy drove us into Paradise Valley. Flecks of snow dropped from the sky when just days before we were outside wearing T-shirts warmed under the Big Sky.
Through veiled fog and patches of snow flurries, the Absaroka Range loomed to our left while the Yellowstone River meandered alongside. After making the left turn off Highway 89, the GPS encouraged us to drive down East River Road, but instead, we turned left up towards the Paradise Valley Fire Station and made a quick right, putting us on a road that led to the rustic wood-sided, metal-roofed cabin chateau.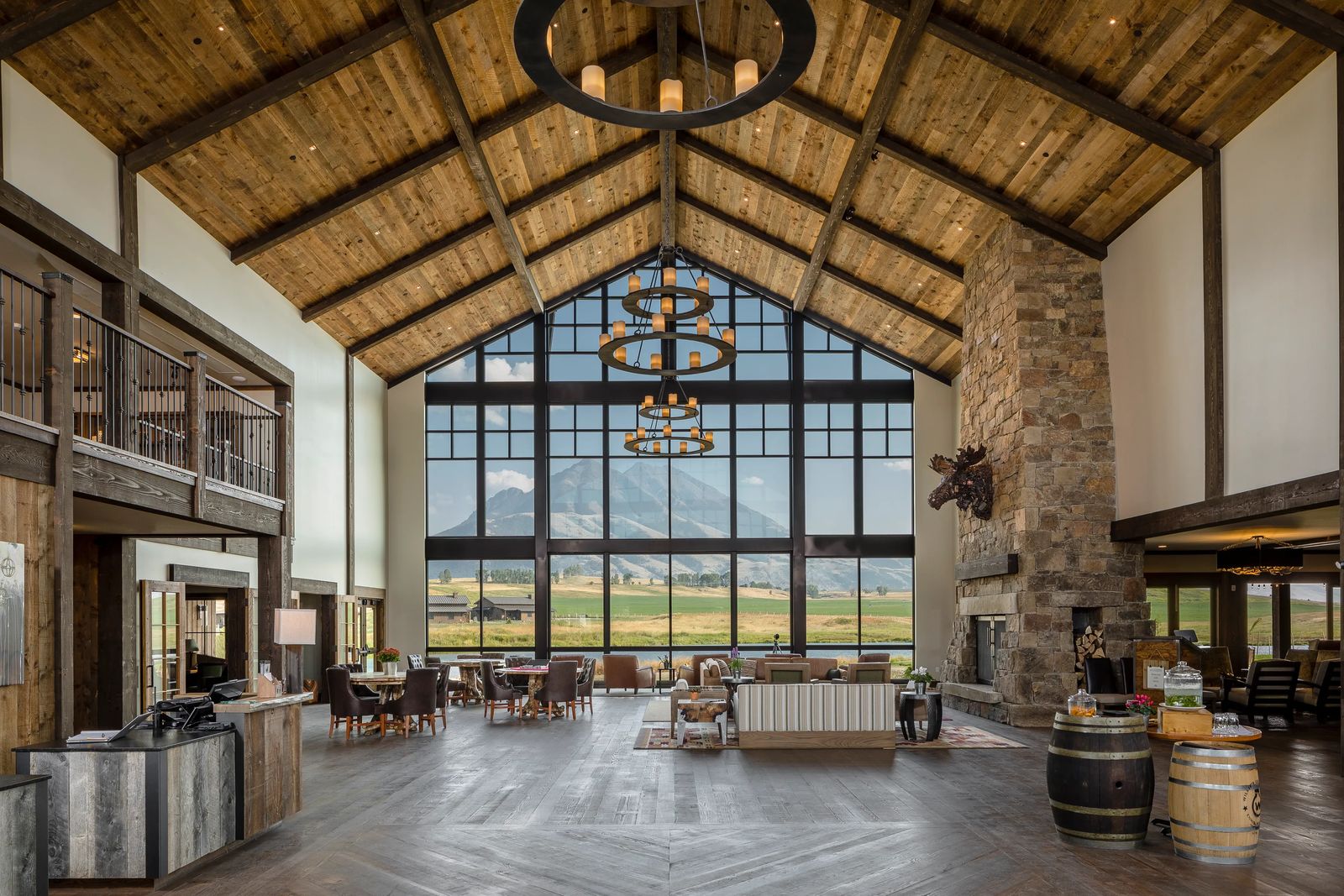 The moment we stepped inside the lobby, we knew we had left our cares behind. Emigrant Peak stood in majestic welcome framed in the broad expanse of windows. Elegant comfy couches and game tables huddled in front of the massive sandstone fireplace, beckoning us to stay awhile.
The Sage Lodge is a "high-end experience in a down-to-earth environment," says Paul Robertson, director of sales and programming. "People need an environment in their lives — especially when they live in an urban setting — that is immeasurable, restorative."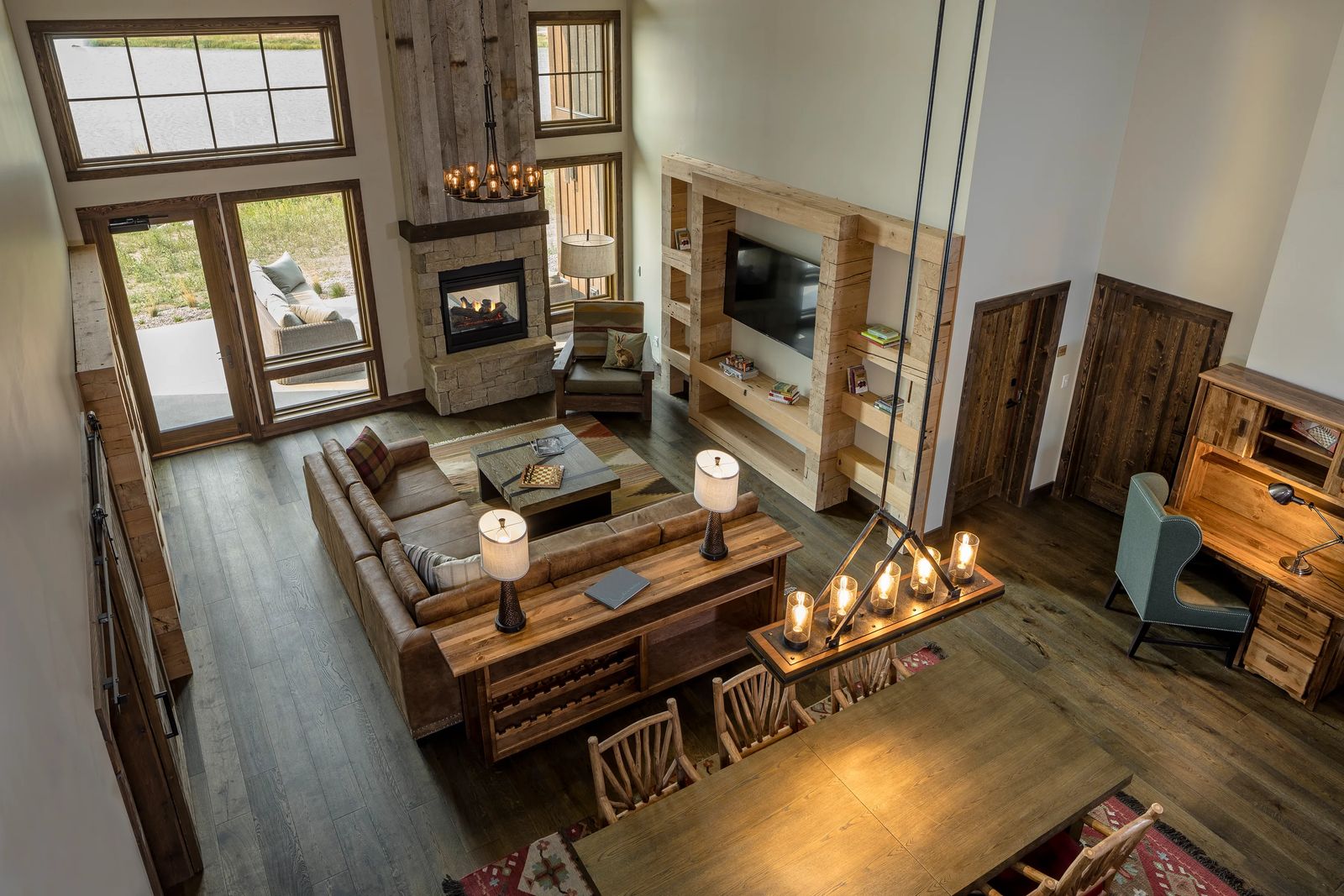 Our restoration began as we slipped into the 2,783-square-foot Firehole Ranch House to get ready for our afternoon activity. The chic modern-cowboy-decorated house with views to the pond immediately captured our attention. The main room with a full kitchen, dining area, living room, double-sided gas fireplace and private patio split into four separate guest rooms. With six king beds, two queen pull out sofas, four full bathrooms — two with slipper tubs — 16 people can live in luxury. For kids, there's an open loft above the kitchen for play and sleeping bag slumber. We talked about returning with friends and family.
Fly fishing guide Sam Johnson waited for us in the equipment room. Here, with toys such as fly rods, paddleboards, snowshoes and mountain bikes, some available for a rental fee, guests can actively explore.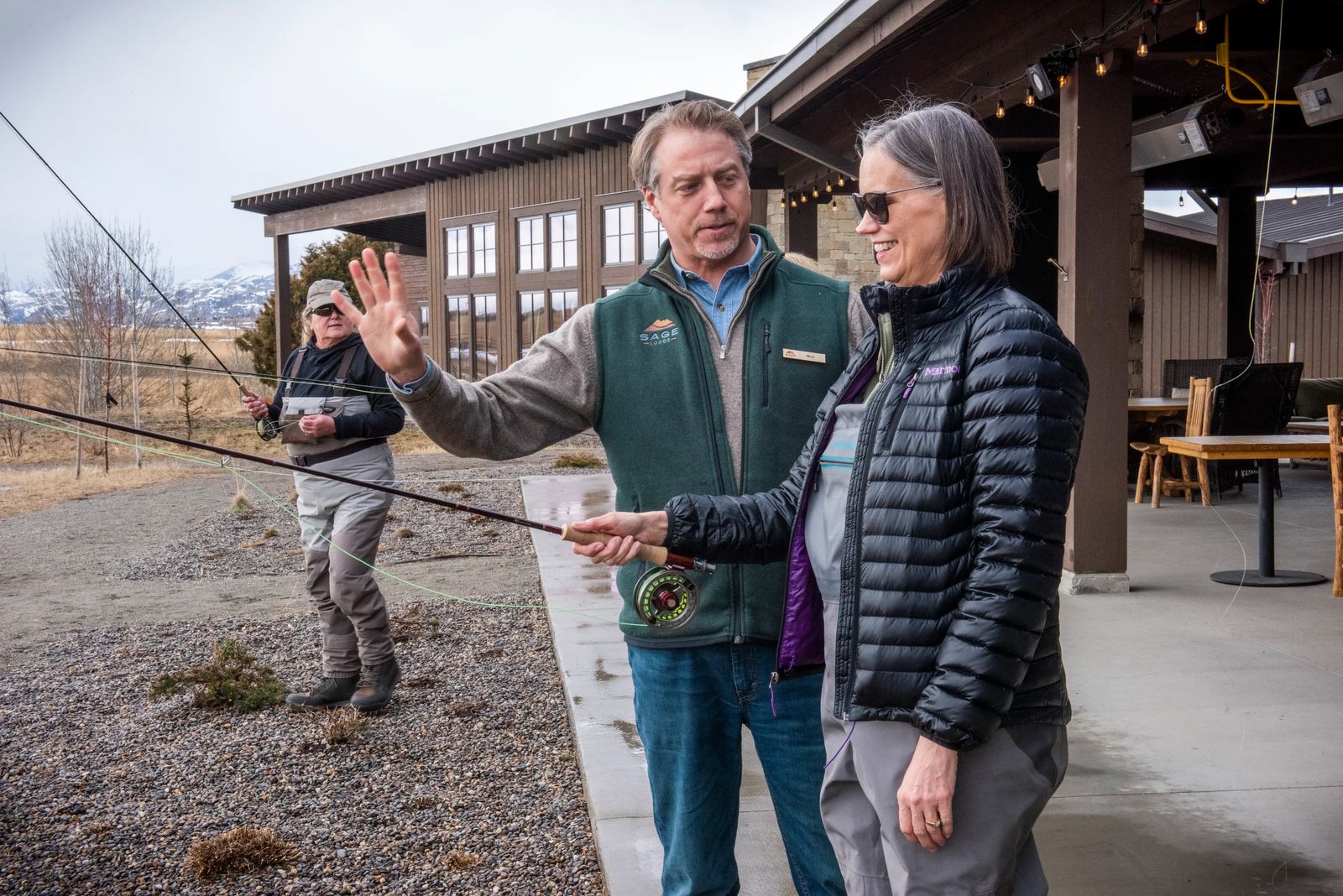 After sliding into waders and boots rented offsite from Anglers West, we convened in front of the pond to begin our casting lesson. We were handed Sage rods with no flies attached to prevent us from hooking each other.
Johnson instructed Susan while Robertson gave tips to Debbie and Sandy. In making sure the line stretched out in both the forward and backward cast, Johnson used the example of answering the phone. In picking up the phone, the line propelled from front to back. When saying "hello" the pause allowed for the line to shoot straight out in the back. Then when the phone was set down, the line extended forward.
"You are building energy when you pick up that rod," Johnson says. "Get the line up and let the rod do the work."
Eventually, Johnson readied us for fishing by tying a size 14 leech pattern fly onto our leaders. Within minutes, loud hooting and hollering echoed over the pond. Susan had hooked a fish. All casting stopped to watch as she pulled in a fish the size of her finger. The excitement was amplified by Sandy's hookup of a 15-inch rainbow trout and Susan's catch of another petite fish.
With arms tired and spirits high, we arrived back at the Ranch House where Leah Neville, food and beverage supervisor, positioned at the kitchen counter, created Montana-themed cocktails. With ice and bottles of mezcal, vodka and bitters, Neville shook and stirred concoctions named Montana Mezcalero, Summer in Montana and Montana Mule. As we toasted, the Steve Miller Band's "Hooked on a Feeling" coincidentally played in the background, adding to the magic of the moment.
Debbie, Sandy and I decided to venture outside where an axe-throwing target had been set up. As Sam Johnson supervised, I picked up a steel axe with a 14-inch handle and aimed it at the wooden target set about 15 feet away. My first throw came up short, hitting the ground with a thud. Knowing I had to put in a little more strength, the second throw ricocheted off the target. My third attempt stuck. Sandy got two of the three throws on the board whereas Debbie missed on the first one, but had success on the second and third.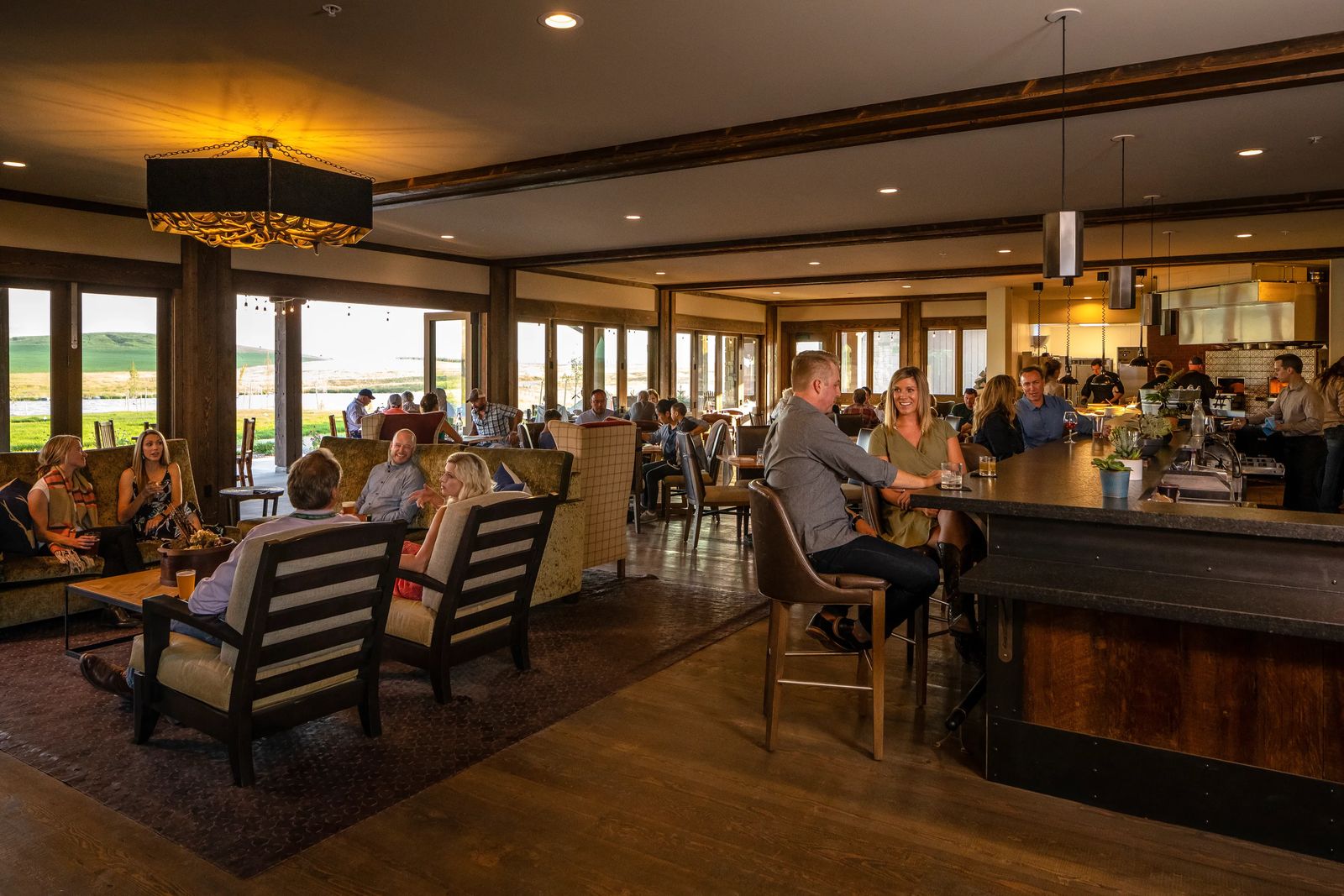 By now, hunger had set in. We made our way to the Fireside Room, the casual dining option at the lodge. The long open room, fronted by a double-sided fireplace and backed by a pizza oven with an open kitchen, lured us in. While a long wooden bar formed the backbone of this space, windows along one wall brought the vast landscape indoors.
"This is where we show appreciation for our guests, around the table," Paul Robertson says. "We owe it to our guests. We want their experience to be memorable."
Chef Daniel Cox, who had just joined Sage Lodge as the executive chef, says, "We like to surprise and delight. I do love to give the guests something extra, to go the extra mile."
On this night, the "Beef Carpaccio" with burnt scallion aioli, crispy capers and lemon oil delighted us. Debbie left the table with the biggest impression, for this was her first experience eating raw beef adorned with a raw egg, and savoring trout caught by the Confederated Salish and Kootenai Tribes of the Flathead Indian Reservation in the "Grilled Flathead Lake Trout." The native people harvest the lake trout to conserve the indigenous bull trout and cutthroat trout preyed upon by this nonnative species.
While Susan opted for the "Sage Lodge Burger" with cheddar cheese, bacon, garlic aioli, lettuce and tomato, Sandy and I shared the evening's special of "Shepherd's Pie" made with bison sourced from Castle Rock Meats of Denver and "Colorado Elk Bolognese" served with thick-cut noodles, tomato sauce, carrots and Grana Padano cheese. We ended the meal with the "Local Basque Cake," made with baked almond pastry cream and short dough crust, and the "Flourless Chocolate Torte."
After collecting snacks from the treat station in the main lobby, we meandered back to the house. With the fireplace flickering, we shared memories of the day, and thoughts of future visits where we could enjoy the spa, dine at The Grill at Sage Lodge, or experience a wine-inspired meal delivered by llamas.
After a night of restful slumber, we awoke to a snow-carpeted landscape under brilliant blue skies with the full moon curtseying behind the mountains. This was the picture-perfect invitation for us to return to the Sage Lodge where once again we would be safe, swaddled and spoiled.
WHERE IS THE SAGE LODGE?
This Montana luxury resort, just 35 minutes north of Yellowstone National Park, is nestled in the heart of the Paradise Valley off US-89 south of Livingston. It's just a twhour trip from Billings. For more, visit sagelodge.com
SIPPING & SAVORING AT THE SAGE
Enjoy a few of their classic cocktails
MONTANA MEZCALERO, SERVES 1
2 ounces dry vermouth
½ ounce creme de mezcal
¼ ounce amaro di angostura liqueur
¼ ounce lemon juice
dash lime bitters
Fill glass with ice and set aside. Pour ingredients into a cocktail shaker with ice. Shake well and pour through a strainer into a glass.
SUMMER IN MONTANA, SERVES 1
Smoked salt
1.5 ounces tequila or Tito's Handmade Vodka
½ ounce chili-infused agave
½ ounce Grand Marnier
1 dash smoked chili bitters
1 ounce lime juice
Rim a glass with salt and set aside. Pour remaining ingredients into a cocktail shaker with ice. Shake well and pour through a strainer into a glass.
MONTANA MULE, SERVES 1
½ ounce honey simple syrup infused with Meyer lemon peel
½ ounce fresh lemon juice
2 dashes Scrappy's lavender bitters
Cock 'n Bull ginger beer
Dried lavender sprig and fresh Montana honeycomb (optional)
FOR HONEY SIMPLE SYRUP: Combine 3 parts honey and one part hot water with Meyer lemon peel. Equal parts lemon and orange rind can be substituted if Meyer lemon is unavailable. Stir and allow to rest until cool.
Fill glass or copper mug with ice. Add honey syrup, lemon juice, lavender bitters and ginger beer. Stir. Garnish with dried lavender and honeycomb.