Letting Her Light Shine
Heather Bergeson loves to be the catalyst that sparks giving
Several times a year, the Alberta Bair Theater hosts performances for students from Billings and the surrounding area. The theater fills with youthful energy as expectant, chattering children wiggle in their seats. The theater has hosted hundreds of performances and entertained thousands of children, but every single time something akin to a miracle happens as the lights go down and the curtain goes up. In that instant, the whole theater is silent as a moment of wonder falls over the expansive room.
It's a familiar scene at the Alberta Bair Theater, and for many, it may not seem profound, but for Heather Bergeson, that awe-filled moment shaped her career in the nonprofit sector.
"Many of these kids have never experienced a live performance," she says.
Twenty years ago, Heather joined the staff at the Alberta Bair Theater in the executive and development office. Those were the early days of the theater's children's program. It's grown since then. In 2019, about 22,000 kids attended performances at Alberta Bair. Every performance has been paid for by philanthropic dollars, and a sizeable portion of those donations have come from within the community of Billings.
"That's where I really learned the impact of giving on our community," she says.
And that's when Heather was hooked. Community and giving became her passion.
Now she's the director of special events at St. Vincent Foundation and helps to raise about $1 million a year to support the hospital and its programs.
"Everyone needs medicine at some time in their life – healthcare touches everyone," Heather says. "People's experiences often guide their giving, and I love matching people's passions with opportunities to give. It fills their heart to be able to make a difference."
Not long ago, Heather had the opportunity to reach out to a donor and tell him he was an official "superhero." Thanks to his sizeable gift, some much needed technology was purchased to assist doctors in telemedicine. It came just in time.
A boy fell and suffered a severe head injury. It was so severe that he wasn't stable enough for transport to the children's trauma center in Salt Lake City. He had to be treated at St. Vincent, which has the only pediatric intensive care unit in the region. Doctors used the new technology to coordinate treatment with specialists in Utah and now the boy is on his way to a full recovery.
That piece of equipment – and the donor who funded it – saved the boy's life.
It's that story, and many more like it, that feed Heather's soul and give her the unique ability to ask people to give again and again.
As the director of special events, Heather organizes four major fundraisers over the course of the year, two golf tournaments (one for men and one for women), the SAINTS Benefit for the St. Vincent neurology department and Call for Kids, which supports the St. Vincent pediatrics department.
"None of these events would ever happen without our generous community and donors," she says. "I'm just that middle person, the vehicle."
The success of each event depends on a small army of volunteers, many of whom have helped with events year after year. Their contributions are not lost on Heather.
"For them to donate their time when there are so many other things they could be doing in the community is really precious to me," she says.
Heather's favorite event is the Call for Kids. It gives her an opportunity to gather and share stories about how St. Vincent Children's Healthcare, which includes the pediatric ICU, neonatal ICU and pediatric surgery center, has helped save the lives of children from throughout the region.
"So many times, I've had to fight back tears," she says. "It's amazing to be a part of an organization that has that kind of an impact on people's lives. It's really inspiring."
The Call for Kids event relies on local media outlets, including Q2, Cat Country 102.9, and 103.7 The Hawk to spread the word and help with fundraising. Giving runs a wide range from $5 to $500 and up.
"Truly every gift matters.," Heather says. "What may be a big gift to some may not seem like a big gift to others."
Through 11 years of fundraising events, Heather has helped to raise more than $10 million for St. Vincent Foundation. Dennis Susler, former executive director of the foundation, says her strength has always been her focus on people.
"She always puts people first in everything she does," he says. "And she's very tenacious. She's not going to let anything stand in her way."
Heather has lived in Billings since she was 10, except for her college years, which she spent at Montana State University Bozeman. She went to college on a volleyball scholarship and graduated with a degree in finance. She met her husband, Robb, after returning to Billings following graduation. They have two children, Riley, 18, and Finley, 13.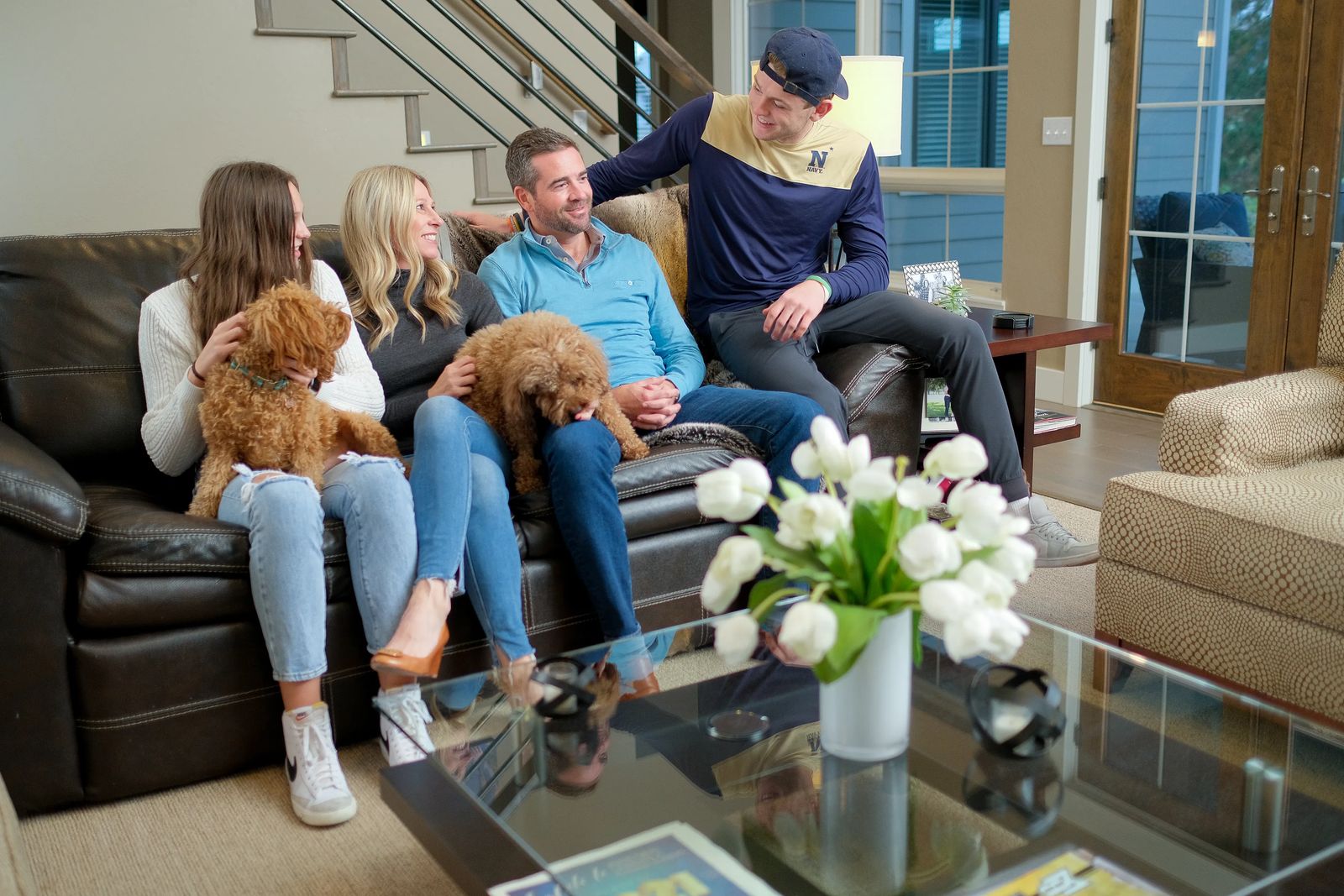 When she graduated from college, she thought she'd end up in the world of banking, investments and money, but she underestimated how fulfilling it was to be a part of the powerful dynamic of giving and fundraising. Making the community better motivates her.
"This community has given me and my family so many great opportunities over the years, I just have to give back," Heather says.
That's one reason why she was moved to help last year, when three students from West High School were killed in a car crash. The accident took the lives of Conner Devere, 16, Kylie Larsen, 18, and Thomas Lindsay, 16, and the school suffered a collective broken heart.
Riley, who was a junior at West High at the time, knew those who died, and Heather saw firsthand the heartache students were experiencing. When Scott Mackney from Graphic Imprints approached Heather with an idea and a design – a golden bear, identical to the West High mascot, with a broken heart – she sprang into action. Graphic Imprints donated the T-shirts and Heather called on a few volunteers to sell the T-shirts at West High during lunch. They kept the price low — $10 — so kids could afford them, and they gave all the proceeds to the families of the students who died in the accident.
"If there's ever any chance I can lighten someone's burden in any way, I'm going do it," Heather says.
She's also channeling her talents as a community organizer and fundraiser as the co-leader of the West High Football Booster Club. The booster club helps support the football program in a variety of ways, including paying players' fees for families who can't afford them. Heather, along with other booster club volunteers and parents, helps feed 150 football players and coaches every Thursday night after practice. And most weeks, Finley comes to help as well.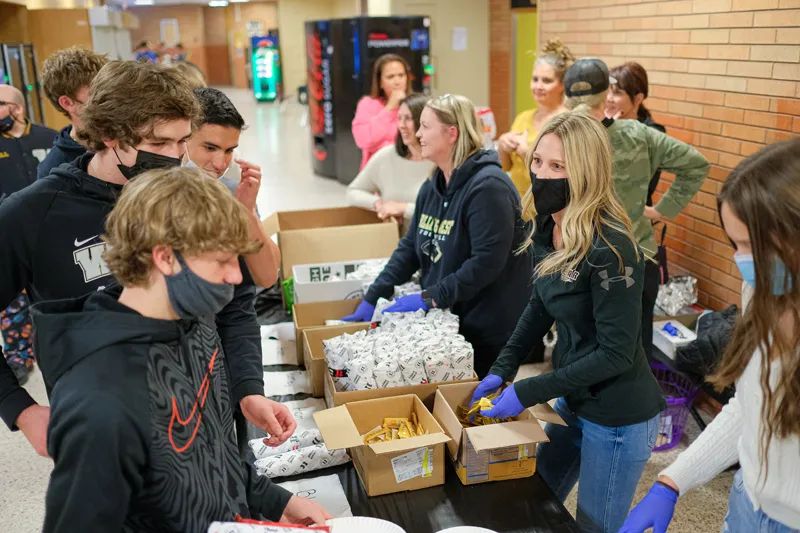 "When someone approaches me to be a part of a project, rarely do I say no," Heather says.
This year, she's also helped to raise more than $150,000 for improvements to a new weight room at West High. While the football team will most certainly benefit from the space, it will be open to all students. About 850 kids a year use the facility, and it was sorely in need of new flooring – the carpet was more than 20 years old.
The goal of the "Build a Bear" campaign was $100,000, says Doug Van Zee, the activities coordinator at West High. He watched Heather and several other parents work fundraising magic, and the community responded with spectacular generosity. Not only were they able to replace the flooring, they also were able to upgrade some of the fitness equipment.
"She really was the driving force behind that project and went above and beyond," Doug says. "The West High community is better off thanks to her involvement"
For Heather, the opportunity to help with the project was a privilege and an honor.
"Wherever there is a chance to improve our community, I'm there," she says, adding that she rarely tackles a project on her own. "I feel like a lot of times I get credit for some of these projects, but I don't feel right about that because I believe there are so many others walking along beside me."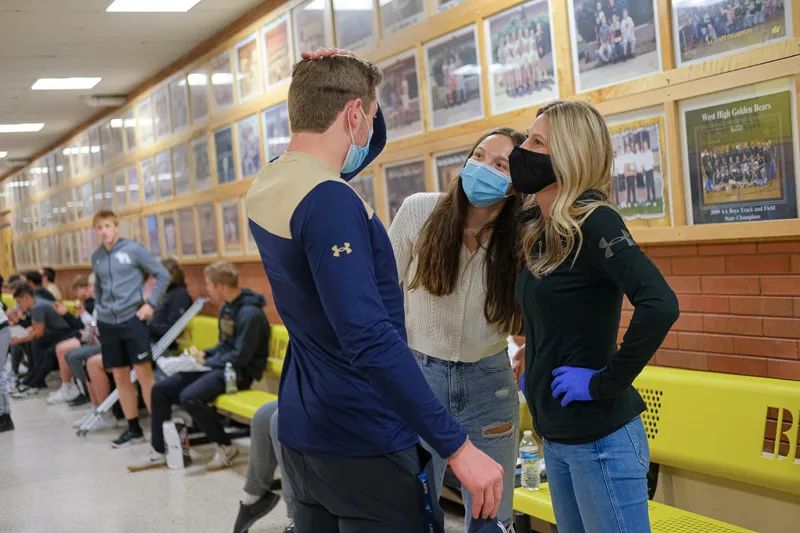 Heather isn't the only one in the Bergeson family who knows how to rally for a cause. Finley is an accomplished fundraiser as well and has been at it since the fifth grade. When Boulder Elementary needed a new playground, she helped raise more than $6,000. While many of her classmates were talking about penny drives and bake sales, Finley decided to ask the executives at First Interstate Bank for a donation. She remembers the butterflies in her stomach, her dress, new shoes, hair carefully combed and the plans for a new playground neatly tucked into a folder.
"I was very nervous, but when I thought of what the outcome could be, I wasn't so nervous," Finley says.
She also asked the Downtown Exchange Club, and it donated $5,000. Her work caught the eye of the Montana Chapter of the Association of Fundraising Professionals, which honored Finley with the Outstanding Youth award. She was recognized at the organization's annual awards banquet and even gave a short and inspiring speech about her experience.
"Her father and I are very proud of her," Heather says.
Finley didn't stop there. She went on to collect more than 1,000 books for Head Start and the Billings Public Library. She also collected 11 giant black bags of kids hats, mittens and coats, which she gave to local charities to distribute. And she collected some 500 jars of peanut butter and jelly for Tumbleweed and school food pantries.
"It doesn't seem like a lot of peanut butter until you have to deliver it," Heather says, remembering the day they dropped it off at Tumbleweed and how the car was squatted low in the back because of the weight of the peanut butter.
Finley has also helped with the St. Vincent Foundation golf tournaments and does her own Call for Kids fundraiser for the St. Vincent Foundation at her school. This fall, she's out to break her 500-jar record and is collecting peanut butter and jelly again.
"I'm just helping where I can and spreading kindness," Finley says. "It really makes your heart feel good to help someone who needs it."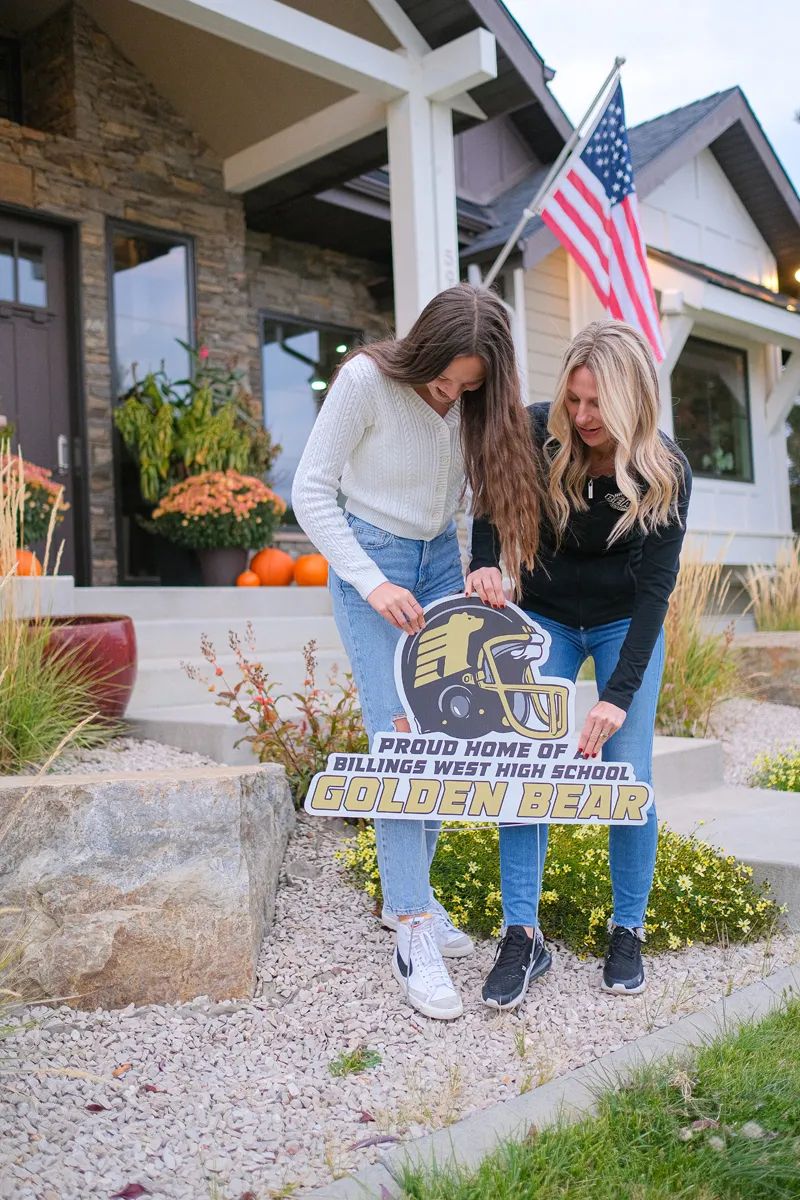 Heather remains involved at the Alberta Bair, recently co-chairing the theater's grand opening. She previously served two three-year terms on the board and served on several committees. She worked alongside Jan Dietrich, the Alberta Bair Theater executive and development director, for more than 20 years.
"She's made so many contributions to our community," Jan says. "She just always wants to make things the best they can be, and she has a unique talent for bringing others along."
There's always an event on the horizon, but this fall, Heather is working on a special project. She's collecting donations for gift baskets, which will be delivered to St. Vincent Healthcare staff in their break rooms. The baskets include snacks, and goodies like lip balm, candles, hand lotion, fuzzy socks and other creature comforts.
"It's a very trying time in healthcare right now and it's a way for us to say that we see you and we know that you are making a difference, and we recognize the amazing work you do," Heather says.
Though they are a small gesture, the baskets perhaps best illustrate Heather's style of putting people first and bringing the community together. It's evident that she lives the mission of St. Vincent Healthcare which hopes to improve the health and healing of the people and communities it serves.
"There's nothing like coming to work every day," Heather says, "knowing you're going to make a difference."