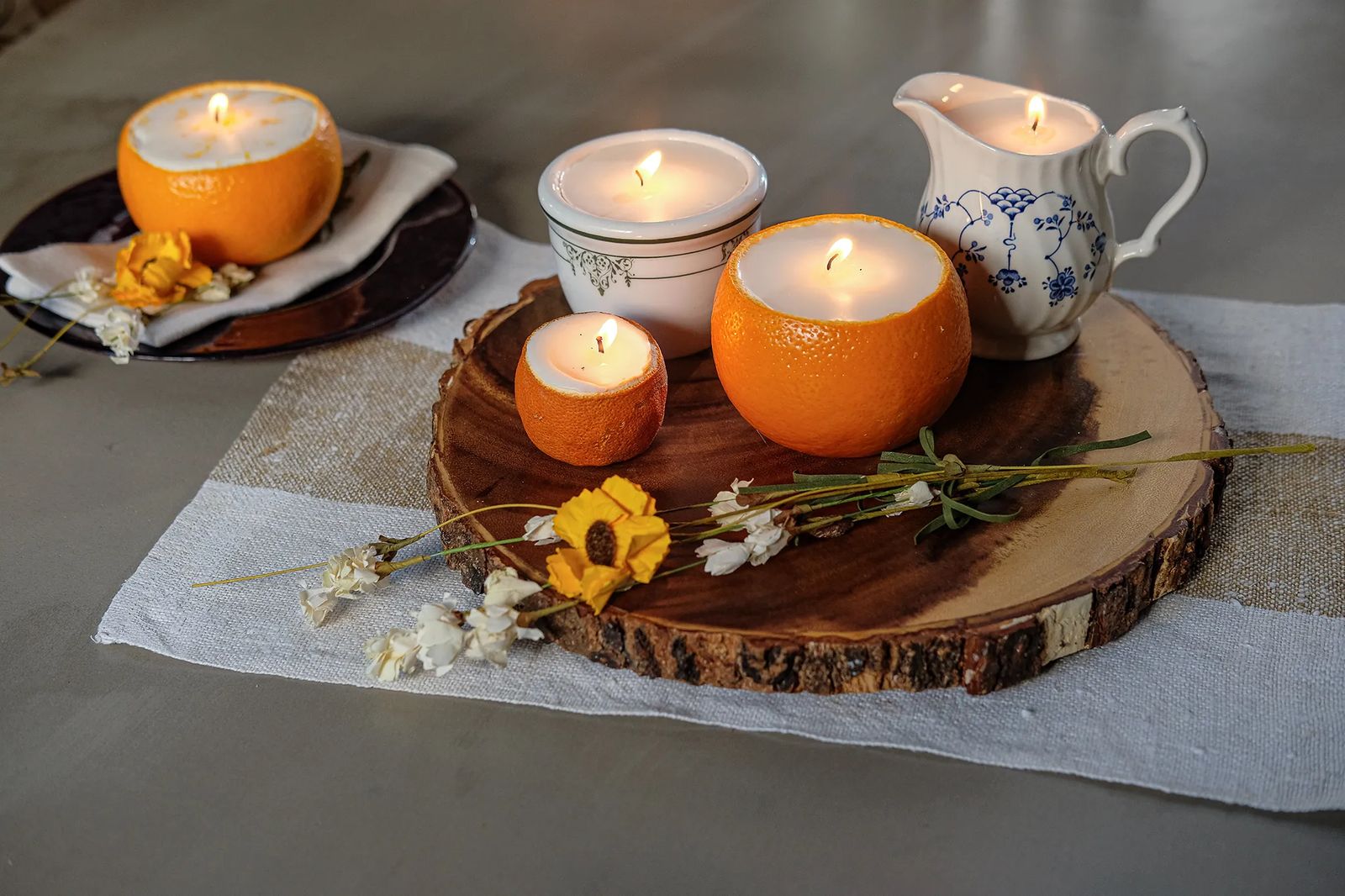 Light Up Fall
DIY Candles add ambiance & make great gifts
Nothing feels more like fall than family and friends gathered around a beautifully set table with the warm glow of candlelight. Sure, you can buy candles, but why not create them yourself, adding in your favorite scents to set the scene for fall? DIY candles are not only great décor items, they make great gifts as well. Let me show you just how easy it is.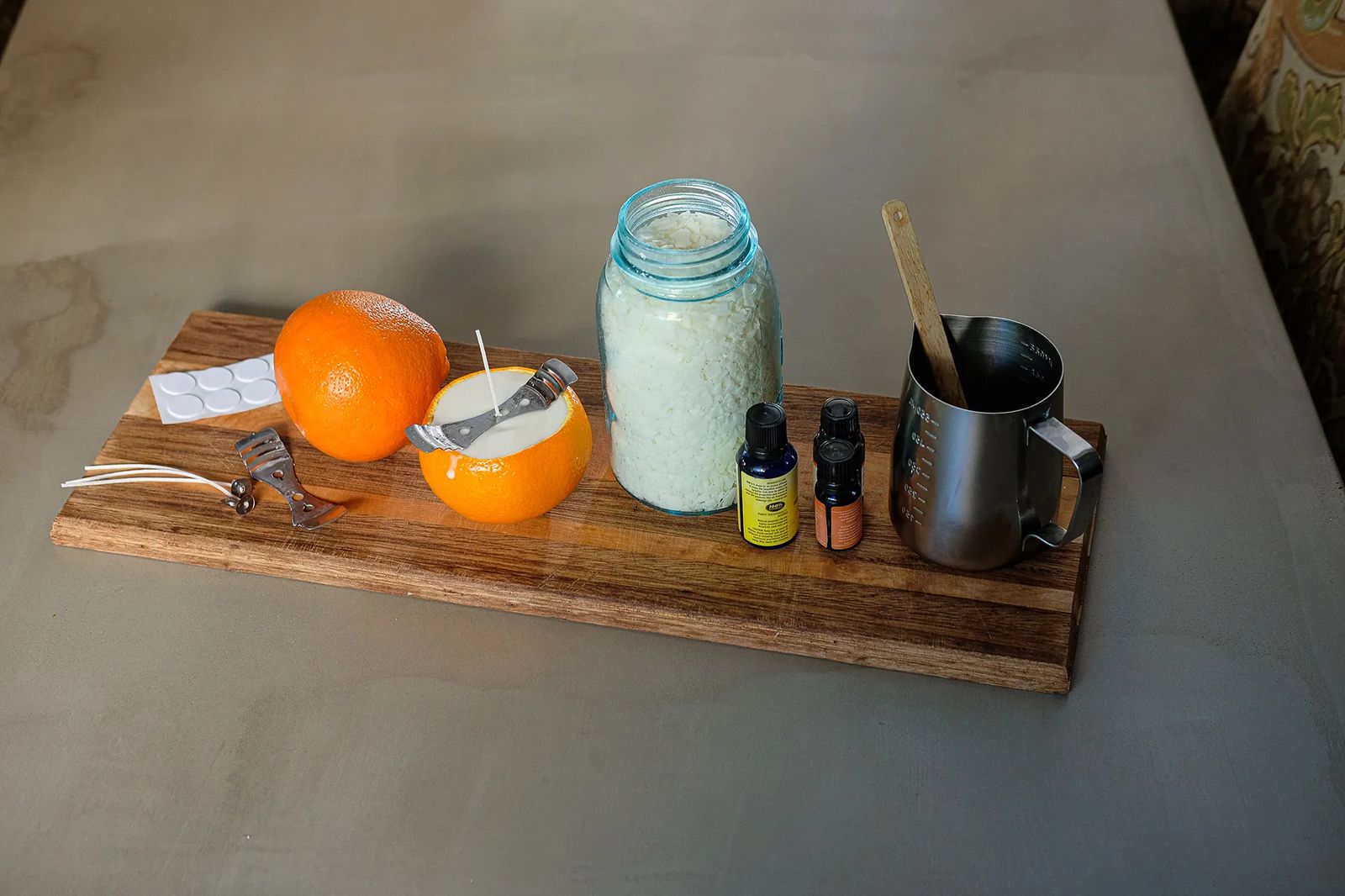 WHAT YOU WILL NEED:
● Soy or beeswax
● Candle making kit that includes wicks, a wick holder, wick stickers and a melting pitcher
● Paper towels
● Essential oils
● Fun containers
LET'S GET STARTED
I ordered most of my supplies online, choosing wax over beeswax because of the steep difference in price. Soy and beeswax are relatively clean, meaning they release few chemicals when melted.
To begin, I set up two stations — a melting/mixing station and a pouring/cooling station. Both areas need to be covered in paper towel to protect counters and provide for easy cleanup. You will want to keep the stations relatively close to each other.
In the mixing/melting station by the stove, have essential oils, the wax, a spoon, spatula, melting pitcher and an old pot filled halfway with water.
In the pouring/cooling station, have containers, wicks and wick holders ready to go.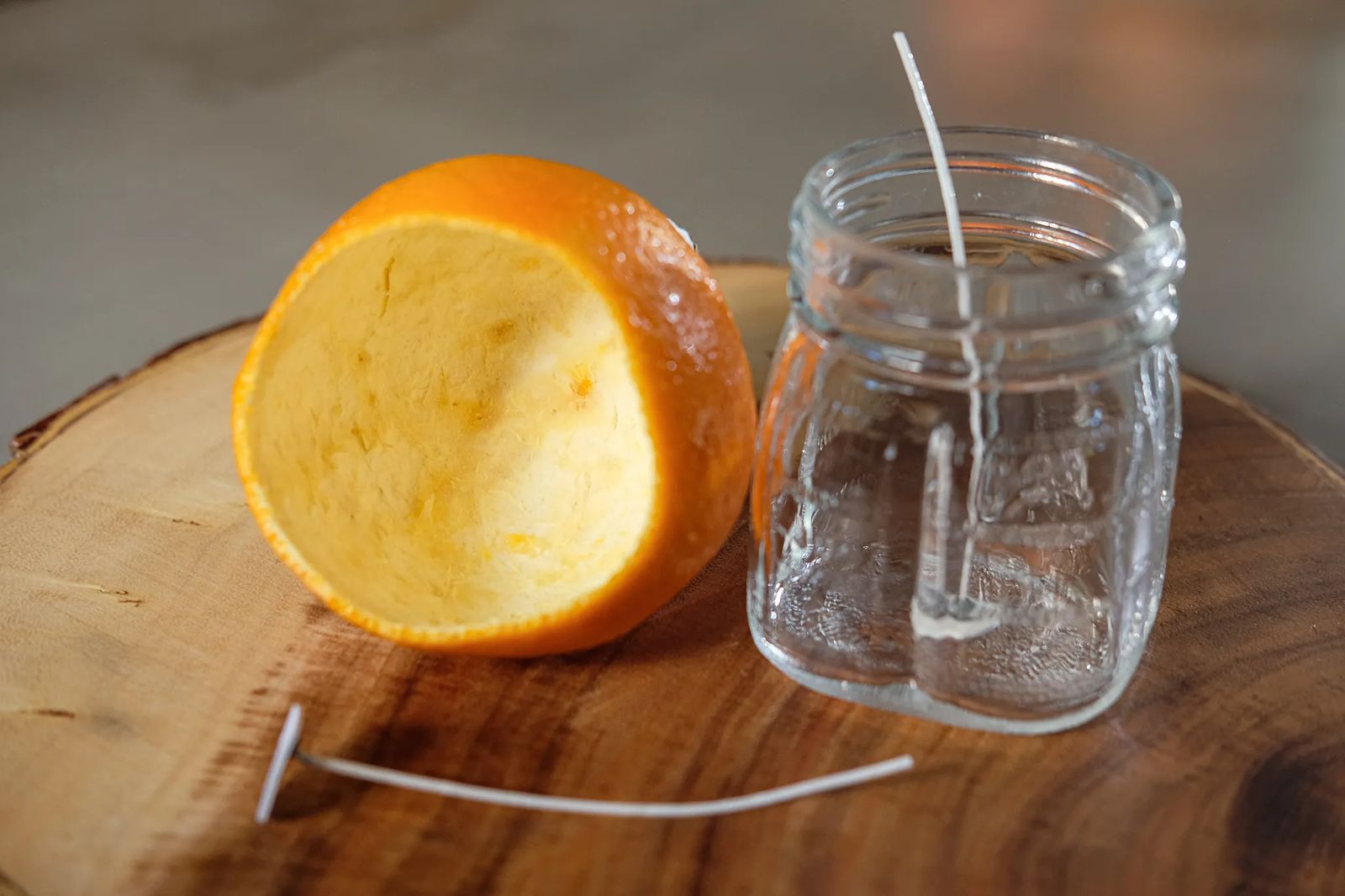 Start by prepping your containers. You'll want to use glass or metal. There are a lot of fun vintage containers out there. Just head to your local thrift store to find one that catches your eye. I always have an ample supply of vintage containers, so all I needed to do was rummage through one of my cupboards. I also wanted to try an organic container to match a fall tablescape, so I chose some oranges and grapefruit. Any citrus will work. These fruits are easy to work with and dry well. They also won't create any strange smells when they do dry. I think lemons or limes would be great for a spring or summer table – maybe an outdoor candle with a citronella scent? Using fruit as your container isn't meant for long term use. They might only last an evening or two and should be stored in the fridge when not in use.
When choosing my fruit, I looked for one with a relatively flat bottom. You can trim a little at the end to make it flat but sometimes you can choose one that will sit nicely on your table.
To get the oranges ready, I cut a quarter inch off the top. I hulled out the pulp and let it dry. You can also hit the inside with a hair dryer for a few minutes.
For both the organic and vintage containers, place a wick sticker on the inside bottom center of the container, making sure it is securely attached. Now put the wick holder on the wick and place on the rim of the container.
Move to the melting/mixing area. Fill the melting pitcher three-quarters of the way full with wax. You can always add more if needed. Place the melting pitcher in the pot of water and turn the stove to medium heat, stirring constantly. The pot of water will act as a double boiler so the wax will heat more slowly at a consistent heat. Once the wax is melted (it won't take long), remove the pitcher from the heat and turn off the stove.
Now it's time to add your essential oils and stir. If you like, this is an optional step. You can always leave your candles unscented. Now, let your candles cool for about two to three minutes before moving to the pouring area. Please be careful, the wax is hot. Pour the melted wax into the containers, keeping the wicks perpendicular. When I poured wax into the orange and grapefruit containers, it smelled so good.
Now let your candles cool overnight. Once cooled, trim the wick to about a quarter inch. I had to further level out the bottom of my oranges and grapefruit to help them to sit level. I found the high spot and cut thin slices, being careful not to cut too deep, in order to help them sit level. I also didn't want wax to leak out onto my table.
Your candles are now ready to use. Just like any candle, don't leave them unattended and make sure to keep them away from anything flammable. These homemade candles are so easy and fun to create. If you give this DIY a try, make sure to get creative with unusual containers and scents. What a great party favor or holiday gift as well. Just light and enjoy!