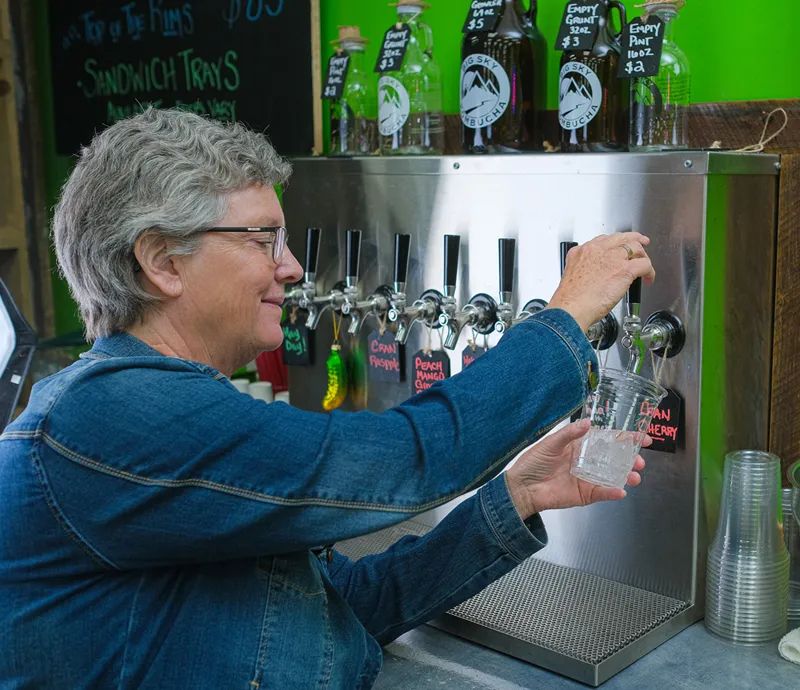 Lightness of Being at the Evergreen Café
Cydney Hoefle brings homegrown recipes to Billlings
There's a liveliness at the Evergreen Cafe and in its owner, Cydney Hoefle. It is no wonder a fresh and fizzy beverage, Big Sky Kombucha, made by her husband and co-owner, Stu, is one of its signature offerings. The cheer continues with partner and son, Mitch, selecting the dominant color of spring green in the industrial farmhouse-themed space.
Cyd, as she is known, describes her new restaurant as "an extension of my childhood mixed in with my children's creativity, the barnwood from our ranch, the bright colors and the signs." She says, "I told someone not too long ago that we're not a traditional cafe. We are more like your grandmother's kitchen and we treat our customers as if they are guests in our home."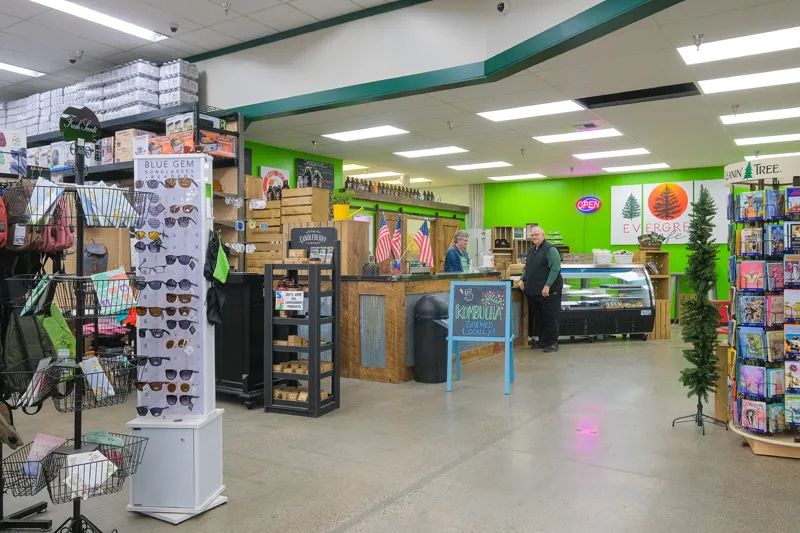 Inside the Evergreen Ace Hardware store in midtown, the Hoefles opened their cafe in June of last year as restrictions loosened during the Covid pandemic. In the newly rejuvenated area that once housed the deli of the Evergreen IGA grocery store, ranch-inspired sandwiches, soups and charcuterie plates accompany the living bacteria fermented drink.
Skip King opened the hardware business in February, with room in the northeast corner primed for an eatery. Though at first the Hoefles were only looking for an outlet to sell their kombucha, nicknamed "The Big Hooch," Cyd laughingly admits, "The food thing just got in the way."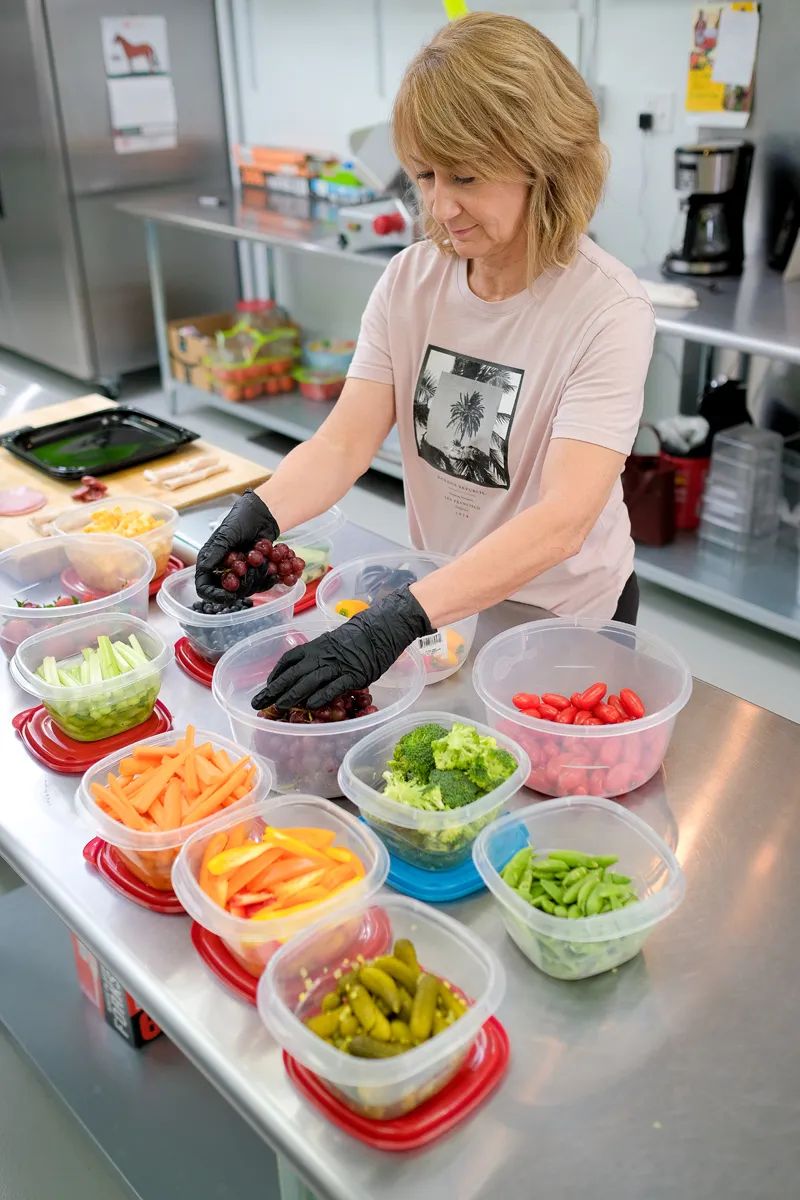 Her son's past influenced their decision to offer food. "All he has done in his whole life was landscaping. He said crews going from one job site to another needed sandwiches," she says. He then came up with the idea of the charcuterie tray.
Cyd and kitchen manager Lorie Koch added fruit and vegetables to the traditional meat and cheese combination. Koch, who brought 25 years of experience from Chalet Market, helped establish the menu, refashioning recipes from Cyd's family collection.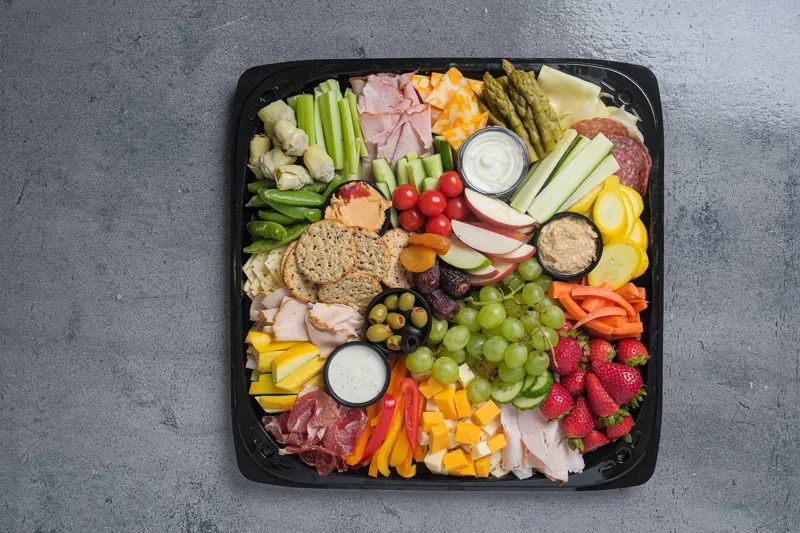 "Our menu is not that big. We wanted to keep it simple," she says of the menu that pays homage to her family, as evidenced by offerings named "Momma's Chicken Salad" and "Aunt Mern's Egg Salad." "The Rancher" and "The Stampede" sandwiches with Boar's Head delicatessen meats honor her ranching background.
The menu has about 15 items, and its simplicity gives her time to pursue other responsibilities. Stu and Cyd are the publishers of Raised in the West magazine, and she contributes stories to Yellowstone Valley Woman magazine as well.
At both the cafe and her magazine, she attributes her success to: "Surround yourself with people who know what you don't know."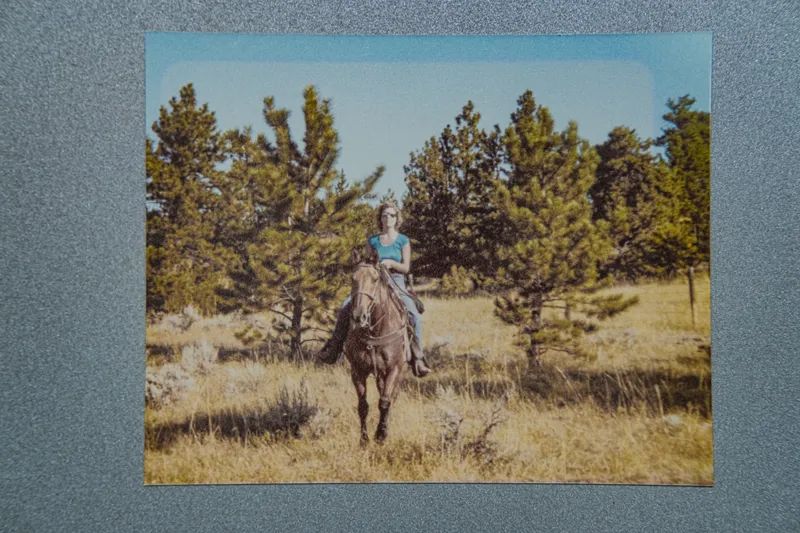 Cyd grew up north of the Yellowstone River on a ranch between Greycliff and Reed Point. Her father was a registered Hereford rancher running "between 500 and 700 head of cattle, with the number fluctuating with the economy and the abundance or lack of grass." Here, she learned to feed a crowd at an early age.
"I remember doing dinners when I was 9 years old," she says. "I made cornbread and hamburgers for the ranch hands. I'd put the meal out and it'd get eaten." With two older brothers followed by two younger sisters, her parents had a lot of help. "Dad picked the boys. Mom picked me."
"I remember as a child standing in a chair, sauteing onions in butter on the stovetop," she recalls.
With seven people in the family, "We would put out a feast every single meal," she says. They ate the meat they raised and the bounty from their garden.
At Big Timber High School, Cyd was on the drill team and student council and was a member of 4H and the Future Homemakers of America. "My greatest claim to fame was winning a ribbon at the county fair for 'Cyd's Surprise muffins,'" featuring a dollop of jelly. Five years ago, Cyd took her daughter, Melanie, to the fair so she could "experience some of me." To their amusement, they came across a purple ribbon awarded to a participant who had baked her surprise muffins.
"I was the worst horseman of all of us," she says. She took on chores of feeding the cattle and working the bailer, but favored her place in the kitchen.
"Mom and Dad were good on one-on-one time," she says, nurturing the unique skills and talents of each child. Her father shared his passion for books, especially stories by Louis L'Amour.
He always wanted six boys. "He got his first two, and then decided the third boy (me) would be named after his dad, Sidney Fraser. They were so sure they were having another boy, they hadn't even thought of a girl's name." Her mother suggested a change in the spelling to Cydney. "But I was always Little Cyd to him and I looked like my grandmother, so we always had a special connection."
With reading came writing. Hoefle remembers the clicking of the typewriter in her childhood home as her mother, the editor of the Montana Hereford News, worked. Her mom also wrote letters because the short time limit on the party line telephone didn't allow for lengthy chats.
Cyd fondly remembers reading out loud a creative story she wrote for her class. The mystery tale of a girl who discovered something hidden inside a cabin under a pile of pelts awed her classmates. For her, she says, "I realized I liked the detailing of story writing."
After studying at Montana State University in Bozeman, she took her knowledge from her home economics business studies to Sigman's Furniture Company.
"I am a born salesman," she says with a smile. The skill of selling came from the yearly cattle sale productions her family put on. "I love people. I love getting to know them," she says. At the furniture store, the other salespeople always gave her the more difficult clients. "I knew they were never mad at me. They were just grouchy." She found joy in discovering "why people are the way they are."
Underneath it all, a lightness of being surrounded her. "My mother had a deadly sense of humor. She was a practical joker. April Fool's was my dad's favorite holiday."
One day in 1984, at the airport, she met the man she was to laugh with for the rest of her life. She was waiting for her sister, and Stu for his brother. "I am pretty sure I asked him out and I was the one who proposed," she says.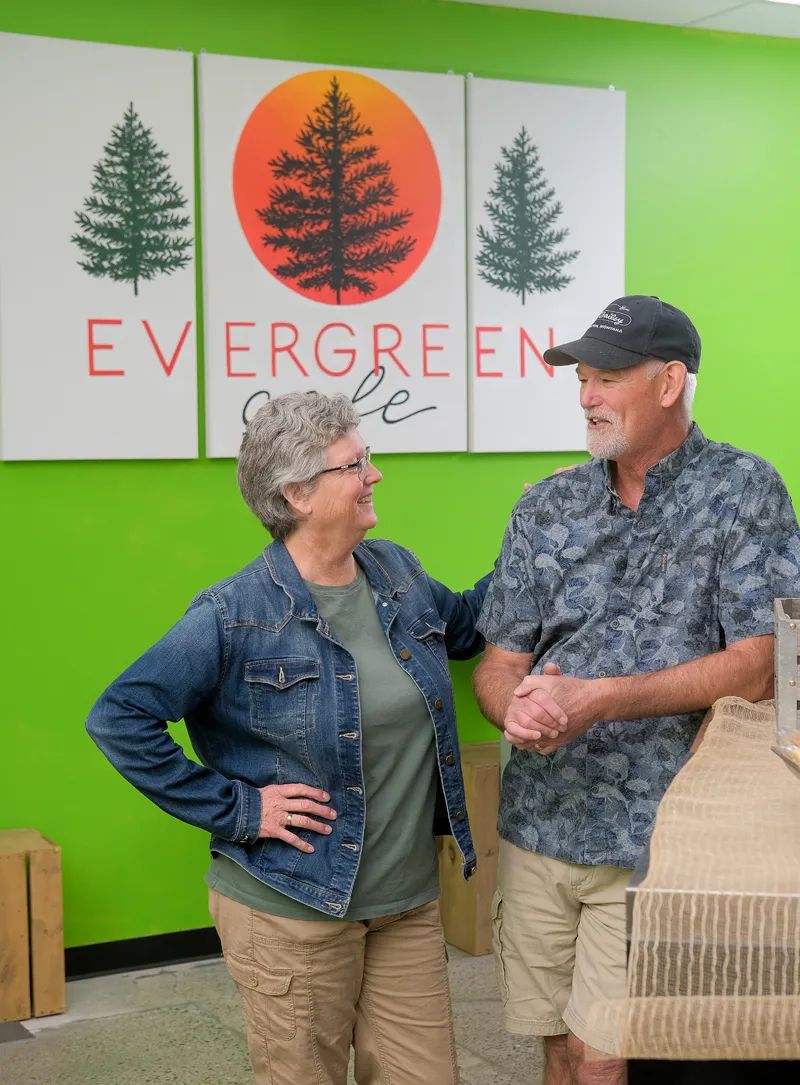 "Our lives paralleled. God knew that if we had met earlier, it wouldn't have worked out." She admits, "I am very easily entertained. I was a cheap date. All Stu had to do was make me laugh." The laughter brought them to the altar two years later.
"I'm an optimist. He's a realist. He's always been my best friend. He's always made me laugh," she says of her husband of 35 years.
Laughter helped sustain the Hoefles when their daughter Lindsey, then 19, was in a car accident in 2010 that put her in a coma with traumatic injuries. For two years, Cyd helped rehabilitate her daughter, who "has made a miraculous, complete, and full recovery with graduating from college." Cyd says, "She's our miracle child." She's now 29 and expecting her first child.
The miracles continue. "We started three businesses after we turned 60," Hoefle says.
For now, her wishes of traveling with her husband and embracing new adventures have been set aside as she builds new friends at Evergreen Cafe. "We have many customers say they just love to come in and feel the warm vibe and casual atmosphere," she says.
"I bring my computer to work and often times during the day, I find time to work on the magazine. I have my laptop open right at the counter and sometimes have the opportunity to tell my customers about our 'other business.' Often times, she will share with a customer the story she is writing and "sometimes they will know someone we featured, or someone we should feature. It's just another connection between us, making our place, and us, more authentic and down to earth."
Though Cyd confesses that if she and Stu "had known that Covid was going to hit and realized how much work it would be to run a cafe, let alone a kombucha business, we wouldn't have done it." These days, the cafe, magazine and kombucha are doing well, rewarding the Hoefles for embarking on a path not even considered by others in the same chapter of life.
With a confident laugh, Cyd says, "Taking risks is tough but we must ask the question: Would we regret it if we did not try? If the answer is 'yes' then you must do it!"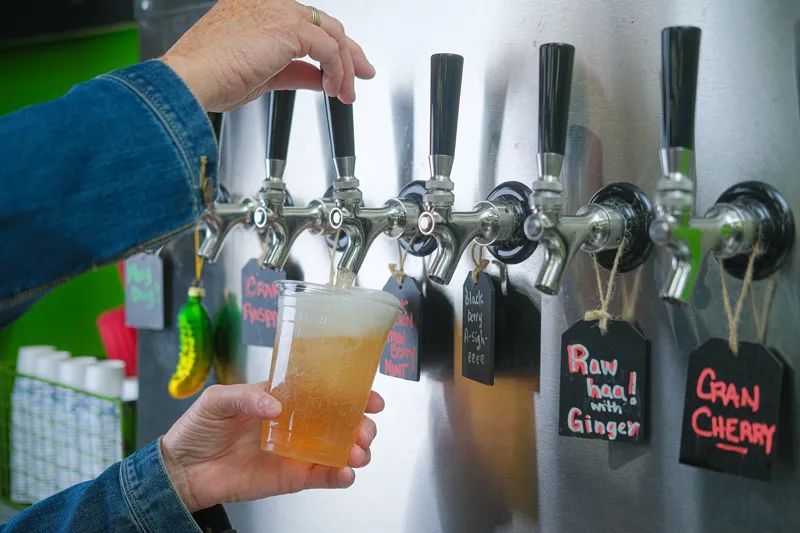 Big Sky Kombucha
The fizzy, flavorful drink that's good for your gut
Kombucha is a drink fermented with a SCOBY, a slimy jellyfish, mushroom-like mass. Its name is an acronym for "symbiotic culture of bacteria and yeast" that converts tea to a fizzy, slightly sour drink called kombucha. The unflavored drink, similar in flavor to apple cider vinegar, is believed to produce probiotics that aid in digestion, cleanse the body of toxins and boost energy levels.
At Evergreen Cafe, brew master Stu Hoefle named his concoction Big Sky Kombucha. For over 10 years, with the help of his son Mitch, he begins the brewing process with white, green and black tea leaves. After sweetening the tea, the SCOBY is added for the 12-day fermentation in stainless-steel kettles. After fermenting, flavoring is added in the form of fruit juices, flavor extracts, spices or fresh ingredients such as basil. To make his beverage even fizzier, Hoefle forces in carbon dioxide.
Pickle kombucha is Big Sky Kombucha's signature brew. Customers can sample any or all of his eight rotating flavors or take home a pint or growler fills.