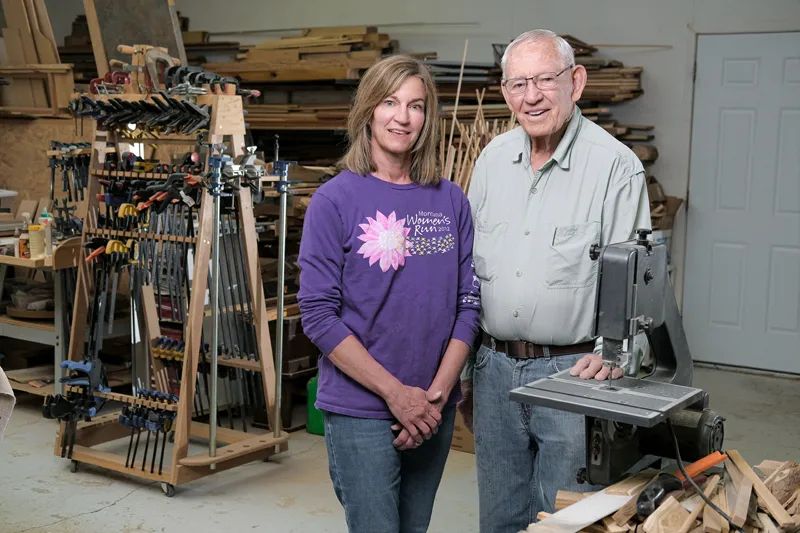 Making the Cut
Father-Daughter duo hones woodworking skills to spend time and create a side hustle
After Michele Pedersen retired from the banking industry last winter, she started investing more time in something extra special — learning the art of woodworking from her 92-year-old dad. For father and daughter, it's a passion with a nice payoff. They've crafted a little side hustle. Their creations are popular and the time spent working together is priceless.
"It's a blessing," says Michele. "Dad is a great teacher."
"She catches on quick, so I can show her something and I don't have to say it twice," says her dad, Bill Brinkel. "That's fun."
You can usually find the two working on different projects in Bill's large workshop west of Billings. Michele specializes in using epoxy to create unique and colorful items like charcuterie boards, vases, candle holders and coffee tables.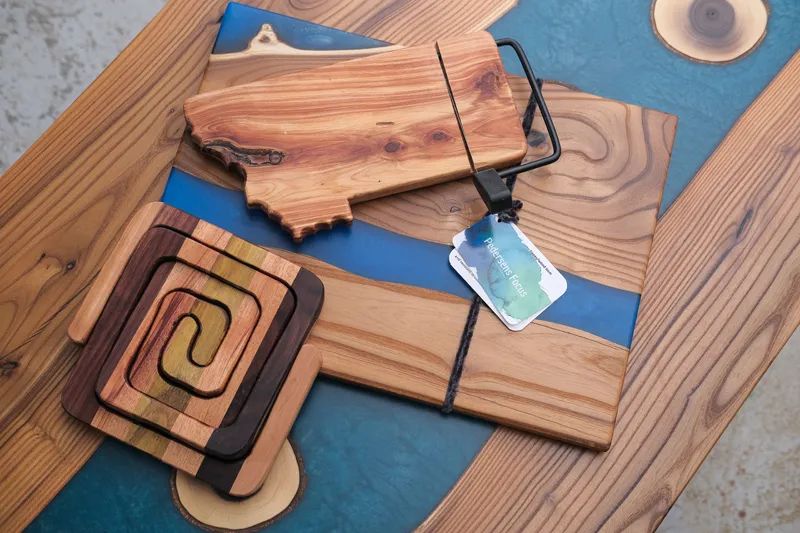 "I like it because every piece is different," Michele says. "The wood and the epoxy flow where they want to flow."
Bill creates a variety of pieces, including trivets and bookmarks. He also uses his skill turning a lathe to fashion smaller items like salt and pepper shakers and toothpick holders.
"Dad's uses all hand tools for the turning lathe," Michele says. "It's all by touch, feel. So, it's an art. I haven't gotten there yet."
The workshop is filled with woodworking equipment that Bill has trained Michele to use.
"I've learned how to use almost every tool, I think," Michele says. "Now he doesn't worry about me because I can use the table saw, the chop saw, the drill press, the band saw, the router—that used to scare me."
"She won't use the turning lathe, but I'm gonna get her there yet," Bill says.
"There are not a lot of women in the woodworking field, and I think it's a skill that every woman should know," Michele says. "That way you can build things or fix things or just be more independent."
Bill's love for woodworking stretches back more than 30 years. He spent much of his life working on the family's farm west of Broadview and turned to woodworking for a fun hobby. He says both woodworking and farming call for creativity.
"Well, everything's creative on the farm," Bill says with a smile.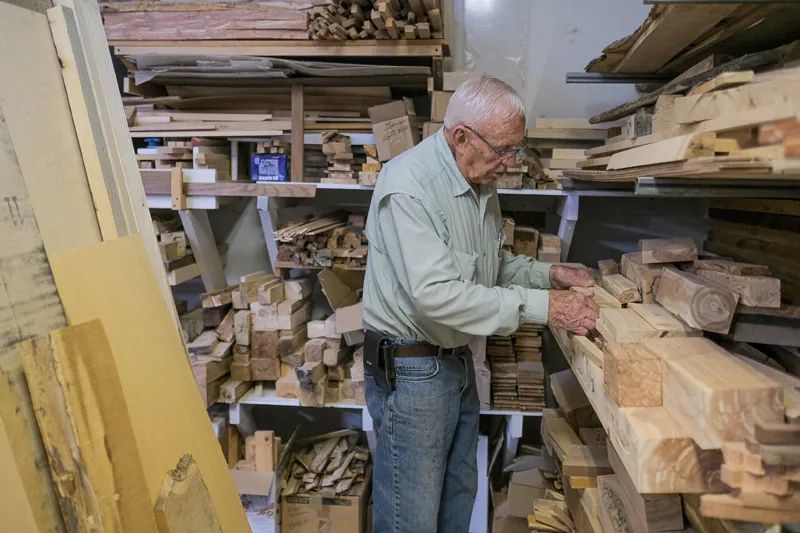 Michele says she learned creativity not only from her dad, but from her mom, who was a seamstress on the farm. Another thing she learned from dad: don't waste wood.
"Every little piece of wood can go somewhere," says Michele. "That's the era he lived in. You don't throw anything away. You can always jimmy rig or MacGyver it for something."
The two use a variety of woods, but they rarely have to buy any because people give them wood that would have otherwise ended up in the trash. For many projects, Michele works with wood from Russian olive trees.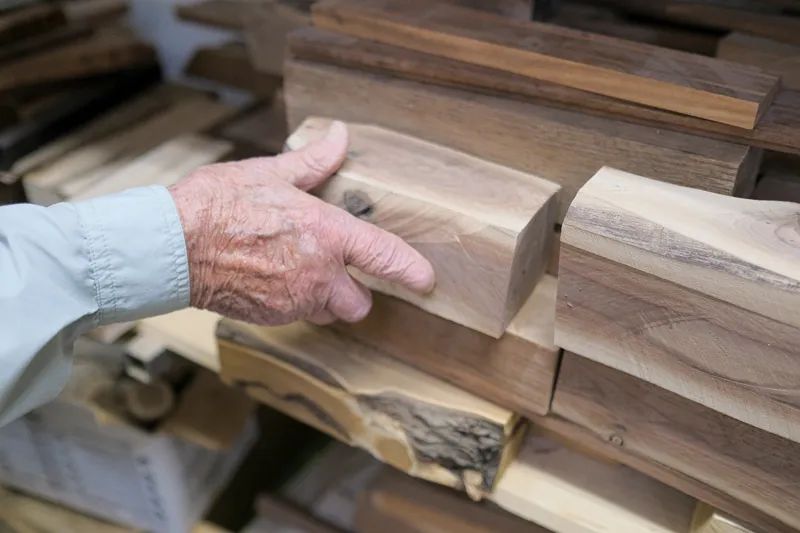 "The ironic part is that she's using the Russian olive, which is a weed tree," says Bill. "Nobody likes it. And look how pretty they are."
Although the two usually work separately on projects, they often team up, swapping ideas, encouraging and helping each other however they can.
"I can get down on the ground and get the things that fall," Michele says.
"I can get down, but I can't get back up," Bill says with a laugh. "Oh, I can, but it's a struggle."
These two work hard, but retirement has its benefits, including setting their own hours. The sign on the workshop's wall says it all: "OFFICE HOURS: Open most days about 9 or 10. Occasionally as early as 7, but some days as late as 12 or 1."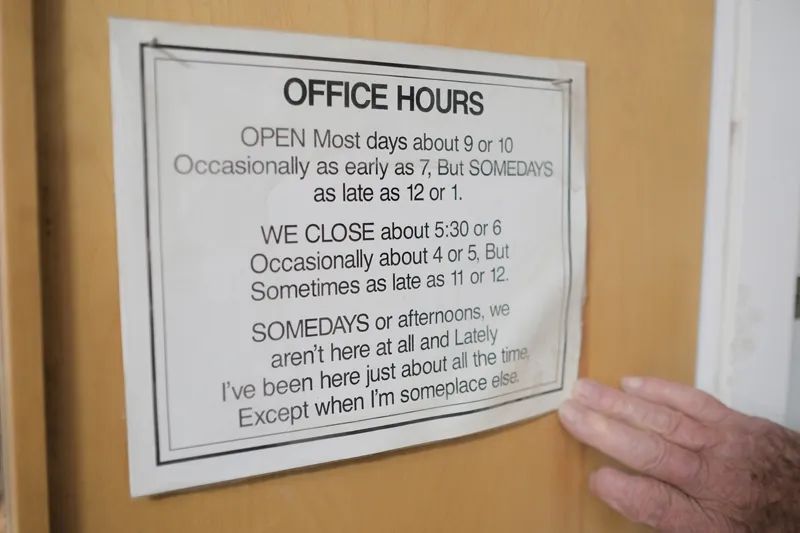 The hours may be iffy, but they're always thinking about their next projects and keeping an eye out for the perfect pieces of wood.
"I'll be driving along with my husband, Greg, somewhere and I'll be looking at wood over there, and he'll say, 'Stop. Stop looking at that, because you can't bring it home," laughs Michele. "I'm starting to be just like Dad."
Michele is also a talented photographer and has a thriving photography business. She uses the money she earns from her hobbies to help fund another great retirement pastime — traveling with Greg.
"Woodworking is not a huge moneymaker, but we use it for our travel money," says Michele, who recently took a bucket list trip with Greg to Ireland.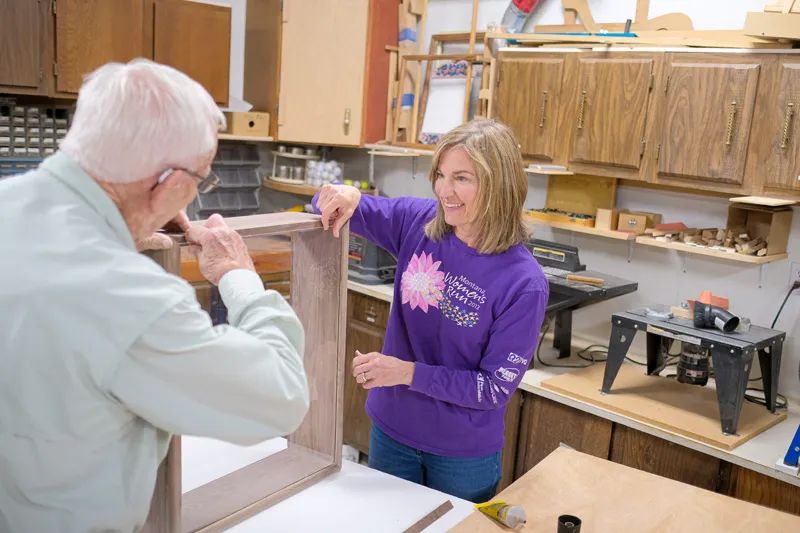 Closer to home, Michele and her dad sell their work at area craft shows and even take special orders now and then. Both say they're satisfied and proud when customers appreciate their work. They love finding ways to use the wood that would otherwise go to waste. One thing's for sure. The time they spend together is never wasted.
"It's so special," Michele says, "because I treasure the days I have with him."