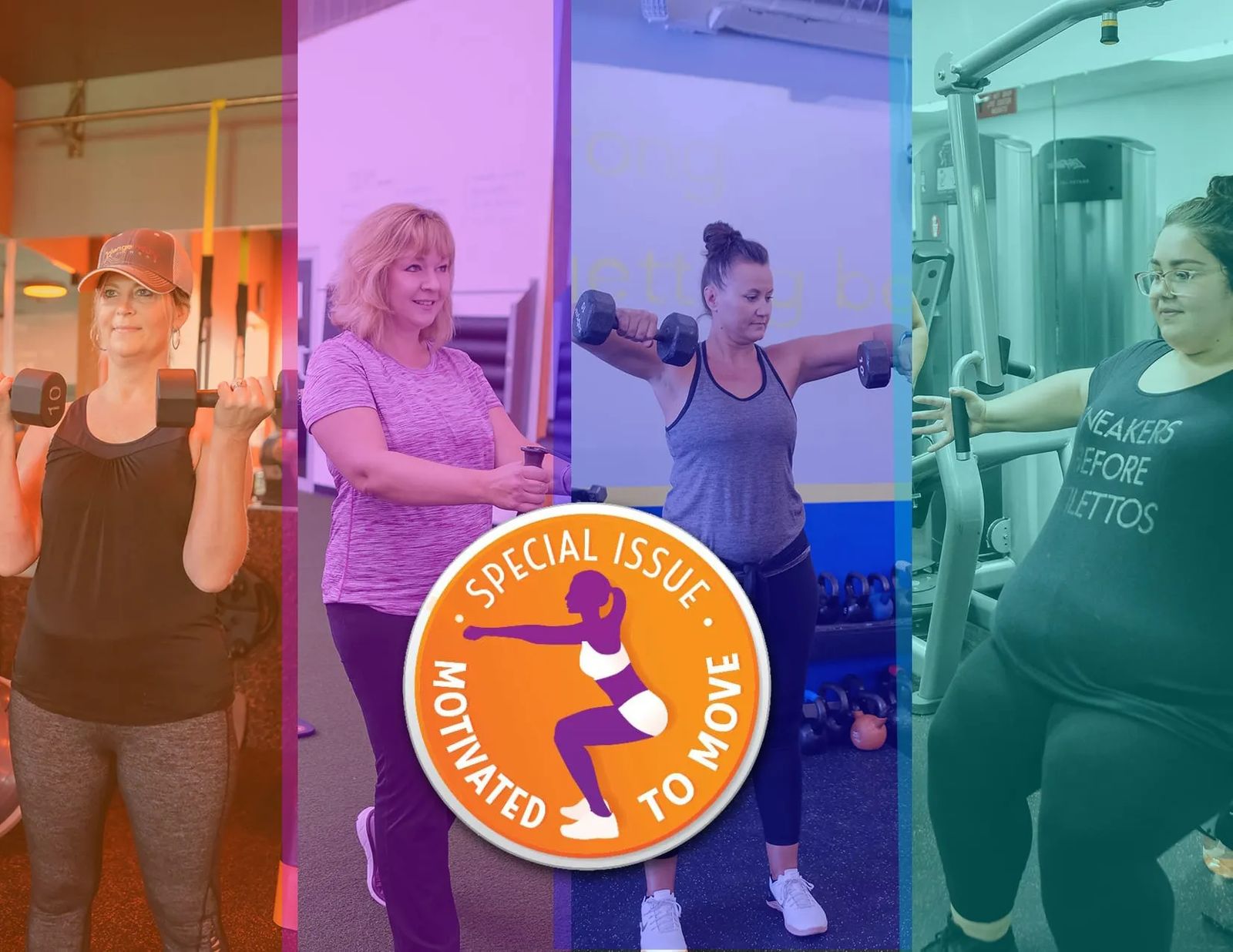 Motivated to Move
What 8 weeks and new habits mean to 4 Billings women

Editor's Note: In our October/November issue, we introduced you to four women motivated to move toward a healthier life. All four women faced different challenges — hormonal shifts, stress, overworked schedules and a lifetime of unhealthy habits. You can read our first story at yellowstonevalleywoman.com. This is our eight-week check-in to see the challenges these women are overcoming.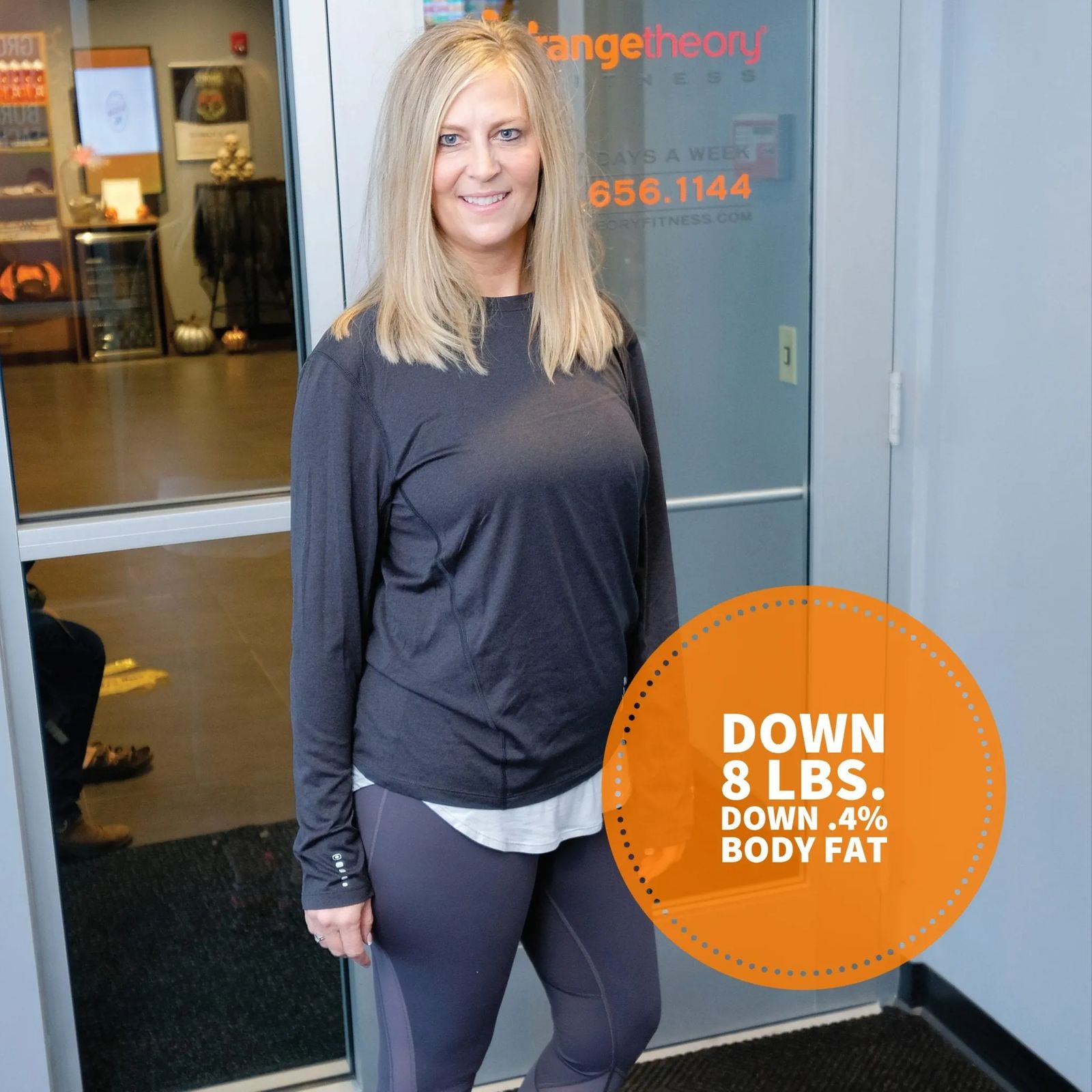 TEAM LYNN
Orangetheory Fitness Coach Kailee Hansen, Lynn Harper & Primal Living Coach Kristen Ballard
LYNN'S PROGRAM: High Intensity Interval Training 3X week
LYNN'S NUTRITION: a ketogenic, low-carb, high healthy fat diet, >100 g. carbs per day
Before Lynn Harper started her Motivated to Move journey, it wasn't unusual for her and her family to end up at a local eatery at the end of a long day instead of firing up the stove for a home-cooked meal. Or, maybe when the weekend came around, she wouldn't really plan for those things on her social calendar that involved a little over-indulgence.
Flash forward eight weeks and her day planner is getting a little crowded with her workout schedule and grocery lists.
"I have been really trying to focus on not eating out so much, cooking and eating more whole foods — basically resetting my diet with the Keto plan, and scheduling my daily activities so I can see the big picture of my exercise routine," Lynn says.
She hits Orangetheory Fitness three times a week and has watched her endurance climb with each workout. "I'm getting stronger by overcoming the things that I thought I couldn't do — like doing Burpees for 23 minutes straight," Lynn says. As Lynn moves through the studio working on strength training and cardio, her coach, Kailee Hansen, has watched her commitment soar.
"I think the biggest takeaway is that consistency is the key to results." Kailee says. She says Lynn is stepping up to the challenge and "setting smart goals that are truly attainable and reaching them."
Lynn's nutrition coach, Kristen Ballard of ReNew Compleat Wellness, has tried to keep Lynn's focus on not the five months of this challenge, but on the rest of her life.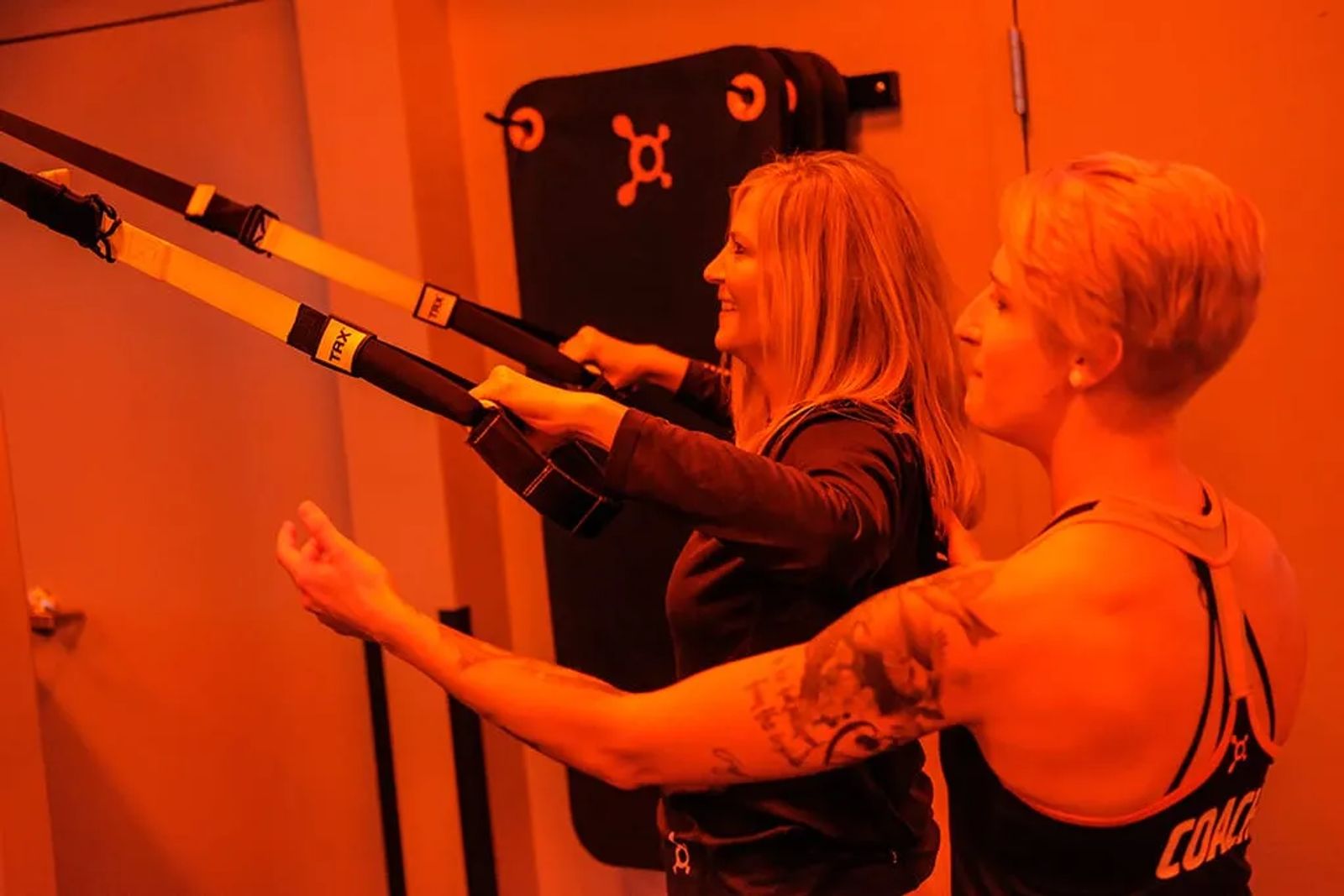 "It takes time for impactful changes to become intuitive and sustainable," Kristen says. "Changing a lifetime of habits doesn't happen overnight."
When it comes to the food that's fueling Lynn, Kristen is encouraging Lynn to ditch the processed foods and turn instead to whole-food sources like fresh veggies and grass-fed beef. Lynn is using healthy oils like avocado, MCT or Ghee, and Kristen is trying to help her tune into her hunger.
"We aren't counting calories or macros because I want her to learn how to eat when she's truly hungry, fill her plate with foods that are nutrient-dense and satiating, and stop eating when she's satisfied. I think people get so wrapped up in hitting their macros or calorie count for the day, they forget that their body has the innate ability to tell them when and how much they should be eating," Kristen says.
With each new habit, Kristen says she's proud of the choices Lynn's making. "Lynn is digging into her 'why' and finally understanding that it's bigger than these foods that only make her feel good temporarily. Feeling good long-term always trumps short-term pleasure!" She adds, "It's easy to jump on a diet and try to lose 10 pounds. Everyone can do that. Making changes that can help you avoid or treat chronic disease, autoimmune disease, heart disease, or type 2 diabetes requires knowledge and conviction."
It's a lesson that resonates with Lynn, who spends her days trying to encourage healthy living working for Billings TrailNet.
"I'm believing in myself," Lynn says, "hoping I can make a difference not only in my life but maybe setting an example for my teenage daughter."
TEAM JULIE
Angie Seifred, Billings Athletic Club, Julie Koerber and Beth Hall R.D., Big Sky Nutrition and Wellness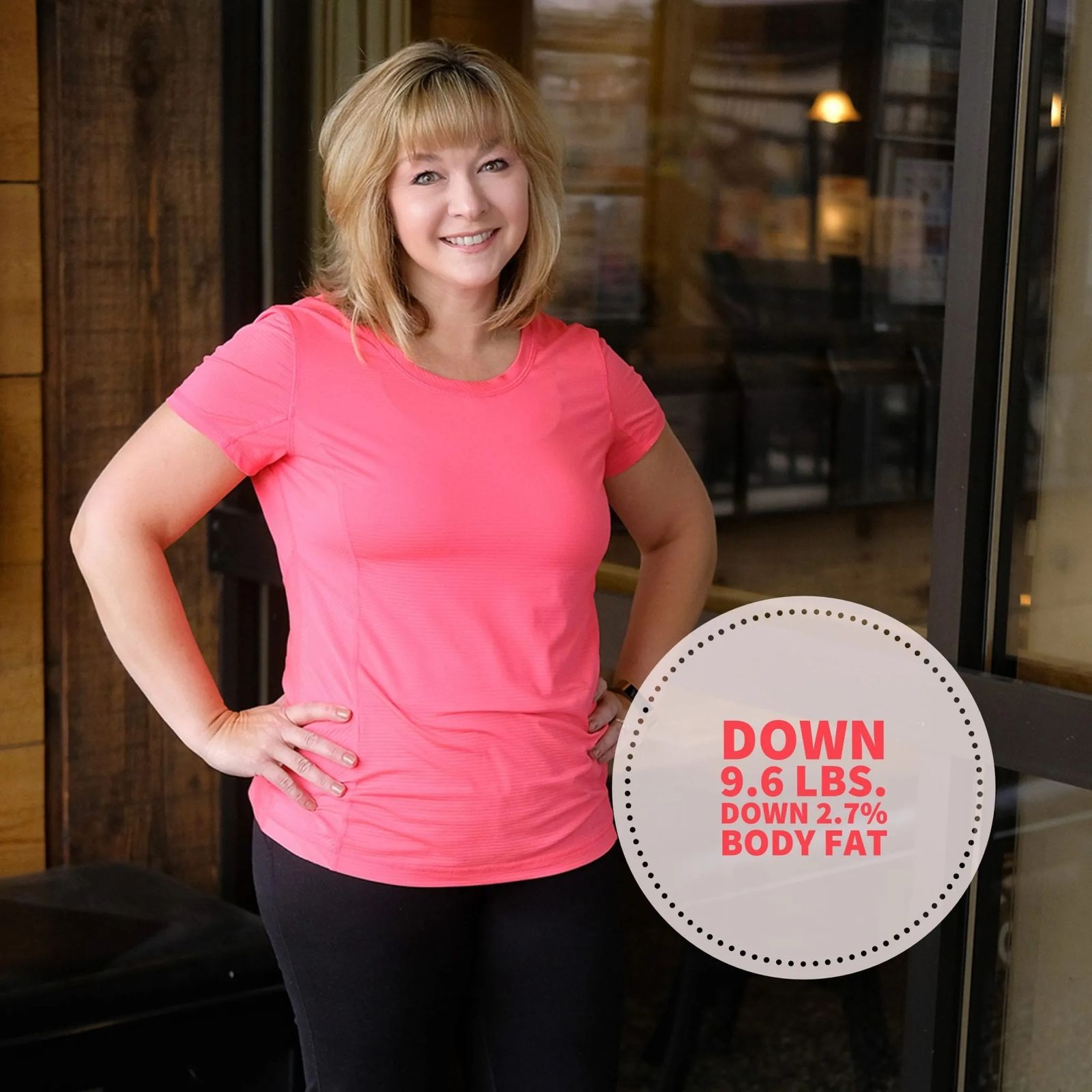 JULIE'S PROGRAM: High Intensity Interval Training, 2X week, cardio/endurance work 1X week, personal training/strength, twice a week plus at least 9,000 steps daily.
JULIE'S NUTRITION: a balanced diet with 6 to 8 fruits and veggies a day, 6 ounces of lean protein, 2 grains and healthy fats.
When Julie Koerber stepped on the scale for the first time during the Motivated to Move challenge, she had to do a major mental shift. The number wasn't what she had hoped.
"Every diet I have done in the past has been focused on rapid weight loss and results," Julie says. "This time around, it's coming off a little slower." She came to realize her journey is so much more than that number. "What that darned scale doesn't show is all the inches lost. I've lost more than two off my waist, about an inch and a half off my hips and close to two inches off my thigh!" she says. "Also, with my last body scan, I saw that 7.1 pounds out of my 9.6 total weight loss was body fat. That means I'm losing fat and not muscle. In fact, I'm gaining muscle, which will better help me keep that weight off."
With every challenge and triumph, Angie Seifred, her fitness coach, has been her biggest cheerleader.
"Julie has been working so hard towards her goals," Angie says. "I know some days are harder than others, but she really just pushes past the bad thoughts like maybe staying home, canceling with me, or not doing the extra cardio or planks that I ask her do to. She really is focused both physically and mentally, and it shows me that her commitment is real."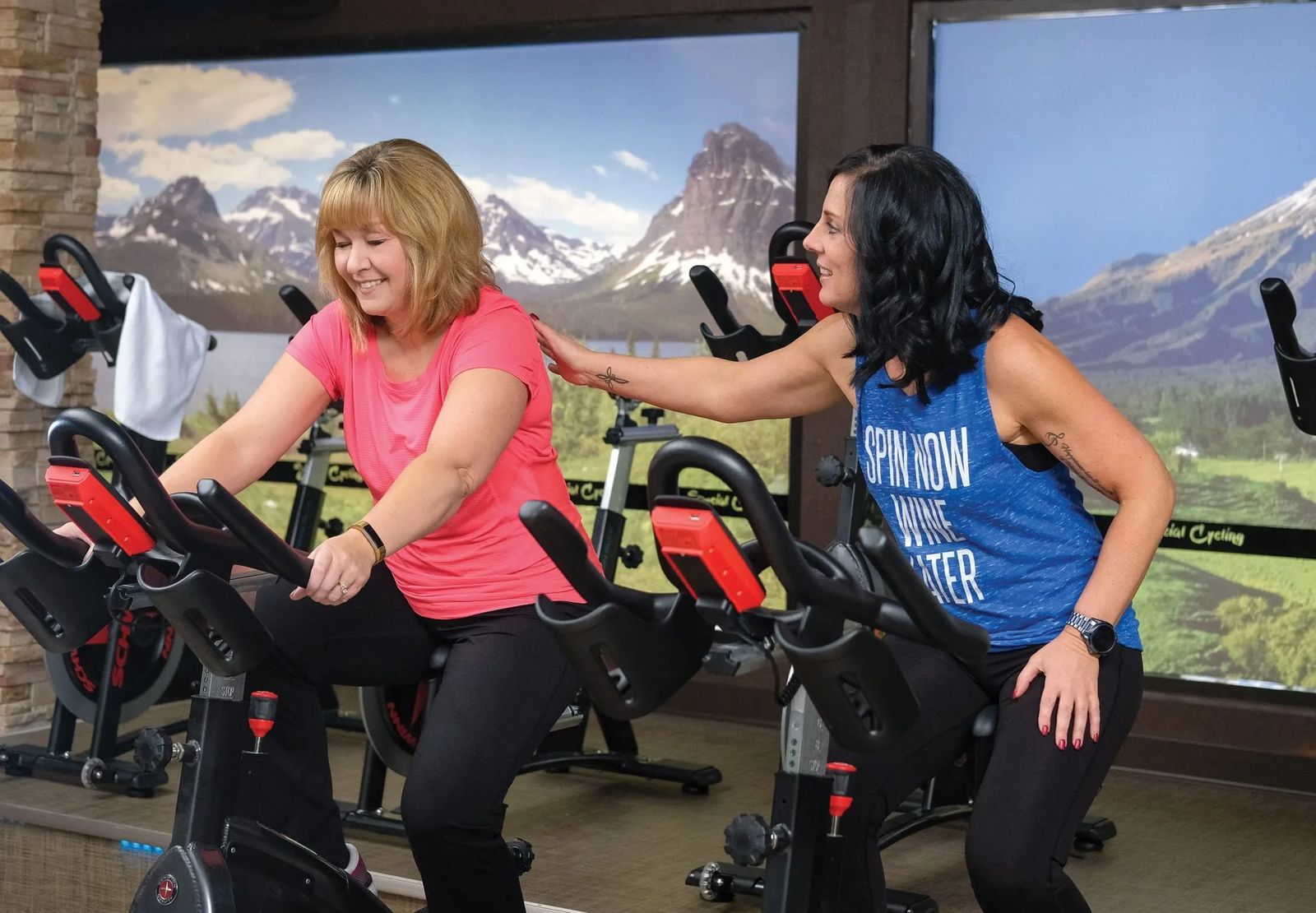 At the start of the challenge, Angie set the program in motion, starting off with circuit training, and mixing things up every few weeks.
"We have already stepped up her workouts the last few weeks, burning more calories and pushing her out of her comfort level," Angie says. "We are going keep up with that and add some yoga and social cycling." A heart rate monitor keeps track of each workout, making sure Julie is in that 80 percent of max heart rate zone to burn the most calories and build endurance.
When it comes to diet, Registered Dietician Beth Hall went back to the basics. After putting Julie on a high-protein, low-carb diet for the first few weeks, the switch was made to a nutritionally sound plan that's not a diet but a lifestyle. Julie logs veggies, fruits, grains, dairy, protein and healthy fats and makes sure she's getting plenty of water.
"Our next phase will just be staying the course!" Beth says. "At the three-month mark, most fall off the wagon. Our goal will be to encounter the slips, trips and falls. These moments will teach Julie how to get back up and be her own motivator."
With eight weeks under her belt, this editor, wife and mom of two is hoping to further dial in her nutrition and fitness.
"I had a friend who once told me, if you fail to plan, you plan to fail. I realize now how incredibly critical it is to meal plan and just schedule that workout into your day," Julie says. "When I know I am on target, I am not as likely to blow it with a piece of pizza or craft beer, which are two of my downfalls. I just keep telling myself that now is not the time for those things. There will be a time when I can enjoy some of those things in moderation, after a great workout, of course!"
TEAM JENNIFER
Kinesi Coaching Studio Owner Rebecca Douglas & Jennifer Nieto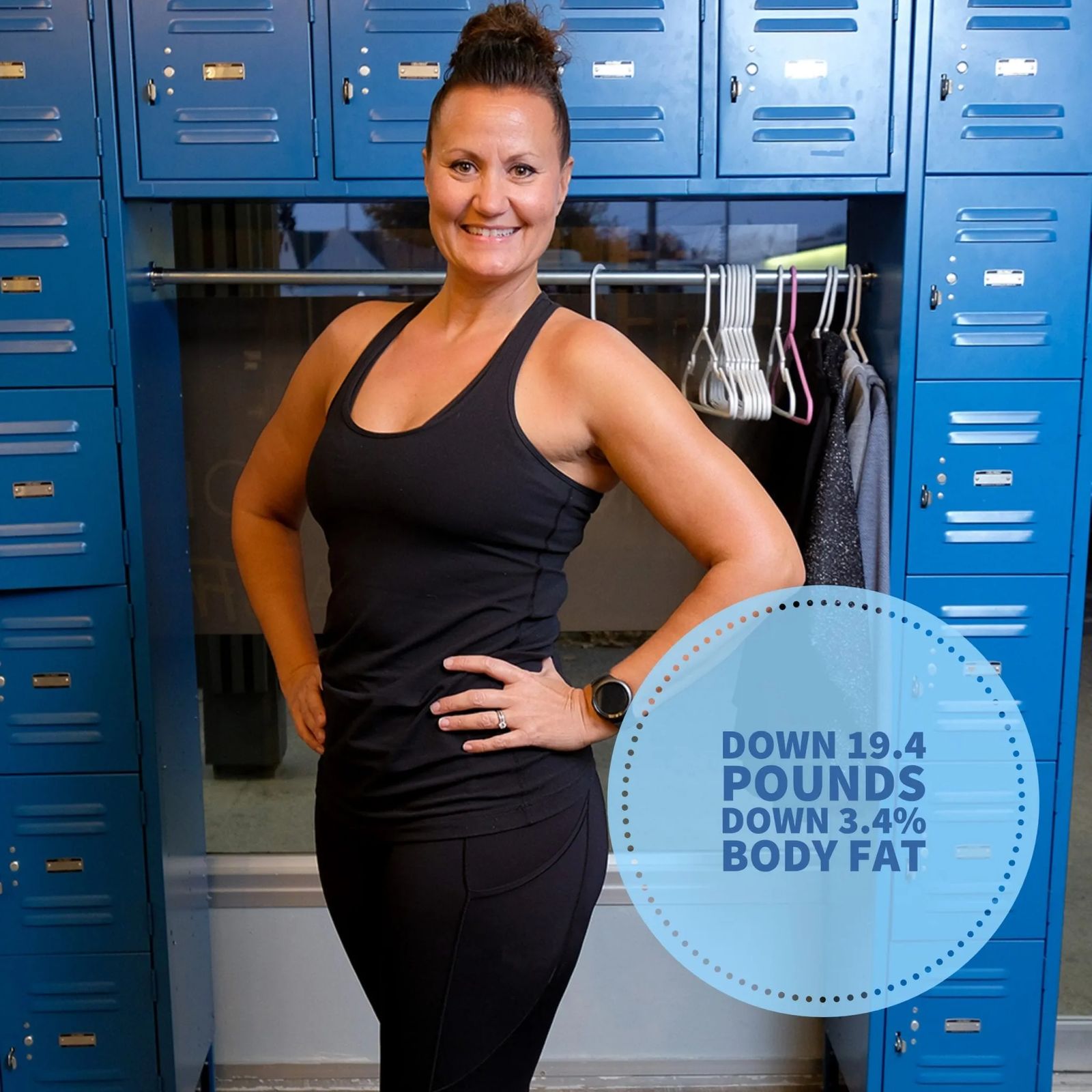 JENNIFER'S PROGRAM: High Intensity Interval Training 3X week
JENNIFER'S NUTRITION: a low-carb, high-protein balanced diet with healthy fats, 1,500 calories
A few times a week, you'll find Jennifer Nieto at the head of the class, substitute teaching at Ben Steele Middle School. She's the president of a local travel softball league. She's a wife to a busy husband and four equally busy kids. Before the Motivated to Move Challenge, her wellness hovered somewhere near last place on the list of priorities. It's been a struggle. It's still a struggle.
"Trying to get to the gym at least three times a week has been super hard for me," Jennifer says. "That is the one thing I've struggled with. I haven't cheated on my diet. I have been really good about it. The rest of the family will have pizza and I'll make my chicken and green beans!" Even with the challenge of time, Jennifer has walked through the doors of the Kinesi Coaching Studio at least three times a week. She's dropped pounds and inches and gained a new appreciation for the inner strength she's built along the way.
"At first, I thought I would be the fat kid in the back of the class who can't run," Jennifer says with a laugh. "When you walk in, you realize there are other people here who are just like you. It gave me a boost of confidence and a reason to keep coming back. When I started, I couldn't do one pushup. I did 22 pushups today!" On off days from the gym, she's been walking her dogs and upping her activity so she doesn't fall into a sedentary day.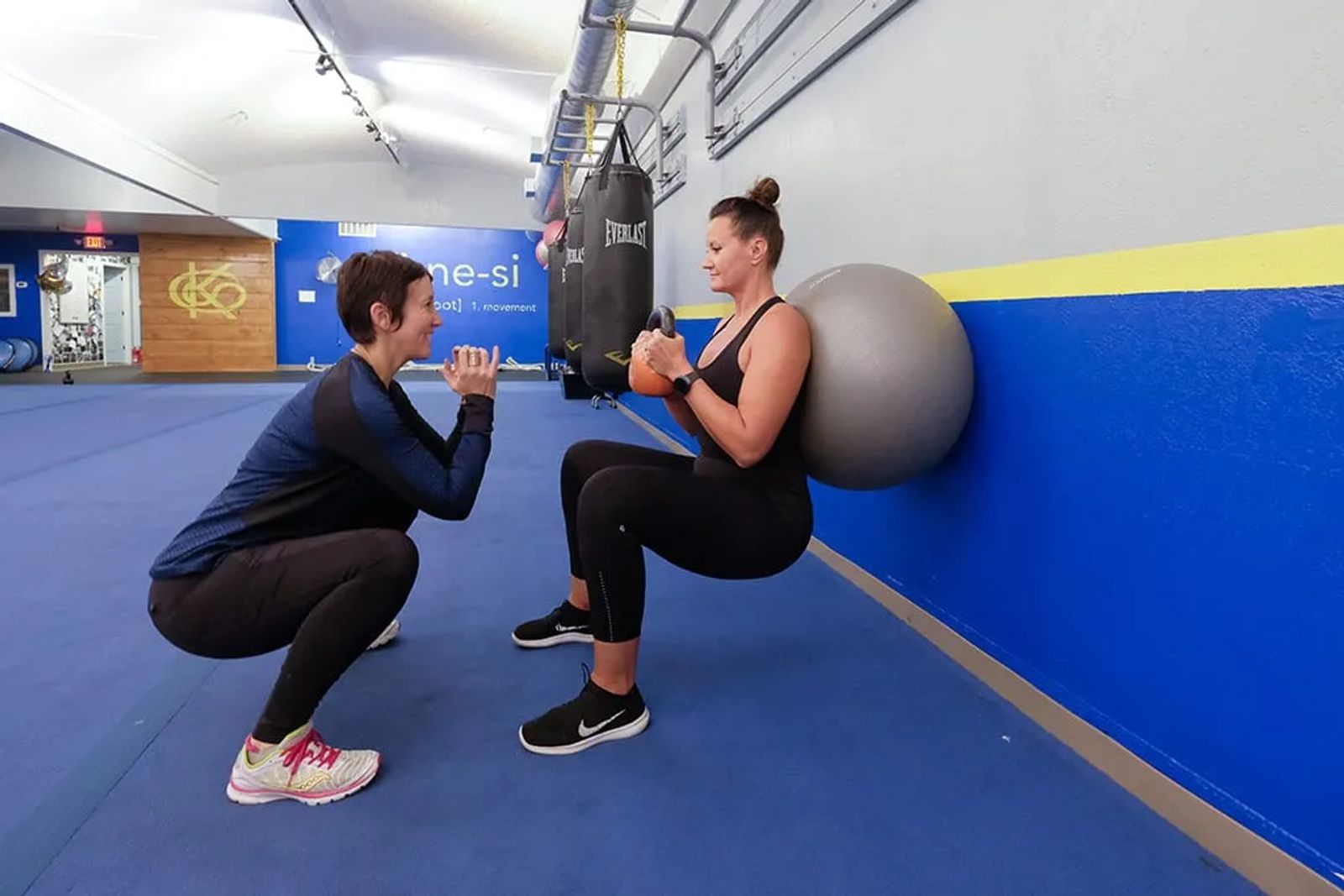 "I am so proud of her! She looks amazing," says Kinesi Coaching Studio owner and Jennifer's coach, Rebecca Douglas. "I love seeing the results. It gives me chills."
While Jennifer's gaining strength, she's also tapping into a knowledge of nutrition that she never knew was lacking.
"I thought I was eating healthy before and I thought I was making choices, I realize now I was way overeating," Jennifer says. "I have seen the difference, even just eating a cup of vegetables, there is a lot of volume in that food. You get full and it doesn't leave much room for dessert."
"She knew how to eat healthy but we have just dialed things in for her and refocused on the serving sizes for her to help her reach her long-term goal," Rebecca says. "She's really learning some eye-opening knowledge about what her body really needs to lose the weight."
Rebecca explains that it's not fewer calories, it's the right kind of calories at the right time of day. She's moved carbohydrates to breakfast and lunch and spread healthy fats throughout the day to keep Jennifer feeling satiated. "One of the big takeaways for her is that she has to eat, consistently. She's eating more now than she was before and she's losing weight," Rebecca says.
Jennifer also lost her love for her scale.
"To me, that's been the one thing I've learned not to focus on is the weight," Jennifer says. "I can tell my clothes are fitting better. I've been able to put on shirts that I haven't been able to wear for a while. To me, that's what I want to focus on, how I am feeling."
TEAM ANA
YMCA Health & Wellness Director Kassia Lyman, Ana Mayorga and YMCA Healthy Eating Everyday Facilitator Tania Stevens-Klein
ANA'S PROGRAM: Using cardio/strength workouts to create a daily deficit of 400 calories
ANA'S NUTRITION: a balanced diet focused on food groups, water intake and healthy fats
Ana Mayorga was just a few weeks into her new outlook on health and wellness when life handed her a major blow.
"We had a couple weeks that were really hard," says Ana's coach Kassia Lyman. "We had a co-worker pass away. That was so hard on everyone."
While Ana had some fits and starts those first few weeks, she dug deep and realized that life wasn't going to stop so that she could put a healthy routine into play.
"I am proud that when I do fall off the wagon, it takes me a split second to brush myself off and try to chase it again," Ana says. "I am not stopping. A year ago, I would have. Two years ago, I wouldn't have even tried. So, just to keep going and not stop, I am really proud of myself. I keep on keeping on."
When we checked in on her progress, she was getting ready to do the YMCA's annual "Y-Tri" challenge, a personal Iron Man — 80 laps or 2.4 miles in the pool, 26.2 miles on the treadmill and 112 miles on the stationary bike. Members have four weeks to finish. Ana wanted to do it in 10 days
"Here's the difference for Ana: she's not afraid of that," Kassia says. "That is such a big thing and she's not afraid of it. She's pumped about doing it and that just shows her growth over the last eight weeks."
To keep her nutrition in check, Ana joins a handful of other Y members for a weekly "Healthy Eating Everyday" class where Ana chips away at those things that just don't fit with a healthy life.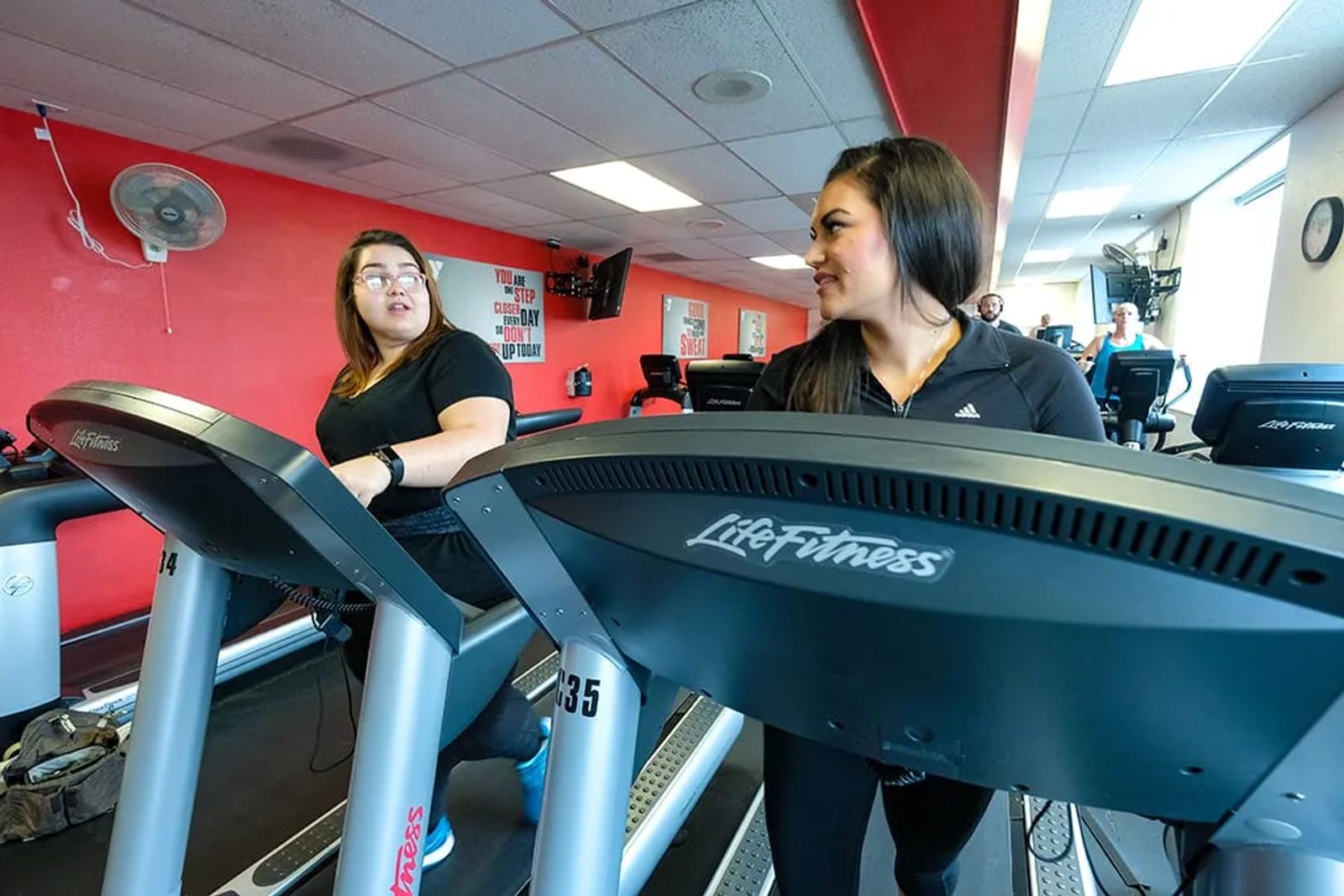 If you ask her nutrition coach, Tania Stevens-Klein, Ana is making changes one small step at a time.
"Once a goal is met, we slay our next dragon," Tania says, "including more whole grains and less processed food, decreasing sodium and fat, balancing calories, drinking more water and less empty calories. The goal is that healthy eating becomes just a normal part of our life."
Ana realized that some of those changes were starting to stick when she joined a group of friends at Mooyah for dinner one night. Instead of a burger laden with saturated fat, she opted for a turkey burger on a whole wheat bun. She said "no" to fries and instead stole a couple from friends so that she could still enjoy a bit of that flavor.
"She's always asking how she can choose healthier options and that's huge!" Kassia says. "She's setting these foundations that are going to be long-term instead of focusing on losing all this weight."
Those healthy choices have helped Ana drop 16 pounds already. Each day she logs food to stick within a calorie range based on her basal metabolic rate, then she gets in a workout to create a calorie deficit. It's a formula that's working.
"This isn't easy. I knew it wasn't going to be," she says. "It's more of a mental game as well as a physical. I knew going into it that I would have to push myself more than I have in the past."
But for the first time, she's making the commitment for herself, not because others think she should. "You have to make this decision for yourself," she says. "It's not going to happen overnight, so be realistic and just take it one step at a time."
Motivated to Move
Behind the scenes
Want to keep tabs on all four of our Motivated to Move women? Like Yellowstone Valley Woman on Facebook and Instagram and follow them using our hashtag #yvwm2m.