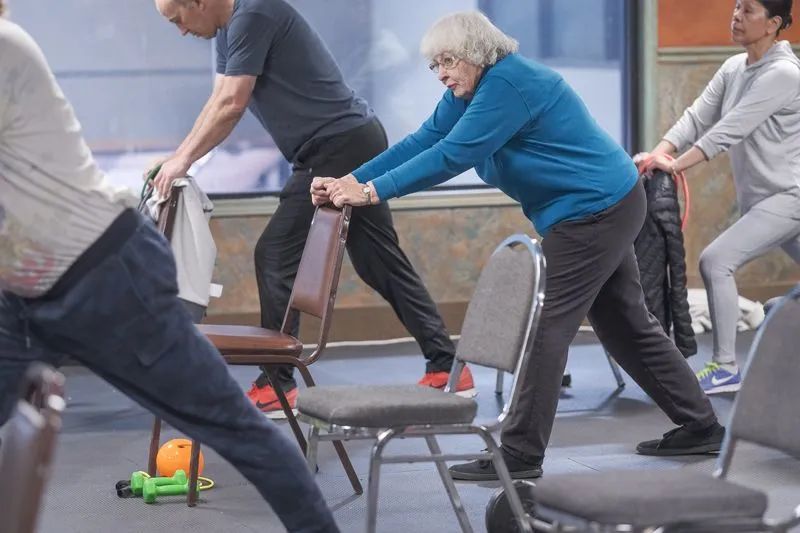 Move It or Lose It
82-year-old Billings woman helps others see the benefit of senior fitness
Awhile back, the heater in the pool at 777 Fitness and Wellness Center was on the fritz. It was unfortunate for most of the swimmers who enjoy an 82-degree pool for swimming laps, but not for Carol Bernhardt. She swam her 18 laps that day anyway in the brisk 70-degree water.
"You do build up your own heat after you swim a few laps," she says.
Carol wasn't about to skip that day's swim no matter how cold the pool was. Swimming 18 laps every Tuesday and Thursday is non-negotiable. She's committed, and she at starts at 7 a.m. sharp.
"I like to get my laps in early," she says. "I just feel like I have to."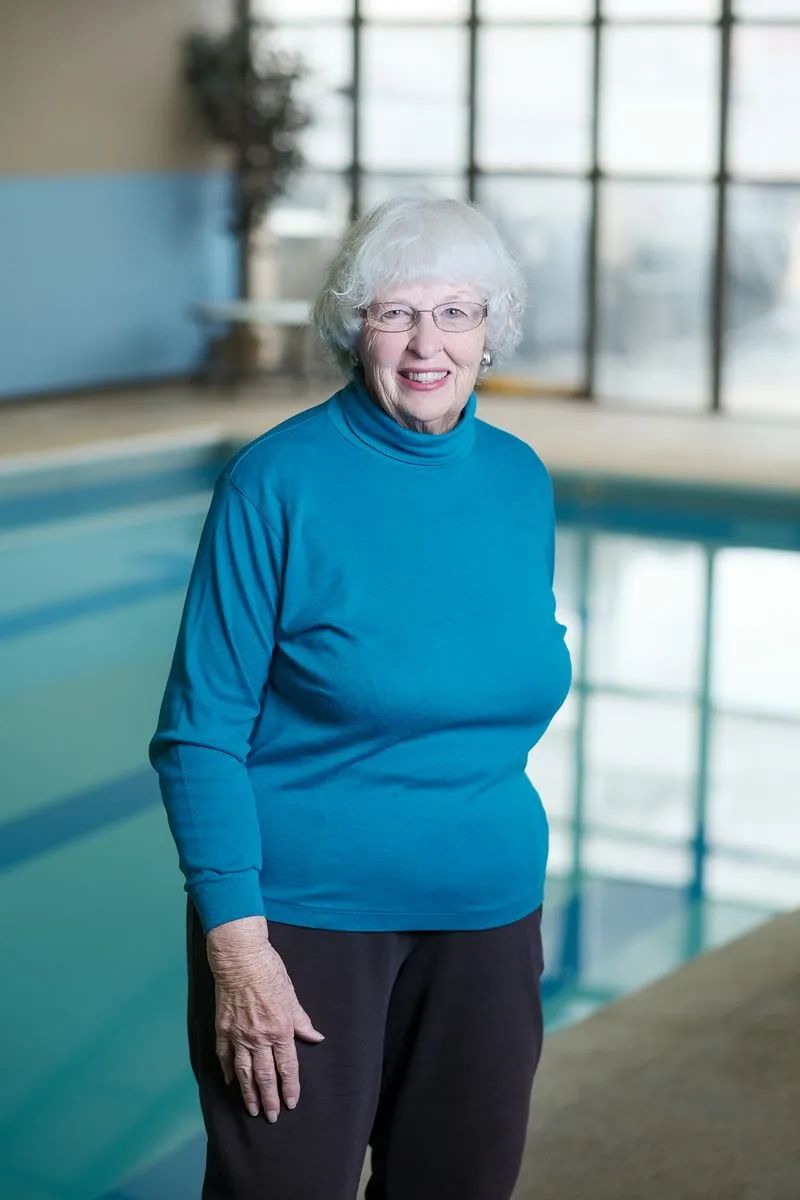 Carol is 82 and one of the oldest members of 777 Fitness and Wellness Center. She's one of about 200 seniors at the club and her dedication to fitness and healthy living is an inspiration. For Carol, though, it's just a part of everyday life.
She's a firm believer in the motto, "If you don't use it, you'll lose it." She's seen friends lose their balance and mobility and gain weight simply because they didn't stay active. That's why she keeps up with snow shoveling in the winter and gardening around her condo in the summer. On Wednesdays, she plays the role of grandma for her niece and nephew who are 12 and 9. There have been more than a few water fights in the yard and Carol jumps right in. She has all the energy she needs to keep up.
"It's all exercise," she says. "I'm staying active, and I have fun. I just act like a kid."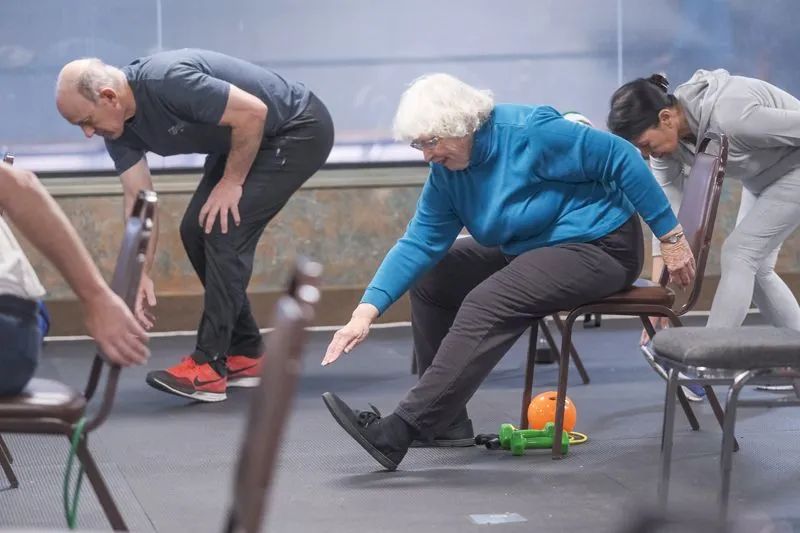 Carol suspected she wasn't the only one of her senior friends who has seen the benefits of exercise, so recently, she did a fun and informal investigation, asking others at the club about how exercise has affected their lives. One woman told her, "I get more out of life." Another said, "I have been able to go back to activities that I used to do." Yet another member said, "My balance has improved, and I am more self-sufficient." Out of more than a dozen, all had seen benefits in staying active.
Carol wasn't active her whole life. She committed to it with her late husband in their retirement years. Carol's husband, David, had a family history of heart issues and had three heart attacks in his 50s. After the third one, he and Carol committed to a major lifestyle change. They started exercising and eating healthier. They started swimming laps regularly, and they biked and walked together. David lost 60 pounds, and Carol credits those lifestyle changes for giving David and her another 15 precious years of life together.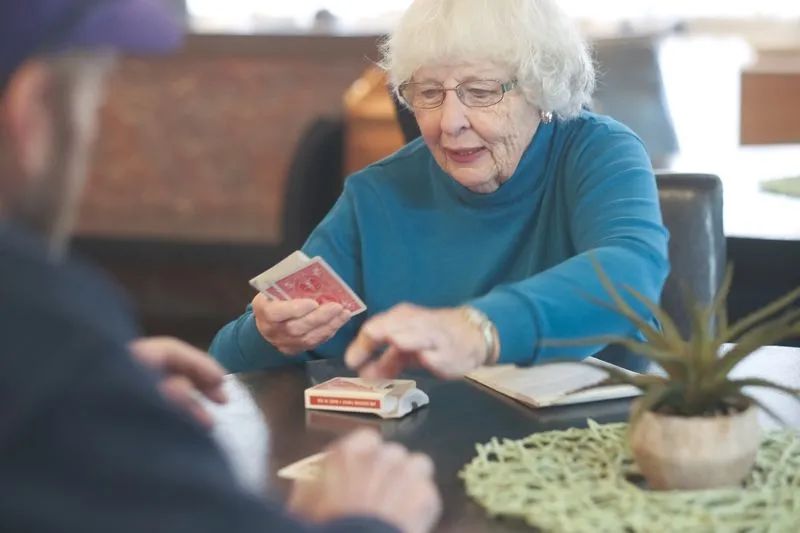 "I had a wonderful marriage and a wonderful husband," Carol says. "I could have sat around and felt sorry for myself like some widows do. That's easy to do, but what good would that do?"
Her children encouraged her to stay active and continue healthy eating habits. Her resolve after David died was even stronger than before. She wants to be there for the ones she loves for as long as she can.
That longevity is a motivator for many seniors, says Lorne Doty, a personal trainer who specializes in senior fitness at 777. Carol attends Lorne's Silver Sneakers class when she can. The twice-a-week class is geared toward helping seniors maintain strength, balance and flexibility.
"As we age, we lose the ability to do the things we once took for granted," Lorne says.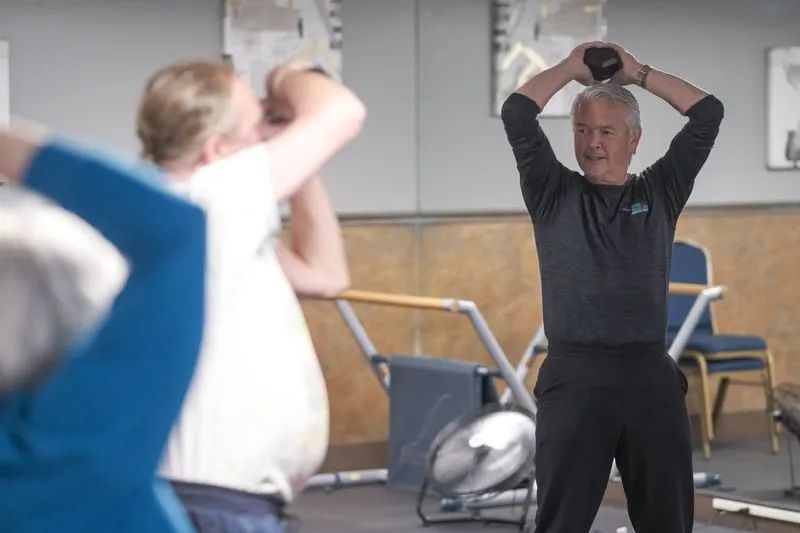 In and out of the gym, Lorne oozes positivity. While he has a sincere passion for helping people of all ages meet their fitness goals, he has a soft spot for seniors.
In his Silver Sneakers classes, he focuses on movements and exercises that help seniors in everyday life. His classes are inclusive of all ability levels, and Lorne always explains why an exercise or movement is important. Each session works all six major muscle groups, he says, and his class always warms up first to avoid injury. Seniors in Silver Sneakers are seeing results. They're able to do more daily tasks they couldn't before, like buttoning a shirt, reaching overhead cupboards and bending to tie shoes. They're experiencing less joint pain and better mobility, and many have lost weight.
"It's all about longevity and being there for your family longer," he says.
Lorne also preaches consistency, and that's when he mentions Carol.
"She's committed to staying healthy and is always positive," he says. "If she can do it, anyone can."
Carol is not only committed to maintaining her physical health, she also is committed to staying active mentally. She plays pinochle with friends once a week and enjoys puzzles and other activities that keep her sharp. From her head to her toes, Carol shows no signs of slowing down, which is a good thing, because she doesn't intend to anytime soon.
"I feel so strong, and I can do so much," she says.
Creating Strong Seniors
To help keep seniors in their best shape, Lorne Doty operates Senior Fit Billings. His program works to alleviate aching joints and muscles. He helps seniors to strength train for better bone health and creates workouts to benefit senior heart health. To learn more, visit seniorfitnessbillings.com
Keeping a Healthy Body & Brain
What do seniors need?
How much physical activity do older adults need?
Physical activity is one of the most important things you can do to maintain and improve your health. According to the Centers for Disease Control and Prevention (CDC) those 65 and older need at least 150 minutes of moderate activity, such as brisk walking, per week. Research also suggests that older adults benefit from doing activities that build strength twice a week, along with activities that improve balance three times a week.
What can seniors do to improve brain health?
According to the National Institute on Aging, there are many ways to maintain and improve brain health as you age. Start by getting enough sleep, manage high blood pressure, stick to a healthy diet, stay active, manage stress and engage yourself in intellectually challenging tasks.
What is a healthy diet for seniors?
Older adults have unique nutritional needs and should pay close attention to what they eat. The National Institute on Aging encourages eating a variety of foods from all the food groups while limiting foods with added sugar, saturated fats and sodium. Seniors should be sure to get enough protein from sources like lean meats, chicken and fish, as well as low-fat and fat-free dairy. Researchers also recommend seniors reach for fruits and vegetables for snacks and stay hydrated by drinking plenty of water.