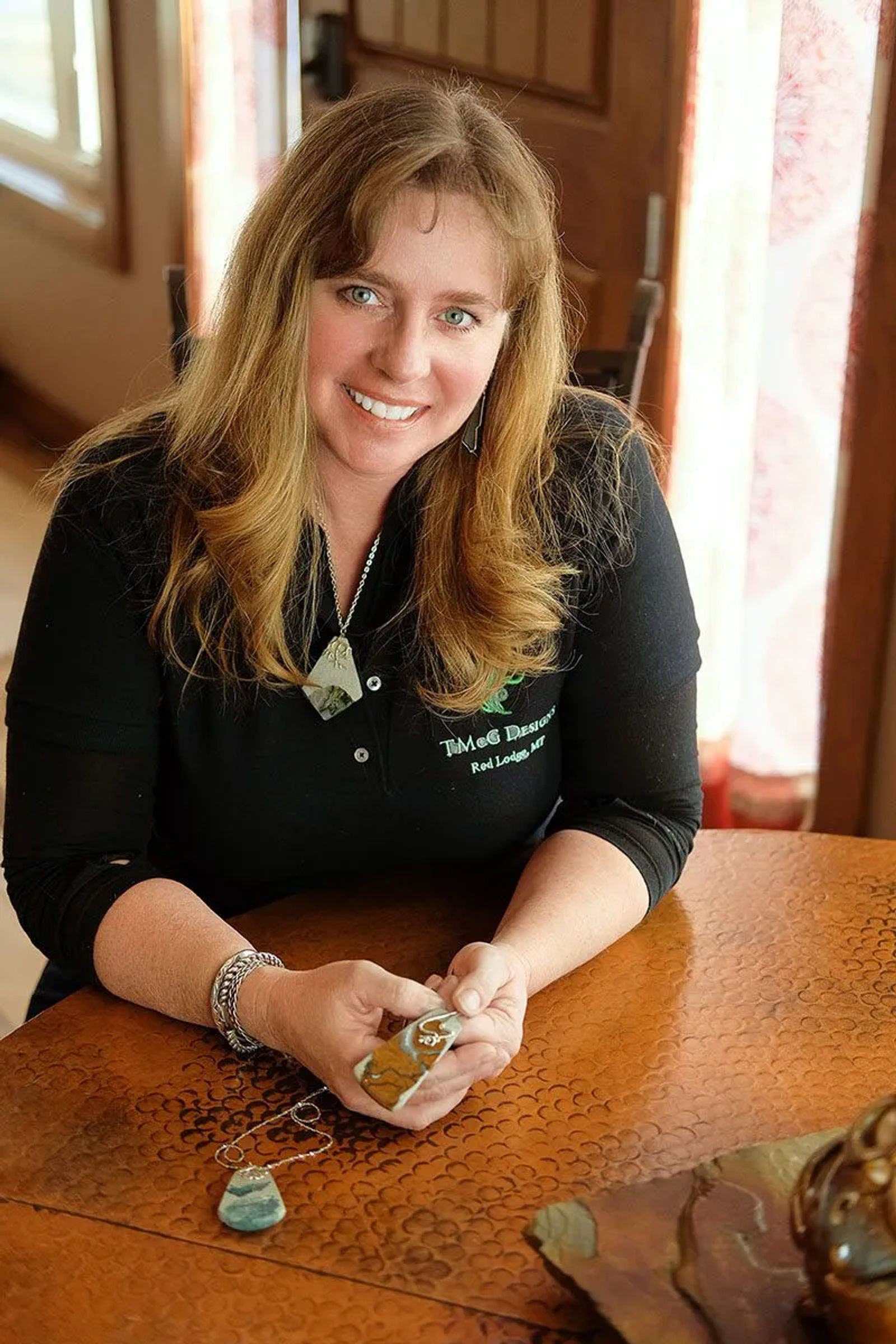 Nature by Design
From Concrete Bits to Artistic Jewelry

Tressa McGregor enjoys creating "something different" for those desiring a truly unique piece of jewelry. Her mix of natural elements combined with artistic flair produces elegantly designed wearable art. This enterprising owner of TMcG Designs in Red Lodge applies knowledge, talent and an extraordinary bit of adventure to each piece she fashions.
A concrete jewelry artist, Tressa hand-makes each pendant or pair of earrings by inlaying hand-selected river stones into concrete. It's not just concrete, mind you, it's a custom concrete mix that is astonishingly light. It embodies a sparkly appearance, as well, thanks to recycled glass.
Working with her husband James in designing customized concrete countertops, Tressa describes "morphing" from this art form into jewelry-making as an almost natural, progressive step. It fits right into their lifestyle as she and James are also avid "rock-hounds."
Combing Montana river beds for distinctive rocks, the couple delights in cutting open the collected stones revealing nature's breathtaking beauty. Tressa then crafts the colorful gems into personal pieces of wearable art, using their special concrete mix design.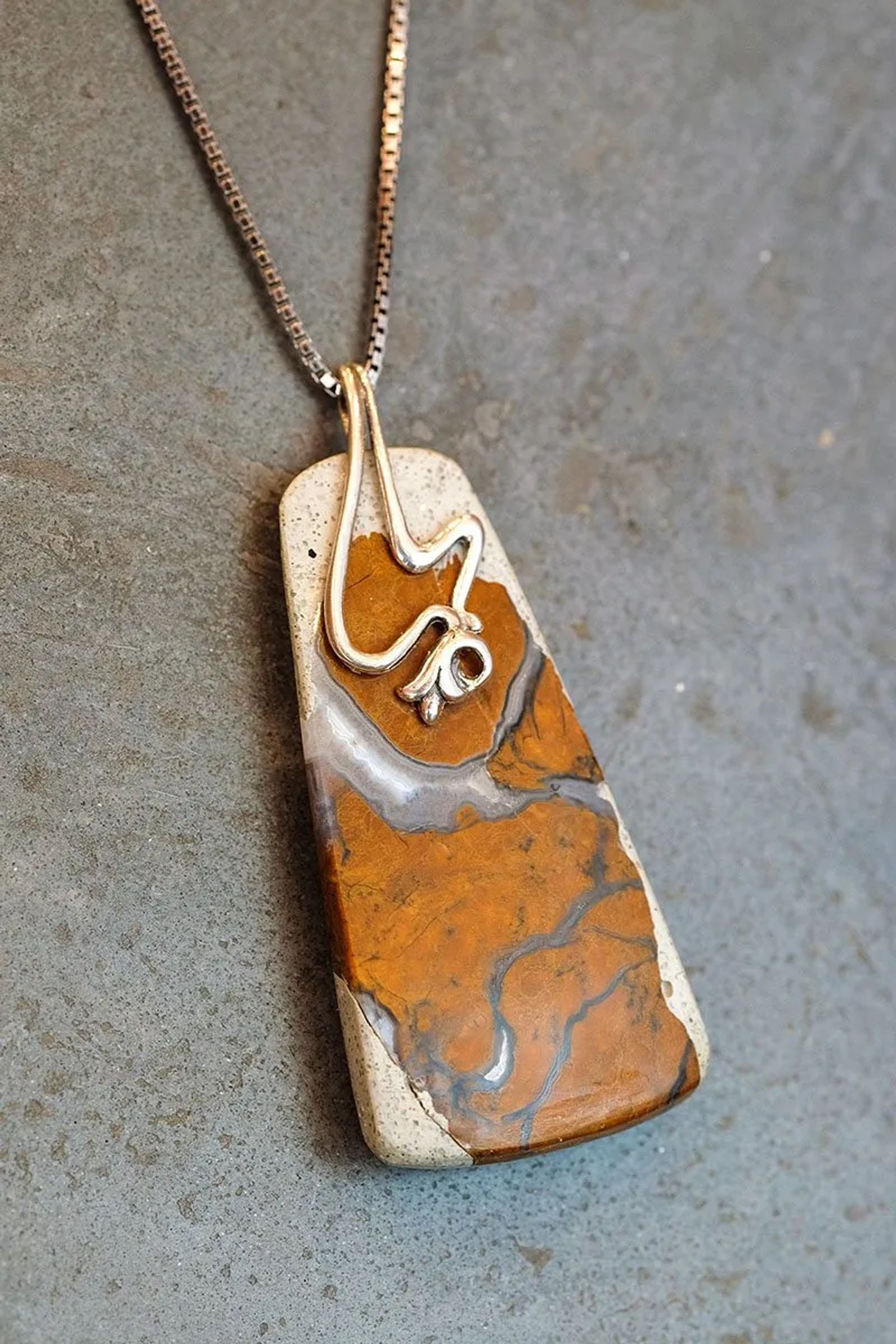 At her first art show over Labor Day weekend in Red Lodge, "It was fun to see people's faces when they realized it was concrete," says Tressa. "It's a fun avenue to play with and it pairs so well with rock. You feel the closeness to nature. To top it off, it's a very lightweight design mix that's unique in the art jewelry world. It has a lot of movement."
Tressa's very first pendant design features white concrete with inlaid recycled stained glass. Wrapped in copper wire, the piece measures about two and one-half inches long with a blunt end. "I'm now adding elegance by rounding my pieces," she notes, "and I'm trying to crush all of my own glass, too. I have lots of wine drinking friends!"
This prolific artist is now offering collections, saying she became serious about selling her varied designs several years ago. "I'm an outdoors girl so my piece from the Spring Thaw Collection depicts a 'glacier' feel when the rivers begin to melt after winter. It's inspired by winter and shows how a simple stone can relate to that."
The bell-shaped pendant reveals the warmth of grey concrete wrapped around deep hues of inlaid blue stone reflecting the vivid color of glacial ice. It's dramatic, yet, calming in depicting the variable character of nature.
Tressa says a lot of her inspiration comes from her father. "My father was an amazing artist. I would watch him pick up any material and do something with it. When I work with a different art, I've done stained glass and clay, I think, 'my dad would love this.' I enjoy working with my hands."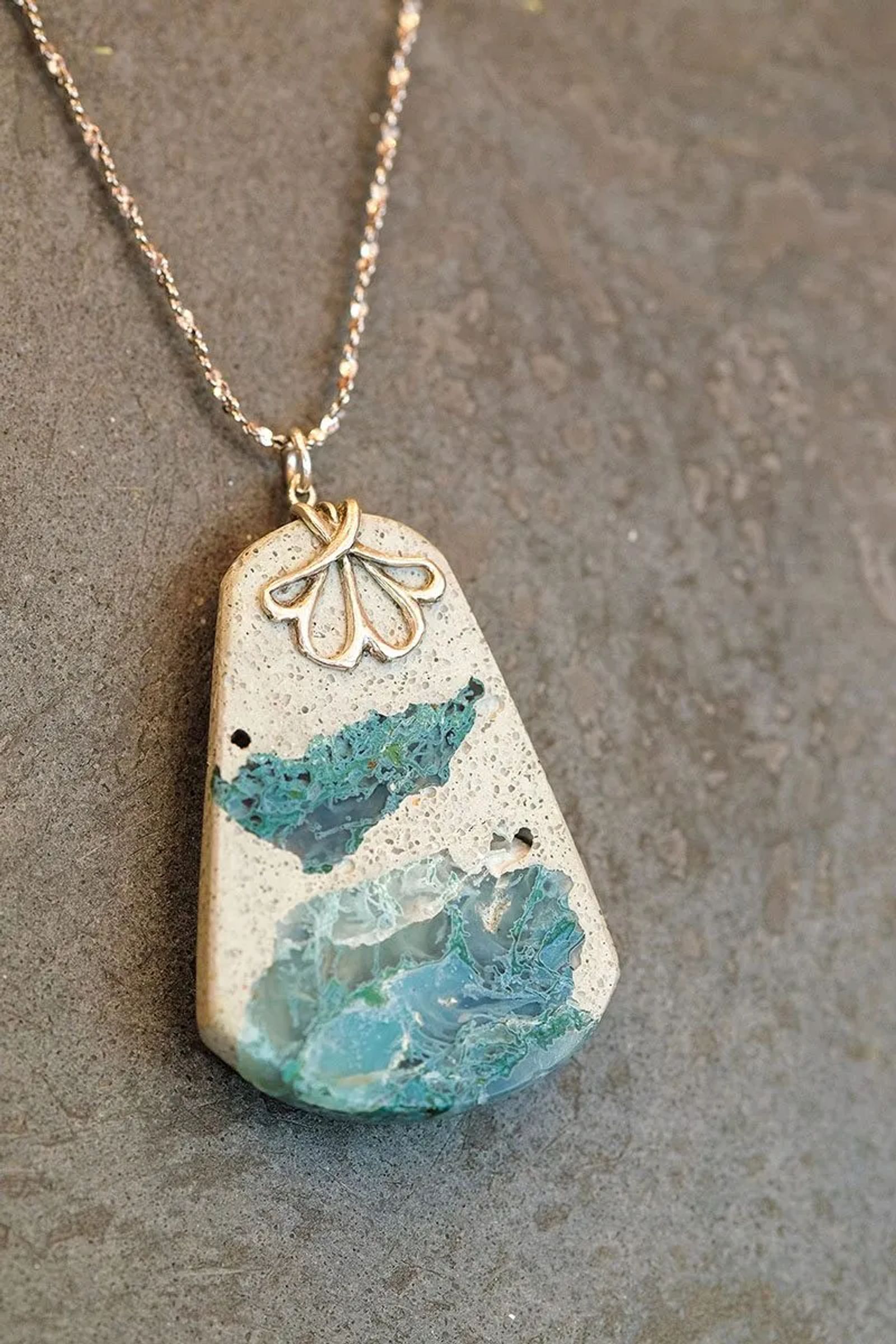 She also savors living a "quiet mountain life" and sharing this experience with others. "I make jewelry that represents where we live. When cutting open a stone, it looks like the wilds of Montana."
An intense, yet, peaceful pendant from Tressa's Wild Within Collection is brown Yellowstone River rock inlaid in grey concrete. A Sterling silver decorative bail on a Sterling silver chain enhances the dark brown stone. "When this good-sized rock was cut open it looked like the rugged mountains in our area. I chose a warm grey concrete to pull out the stone's colors and crevices."
Wet and hand-polished, each pendant and each set of earrings is sealed. Tressa emphasizes that this allows for a smooth matte finish. "It's soothing to the touch."
Who would have thought that such fine, yet, durable jewelry could emerge from concrete? Tressa shares it's all about "perfecting" this amazing material made from the sand, cement, and water that makes up concrete.
"No piece is the same and each is cut and polished. This makes it personal for those who wear my jewelry," notes Tressa. "It allows me to make each piece with its own one-of-a-kind style."
To see more of Tressa's jewelry design, please go to www.TMcGDesigns.Etsy.com