On the Street
What a night of homelessness feels like in Billings
On a Monday evening in late May, some of the homeless people in Billings gather as they do every night at this time, sitting on the benches that line the front of the Community Crisis Center. It's 5:03 p.m. and, any minute, the Salvation Army van will pull up with the night's street-side dinner.
"It's like a box of chocolates, you never know what you're going to get," says 28-year-old Bailey Desper, one of the nearly two dozen people here waiting for a meal. Tonight, it's sweet and sour chicken and rice with a side of broccoli.
BAILEY'S STORY
"I started out on the streets two years ago and at the time, I had a 6-year-old little boy," Bailey says.
At the time, Bailey says the only place she could go to was the Community Crisis Center. But she has a minor child, she says, and "you can't bring a child here because of the violent and sexual offenders. The next morning, my son went to CPS (Child Protective Services). It's been an ongoing battle ever since." Then she adds, almost as an afterthought, "This is my third time being homeless."
In April and May, the Yellowstone County Continuum of Care, a coalition of community leaders and volunteers working to reimagine care for the homeless, hosted a tour of agencies that serve the homeless. Those experiencing homelessness served as guides and talked about what they face on a nightly basis.
"I am staying at Off the Streets," Bailey says, referring to a low-barrier shelter on Second Avenue North. People don't need to maintain sobriety to stay the night at Off the Streets; they simply have to prove they're not a threat to themselves or others. "Without Off the Streets, it would be very difficult," Bailey says. "You aren't guaranteed a bed at the Crisis Center because they are meant for people in crisis and not the homeless."
In the past, Bailey spent nights sleeping on the benches outside the Crisis Center. It's not good for the degenerative discs in her back, a condition that has kept her from holding down a steady job. She's been waiting more than eight months to see if she qualifies for Social Security disability.
"I am in this limbo stage which created a situation for me to be homeless," she says.
To stay at Off the Streets, every night Bailey walks through the metal detector at the Community Crisis Center. A security guard will pat her down, looking for sharp objects or weapons. She'll fill out an intake assessment that will screen her for mental health issues, the need for crisis counseling or red flags for drug or alcohol addiction. It's the same form she filled out 24 hours earlier, so case workers could refer her to Off the Streets, where she'll stay from 7 p.m. to 7 a.m.
"Prior to the Off the Streets shelter, the last two winters, we were getting — there's no other way to say it — killed with people who could not get into shelter care services," says MarCee Neary, the program director for the Community Crisis Center. "We'd have 20 to 30 extra people every night. We only have 18 beds for stabilization."
Off the Streets, on its busiest night this past May, sheltered 72 people.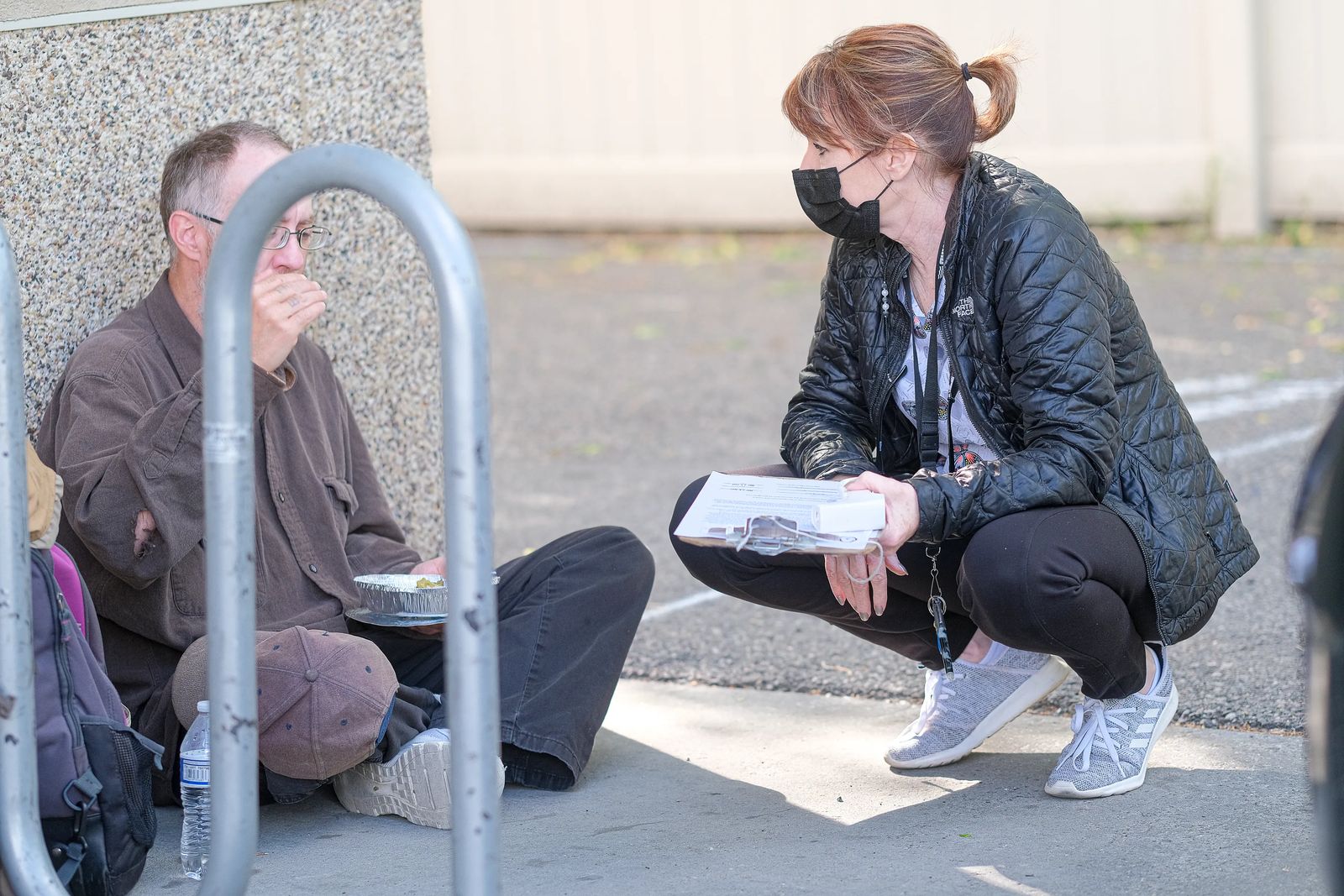 A COORDINATED EFFORT
While intake forms and paperwork seem like a chore for someone seeking a roof over their head, it's key in helping serve the homeless community. For nearly three years, social service agencies have shared a database known as the coordinated entry system. It takes a person's personal and up-to-the-minute information — their work history, health risks, family status, etc. — and uses the information to identify the best plan to get that person help. The system prioritizes the most vulnerable.
"We are gathering this data for every single person, every single night," MarCee says. That data is put into a weekly report showing a snapshot of how the homeless and at-risk population is being served.
Those facing domestic violence are sent to the YWCA's Gateway House. Those under the age of 24 will be referred to Tumbleweed. If a person needs detox, they are sent to Rimrock Foundation. Those in crisis might stay at the Community Crisis Center. If they are clean and sober, they will be diverted to the Montana Rescue Mission. If the person is battling substance abuse, they are shuttled to the Off the Streets shelter.
"We are just trying to keep people from dying overnight on the streets for a variety of reasons," MarCee says. "It's not just from freezing to death. People are victims of assault. What you'll hear from those on the streets is, it's an ugly thing."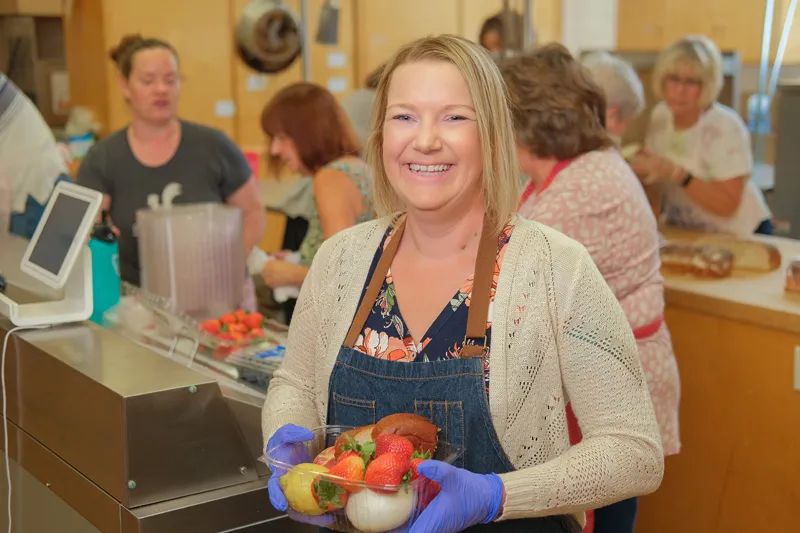 A TOUR TO SPARK AWARNESS
Kari Boiter, a volunteer with the Continuum of Care, was the mastermind behind this tour. She wanted to paint a picture for the community of what it's like to be homeless.
"People experiencing homelessness are just like us," she says. "Their stories are just like ours. I can relate in so many ways and I say, man, that could have been me."
Kari suffers from Ehler Danlos syndrome, a connective tissue disease that can cause extreme pain, debilitating migraines and a multitude of other symptoms. It's hard for her to hold a job, she says, adding that her longest stretch of employment was 18 months.
"I have lived in my car, actually," Kari says. "Just through luck, I have been able to have something better for myself." Not only for herself, she says, but for her 2½-year-old son. "There are tons of people like me who are in the cracks."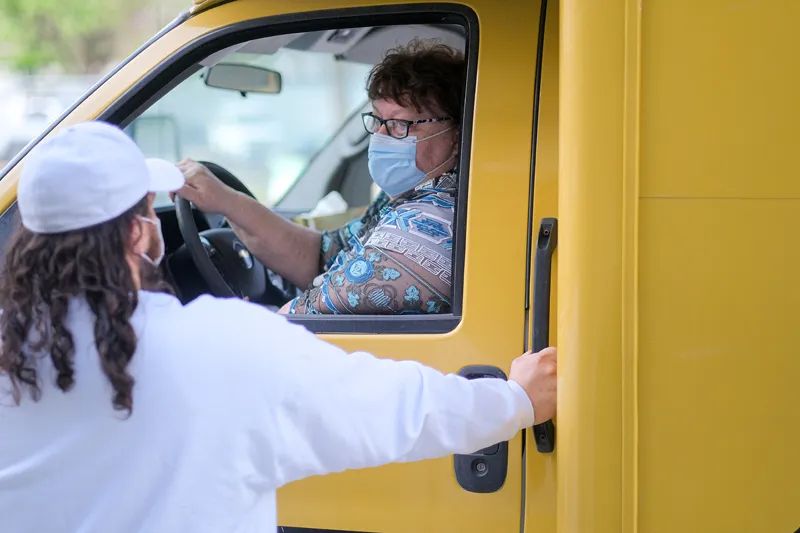 As she moves the tour outside to catch a ride to the Off the Streets program, she announces to the group, "We found out at 4:38 p.m. tonight, the Montana Rescue Mission has chosen not to take part in the tour." Recently, the Mission, which has been serving the homeless since 1957, has faced harsh criticism from other nonprofit organizations. The Mission reportedly is embarking on a roughly $13 million plan to create a unified campus to serve the homeless. To prepare for construction, MRM recently sold its Women and Family Shelter. Calls inquiring about the timetable of the project went unanswered.
"They are housing all folks together in one facility," says Tess Besaw, a consultant who has helped agencies train and become a part of the coordinated entry system. "They have assured us that they have separate areas. None of us have seen that. They were providing community meals Sunday to Sunday. They have stopped doing that now and they are only providing community meals on Sunday night," Besaw says.
Community meals (open to anyone, even those who are not guests at the mission) once served daily reportedly stopped on May 13 and since then, Saint Vincent de Paul has rallied to fill the need, serving breakfast, lunch and dinner. Roughly 300 dinners each week are prepped and delivered thanks to the volunteer-led nonprofit Eat Share Give.
"Today, before I came here, I was physically at First Church making the food – pulled pork sandwiches," Kari says. As a volunteer working nearly full time on trying to fill gaps, she says, "The more we succeed, the more we work."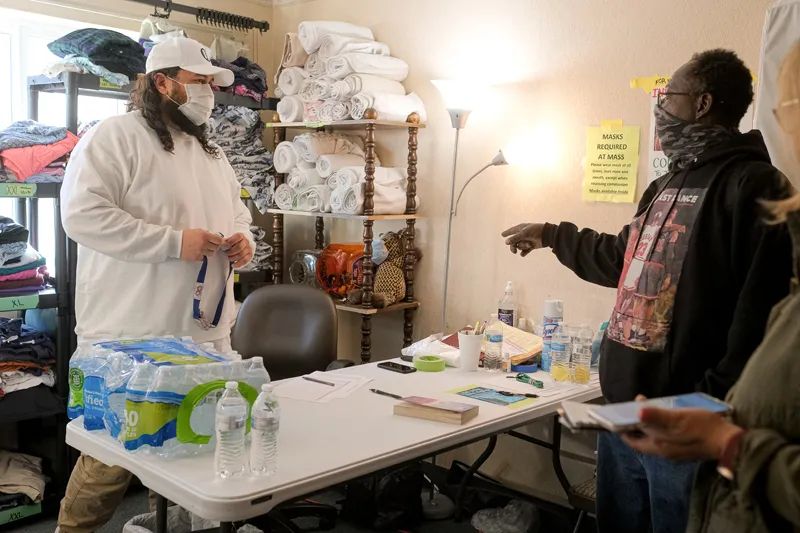 BRACING FOR AN URGENT NEED
When the tour rolls into the Off the Streets shelter, Jordan Monga, who helps manage the day-to-day operations, describes the intricate check-in process. After putting their belongings in a tote, guests grab a bed roll with a towel and a laundry cord to wrap around their clothes. Once settled into their room, they can take a warm shower, put on the pajamas provided by the program, and set their clothes out in the hall to be laundered overnight.
"We are making an impact," Kari says. "Look at these folks. People have a place to stay at night. When you wake up in the morning with eight hours of sleep and clean clothes in the morning, how do you feel compared to having slept on the street or even worrying about where you are going to sleep?"
Federal pandemic funding may have helped launch this low-barrier shelter to serve as a Covid quarantine and isolation site for the homeless, but now all 40 rooms are being used as shelter. Homefront of Billings, formerly known as the Housing Authority, purchased the old Western Inn in October of 2020. The organization leased the building to the Continuum of Care for a year so Off the Streets could operate. That means, however, that as of this Oct. 31, the program may itself be homeless.
A task force is starting to look at the issue and Patty Webster, the CEO of Homefront, told tour-goers she's eager to hear what the community has to say about a permanent low-barrier shelter.
What many expected would be a shelter housing 30 to 50 unique individuals has provided shelter to 313 unique guests since opening in November.
"We didn't see that coming," says Off the Streets Director Craig Barthel.
On the night of the tour, one message rang out loud and clear: Billings service providers are all bracing for what appears to be a perfect storm for the homeless population.
"How bad is it going to get?" Craig says. "Everyone is guessing, but the people I have talked to who have been around for many years say this is as bad as they have ever seen it."
What's driving the need? Craig says the pandemic was incredible in the way it affected the labor force. Signs of inflation are starting to appear and the cost of housing has taken a steep jump, in many cases pricing out those who might otherwise be able to afford a home. Year to date, the average home price in Billings is up 22 percent. Rental properties, if you can find them, are up 8 percent.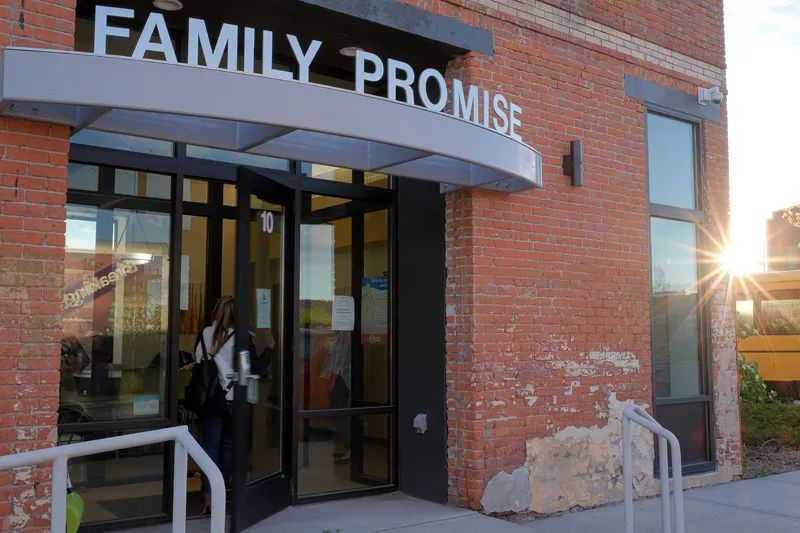 "We can certainly use some housing for homeless people," says Lisa Donnot, the executive director of Family Promise of Yellowstone Valley. The nonprofit works with volunteers at faith-based congregations to provide meals and shelter for families experiencing homelessness.
"It is at a really horrible stage right now but it is getting ready to become a real crisis for a lot of homeless people and those experiencing generational poverty," she says.
As an example, Lisa points to the recent sale of the Lazy K-T motel in the 1400 block of First Avenue North, which reportedly is going to be demolished. Of the hotel's 50 rooms, 30 are occupied by families in need. They stay in hotels, Lisa says, because it's difficult to find landlords willing to work with the low-income population. To make matters worse, on June 30, the Centers for Disease Control's Eviction Moratorium for Renters expired.
"We've had a huge uptick over the past two weeks of phone calls," Lisa says. "We are getting 15 phone calls a day, at least, of people who are looking for housing that are going to be evicted."
Since the pandemic, Family Promise hasn't been able to partner with churches to house the homeless. So, it's been using its day shelter and transitional living apartments as emergency shelters. Right now, roughly 80 families are on the waiting list to be helped by the nonprofit to find housing.
"A majority of those families have Housing Authority vouchers but there's nothing on the market. There's no rentals," Lisa says. "There's no place to put anyone."
By mid-June, Family Promise was hoping to launch a handful of static sites in churches to add more beds to the program.
Lisa Harmon, pastor of First Church on the corner of Third Avenue North and North 27th Street, was one of the guests on the tour. She's seen and served this population firsthand for years. Two winters ago, the church launched a program called My Backyard. When the temperature dipped below freezing, the church would activate the program, serving as a low-barrier shelter for low-risk members of the homeless community. Each night they opened their doors, roughly 15 people used their space to keep warm overnight.
"All those things — My Backyard, Off the Streets — that's all a demonstration to show we need to do more here for people who are experiencing life on the streets," Harmon says. "Until we do that, we are going to be struggling because numbers are rising."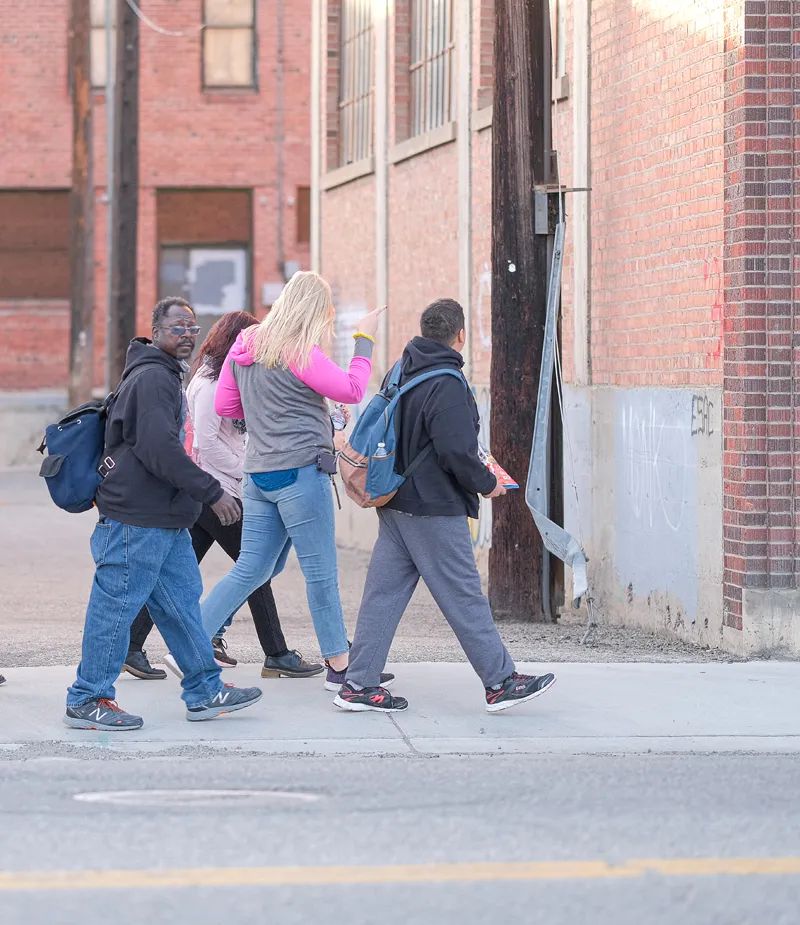 THE FACES OF HOMELESSNESS
As the tour came to a close, Wesley, a middle-aged father of a 12-year-old boy, talked about his trials with being homeless. He moved here from out of state. His wife, who struggles with addiction, forced the family down a desperate path. Since then, he says, it's been difficult to find a place for him and his son.
"I want to know why people are judging me with my child. That ain't his fault. It's due to relationship problems that me and my son ended up on the streets," he says. Wesley has a job but, for now, he isn't making enough to afford a place of his own. "I am a grown man," he says. "I know how to survive. But my son? That hurts."
"I've watched him (Wesley) go through all of this by himself," says Jada, another homeless mom who's been staying at Off The Streets. "I know the painstaking crap that we go through on the streets. I don't know how he handles this with a 12-year-old."
Jada goes on to share her story. Her grandparents were taking care of her kids, but when both grandparents passed away, she says, "I walked away from my family because I didn't want to fight with my mom's mental health issues."
Her life has gone into a downward spiral. She talks of being attacked and sexually assaulted while spending the night at North Park. She's been a victim of robbery as well. Today, her anxiety runs high. She's both angry and fearful.
"Tonight, I will be staying at OTS (Off the Streets). I don't know who I will be in a room with. I don't know what situation they will be in," she says.
Craig Barthel, who serves the homeless daily, admits it's a messy and broken population.
"I don't have to fix you. It's OK that you are messy and you use vulgar language and you smoke cigarettes and you don't have great manners. That's OK," he says of some of his clients. "I don't know what you've experienced and been through. I am just going to be here for you and befriend you and when you are ready to get some help, you will come talk to me."
He says that model of help has proven itself time and time again.
"These are people that everyone else called untouchable and yet here they are having a conversation about what they can do to get off the streets," Barthel says.
As the conversation continues about a permanent low-barrier shelter and the need for housing for the homeless, Lisa Harmon stays engaged in the issue, hoping the community will help to ease the pressure and volunteer, donate to community programs, and become a part of the conversation.
"I really hope that people see themselves in the story," Harmon says. "I hope they can say, what if that was me and I had no more bridges to cross? Would this be a city that could welcome me and help me?"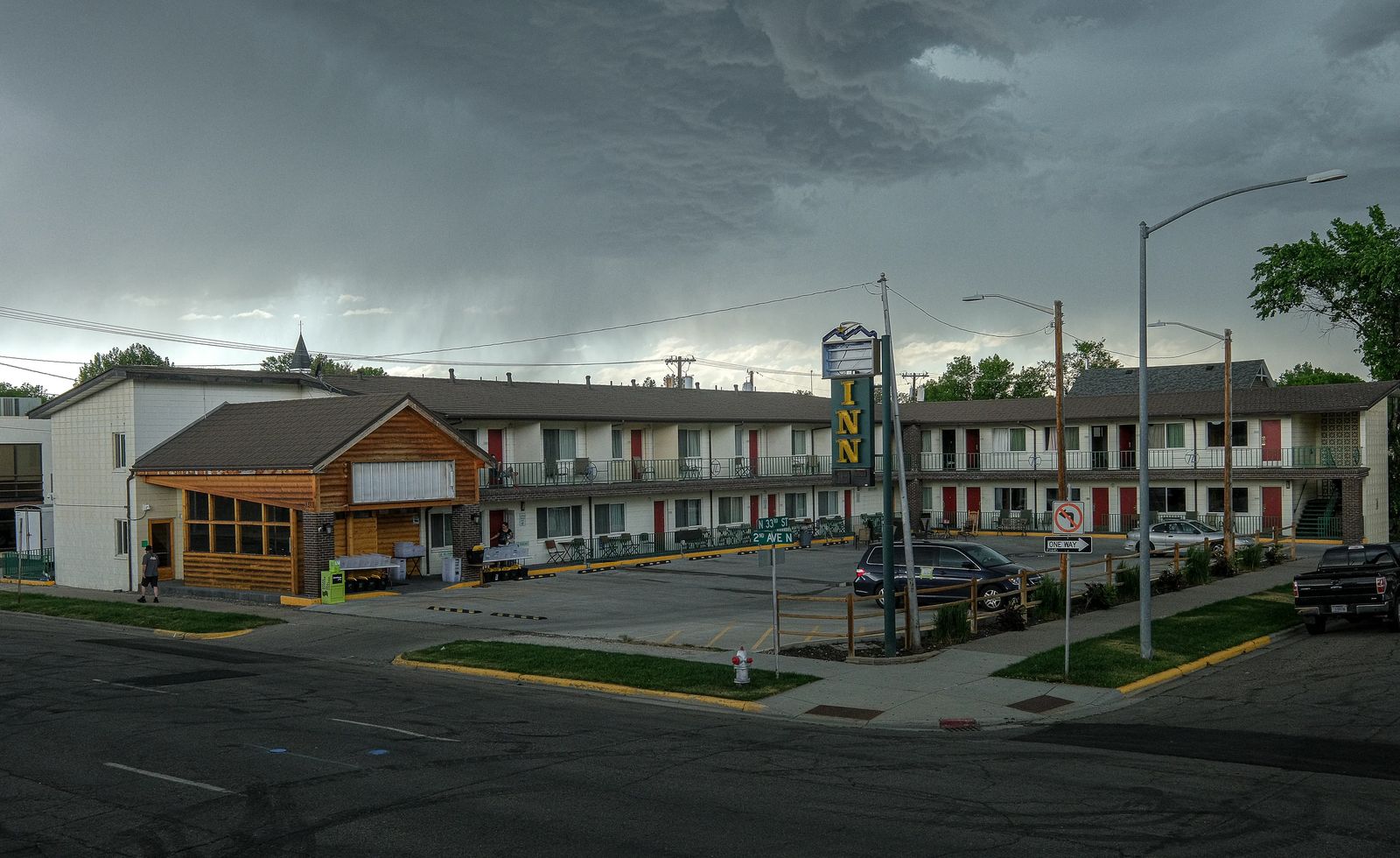 OFF THE STREETS
Overnight stays on the rise
764 overnight stays in December 2020
932 overnight stays in January 2021
1,171 overnight stays in February 2021
1,360 overnight stays in March of 2021
1,440 overnight stays in April of 2021
1,836 overnight stays in May of 2021