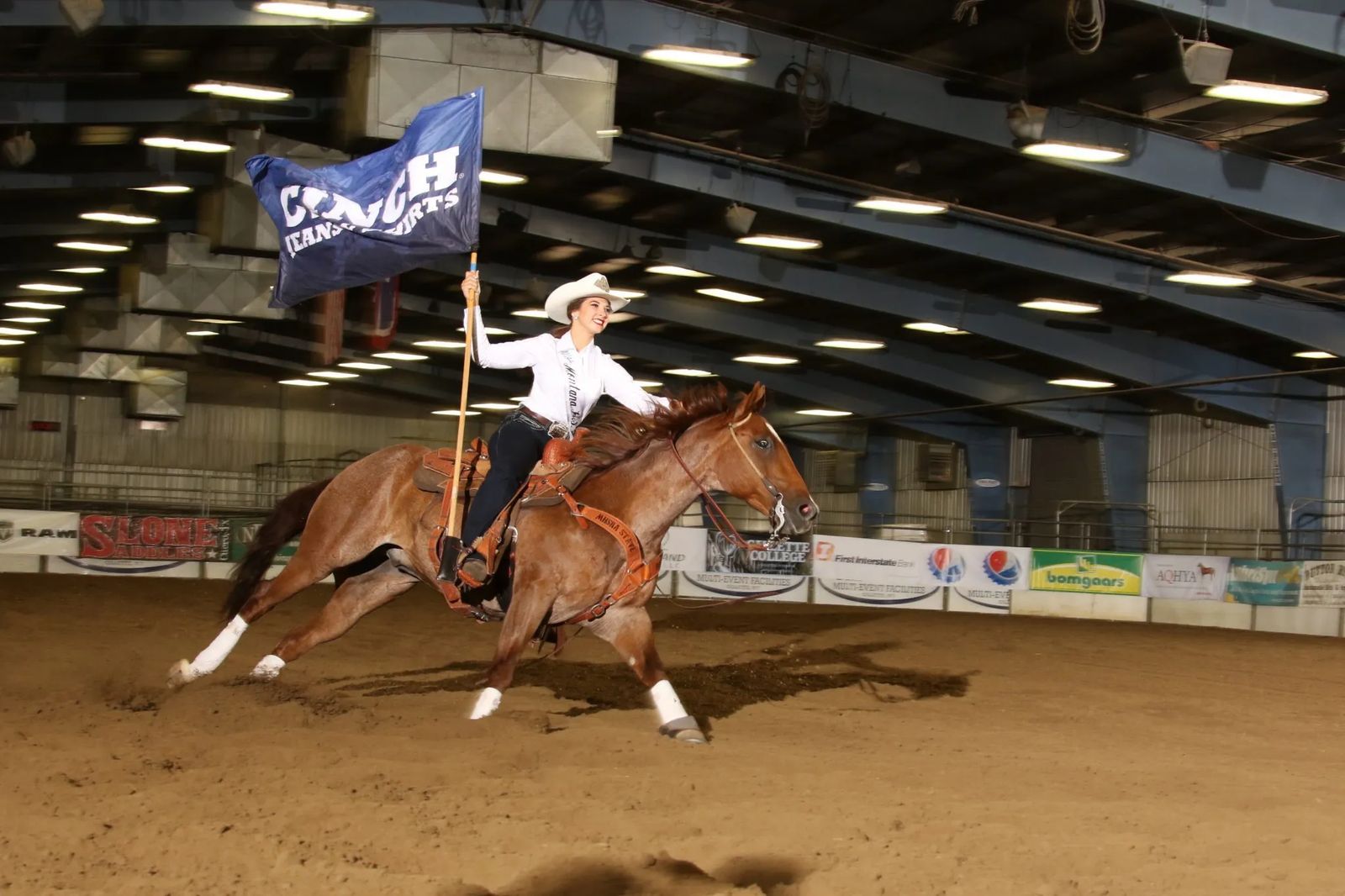 Opal Harkins: Part Rhinestone, All Cowgirl
Montana's Miss National High School Rodeo Queen
She sparkles. She dazzles.
And that's before she even puts her rodeo queen attire on.
After visiting for just a few moments with Opal Harkins, it's easy to see why judges selected her out of 44 candidates to be crowned Miss National High School Rodeo Queen 2016.
The 17-year-old Billings native is a natural doe-eyed beauty. But her iridescent personality, deep love of horses and rodeo, and a commitment to excellence in all she does are what truly makes her shine.
In July 2016, Harkins competed as Miss Montana High School Rodeo at the National High School Rodeo Association Finals in Gillette, Wyo. With one trailer for horses and tack, and another retrofitted solely as a huge closet for "bling-ed out" queen outfits and living quarters for family, Harkins showed up not just to look pretty, but also to ride hard – as she also qualified to represent Montana in the reined cow horse competition. By the end of the week, Harkins had earned the national crown, topping five of the eight categories of queen competition, including horsemanship, speech, modeling, appearance and personality. She also made the short go (the final level of competition) of the reined cow horse event, placing 16th in the nation on a horse she had just started riding only weeks before.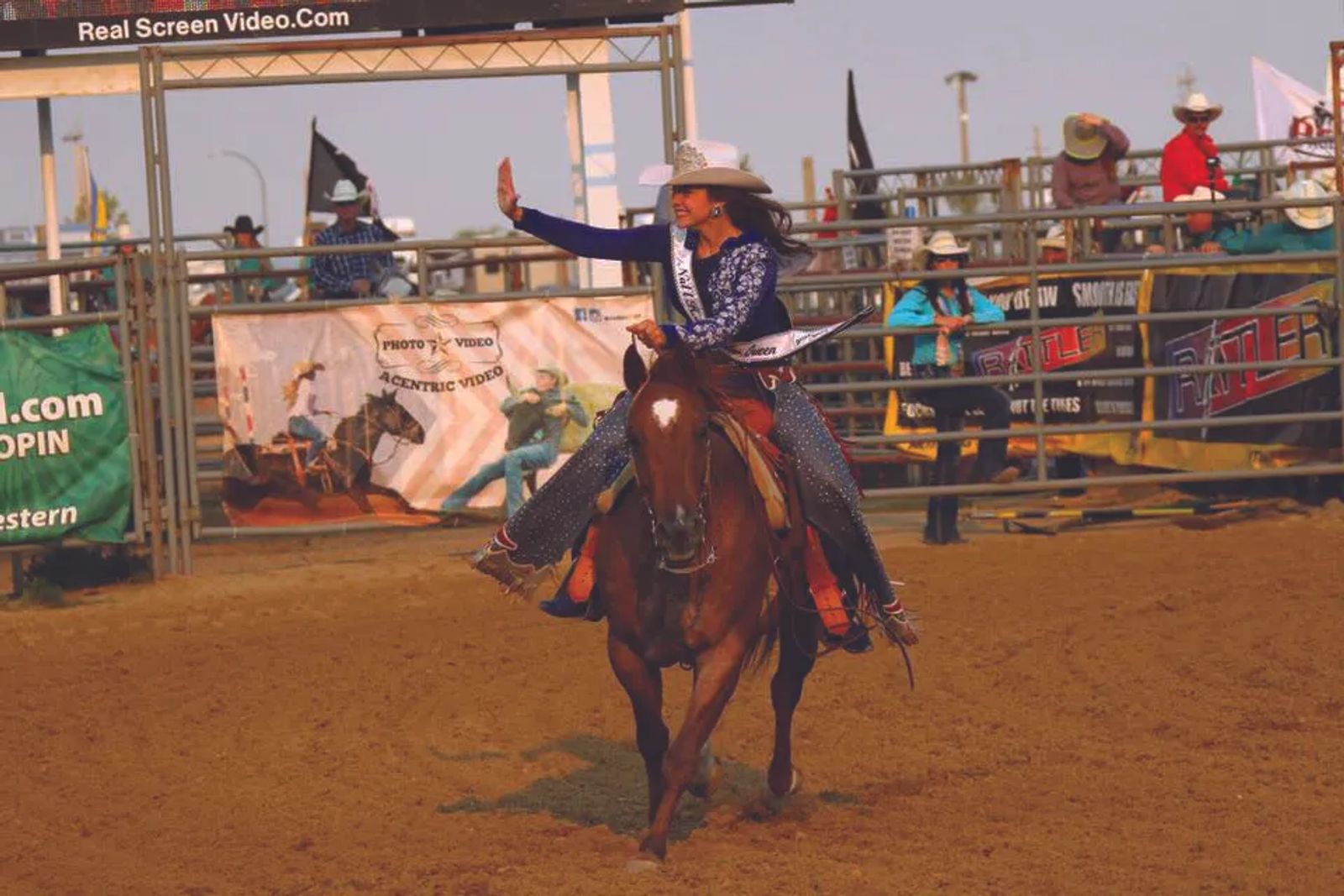 Reigning and reining
Along with wearing the sash and representing rodeo, Harkins brings a true cowgirl heritage to the title. She grew up riding with her parents, Jason and Sharlotte (Becker) Harkins, who were raised in Ekalaka and Baker, Montana, respectively, and her four older siblings. Her great-grandfather Odis O. Harkins was inducted into the Montana Cowboy Hall of Fame in 2015.
"My parents from the very beginning taught us how to ride. We had to train our own horses since we were little," says Harkins. "We went to a lot of clinics and we travel about 45 minutes to our practice arena, Miller's Horse Palace in Laurel, 3-4 times a week." She competes in barrel racing, breakaway roping, team roping, goat tying, queen competition, reined cow horse, cow cutting and shooting sports. "Rodeo for us is a family event, and we are a close family – mostly because of that," she says.
For Harkins, topping the horsemanship category in the queen competition was one of her high points. "Horsemanship is a huge thing for me," she says. "A lot of rodeo queens don't actually rodeo, and I really feel that is something I can highlight this year – that you can do both."
Her savvy in the saddle became especially apparent when, just one week before the national finals, her reining horse she had qualified with collicked and had to be retired. Left without a highly specialized horse needed for the reined cow horse event and the queen reining pattern, Harkins contacted Steve Bond, a nationally recognized trainer from nearby Huntley. Bond had her come try out his horse, Boone, that he had won reserve national champion on.
" didn't know who I was, didn't know if I could ride or anything, but after the first time I rode his horse, he said 'Yeah, you can take him.'" Harkins took Boone to Gillette, and, in addition to her success there, she has continued to train with Bond, an added bonus.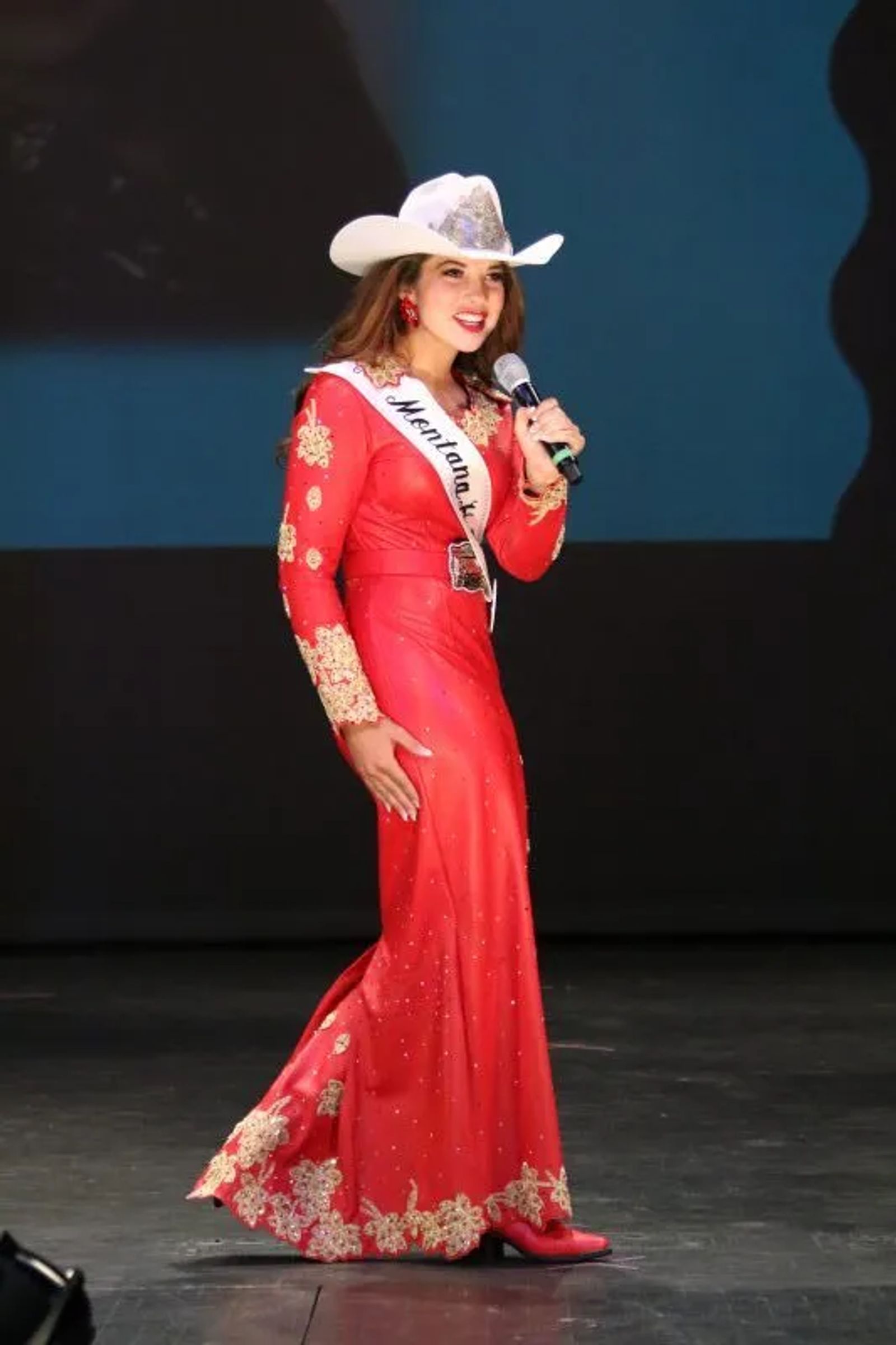 Along with horsemanship, the two-minute speech is one of Harkins' favorite categories of completion. Her topic for her winning presentation was "Unique Montana."
"My speech started off with some of our crazy laws – the first line is, 'It is illegal to have a sheep in the cab of your truck without a chaperone' – then I went on to talk about what we are famous for and ended with the reasons why I love Montana so much," says Harkins. "Public speaking is a chance to get up there and show my personality – it was probably one of the most fun things I've done."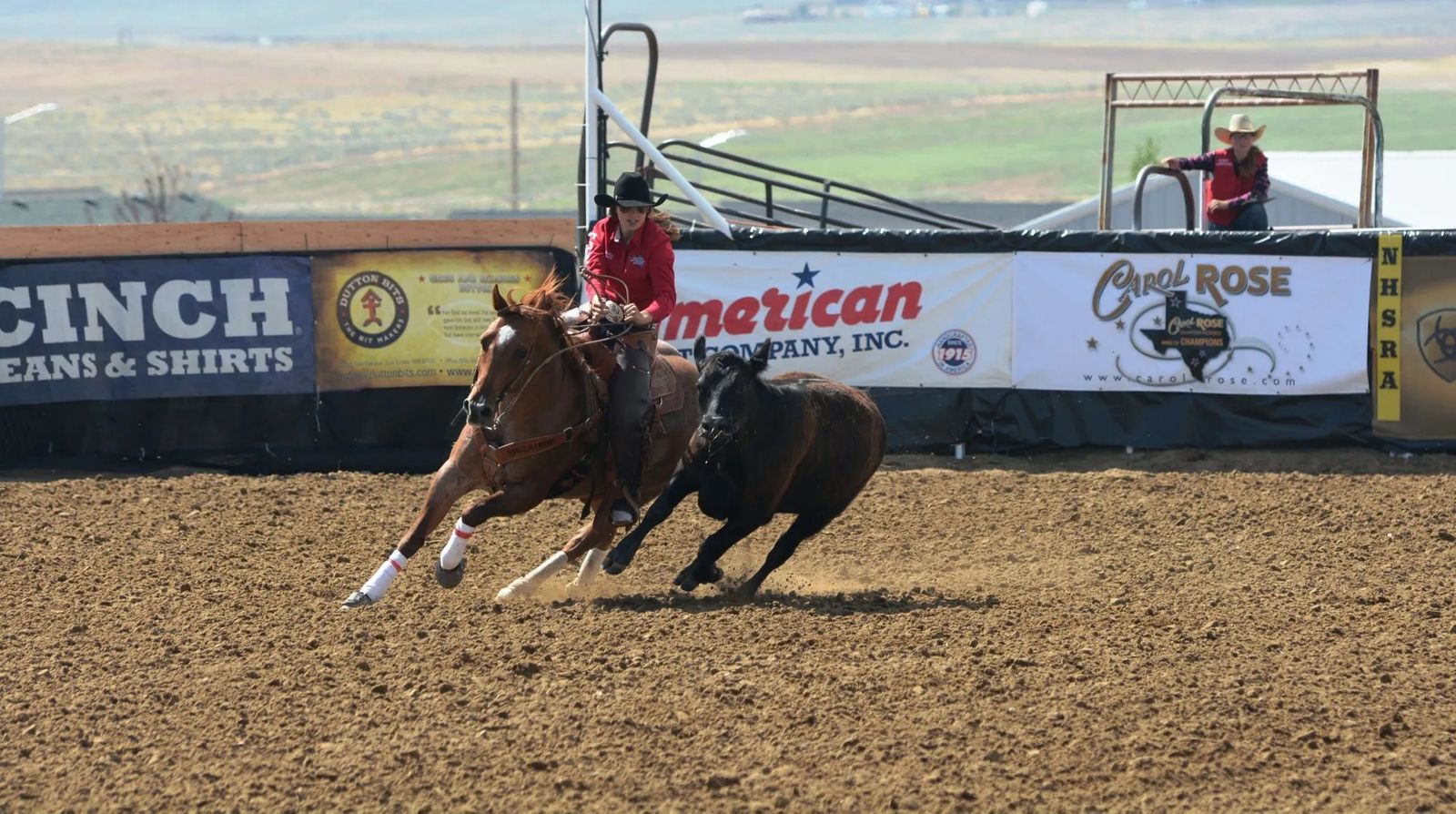 "O"riginal and "O"utstanding
The five Harkins siblings are memorable for their talents alone – but their unique names contribute to their trademark as well. The three oldest siblings are boys: Odis, Othniel and Ogden, followed by two girls: Ouana and Opal.
"The story is that in my mom's family, their names all start with "Sh" and my dad's brothers and sister all start with "J," says Harkins. "Odis was named after my great-grandpa, and after that, they had to keep the tradition up and find
"O" names for all the rest of us."
Like the rest of her siblings, Harkins was homeschooled until 7th grade, when she had the choice to attend public school, which she did for a year. "My parents decided to homeschool all of us so they could be in control of what we were being taught," says Harkins. "They wanted to be the main influence in our life and didn't want it to be teachers or other students." They learned through a Christian curriculum, including taking Bible classes since they were young.
The homeschool flexibility worked perfectly for a family that loved to rodeo together.
"We had schedules when we were all homeschooled together, we would work ahead on cold days and then ride all day on warm ones," she says.
Now, technically a junior in high school, Harkins is again homeschooling and also taking college courses through the Montana State University – Billings High School Connections program. When she graduates high school, she will also have an associate's degree in English.
"Being homeschooled is the reason why I am where I am in college right now," she says. "It taught me to be self-motivated, and being able to take high school classes when I was in 8th grade is the reason why I was able to start college my freshman year of high school."
A shining future
Harkins says she feels the pageant aspect of rodeo queening helps women embrace their femininity but, more importantly, to showcase their personality, develop strong public speaking and presentation skills, and prove what a real cowgirl really is.
"The horsemanship, interview, public speaking and written test each count for twice as much as appearance," Harkins points out. "I've developed skills I will use the rest of my life through the queen contest." In addition, she says one of the main themes that she wants to communicate to young girls through her reign is: Confidence is key. "Find out what you're passionate about, set your mind to it, be committed to it, and be confident about it."
As queen, Harkins is an official member of the National High School Rodeo Association officer team. She has represented the association at the National FFA Convention in Indianapolis, at the Wrangler PRCA National Finals Rodeo in Las Vegas, and will attend board meetings across the country through the upcoming six months of her reign. In addition, she also serves as the youth reporter for the National Reined Cow Horse Association and works as clothing designer and public relations representative for Rodeo Ready®, a Montana company that produces apparel and products for rodeo fans.
With a full schedule behind her and ahead of her, Harkins reflects on the many deep and lasting connections she has formed through rodeo and her queen reign. "The friendships are absolutely endless – I know that no matter what state I go to, I will always have a place to stay with someone I've met."
It's not hard to see why many would call this vibrant young lady a friend.