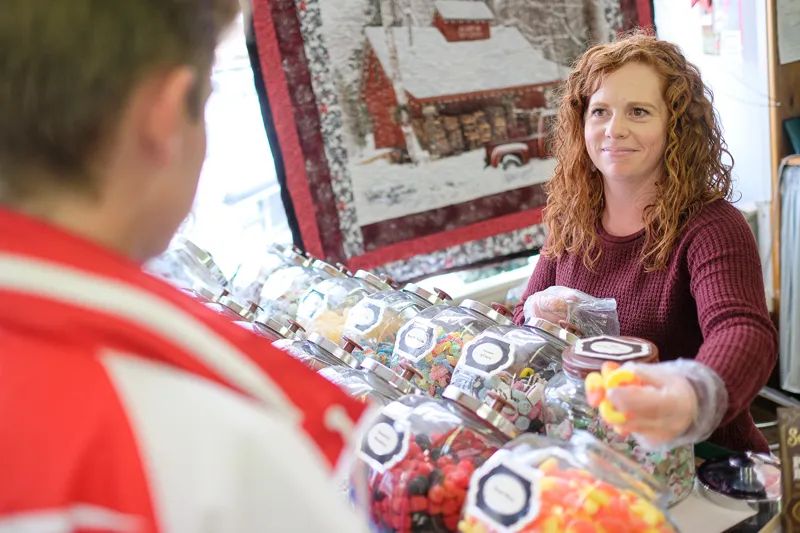 Pattern of Success
Bonnie Ferguson helps friendship & creativity blossom
As Bonnie Ferguson walks through her quilt and candy shop on Big Timber's main street, she pauses at a display of flannel fabrics and straightens a few of the brightly colored materials. Around her, hundreds of bolts of fabrics in as many colors fill the shelves and displays around the store. Dozens of handsewn quilts adorn the walls in a variety of styles and designs.
A quilters dream, the shop sits inside a building that dates back to the late 1800s. It's been a retail store of some kind for all those years, selling everything from harnesses and boots to yard goods and domestics. Many of the fixtures and the tile flooring date back more than 60 years.
The large front windows, letting in an abundance of natural light, are gaily decorated with quilts and tools for quilting. Though the temperature outside was nearing 80 degrees, the store was filled with Christmas-themed fabrics.
"Quilters have to start months ahead to make sure they finish their projects by Christmas time," Bonnie explains. "And most of our customers have multiple projects going all the time so we start the Christmas season in August."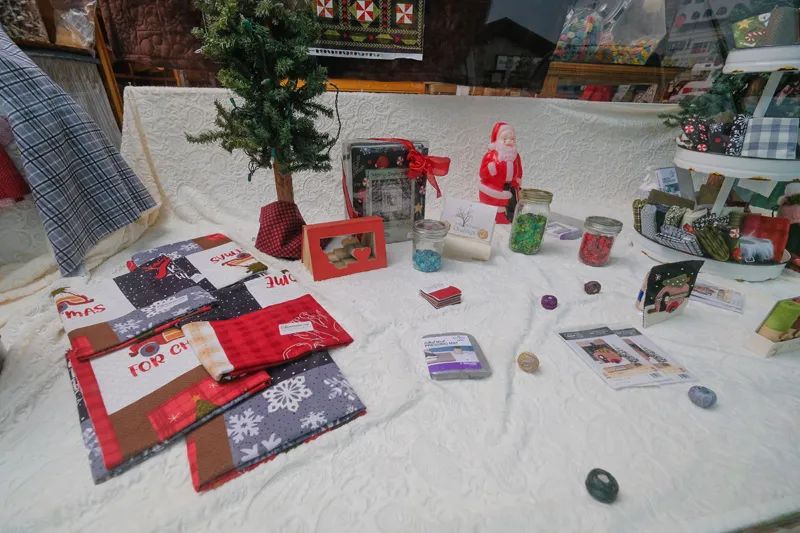 As she continues through the store, her 2-year-old son, Sam, dashes behind her pushing his toy cart as he heads for the candy corner.
"It gets a little crazy sometimes," Bonnie says with a laugh. She stops Sam, distracting him long enough to get him away from the jars of candy lining the counter just inside the front door.
Long tables stretch out across the back of the store offering room for the store's many quilting classes. The humming of several machines is evidence of students working on projects, and the chatter is proof of a good time being shared with many.
"It's more of a social gathering than anything," Bonnie says. "It's good to have a place to gather with friends and do something together."
Sam toddles by again and several customers greet him. "He's been part of this since he was born," Bonnie says, smiling. "I started bringing him when he was just a tiny baby. Someone wisely said to start bringing him along from the start and he'd adapt."
Sam attends daycare several days a week, and Bonnie takes advantage of the days when he's not underfoot. Her customers, though, miss him when he's not in the shop.
"Between Sam and Penny, our Patterdale Terrier, (who also hangs out at the store) we always have excitement," Bonnie says.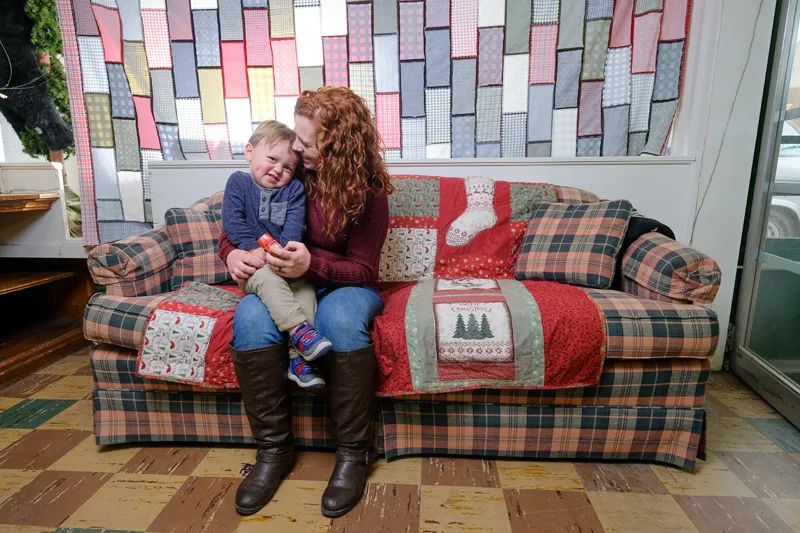 Bonnie has owned the business for the past eight years. When she was fresh out of college and newly married, her husband, Jason, was offered a job as a sheriff's deputy for Sweet Grass County. Moving back to their hometown might not have happened so soon if his opportunity hadn't come along when it did. But the Big Timber natives were glad to come home.
As Jason began working with the sheriff's department, Bonnie and her mother bought a nursery business that was for sale. She worked the first season and needed a job for the winter when an opening came up at the local quilt shop.
"I had never sewn in my life," she says. "But I worked at Murdoch's selling retail in college and my boss said she'd teach me what I needed to know." She was a quick learner and the job soon led to Bonnie managing the store. Then, one day, the owner approached her and said, "You should buy the shop!"
"I was like, 'You're kidding me, right?' But it started to make sense and on Valentine's Day of 2013, I signed the paper and sold my soul to the bank," she says.
Since then, Bonnie has learned a great deal about quilting, buying, managing, budgets and merchandizing.
"It's been quite an experience," she says. "My employees and customers taught me everything about quilting. Even after all these years, I still pick up tips from them. The business side, it just comes with experience."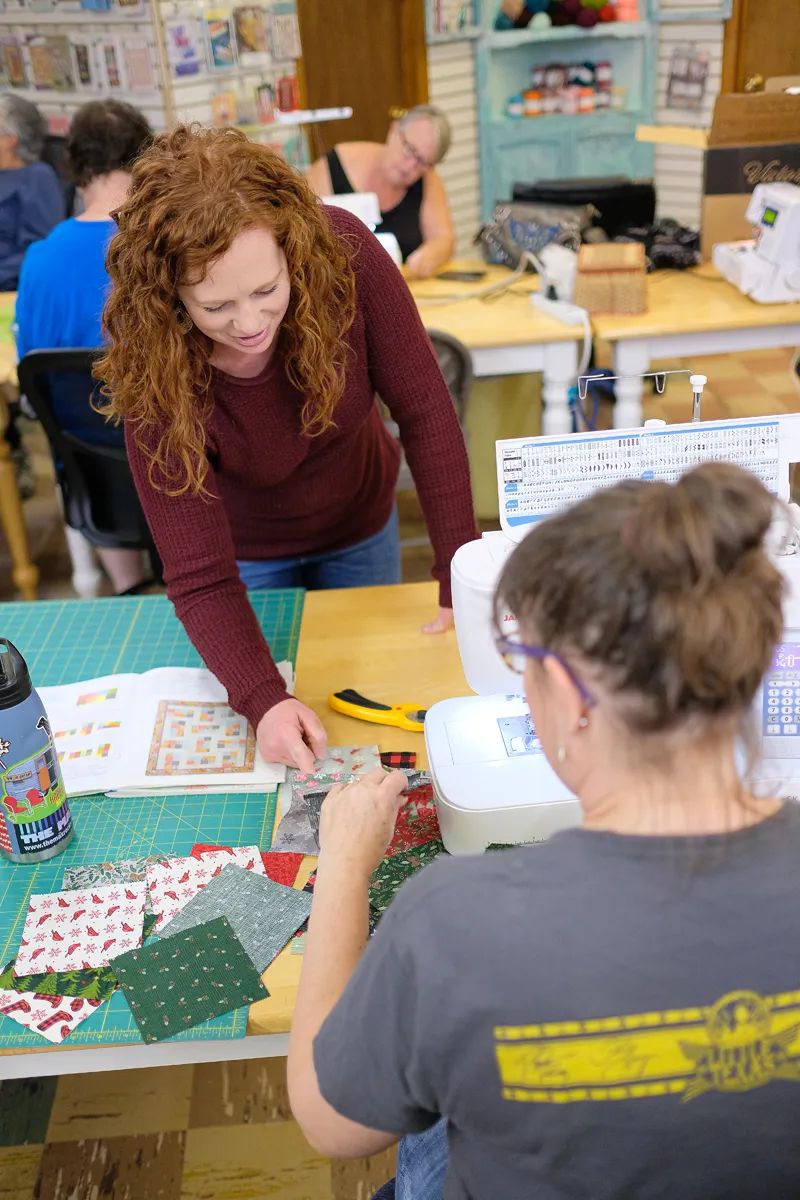 The shop is continually rearranging the store with new fabric coming in as quickly as others are going out.
"We're constantly changing things up," Bonnie says. "We have so many items that some of them can be missed if we don't keep rearranging our displays and matching different fabrics together. It keeps the store fresh and our customers like that."
Bonnie's faithful customers come from not only Sweet Grass County, but from Billings and Bozeman too. In the summer, she sees both new and returning customers from other states and countries who stop into the shop to browse and buy.
"We do really well with the candy in the summertime," Bonnie says. "Tourists love getting candy."
She excitedly talks about her candy expansion for the upcoming holiday season and shows off the clear glass jars containing gumballs, gummy bears, chocolate-covered candies and more.
"We'll have old-fashioned candy here soon," she says. "Peanut brittle and taffy and individually wrapped candies. The locals are going to love it."
An outgoing young woman, Bonnie's not only well known in town, but comes from a family who has been in the area for well over 100 years. She and Jason both attended SGCHS, though they didn't meet until college.
"He's four years older, so he graduated just before I started," she says. Jason just became the school resource officer for the county this fall.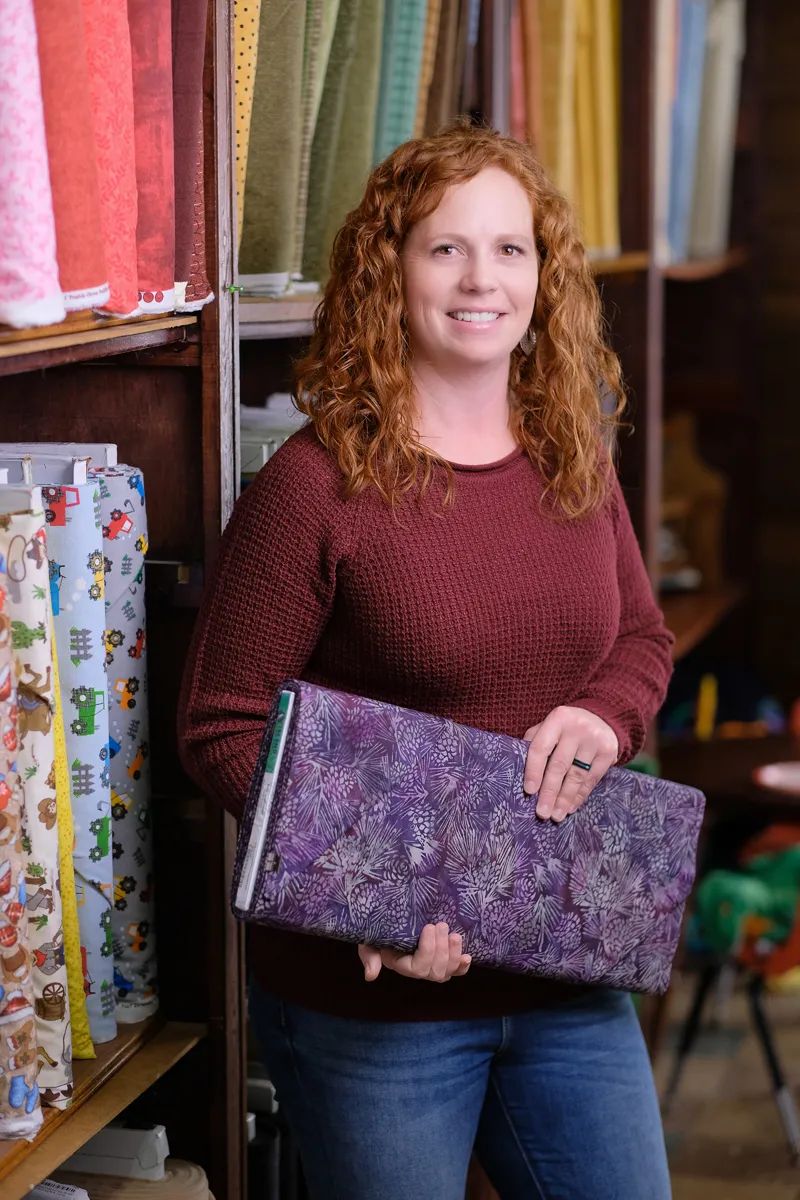 Even after nearly a decade of owning the shop, Bonnie still doesn't spend much time in front of the sewing machine. "I facilitate creativity!" she says. "If I have time to sew it's because it's snowing outside."
And she's not kidding because in addition to the quilt shop and the candy corner, Bonnie and her mother, Kelli Brewer still own and operate Brewer Greenhouse.
"We had friends that owned a small nursery business here in town that were retiring," Bonnie says. "So, we bought the business. It was an opportunity that we felt we couldn't pass up."
Buying the business included the greenhouse and it was moved from town to its current location just outside of Big Timber on property owned by Kelli and her husband. In fact, it's where they raised Bonnie and her sister, Meghan. The nursery has been a huge success, opening in May and running through the season until the end of August.
"It's really where I love to be," Bonnie says. "We've added another greenhouse and expanded it into a really great business."
A master of social media advertising, Bonnie posts for both the quilt shop and the nursery on Facebook and other social media platforms to keep her customers abreast of news. She also does the ordering for both businesses.
"I can get carried away ordering," she says. "I order big and trust a lot of the time."
With such an active life and so many irons in the fire, it's a wonder Bonnie can do it all.
"I couldn't do it without Jason, my employees and my parents," she's quick to say. "I do stay busy, sometimes too busy."
Bonnie hopes that her life will be a little simpler eventually, maybe owning one business instead of several.
"It'd be hard to give any of them up," she says, "But if the right person came along that has as much love and passion for the quilt shop as I do, I'd have to think really hard about not selling it."
For now though, the ambitious young businesswoman, wife and mother seems to be balancing her life successfully in a community that supports and loves her and her family deeply.
"This is where Jason and I want to be," she says. "I can't imagine being anywhere else."
YOU CAN FIND the Little Timber Quilts & Candy on the main street in Big Timber at 108 McLeod Street.