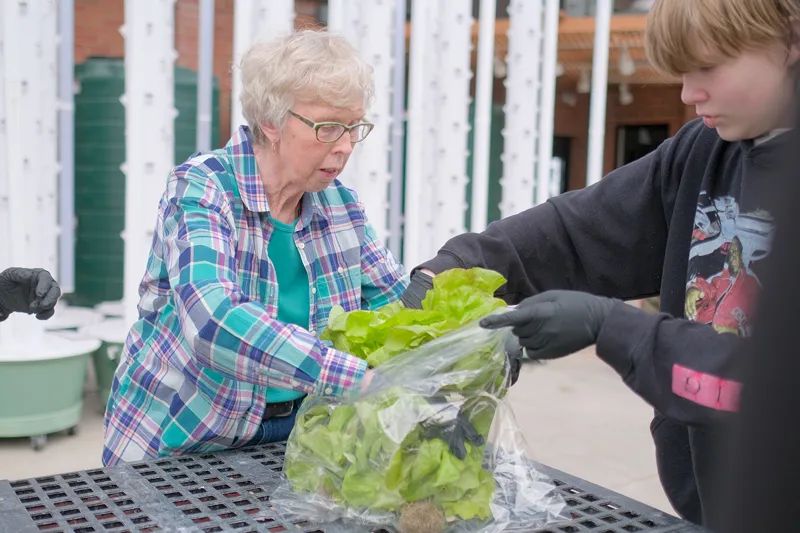 Planting Seeds, Harvesting Connections
St. John's United helps relationships (and plants) take root
Seeds are sprouting at a greenhouse in downtown Billings. But the harvest isn't limited to lettuce.
Relationships are germinating at the Urban Horticulture Education Center — relationships linking Billings students with residents from St. John's United.
Though the relationships are just beginning to take root, the spacious aeroponic greenhouse — located in the former Ganinan's downtown greenhouse — is already producing fresh lettuce and herbs for St. John's kitchens.
Barb Bailey, 79, lives at Chapel Court on St. John's Campus. She was one of the first residents to volunteer in the unique garden. Born in Circle, she spent many years on the farm honing her green thumb.
"Most of my adult life I've had gardens and flowerpots," she says. So, when Barb heard about St. John's new greenhouse project, she didn't hesitate.
"It started with a tour," she says. "At the end they asked if anyone wanted to volunteer. I said, 'Yes, I'll commit.' This fit me just right."
Barb is one of only a few seniors currently working in the greenhouse, but Kathy Hernandez, greenhouse manager, hopes spring weather will itch more green thumbs.
"We really hope to see those numbers increase," she says.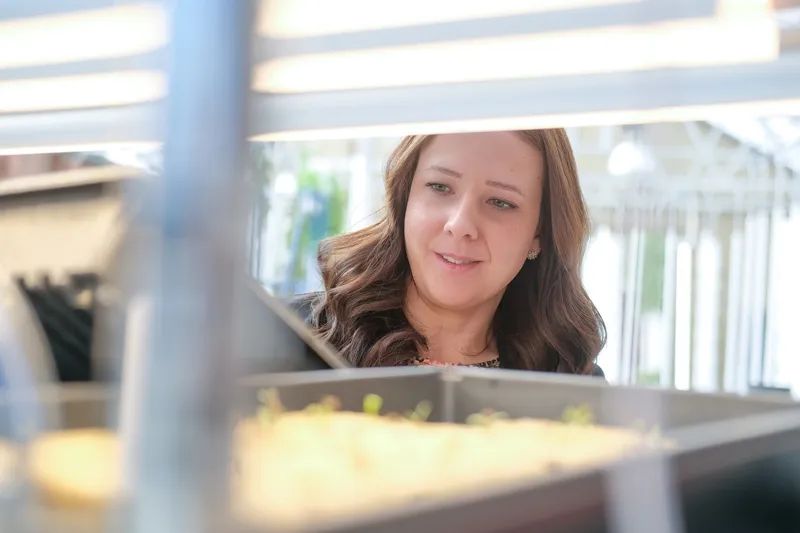 At the other end of the age spectrum, a handful of middle school and high school students spend two afternoons a week working at the greenhouse. Some are enrolled in alternative programs that allow them to thrive through hands-on learning. As they tend to the plants, they not only learn about horticulture, they rub shoulders with their elders.
"The kids treat the residents like grandparents," Kathy says. "And the residents love having the kids here."
Barb enjoys being around young people and she's impressed with their enthusiasm. "They're just very respectful," she says. "They're there to learn, to pitch right in."
The greenhouse itself is a place where visitors are welcomed by the music of flowing water, greeted by the sight of thriving greenery and warmed by the passive power of the sun. Today's greenhouse is cutting edge, but it traces its roots to 1986, when the Gainan family built the facility in downtown Billings. Fast forward 30-plus years to 2019, when the Gainans donated the brick structure to St. John's. Over time, certain areas of the building were assigned to offices for home health, hospice and Covid lab testing, says Carissa Welsh, director of volunteer services and grants for St. John's United.
As for the greenhouse, St. John's Board pondered several scenarios before coming full circle: they decided the best use for the greenhouse would be as a greenhouse.
Carissa credits Hayden Trost, a senior at West High School and daughter of St. John's President and CEO David Trost, for pushing that concept to the forefront and planting the seed that has grown into the aeroponic garden at UHEC.
The cooperative venture was a natural for Hayden, who had begun volunteering at St. John's, about the same time she was helping run the greenhouse at Ben Steele Middle School. Now, several years later, she has cultivated those interests as the focus of her Platinum Project.
As a strong proponent of sustainability and community gardens, she researched different growing methods for the project.
"I decided aeroponics might be a really good fit here," she says.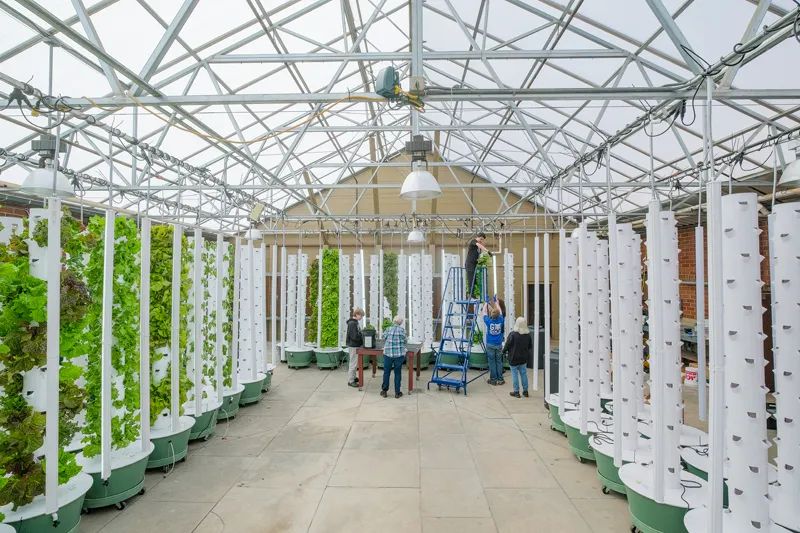 Developing it further, Hayden worked with Randy Hafer, president of High Plains Architects, to calculate the solar and rainwater collection requirements that will ultimately make the greenhouse self-sustaining.
She didn't stop there, promoting the model to the boards of both School District 2 and St. John's.
As both parties came on board, they saw the greenhouse as a win-win on several fronts. Not only would it yield produce to feed St. John's residents. It would also offer opportunities for the students and seniors to share life experiences as they worked side by side.
In the spring of 2022, the school district and St. John's "co-hired" Kathy to manage the greenhouse. With degrees in art education and horticulture, the position seemed a perfect fit.
"I love growing things, and working with the kids has been a really good mix," she says.
By December 2022 the towers of the aeroponic system were up and running. Within six or seven weeks, they were harvesting lettuce – super-fresh lettuce.
"When I get an order from one of the kitchens, I harvest it the day before or the day of," Kathy says. "And then it's just a 15-minute drive to deliver it."
The goal is not to make money but to break even, adds Carissa, "and to provide fresh produce and life enrichment for the residents."
At least one resident has noticed the difference. Hayden was dining with her grandmother at St. John's when a woman stopped by their table to thank her for the fresh lettuce.
"So, I think the impacts extend beyond the volunteers," Hayden says.
Barb, too, thoroughly enjoys the lettuce she takes home. She uses it in her own kitchen and shares it with her friends. "It's so fresh and so good – it keeps so well because the roots are still attached."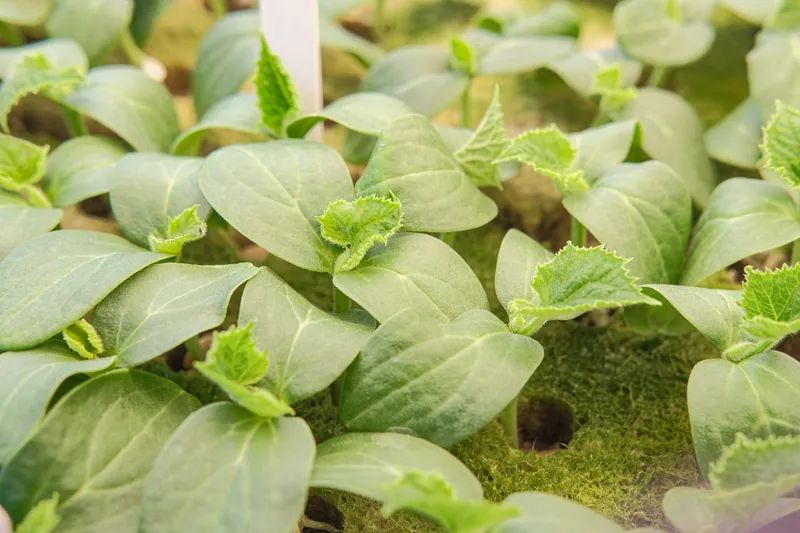 Looking ahead, Hayden's calculations have laid the groundwork for the greenhouse to run solely on rainwater and solar energy. Meanwhile, Kathy talks about doubling the number of towers and experimenting with tomatoes and flowers.
"I can grow just about anything with a fibrous root," she says.
As for the volunteer program and community outreach, both the school district and St. John's hope to see those connections bloom.
Kathy has already held small "farm-to-table" events at the greenhouse and, through tours, she's introduced more than 100 people to the aeroponic system. As the UHEC finds its stride, she envisions the center as a fieldtrip destination for hundreds of students of all ages.
Bo Bruinsma, career outreach director for Billings Public Schools, echoes that enthusiasm. He envisions expanded offerings for students taking a variety of career paths.
"At the core of this partnership was the inter-generational learning opportunities," he says.
"It's been exactly what we had hoped for, where our students look forward to and really enjoy working with the elders. We started this off small and targeted a few programs, but I foresee this program growing."
Barb, too, would like to see other residents "get their hands dirty." The commitment is only one hour a week and the St. John's bus takes volunteers there and back.
"I have another friend who wants to volunteer," she says. "I may have to keep after her because I think she would thoroughly enjoy it."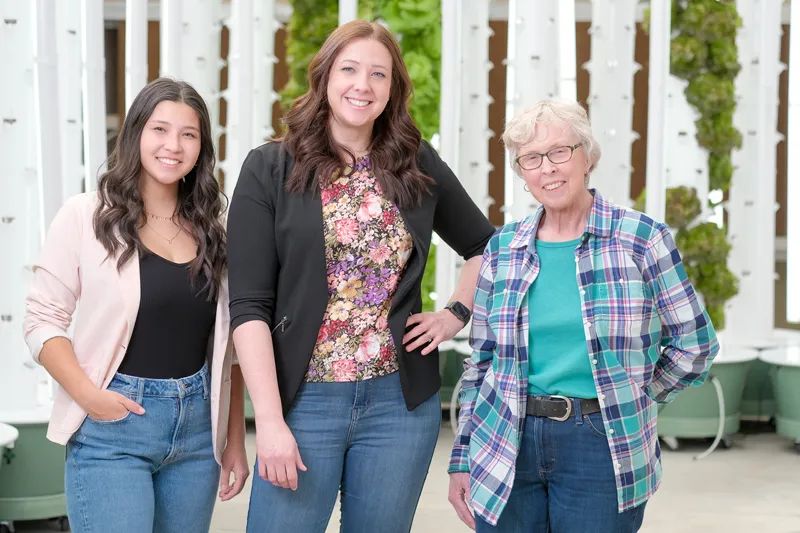 WHY AEROPONICS?
Unlike traditional gardens, the plants in the Urban Horticulture Education Center are grown in towers with absolutely no soil. The growing medium is "rockwool," an absorbent material made from volcanic rock. Individual seeds are placed in the rockwool to start. When the seedlings are ready, volunteers transfer them to the vertical towers. The towers rely on a closed loop system through which nutrient-enriched water is pumped up to every seedling on a timed basis. By growing aeroponically, the "garden" takes up 75 to 95 percent less space and uses 95 percent less water than a comparable soil garden.
The system makes it possible for fresh food – higher in nutrient density, crop yield, antioxidants and flavor – to be grown in inner cities where soils have been destroyed. It also allows crops to be grown closer to their final destination.