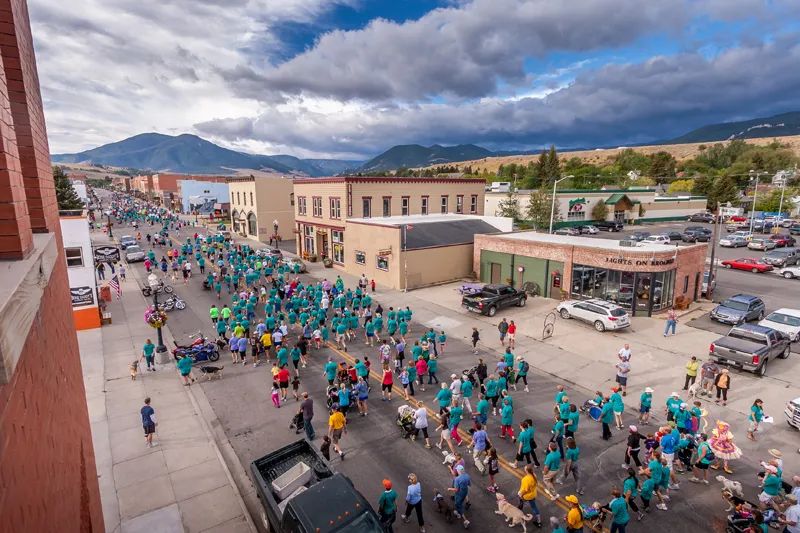 Rallying for Red Lodge
Tracy Timmons works to create a vibrant community
It's not all about the money. It's about what that money can do. And $3 million — raised from Red Lodge's annual Fun Run — has planted plenty of seeds to help Red Lodge thrive.
It didn't happen overnight, and it didn't happen without an army of volunteers. But over the past 17 years, the Red Lodge Area Community Foundation's Fun Run for Charities has helped fund countless projects that have touched the lives of just about every resident.
Tracy Timmons, executive director of the community foundation, has been leading the charge for the past 11 years. Within minutes of meeting her, you know why the foundation has flourished. In fact, you'll find yourself ready to sign on to her mission. The woman simply effuses energy and enthusiasm.
"People like to be asked," Tracy says, smiling. "Sometimes, it's just sharing what we're doing and they get excited and they invest in it. Very seldom do you need to ask for help — they just ask how they can help."
Tracy's forward motion seems limitless. As founding board member Merv Coleman put it, "When I come in for a board meeting, I just buckle my seat belt because Tracy has so much going on."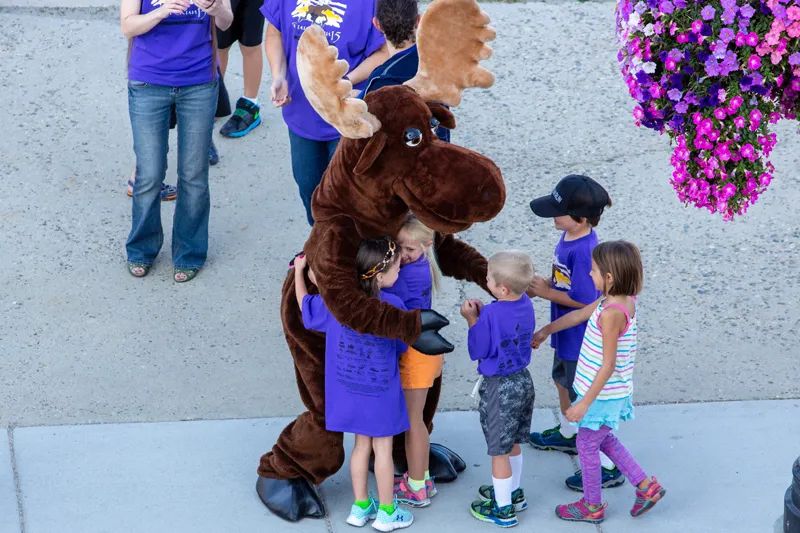 The Fun Run is not the community foundation's only fundraising event, but it's by far the most visible. Last year, the foundation raised $241,787 during its first "virtual" Fun Run for Charities. The event takes place every Labor Day Saturday. Organizers are hoping for an in-person run this year.
The event draws together a brigade of volunteers that seems to have operations down to a science.
"All charities, in order to qualify for matching funds, have to do a certain number of hours of volunteer time," Tracy says. "Many hands make light work."
Like clockwork, Tracy begins every run day at Lion's Park, where the race starts.
"At 6:30, I'm the only one there," she says. "By 7:30, there are 60 booths and all hands on deck. The race starts at 9 o'clock and by 11:15 the race is over. There's not a piece of trash in the park and no one ever knew we were even there."
Tracy didn't launch the first Fun Run. Rather, she followed the footsteps of a core group of volunteers, led by Sally Martin.
"They were working at it long enough to get the fun run vibrant," Tracy says. "We just took it to the next level."
The path that brought Tracy to her current role began with her desire to volunteer when her young family moved to Roberts. The Billings native was trying to figure out how she could contribute to her newly adopted hometown.
"Since in a small town you're 'from somewhere else,' I had to create my own avenues for volunteering," she says.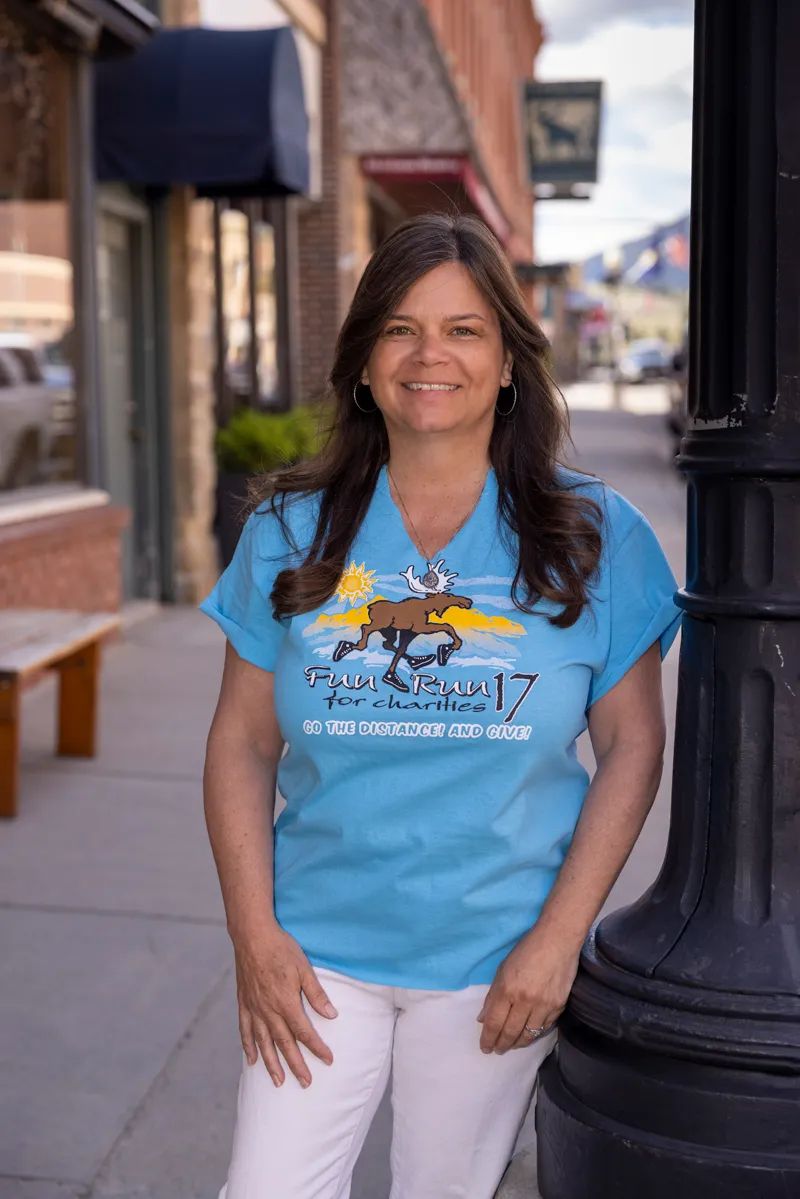 She first volunteered in the school library, then graduated to "recess lady" and 4H leader. Eventually, she took on grant writing for the district. When the School Board needed help to expend the money, she successfully ran for School Board trustee.
From school to town politics, she next spearheaded the creation of a Roberts Town Council that remains vital today.
"It's really just getting people to talk to each other," she says.
When she was ready to stretch her wings, Tracy applied for a part-time position coordinating the foundation's Fun Run. When the foundation hired Tracy, she became its first paid employee. The year was 2008 and JoAnn Eder was just coming on as board chair. Tracy credits JoAnn with strengthening the organization and serving as an inspiration.
"She is an amazing human being," Tracy says. "She is a philanthropist, a humanitarian and very visionary. Believe me, I had the best mentor."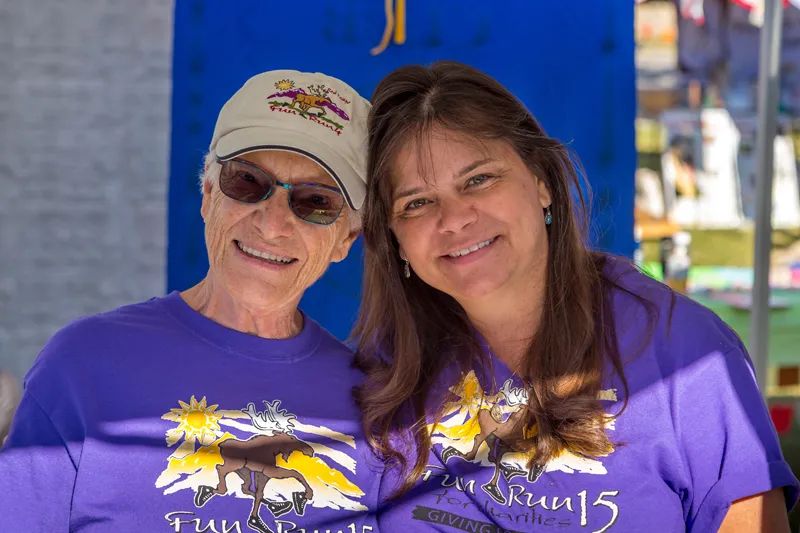 Within two years, Tracy was named executive director. Almost overnight, the foundation added its first AmeriCorps worker and Tracy wrangled a building — the former Red Lodge Post Office — to serve as the foundation's headquarters and as a shared service center for nonprofits where charities can meet, rent filing cabinet space and tap into back-office services.
In the decade since, the foundation's assets ballooned from $90,000 to $2 million, its staff grew from two to 18 and it has reaped the benefits from 25 energetic AmeriCorps workers and more than 300 local volunteers.
Ever expanding, the foundation has since taken ownership of the Roosevelt Building. The project was the upshot of a partnership with the Carbon County Arts Guild, whose members had been seeking additional space for studios and art exhibitions. Today every room in the old 1920s school has been rented, thus bringing in revenue to continue its rehabilitation. Leaving no stone unturned, local youth helped turn an unused area outside the building into a welcoming green space.
"The community saw a need, voiced it and turned it into an opportunity," Tracy says.
The foundation's projects share one common source: the community. Tracy sees her role as listening to her community and believing in the possibilities.
"The community foundation can be whatever the community wants and that changes over time," she adds.
With that simple mission in mind, the foundation has kick-started a myriad of projects. Last year alone, it provided financial assistance for seniors to purchase local produce, collaborated with the fire department on a firewood assistance project and partnered with the Salvation Army to enlist volunteers for the annual kettle drives.
When Covid-19 hit, the foundation responded with a countywide Covid-19 Relief Fund that began granting funds within three days. Even during a year of lockdown, the foundation marched on, breaking ground on a home-building program in partnership with the Helena Area Habitat for Humanity and providing fiscal sponsorships to help revamp the Hellroaring Skate Park and rebuild the city pool.
The list goes on. Putting a high priority on seniors and kids, the foundation offers a "Safe Sitter" training program for youths in grades six through eight, has granted more than $60,000 to early childhood education and awards grants to help youth participate in activities they might otherwise be unable to access.
At the other end of the age spectrum, the community foundation has supported the Senior Ark project with funding to help seniors age in their place of choice. Just months ago, the community foundation took on another major endeavor when it launched CART, the no-fee Carbon County Area Ride and Transit.
The project has proven so popular — a small van offers rides within Carbon County and makes twice-a-week trips to Billings — "people are starting to make doctor appointments around the (CART) schedule," Tracy says. "And we're already doubling the number of vehicles we have."
Tracy's ability to "rally the troops" seems boundless.
"People are attracted to the work, and they realize that a lot of roads lead to the community foundation," she says. "People sign on to steering committees and help guide the project the whole way."
Now splitting her days between her grandkids in Billings and her many hats in Red Lodge, Tracy ponders her next move.
"My dream job?" she asks herself. "Inspiring the foundation's culture, engaging the next generation and conversations to connect with people. I feel that's where I can do the most good now."