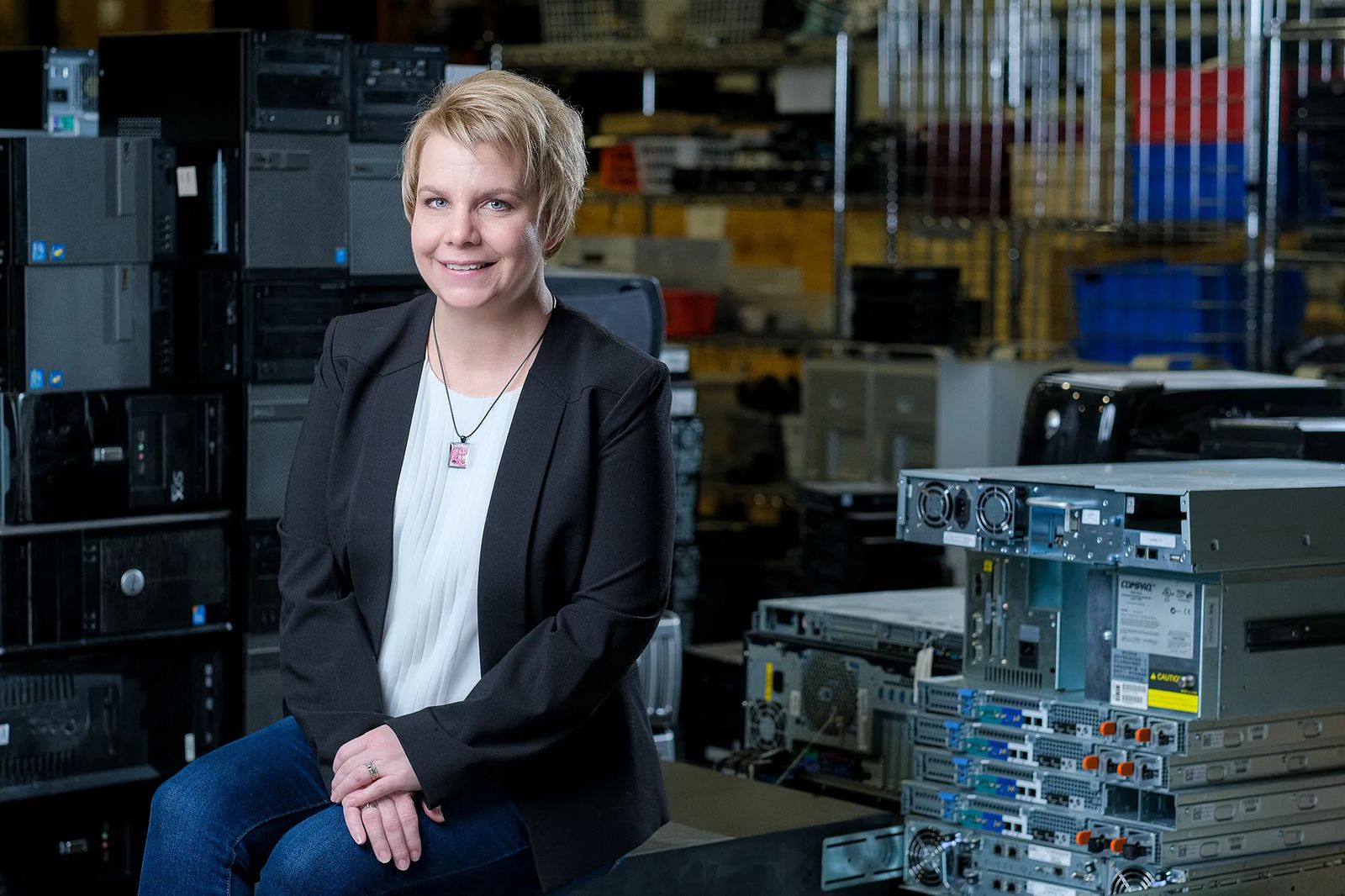 Recycling E-waste
Determination & diversification make 'going green' profitable
Kolbi Fox works in a world few of us can imagine. From her office she looks down at a ground-floor warehouse that resembles a giant's toy chest. The "chests" are actually gargantuan cardboard boxes heaped high with countless bright, shiny trinkets. On closer inspection the trinkets are cast-off electronics waiting to be "born again."
Kolbi's workplace is the headquarters of Yellowstone E-Waste Solutions, a business she owns and runs with husband, Brandon Fox. Earth Day this year marks the 15th anniversary for the company that has become the largest e-waste recycler in the state – an accomplishment and a milestone that amaze Kolbi.
Speaking from her office, where she's gathered a collection of old rotary telephones and still-functioning Sony Walkmans, Kolbi recalls the struggles of the early years. To help make ends meet, she waited tables, the family lived on Ramen noodles and together they pulled a wagon through Billings' ditches collecting cans and scrap metal. She also remembers how slow traffic was at the warehouse.
"We'd sit around playing games," she says.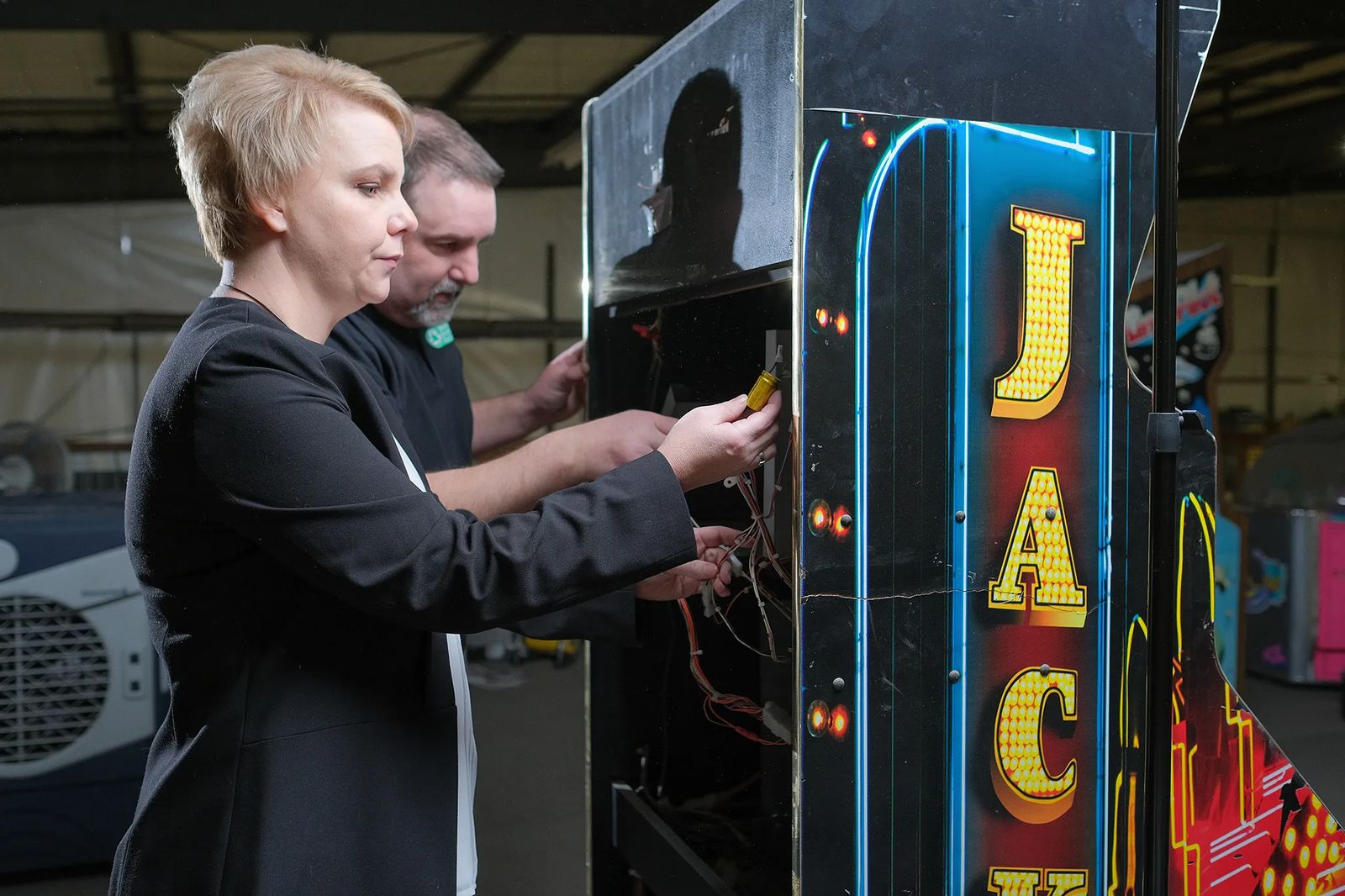 It took several years for the concept of recycling old electronics— or "e-waste" — to catch on. But once it did, it's only continued to grow. Today their operation fills 18,000 square feet, employs a dozen people and has diversified into several side businesses including Rewind Design and Replay Electronics. The former business sells unique jewelry – also Christmas ornaments and keychains – made from tiny pieces of computer mother boards etched with intricate copper circuitry.
"No two are alike," Kolbi points out.
The latter business is a brick-and-mortar retail outlet where the public can purchase repaired or re-purposed electronics — everything from nearly new Apple computer monitors to laptop computers and VHS players — at drastically discounted prices.
After 15 years, Kolbi and Brandon have figured out what works for them. But the circuitous path that brought them to 2021 was not without glitches.
"It's not a lucrative business unless you know exactly what you're doing," Kolbi says, smiling. "We've taught ourselves everything, learning through trial and error. Lots of error."
To begin with, their passion for recycling came as second nature for both Kolbi and Brandon. As an elementary school student, she published a recycling newsletter. As a boy on the family farm, he spent hours scrapping and dismantling old farm equipment for recycling.
The couple met while working at a print shop in Billings. Neither had any background in business — Kolbi has a degree in graphic design and marketing — when Brandon decided to take the leap into e-waste recycling.
"We all thought he was crazy," Kolbi says. "We didn't think it was a good business model. But he pursued it anyway."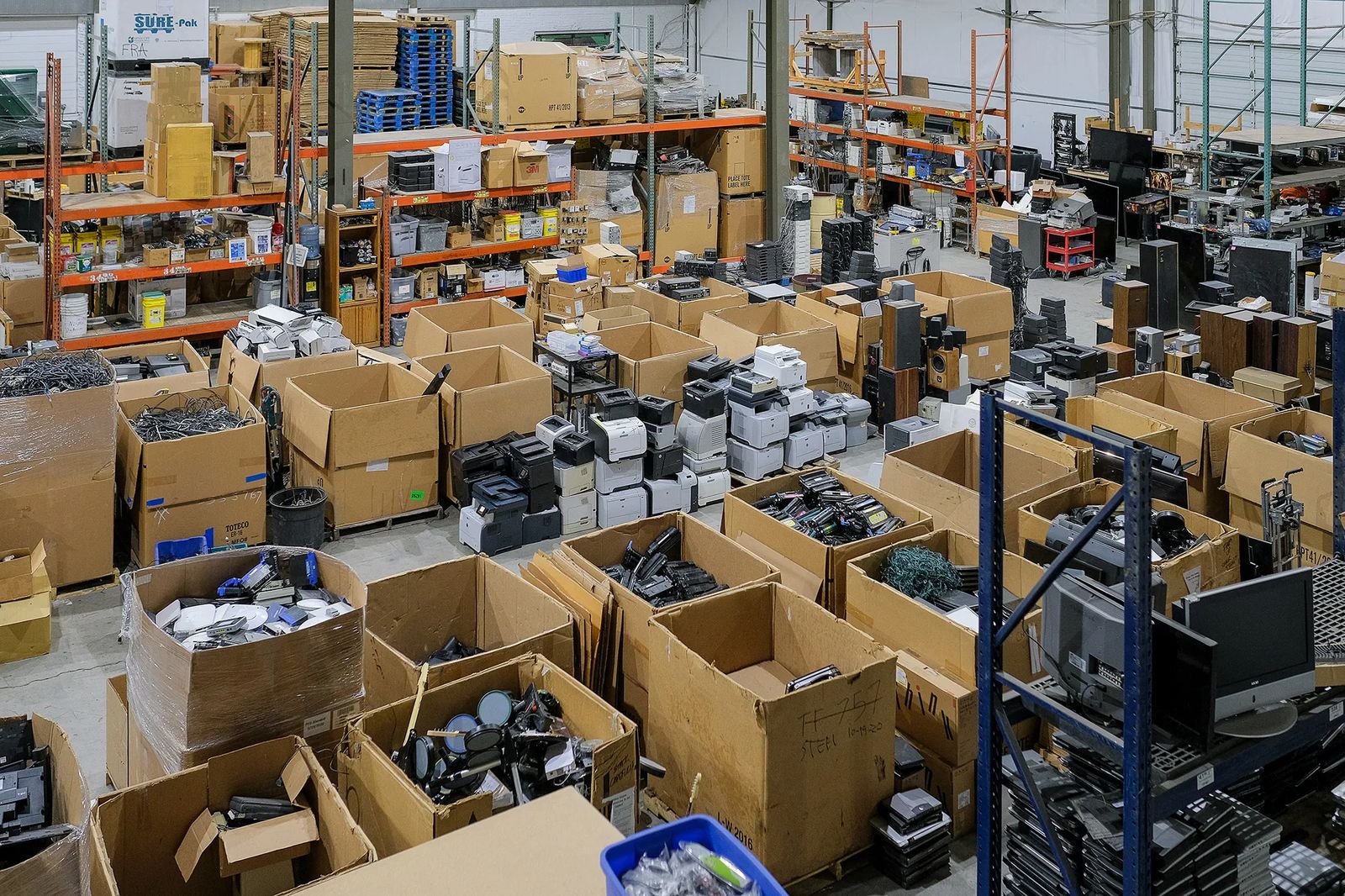 Despite countless hurdles, she and Brandon refused to abandon the dream. Slowly, their efforts paid off as they earned support from the city of Billings Solid Waste Division, School District 2 and the Montana Department of Environmental Quality.
Today, Kolbi credits their success to their doggedness.
"Persistence is 100 percent the main key to everything," she says. "You keep trudging through and living on the edge. When we came up against adversity, it made us work that much harder. Over our dead bodies we were going to close. Ever."
As their business evolved, Kolbi's love for learning has stood her in good stead. Today, as co-owner of Yellowstone E-Waste, she manages staff, conducts detailed inventories, schedules statewide pick-ups and serves as a one-woman human resources department, among other tasks.
"I do a little of everything," she says.
Her job description also includes raising three children — Alex, 21; Taryn, 19; and Kieran, 5. Each has taken to recycling with new energy and visions of his and her own.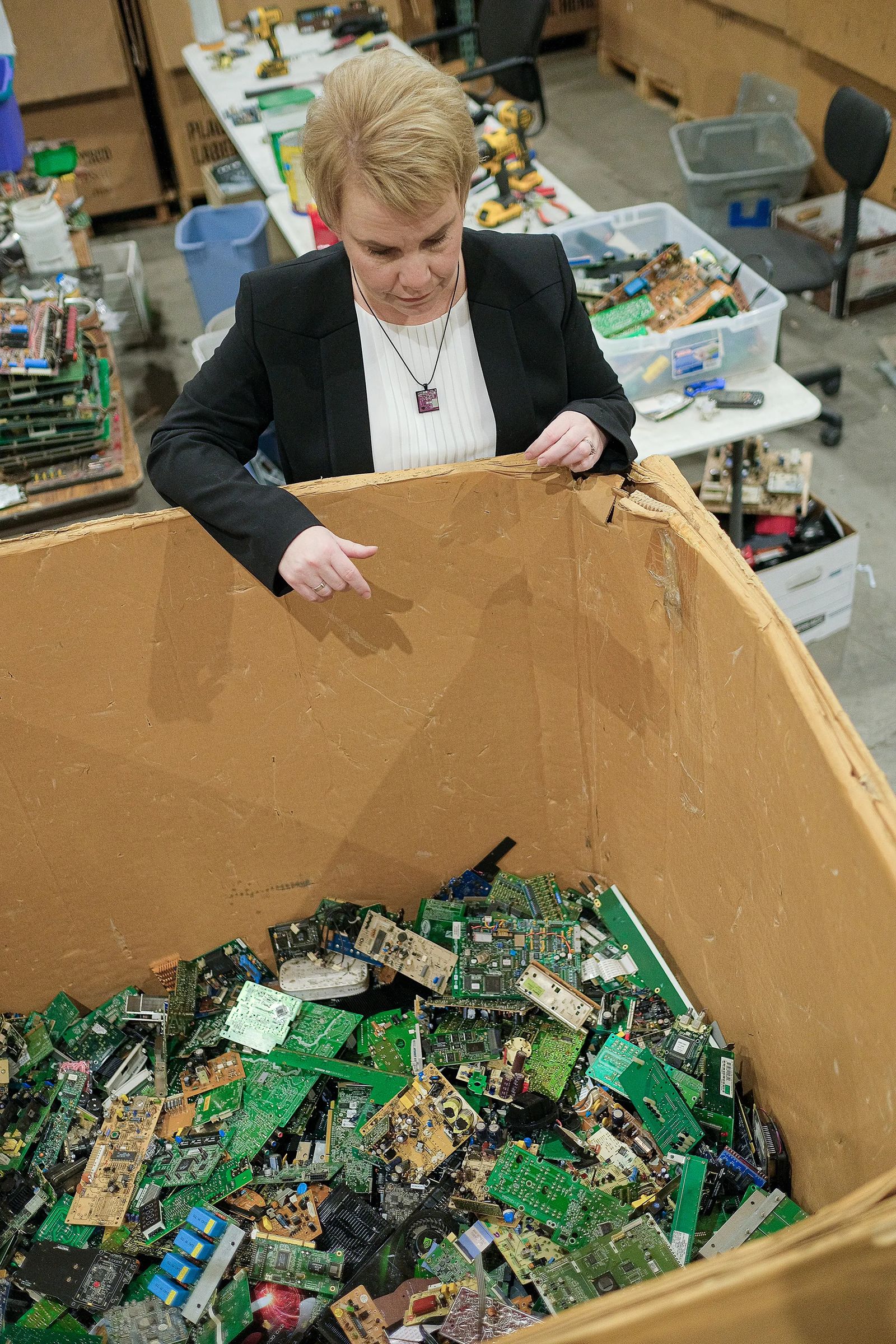 Now that Yellowstone E-Waste is running on all cylinders, Kolbi takes time to give back to the community. Currently, she serves as a board member for Recycle Montana, an educational organization that promotes recycling throughout the state.
"It's needed in Montana," she says. "This state is 50 to 60 years behind the rest of the U.S. in recycling. The logistics are so tough. It's expensive here and sometimes not possible."
What make recycling possible for Yellowstone E-Waste are the scale of its operations and the vast expanse of the area they serve. They accept just about any old electronics — except tube TVs and tube computer monitors (CRTs) — and they do it for free.
On a regular basis, Yellowstone E-Waste sends a fleet of trucks, with crew, throughout the state and into Wyoming to collect broken and obsolete electronics from dozens of school districts, hospitals, government offices and private enterprises. Yellowstone E-Waste Solutions not only contracts with these entities to haul off their refuse but also to destroy the data preserved in them. Once collected, the company's massive metal shredder chews up the hard drives and sends the remnants off to markets that will re-use the scrap metal.
For the average household or mom-and-pop business, Yellowstone E-Waste Solutions organizes community collection events.
As Kolbi strolls through the warehouse, she makes her way through a labyrinth of mal-functioning printers, dead computers and even retro arcade games. She tells how she and Brandon complement one another in the workplace. She's the task master. He's the "nice guy" who perfected their customer relations. Together, and with the benefits of diversification, they have weathered shifts in the recycling world.
"Things we used to sell, they (markets) weren't taking anymore," she says.
For example, when the scrap metal market slows, profits shift to data destruction or one of their side businesses. Today, sales from their store Replay Electronic have kept the operation humming.
"You'd be surprised how many people want a VHS player," Kolbi says. "There's a whole room of vintage stereo equipment – from reel-to-reel to tape decks."
Not only do they market these items locally — who knew there was a demand for an old-time projector that could be converted into a valuable retro guitar amplifier? — but they've expanded their customer base exponentially by listing items on eBay.
"EBay has been huge," Kolbi says.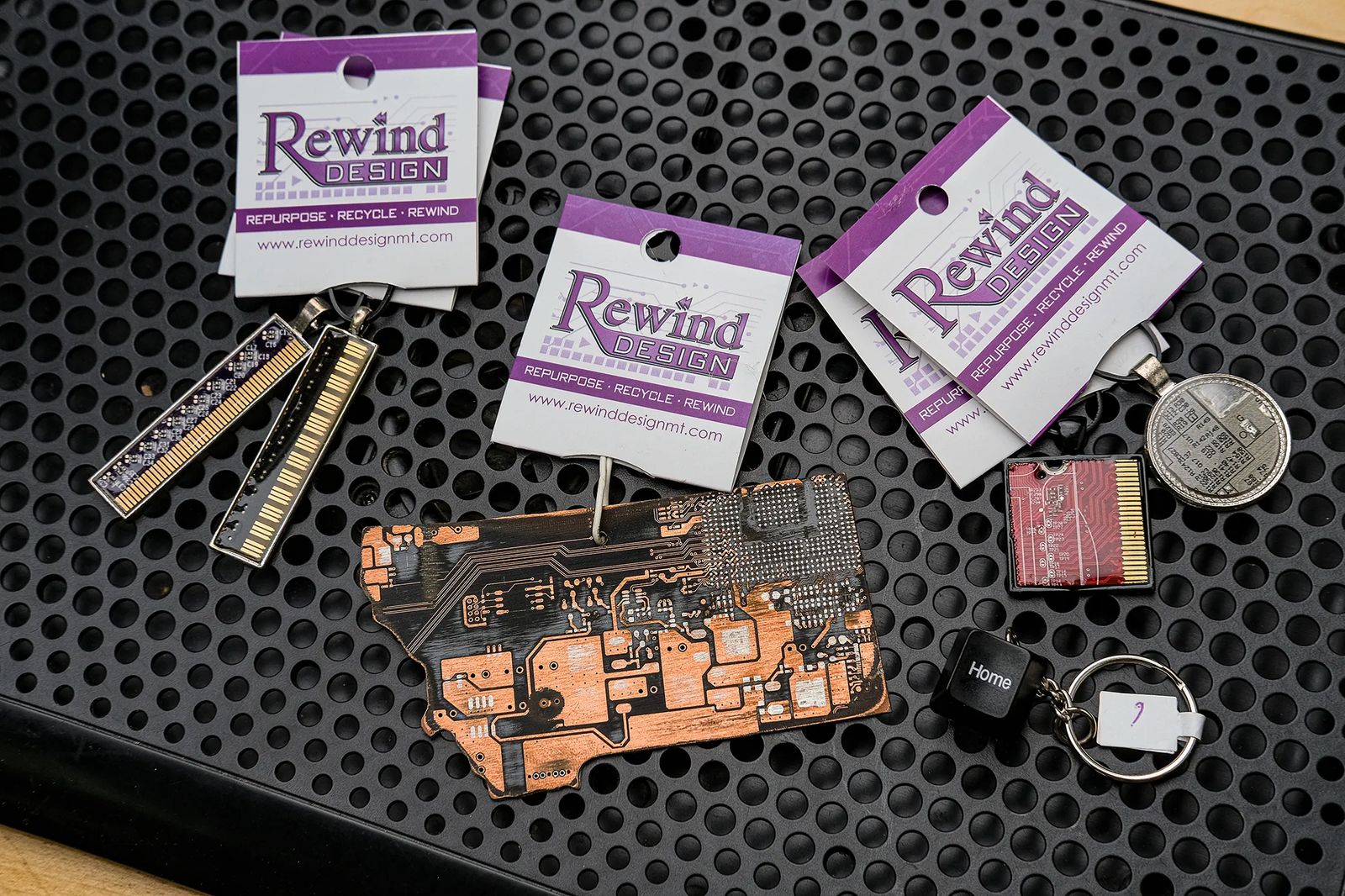 Likewise, Rewind Designs, the jewelry-from-motherboards business, broadens its reach via Etsy.
Kolbi and Brandon set a high bar for Yellowstone E-Waste Solutions. For that reason, they take particular pride in being recognized as Montana's Recyclers of the Year for 2018. And that's not just e-waste recyclers, but all recycling businesses, Kolbi points out.
"We want to express gratitude for our customers, our awesome employees and the amazing support system of Brandon's family and my dad," Kolbi says. "We're proud of what we've done and we've done it from scratch."
A DOZEN ITEMS YOU MAY NOT THINK ABOUT RECYCLING … BUT SHOULD
1. Chargers and connecting wires of all types
2. Hair dryers and irons
3. Power strips
4. Printers and fax machines
5. Computer "mice"
6. Home stereo speakers
7. Routers
8. Telephones – even the old rotary phones stashed in your closet
9. Old camcorders and cameras
10. VHS players and tapes
11. CDs, floppy discs and hard drives containing information you no longer need, but don't want shared
12. Computer keyboards
DID YOU KNOW?
· Yellowstone E-Waste Solutions recycles 1 million to 1.25 million pounds of e-waste every year.
· E-waste is the fastest growing component in our waste stream.
· Some of the metals used in electronics are increasingly difficult to mine. Kolbi predicts that, not far into the future, landfills will be "mined" to retrieve those rare metals.
· Aluminum can be recycled over and over again without losing its integrity.
· A market still exists for VHS machines, old camcorders and even 8-track tape players.
· Some discarded electronics can be repaired, refurbished and "rehomed" for a fraction of the price of new.