Refreshing Summer Sips
Cool beverages for Warm Days
Summer sipping becomes more fun with a pretty drink in hand while lingering by the pool or chilling on the patio with family and friends. The levity can rise to sass and sophistication with a glass of Sparkling Cherry Sangria or fun with a Paloma or joy with a Lavender Bee's Knees. Take a sip of a Strawberry Raspberry Kombucha Mojito to receive a surge of refresh.
Sangria is the fruit wine-based drink originating in Spain. This concoction can be made days ahead of time, readied for a crowd with adding the club soda at service. The Paloma, a popular tequila-based cocktail in Mexico is believed to be named after "The Dove," a popular song from the 1860s. To shout summer, serve up a Lavender Bee's Knees or Strawberry Raspberry Kombucha Mojito. The Mojito gets its bubbles and tartness from kombucha along with some sweetness. Otherwise, the drink is naturally sweetened from the addition of ripe strawberries and raspberries.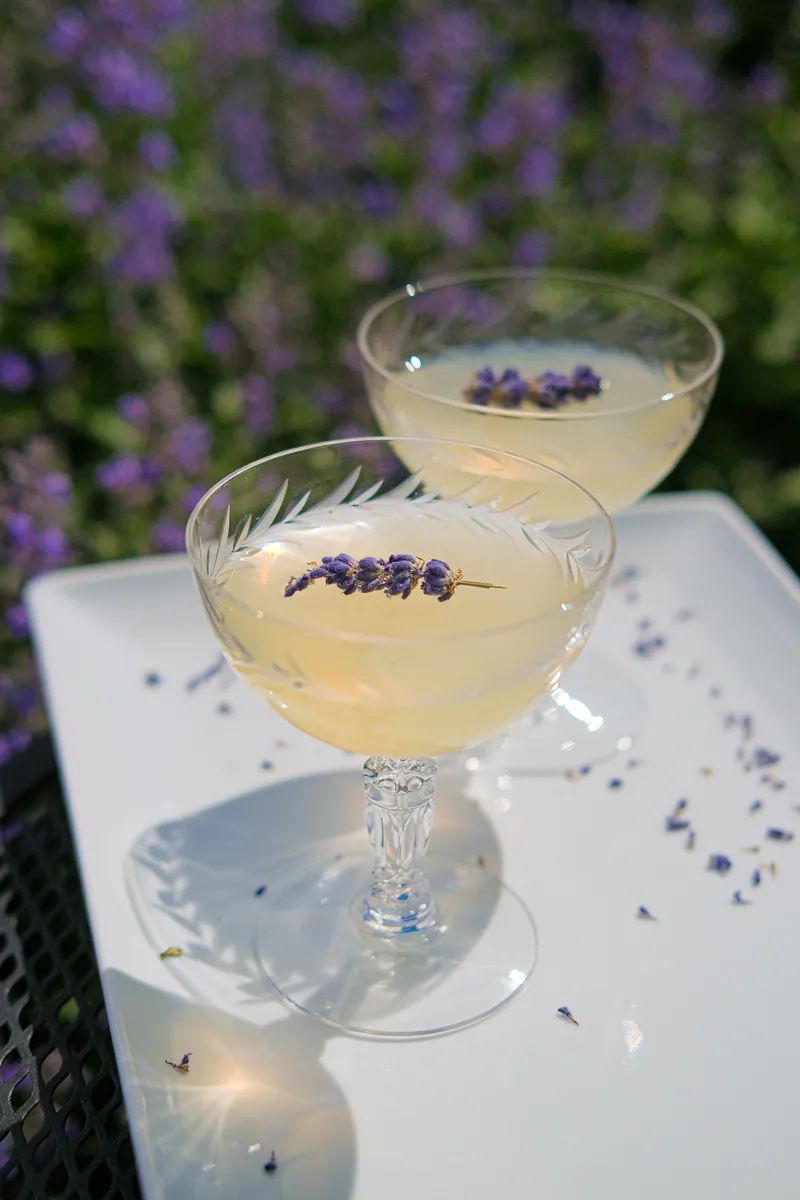 LAVENDER BEE'S KNEES, serves 2
In my pantry, I always have a bottle of honey from Sunshine Honey from Lance and Patty Sunberg's bees in Columbus. In the summer, lavender flourishes in my herb garden. For this drink, I recommend using Trailhead Spirits Gin with traditional botanicals like juniper and coriander with the addition of hops and Heather tips with native plants like sweet grass and bitterroot.
INGREDIENTS
3 T. lavender honey syrup
½ c. gin
¼ c. fresh lemon juice
2 lavender flowers
FOR HONEY SYRUP
½ c. honey
¼ c. hot water
2 t. lavender buds
Combine hot water with honey and stir until evenly mixed. Stir in lavender. Let cool, approximately 30 minutes. Strain through a fine mesh to remove lavender.
Into a shaker, add lavender syrup, gin, and lemon juice. Add ice and shake vigorously until chilled. Drain into cocktail glasses. Garnish with lavender flowers.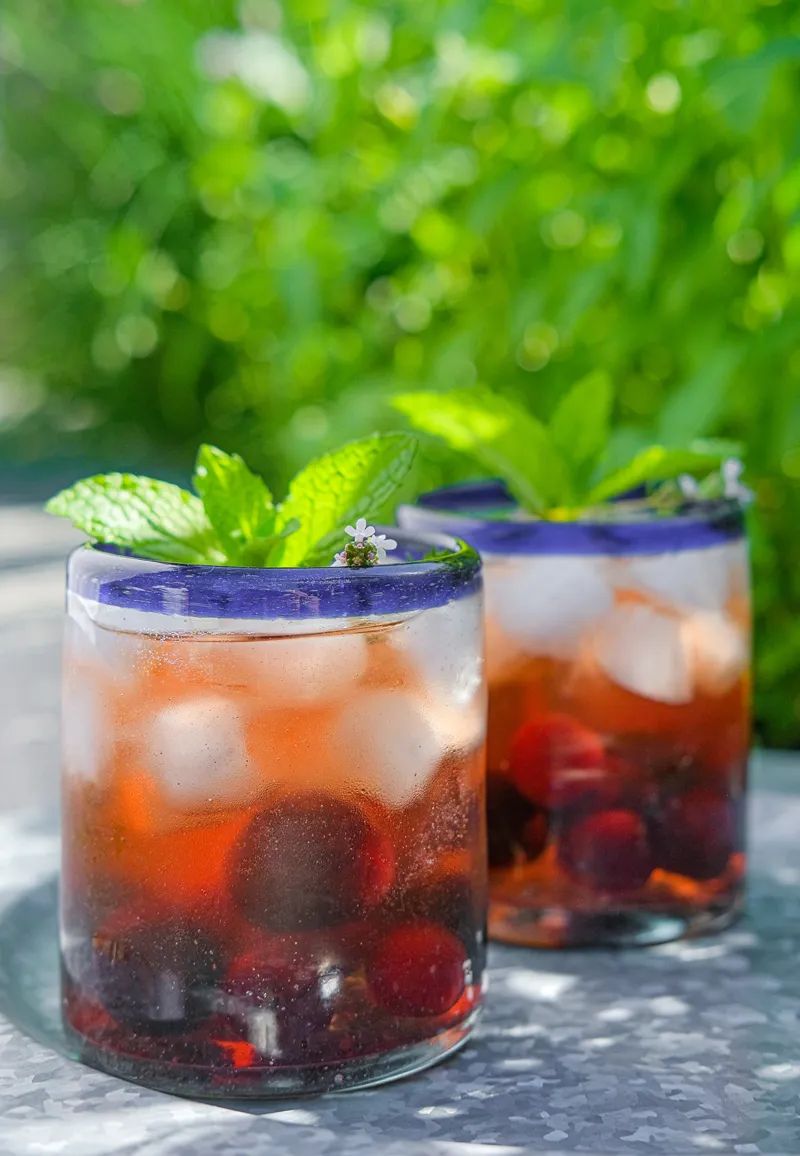 SPARKLING CHERRY SANGRIA, serves 8
From Flavors Under the Big Sky: Recipes and Stories from Yellowstone Public Radio and Beyond
Sangria is one of the best ways to enjoy the cherries of the season. Early on, sour cherries are the first to be harvested. Later, Bing cherries ripen and can go into this spirited drink. The cherries marinate in the wine and spirits overnight and become more flavorful and intense. Using rosé wine lets the cherries shine and not be masked by a deep red wine. I use Yellowstone Cellars and Winery Syrah-based rosé. The aromas of raspberries, strawberries, pomegranate and notes of lilac and violets make the perfect backdrop for this sangria. Salud!
INGREDIENTS
2 c. cherries, pitted or frozen cherries, thawed
1 bottle dry rose wine
½ c. brandy
¼ c. gin
¼ c. Cherry Herring or other cherry liqueur
1 liter club soda, chilled
Whole cherries with stems, for garnish
Mint and thyme sprigs, for garnish
For Sugar Syrup
DIRECTIONS
In a small saucepan, bring sugar and water to a simmer, cooking until sugar dissolves. Remove from heat and allow sugar syrup to cool.
In a pitcher, add syrup, cherries, rose, brandy, gin and cherry liqueur. Chill in refrigerator overnight. Just before serving, add club soda. Pour into glasses filled with ice. Garnish with cherry and sprigs of mint and thyme.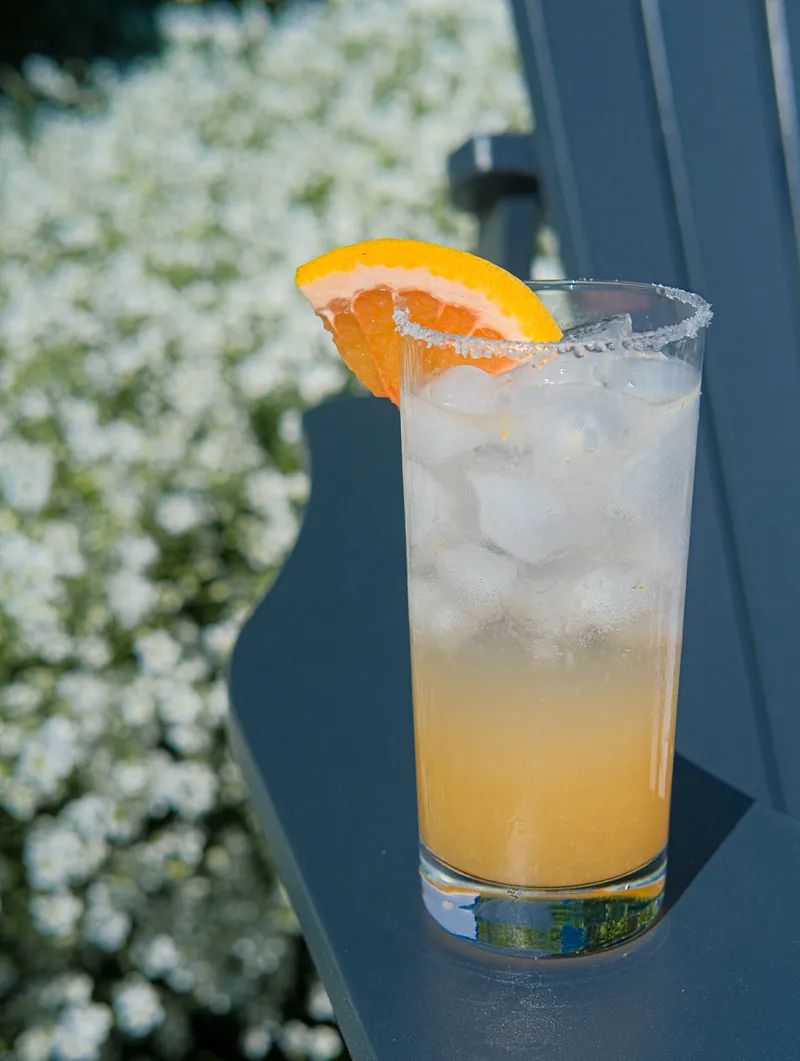 PALOMA, serves 2
The Paloma cocktail will linger forever in our memory as this was our Covid cocktail du jour. Walkers Grill put together a cocktail survival kit and renewed my husband and my love of citrus with tequila.
INGREDIENTS
Equal mixture of salt and sugar, about ¼ c.
2 pink grapefruit wedges
½ c. fresh pink grapefruit juice
2 T. fresh lime juice
2 t. sugar
½ c. mezcal or tequila
½ c. club soda
Pour salt and sugar mixture on a plate. Rub half of rim of a highball glasses with grapefruit wedge. Dip rim of glass in salt and sugar. In a small pitcher, combine grapefruit juice, lime juice, and sugar. Stir until sugar is dissolved. Stir in mezcal. Pour into glasses add ice, and top off with club soda. Garnish each glass with grapefruit wedge.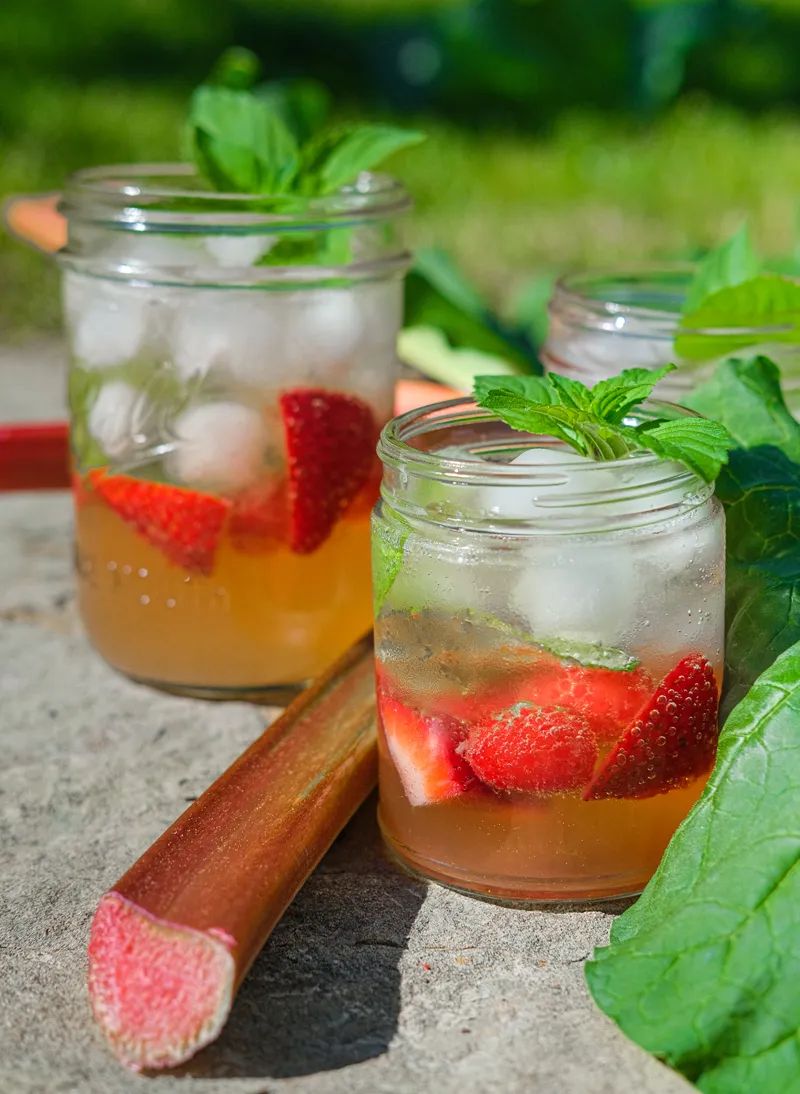 STRAWBERRY RASPBERRY KOMBUCHA MOJITO MOCKTAIL, serves 2
This mocktail sings summer with natural sweetness from fresh fruit. Kombucha, fermented tea with yeast and bacteria, is a potential source of probiotics, believed to help boost metabolism and decrease inflammation. The brew contributes minute amounts of alcohol so add of an ounce of vodka per serving for a spirited drink. Evergreen Café offers some fun flavors that would go nicely in this mocktail.
INGREDIENTS
16 ounces strawberry (or another berry) kombucha
½ c. fresh strawberries quartered
6-8 fresh raspberries
8 mint leaves
1 c. sparkling water
Juice of ½ lime
2 mint sprigs
2 slices lime
Muddle the strawberries, raspberries, mint and lime juice until pureed. Divide puree into 2 mason jars, add kombucha, ice, and top off with sparkling water. Garnish with mint and lime.