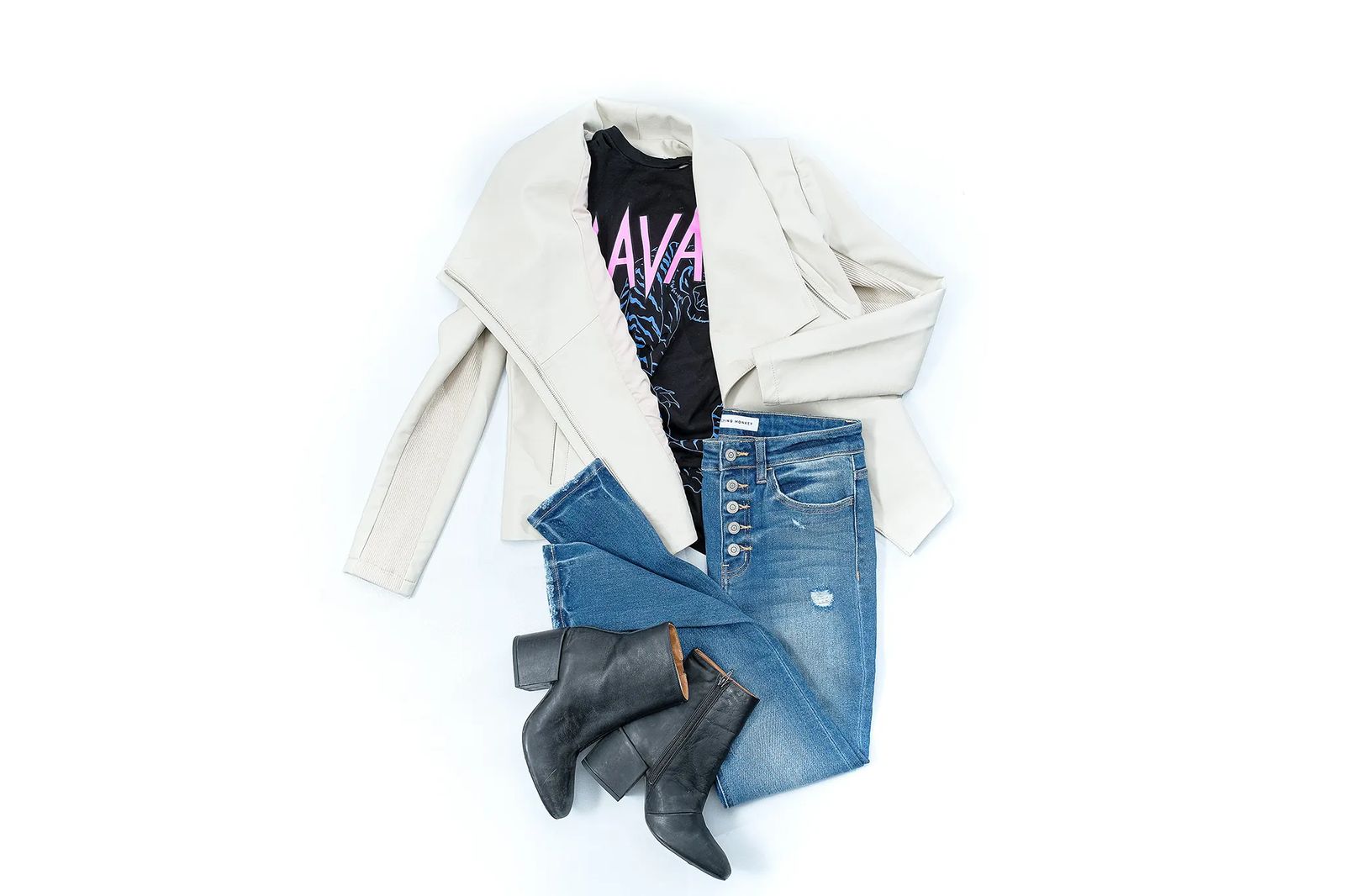 Revamp Your Closet
10 Items, More than 20 Outfits
Have you ever flipped through the hangers in your closet wondering if there was some hidden potential in the items you had for mixing and matching in new ways? Whether you are packing to hit the road or downsizing your closet, knowing how to pair an item could expand your wardrobe in ways unimagined.
Enter the capsule wardrobe. This "mini wardrobe" is made up of versatile pieces that you love to wear. I chose 10 items and, trust me, no one will know by looking at the way these looks were styled that this wardrobe consists of only 10 items.
To start, find a cohesive color palette. That's essential. From there, choose quality pieces that wash and wear well over time. Think of your lifestyle. Is work business casual or are you on the go a lot and need sensible footwear? Since we live in a climate that can deliver temperatures of 60-above one day and minus-7 the next, I chose pieces that are perfect for those major thermometer swings.
Now it's time to empty your closet. Pile like items together and ditch the items that don't fit, you don't love or that won't work with anything else. Be patient and realize some of the items you've ditched, thinking you can't use them, might end up being more versatile thank you think.
Start with your favorite piece, build an entire outfit around it and then, photograph it. You'll want to remember this inspired look! Then, take an item from that outfit and find another item using that one item. Continue this one more time and you'll have roughly 10 pieces to start mixing and matching.
You might be wondering what your closet needs. A good base is two pairs of jeans that look nothing alike, three or four tops, blouses or shirts and a couple of jackets or layering pieces. I like to also pick one out-of-the-box item for a top or layering piece. This will provide a little more style to an everyday outfit. Last, but not least, have fun and find joy in the process of every outfit you construct.
TEN KEY PIECES
Flying Monkey Black Label button fly jeans, $74.99 at The Banyan Tree
Levi's Sculpt Skinny jean, $69.50 at Shipton's
Lush cream and black printed blouse, $34.99 at The Banyan Tree
BB Dakota Shawl Collar Jacket in cream, $98 at Something Chic
Joseph Ribkoff black skirt, $98 at Cricket Clothing Co.
BB Dakota black duster, $119 at Something Chic
Lulusimonstudio Savage tee, $42 at Something Chic
Foxcroft grey button up blouse, $98 at Cricket Clothing Co.
Thread & Supply camo jacket, $109 at Cricket Clothing Co.
Banyan Tree dolman taupe sweater, $37.99 at The Banyan Tree
THE ACCESSORIES
Vintage Havana Wooster Sneaker, $120 at Something Chic
Burgundy vintage paisley neckerchief, $11.99 at The Banyan Tree
Ariat Dixon booties, $169.95 at Shipton's
Joy purse, $69, at Cricket Clothing Co.
Free People Nicola Heel Boot, $89 at Cricket Clothing
TIP: Empty your closet and photograph options to serve as a reference and help you plan several weeks in advance.