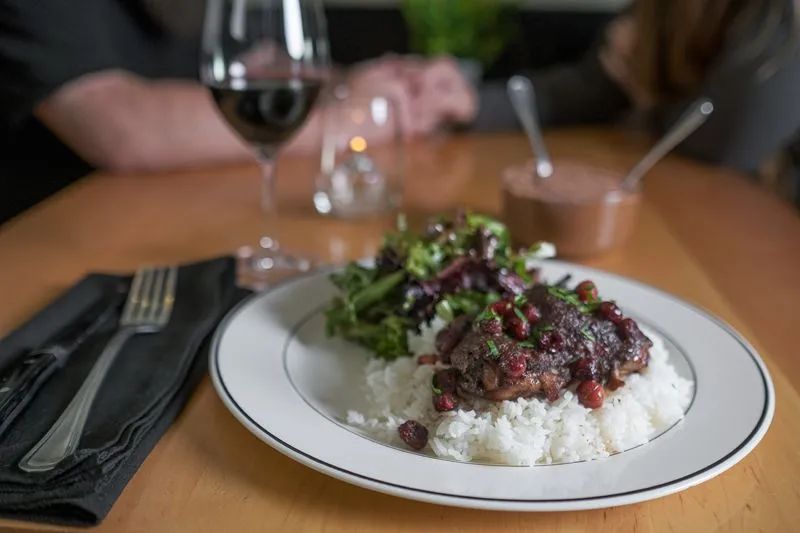 Romance for Two
Set the stage with a meal for two this Valentine's Day
They say the way to a man's heart is through his stomach. Sure, you could give a card, chocolate or even a dinner for two at your favorite restaurant. But one local chef has a better idea — cook up a little TLC with your own two hands.
We tapped the creativity of Jason Marble, owner of the Marble Table in downtown Billings, to see if he could help us craft a menu perfect for setting your love's heart on fire. He's sharing his recipe for Cranberry Balsamic Roasted Chicken, steamed rice, green salad with a homemade red wine vinaigrette and Chocolate Mousse Cups for dessert.
A definite upside to this is a romantic dinner for two? It can be prepared any day of the year, not just Feb. 14!
Enjoy!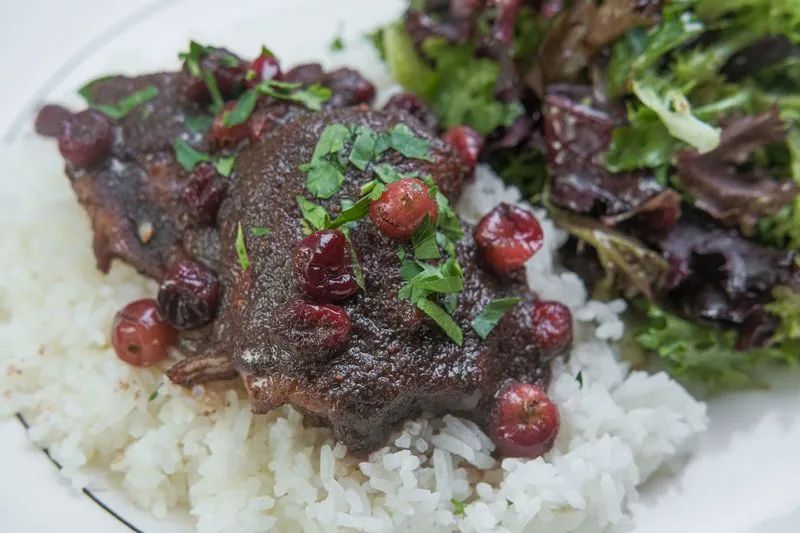 MIXED GREENS SALAD WITH RED WINE VINAIGRETTE & PEPITAS
~Jason Marble, Chef at the Marble Table
· Mixed greens
· Red Wine Vinaigrette
· 1 c. Olive Oil
· 1 c. Red Wine Vinegar
· 1T. Dijon Mustard
· 2t. Dried Oregano
· 2t. Dried Thyme
· 2 T. Sugar
· 1/2 Lemon, juiced
· 1 t. Black Pepper
· 1 t. Kosher Salt
Combine everything except the oil in a blender. While running slowly, add oil to emulsify. Taste and adjust seasoning if needed. Directly before plating the dinner, place greens in a medium size bowl and lightly drizzle with the vinaigrette. Place greens on the side of a large dinner plate. Sprinkle with toasted pepitas (pumpkin seeds).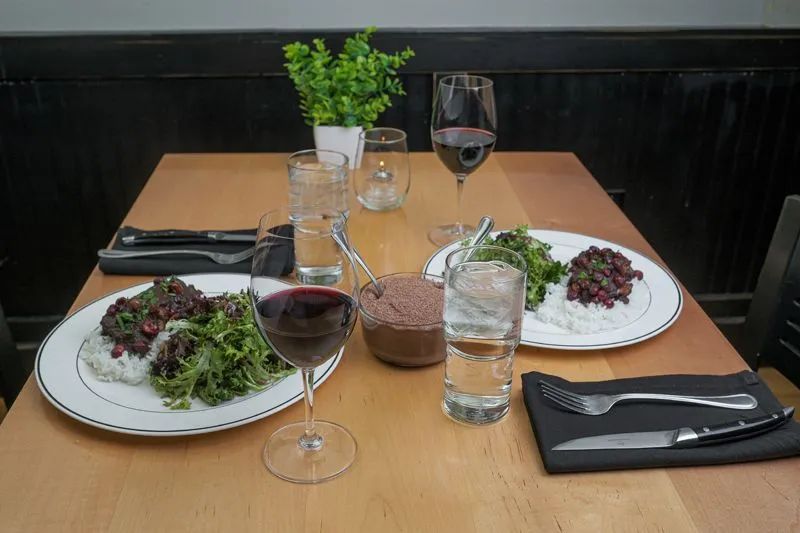 CRANBERRY BALSAMIC ROASTED CHICKEN
~Jason Marble, Chef at the Marble Table
MARINADE
· 1/3c. Cranberries
· 2 T. Olive Oil
· 2 T. Maple Syrup
· ¼ c. Balsamic Vinegar
· 1 t. Garlic, minced
· ¼ t. Kosher Salt
· ¼ t. Black Pepper
FOR THE CRANBERRY CHICKEN
2-1/2 lbs. Chicken Thighs, bone in and skin on
1 c. Cranberries
1 T. Maple Syrup
1 T. Balsamic Vinegar
1 t. Dried Thyme
Add the marinade ingredients to a blender and process until smooth. Place chicken in a large bowl and cover with marinade. Refrigerate overnight.
Preheat oven to 350 degrees. Place chicken with marinade, skin side down in a 13x9-inch pan. Sprinkle with cranberries and thyme. Bake for 35 minutes. While baking, combine balsamic vinegar and maple syrup in a small bowl. Remove pan from the oven and flip chicken over so it is skin side up. Set oven to broil. Broil chicken approximately 2-3 minutes or until nicely browned. Remove from oven and let rest for 5 minutes. When ready to plate, place steamed rice on the opposite side of the plate from the salad. Top rice with 2 chicken thighs and spoon some sauce over the chicken.
STEAMED RICE
· 1 c. Jasmine Rice
· 2 c. Water
Place rice in a fine colander and rice under running water until water runs clear. Add rice to a sauce pot with a tight-fitting lid. Add water and bring to a boil. Stir, reduce heat to low and cover. Cook on low for 17 minutes. Turn off heat and let sit for 10 minutes. Fluff with fork and serve.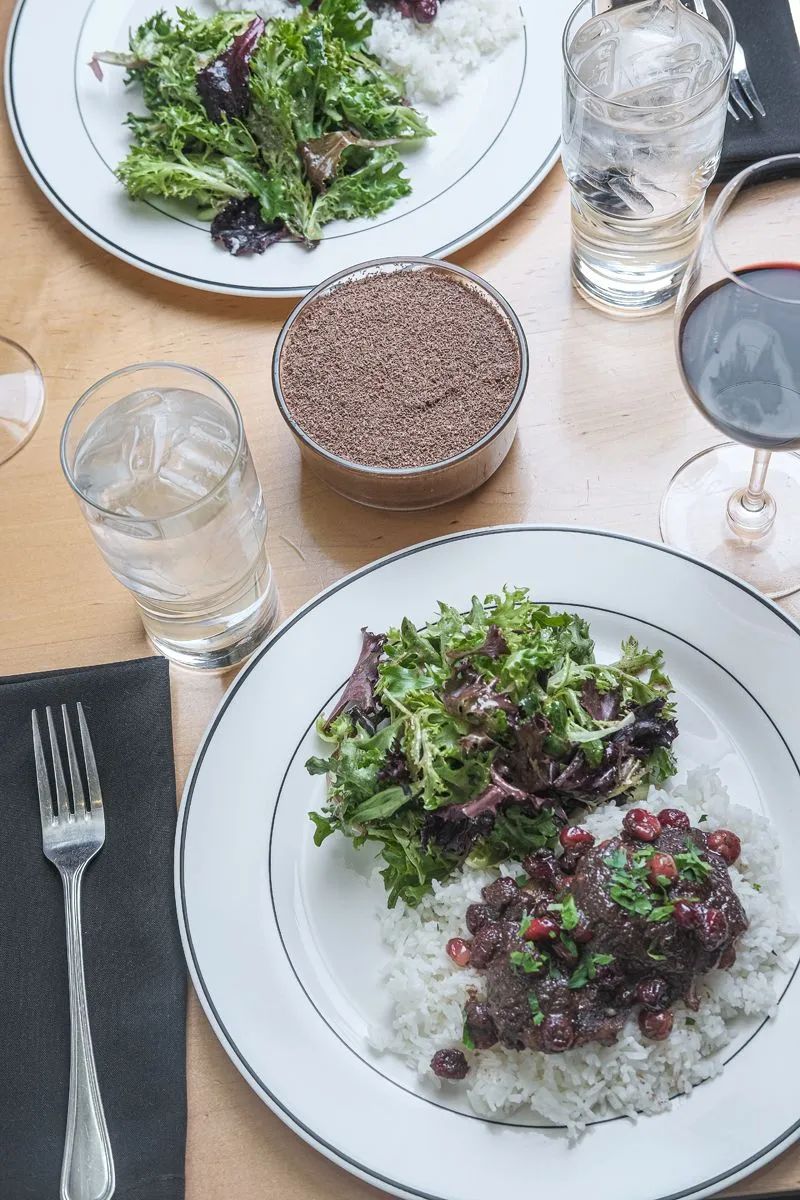 CHOCOLATE MOUSSE
· 6 oz. Dark Chocolate, chopped
· 6 oz. Butter, cut into small pieces
· ¼ c. Coffee
· 4 Eggs, separated
· ⅔ c. Sugar
· 2 T. Dark Rum
· 1 T. Water
· Pinch of Salt
· 1 t. Vanilla Extract
· 2 oz. Dark Chocolate, for shaving
Heat a saucepan 1/3 full of water to a simmer, with a bowl set on top. Place 6 ounces of chocolate, butter and coffee in bowl and stir until melted. Remove from heat. Fill a large bowl with ice, set aside. In another bowl that fits on the saucepan, using a hand-held mixer, whisk egg yolks, sugar, rum and water for about 3 minutes, or until mixture thickens to the constancy of runny mayonnaise. Remove from heat and place bowl in ice bath, whip until thick and cool. Fold the chocolate mixture into an egg yolk mixture. In a separate bowl, beat egg whites and salt until whites start to hold their shape. Add one tablespoon of sugar and beat until thick and shiny, but not completely stiff. Stir in vanilla. Fold 1/3 of the white mixture into the chocolate mixture, then fold in remaining whites until just incorporated. Transfer mousse to serving dishes and refrigerate at least 4 hours. When ready to serve, shave remaining chocolate over the top.