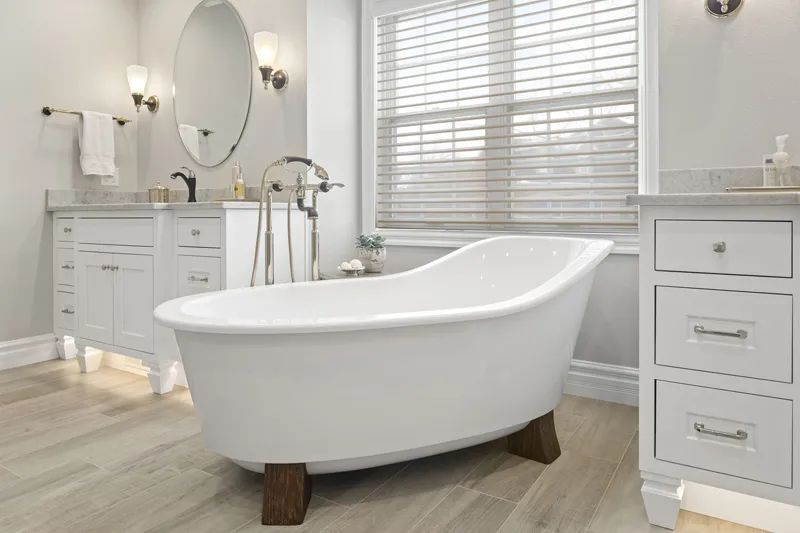 Room for Relaxation
Why the master bath is where it's at
The master bath. It's a room that evokes thoughts of spa-like relaxation and solitude. Real estate agents will tell you that, along with the kitchen, a master bath can and often does sell a home. Could your master bath use a little TLC? For inspiration, we tapped into the knowledge of Jennie Kolk. She's been an interior designer for 24 years, working in both commercial and residential design before opening her own firm, Kolk Design Studio, five years ago. She shared three of her recent master bath projects to show just how much wow factor you can add to a master bath.
BACHELOR PAD CHIC
This bachelor pad on Billings' West End used to ooze with a groovy vibe. Today, it's sleek and streamlined with an understated elegance that's perfect for a man.
"There was a huge platform sunken bathtub," Jennie says, one that took up considerable space. So, when she gutted the room down to the studs, "We kept the same layout but then updated everything with a freestanding bathtub and updated the look with a high-gloss acrylic cabinet."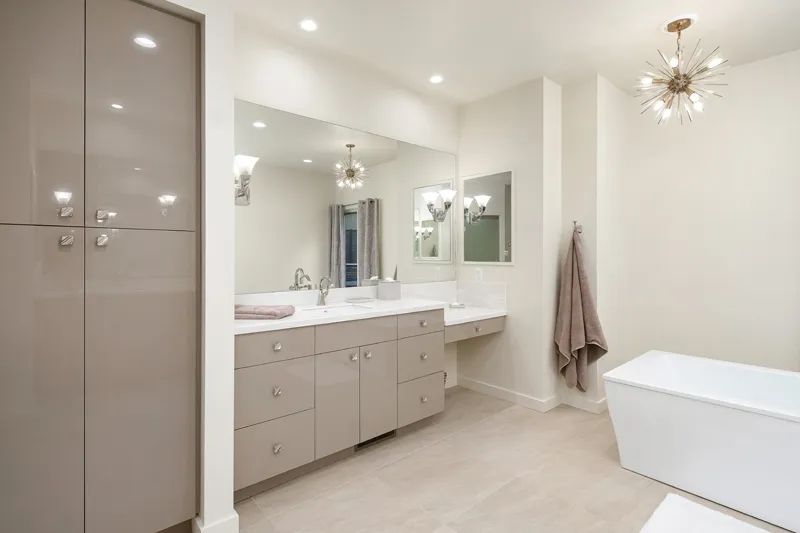 In the shower, you'll find solid surface panels lining the walls instead of tile. Jennie says this trend is proving popular in master bath remodels.
"It's a Corian material and it comes in full sheets, so you don't have to worry about cleaning grout lines," she says. And, instead of just white and ivory, these panels are now taking on all kinds of colors and patterns to appeal to any type of design taste.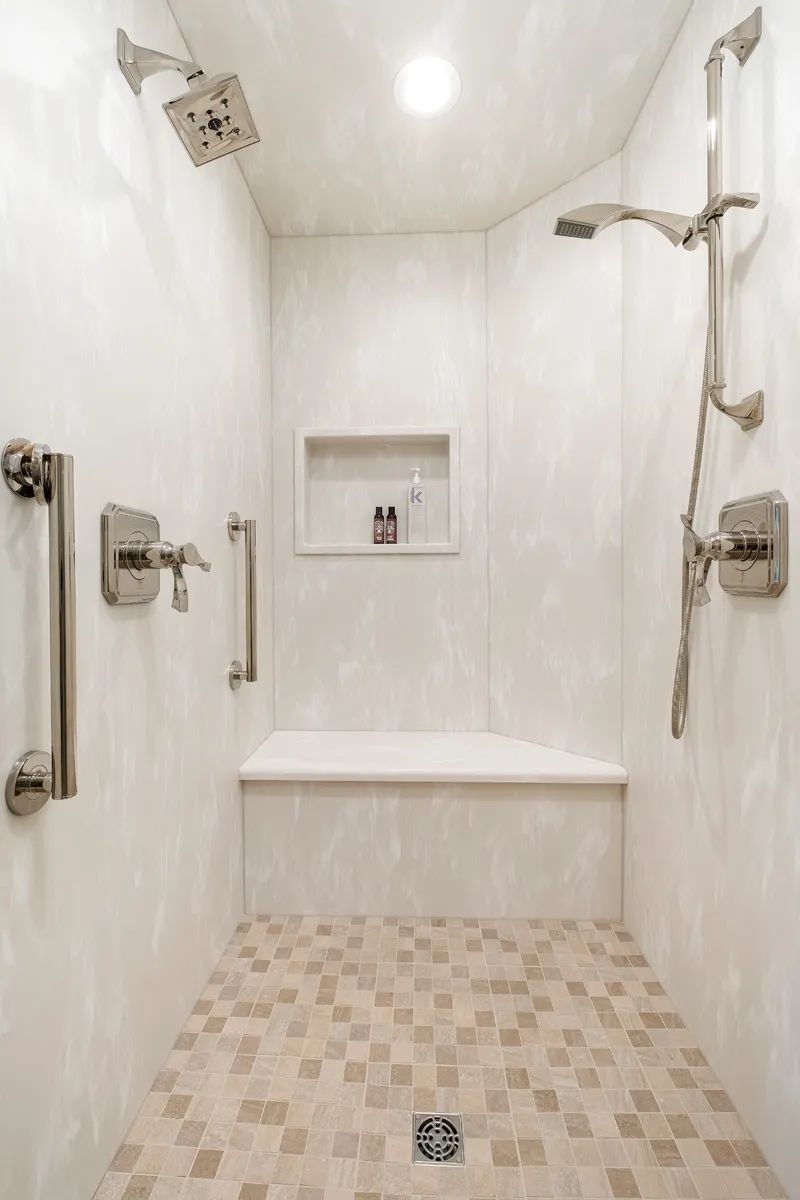 While she helped ditch the platform tub, a sleek free-standing tub now takes center stage with an artsy chandelier hanging above.
"People are either getting rid of bathtubs altogether in a master bath or they are putting in a free-standing tub that is more sculptural. It's kind of a piece of art all on its own," Jennie says.
To add beauty to function, one of Jennie's favorite design elements is to layer light. Not only does this space offer recessed lighting, but sconces were mounted over the mirror to help the light bounce and create a splash of visual interest. The high-gloss cabinets in a warm gray shade play off the flooring and the patchwork tile at the base of the shower. Jennie says gone are the days when you have to have a standard vanity in a predictable color.
"People are getting away from just white or wood-stained cabinets," she says. "They are finding some different materials for cabinetry."
As finishing touches, chrome fixtures spiced up the space and the frosted glass shower doors added a soft edge.
"I love how the different finishes of metal that plumbing and lighting fixtures bring can really finish off the final layer of the design," Jennie says. "It is the jewelry of the room. How light responds or glints off the metal finishes can really add another level to the design."
FARMHOUSE FLAIR
The TLC show "Fixer Upper" and its designer Joanna Gaines created a trend that Jennie says has caught on more quickly than any other trend she's seen — the use of shiplap. Walk into her recent farmhouse-style remodel, and you'll see this slatted wood accent on every wall. It's just one of the many textures she incorporated into the room.
"Texture is really important to use to layer the space," Jennie says. "Here you have the shiplap, the chevron floor with a wood grain. Instead of just seeing this plain box in black and white, you have these layers."
You'll also find visual interest in the subway tile that surrounds both the inside and outside of the massive shower, which has a shower head that's bigger than most pizzas. Adding another pop of style are all the black accents.
"The bathtub is definitely the focal point in the room with the black cast iron bottom," Jennie says. "The tub filler itself has that matte black finish. The nice thing about black fixtures is that it can go traditional or there are a lot of contemporary fixtures in black as well."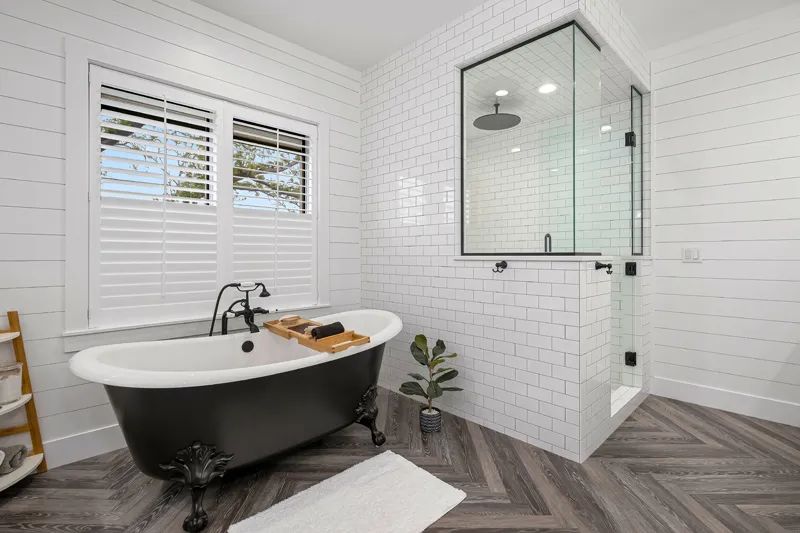 This master bath is full of beauty, and full of function as well. Jennie added a slim sliding cabinet, perfect to keep hair dryers and curling irons at the ready. These are the features Jennie loves to help a homeowner incorporate into their master baths.
"You can plan a cabinet to store the clothes hamper and trash can that usually take up valuable floor space," Jennie says, or, she adds things that you normally put on a counter can have their place in a cabinet.
"Space planning is my favorite part of design," Jennie says. "I love when I can envision a better use of space that is more user friendly and efficient for the homeowners."
TRADITIONAL TRANSFORMATION
When redesigning a master bath, most homeowners will say they want to create a calming space that's high on beauty and function. That's what Jennie created when she gave this modern beauty a whole new look and feel with sleek, traditional lines.
"The general layout was similar, but the original bathroom incorporated a large built-in bathtub in a platform area and columns flanking it," Jennie says, explaining how the bathtub sat in between his and her vanities. Add in heavy soffits and columns, Jennie says, and this bathroom felt heavy and dark.
"We wanted to lighten up the space visually, so it was decided to use a freestanding tub instead," Jenny says. And, the placement of this tub is a bit unconventional. "We turned the tub slighting on an angle to give it a bit more visual presence. It takes the symmetrical layout of the room and gives it a little unexpected edge to the design."
It's the little details that make this master bath drip with interest. You see it with the furniture-style legs on the vanities and the mixed metal sconces and plumbing fixtures in a polished nickel and cocoa bronze finish. Crown molding around the room sets off the traditional design.
"The gorgeous freestanding tub with the dark wood feet and the stately floor-mounted tub filler are the focal point of the room and these are my favorite parts of the room," Jennie says. "The tub and filler make such a visual statement from the door of the bathroom."
Layers of light also shine through in this master bath. Recessed can lights are on different zones with dimmers. Wall sconces give task lighting for shaving or applying makeup. But, you have to look downward to see an unexpected bit of light.
"We added another lighting layer to the toe kick area of the vanities, which can be a beautiful accent light or provide a nice glow in the evening for wayfinding in the dark if you don't want to turn on the brighter overhead lighting."
No matter how big or small a bathroom renovation, Jennie says it's important to really delve into why you'd like to update the space in the first place. Do you need additional storage? Do you want updated finishes? How about extra lighting? Do you need to move a sink or toilet to a part of the room that makes more sense? Realistically, how much do you have to spend on making this space work for you? What Jennie does share with her clients is, be mindful of trends but in the end, the master bath is yours and should be a reflection of you.
"I always encourage my clients to pick colors and designs that they personally love and want to see every day and not just what the latest trends are in design," Jennie says. "Remodels are an expensive investment so you want a design that will stand up to the test of time and not something you will be tired of relatively soon."
ALL ABOUT DESIGN
Q & A with Interior Designer Jennie Kolk
Q. Tell us a little bit about your design style
A. My personal design style usually incorporates bits of traditional, timeless style with hints of contemporary clean line details. I like what warm wood tones can do for a space and love to use a contrast of colors, materials and textures.
Q. How do try to help inspire your clients to design their dream bathrooms?
A. I use a computer drafting program that enables me to create 3D imagery of the bathroom design. I can capture the new layout and design details so the client can envision what the space could look like. I think it's an incredible tool to create a dialogue between the client and designer to ensure a clear design direction. For the clients who have a hard time envisioning a new layout or design, this can really help communicate to them what the result will look like.
Q. Why do you love working with people on creating their own dream spaces?
A. The visual world around me including my own home and workspace is so important to my mental well-being and productivity. It inspires me to help others create spaces that they too are happy to live and work in.