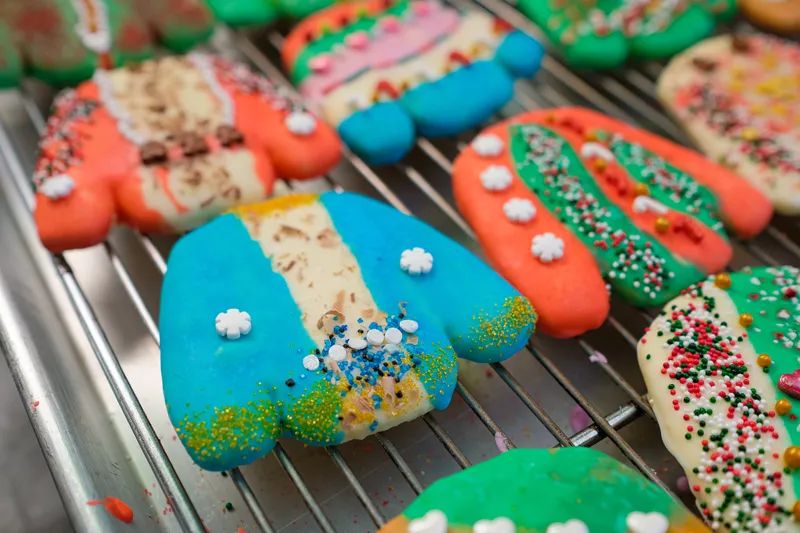 Serving up Christmas Spirit
The kitchen is Donna Godwin's happy place
Donna Godwin has always had a big heart. She's spent her lifetime seeing needs around her and figuring out ways to fill them. From 1991 until 2007, she and her family owned Apple Village Café in Columbus. For 11 of those years they fed the community dinner on Christmas Day … for free.
"It's just what we did," Donna says humbly. "Those were the best 11 Christmases of my life."
It was a family decision that turned into a family tradition. Her kids and grandkids thought that's just what they did on Christmas Day.
"It blessed us as much as it blessed the community," Donna says. "We wanted to show our appreciation to our community and the customers that supported us throughout the year. We fed everyone from dirt poor to filthy rich. We didn't care. We loved them all."
The first year they covered all the costs. When more than 200 people showed up to enjoy the traditional dinner of turkey, ham, vegetables, dressing, salads and pies, they put out a donation bucket. But, instead of keeping the money to cover costs, Donna donated it to the Special K Ranch and continued to do so for the next 10 years.
"It took off after that first year," she says. "I never asked for any donations, but vendors would be so generous. Even vendors I didn't use heard about what we were doing and wanted to be part of it."
Two years stick out as the most memorable. One was the year that a blizzard shut down I-90, stranding truck drivers and motorists. The stranded travelers found their way to the Apple Village Café and not only received a homecooked meal, but also a stocking filled with treats.
"It humbled us that for some, that stocking was the only gift they were going to get," Donna says. "But it was the atmosphere that people enjoyed. If anyone showed up that was alone, we made sure that they were placed with other people. Everyone was family on Christmas Day."
The other was the year a woman returned after having been there with her husband the year before. She told Donna that she and her husband enjoyed the Christmas dinner together the year before and that she unexpectedly lost him the very next morning. She specifically wanted to return to tell Donna how special the memory of the entire time had been for her from the atmosphere, the food and the people.
Donna tears up as she recalls the many years of meals and the many people that she touched.
"It was never about the meal, but about the people," she says. "I can't tell you the number of cards and notes we received from people over the years that looked forward to the day. After everyone would leave and we'd have dishes piled up so high in the back room I'd sit down and cry. Not because of the work, but because of how people responded. It was a beautiful thing."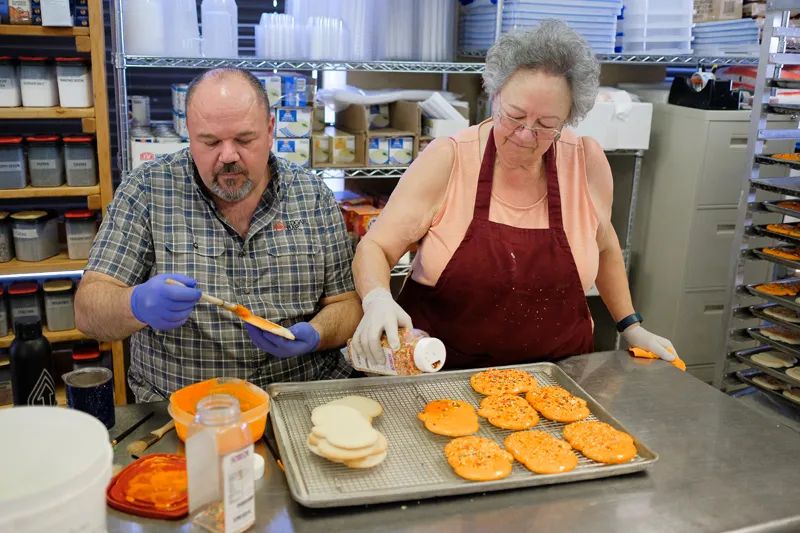 Donna and her son, Christian Benefield, own Red Rooster Kitchen in Laurel and together with a crew of three more, they bake tens of thousands of cookies, scones and pies and make gallons of jellies and jams all from scratch in their industrial-size kitchen.
"We start with butter and vanilla in all our cookies," Christian says. He was busy hand painting the first of more than 1,000 Ugly Sweater Christmas cookies that the shop would be offering until Christmas.
"That's one product we won't be expanding," Donna says with a laugh. "It's a novelty that we started three years ago and it's so time consuming, we only sell them out of our shop." Each cookie takes almost 10 minutes to hand paint and then decorate. "They are actually too pretty to eat," she adds.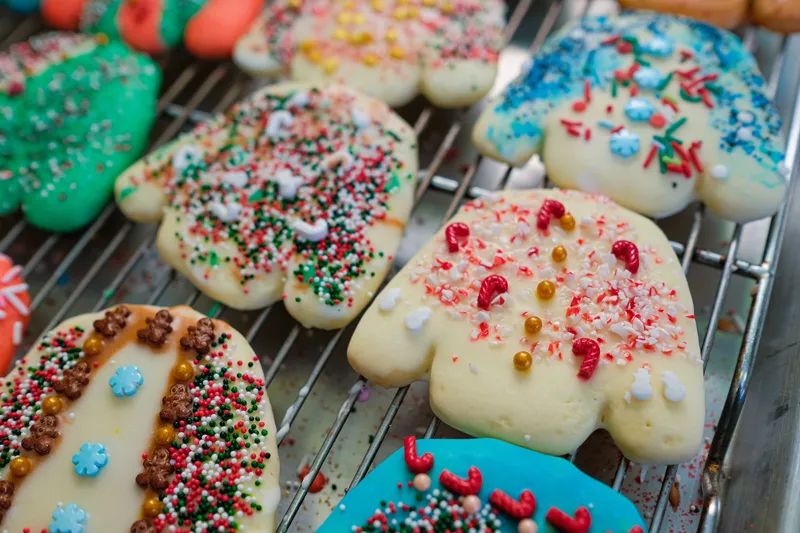 As with her nature to see a need and fill it, Donna operates her business in the same way.
"We've found some great niches," she says. "But it took a while to get here."
After selling the Apple Village and moving to Billings, Donna's retirement lasted only until she noticed a vacant location where the Donut Hole had been on Broadwater Avenue in Billings. She ended up opening the Red Rooster Café and operated it for five years before she sold it to an employee and then opened Red Rooster Kitchen in Laurel.
"I just can't seem to retire for long," she says. Several years after opening the bakery, she asked her son, Christian, to come home. He's been a partner now for the past five years.
At a Made in Montana trade show a couple of years ago, Donna and Chris were displaying their homemade jams and jellies, hoping to attract the attention of shops that might be interested in them. Tastefully designed, each jar is topped with a circular piece of colorful calico kept tight with a canning ring.
"A couple of young gals approached us," she reminisced, "and before we knew it, we'd signed a contract with Glacier Park! We've had them now for three years and we've sold tens of thousands of jars of jelly and jam to them. We're their number one selling product. We get people from all over the world that have picked up a jar or two and reorder them through our website."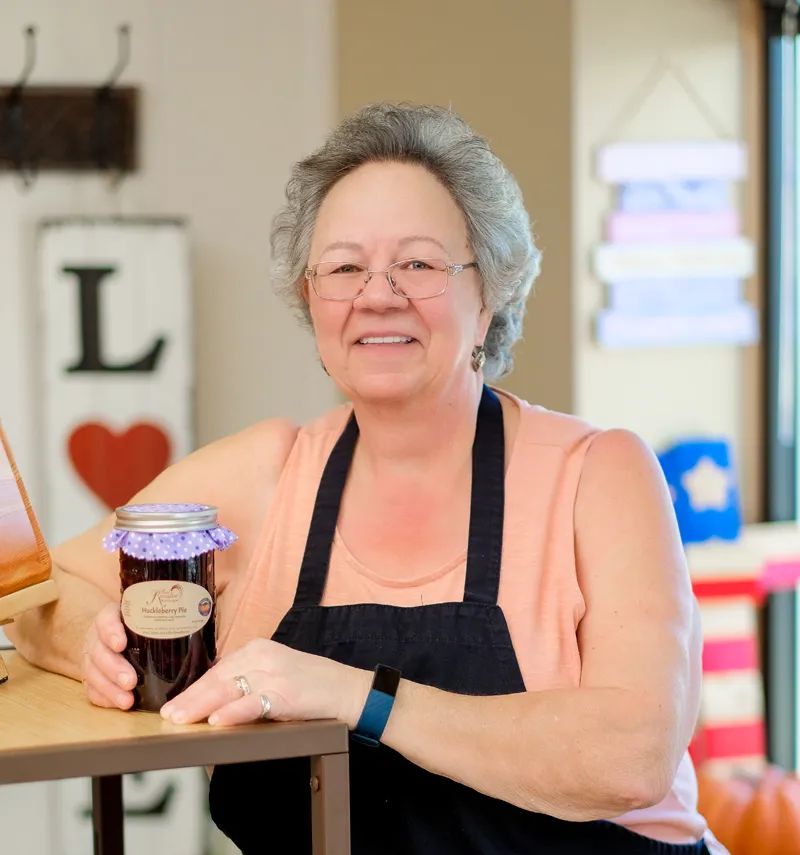 The jelly making days just for Glacier take an organized team. Donna does the cooking and fills, Chris and Debbie Wicks, who's been with them for four years, wipes the jars and puts the lids on them and then two more helpers do the processing.
"We couldn't do anything without our faithful employees," Donna is quick to say. "We'd have closed down without them."
During the early days of the pandemic when everything was shut down, Donna realized that Community Hope, a nonprofit in Laurel, wouldn't be able to feed some of their senior citizens. She stepped in.
"We served 200 meals a week for two months," she says. "I just couldn't bear the thought of some of the elderly not having a good meal." And she did it for free.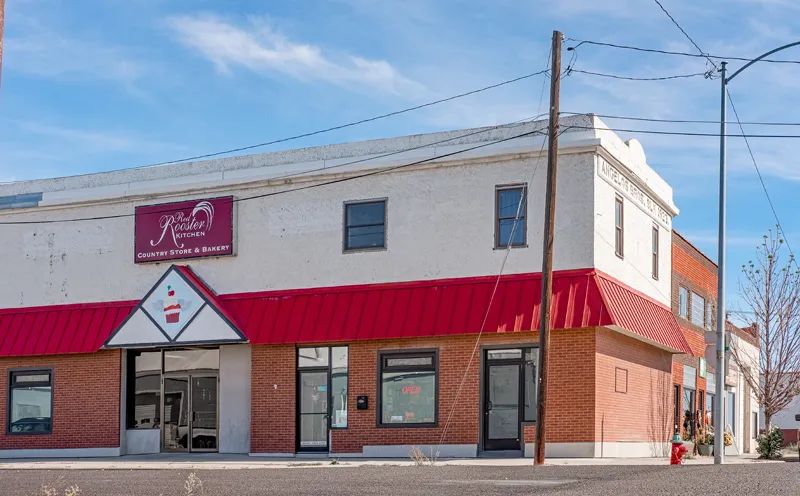 "You know, when you've cooked as long as I have you learn how to do it inexpensively and it was just something that we wanted to do." And truly not surprising considering Donna's huge heart.
At 70, Donna has decades of kitchen experience under her apron. Never formally trained, she's a scratch cook who makes use of ingredients in season and on sale. Everything she produces tastes just like a grandmother would have made and because she is one, that's not a surprise either.
"I just enjoy cooking," she says. "I love being in the kitchen and creating. It's where I'm happy."
YOU CAN FIND the Red Rooster Kitchen in Laurel at 401 East Main Street.