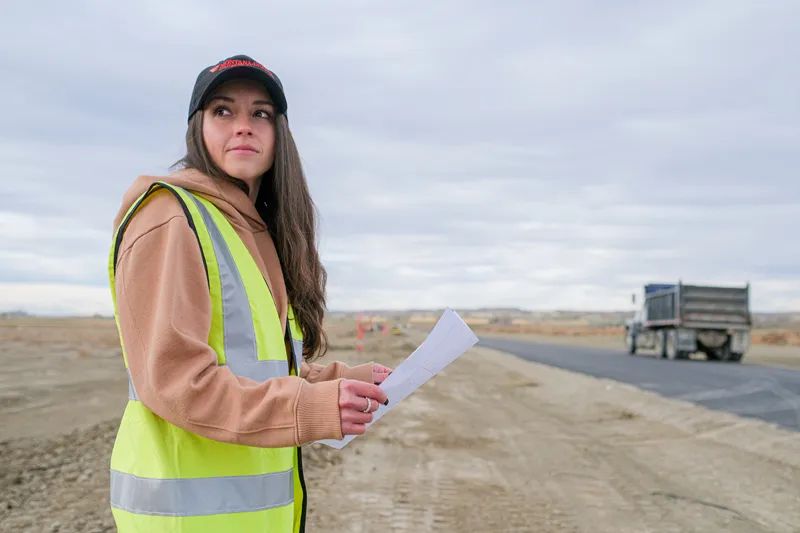 She's Got the Power
Engineer Erin Robbins helps bring power citywide
Erin Robbins knows how to wield power. She's been engineering high voltage power as well as natural gas lines for the past eight years. Right out of college she began her career in the Midwest and Hawaii for an architecture and engineering services firm. Women were and still are few and far between in the field.
"We were consigned out to different companies, so I traveled to places like Wisconsin and
Minnesota," she says. "It was always interesting getting out into the field with a bunch of linemen. They'd see me and probably think, 'Yeah, right.'"
It was a big step for a young woman who never left home except to attend college and play golf for the "Cats." "I never knew I'd be doing this kind of work when taking mechanical engineering at MSU-Bozeman," Erin says.
She estimates there were about five females in an engineering class of a hundred students during her time at college. Now, Erin speculates that number may be 10. "I remember my dad told me, 'You can do anything with that degree.'"
Dad's savvy words proved true. A couple of years ago, 31-year-old Erin became this area's energy services representative for Montana-Dakota Utilities (MDU), where she designs natural gas lines. "I'm initial contact for anyone wanting a gas service," she says, "whether it's a new build or old-house conversion, or subdivision or commercial."
It was a new twist in her career and Erin proved to be a quick study. She was in her role just two months when the pandemic struck.
"For the next one and a half years I worked remotely," she says. "I had to figure it out pretty quickly."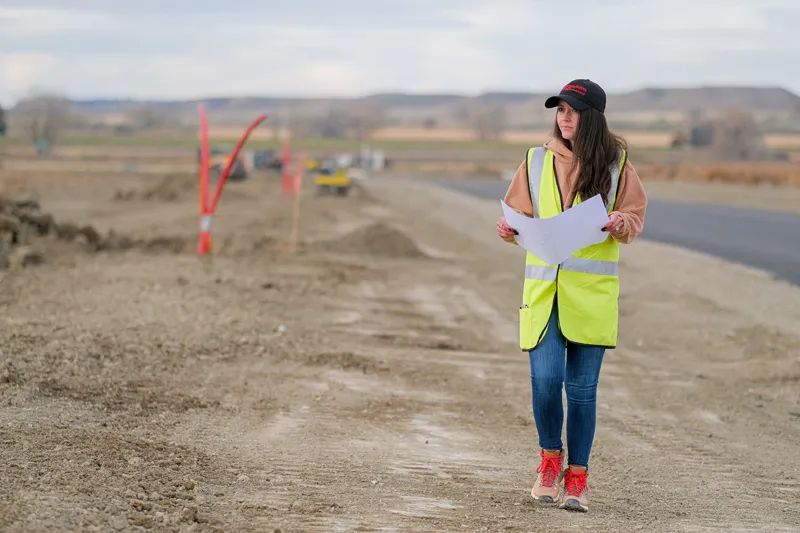 She credits Billings' three MDU field operations coordinators (FOCs) for helping her "a ton" in working with the company's construction crew and physically staking meter location. "These guys used to do this, so they were great at training me," Erin says. "The FOCs and construction crew are all men and I've built a good relationship with them. They can trust I'll get the job done."
Erin's job entails orchestrating the upfront work when the calls or plats (plans/maps) roll into the office. She's on the phone a great deal, but her favorite part is meeting people face to face. She finds there's "always some connection," attributing it to her family's longstanding time in the community.
"On new builds I go out and meet the homebuilders," she says. "This is a big thing. It's builds a relationship so they trust us and call MDU. When a developer sends in a plat of the subdivision showing roads and parks saying it's for all single-family homes, we lay it out. It's then a coordination game with a lot of moving parts."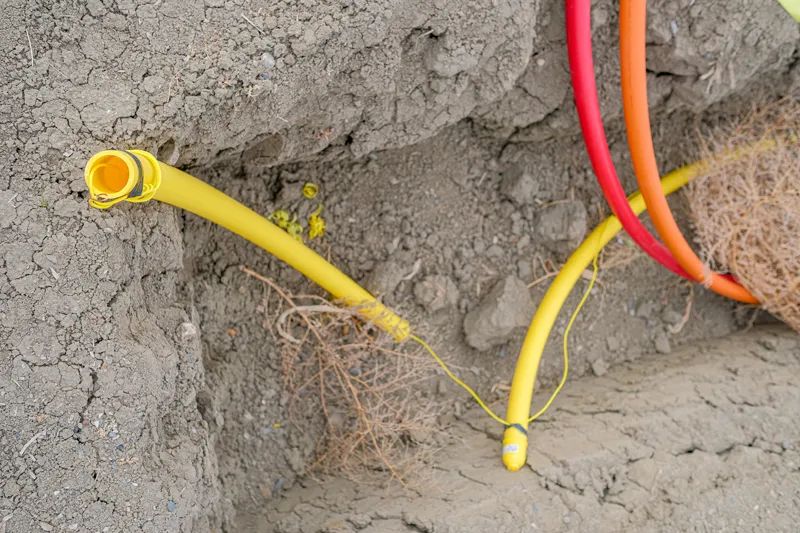 With the broad array of infrastructure present around the city, one obviously important moving part is the electrical company.
"We work with them to get the best design layout for that subdivision," Erin explains. "So if we're in the same trench with the electrical company we're not digging around each other." She adds, "The hardest part is staying on top of it." The demand for services, Erin says, is at an all-time high in and around the Magic City.
"Billings is the busiest with the volume of new services compared to other regions, so I try to get back to people as soon as possible. I put myself in their spot and work to be a good rep for MDU."
Erin's advice to other women interested in an engineering career is not to be intimidated. "Be confident in yourself. You can do anything," she says.
"I loved math growing up and was in the math club. It's not a bad thing to be smart but I had to work really hard," she says. "I also grew up with three brothers which helped me be able to talk with anyone, no problem. It also helped me: 1) in having thick skin and, 2) I like to joke around."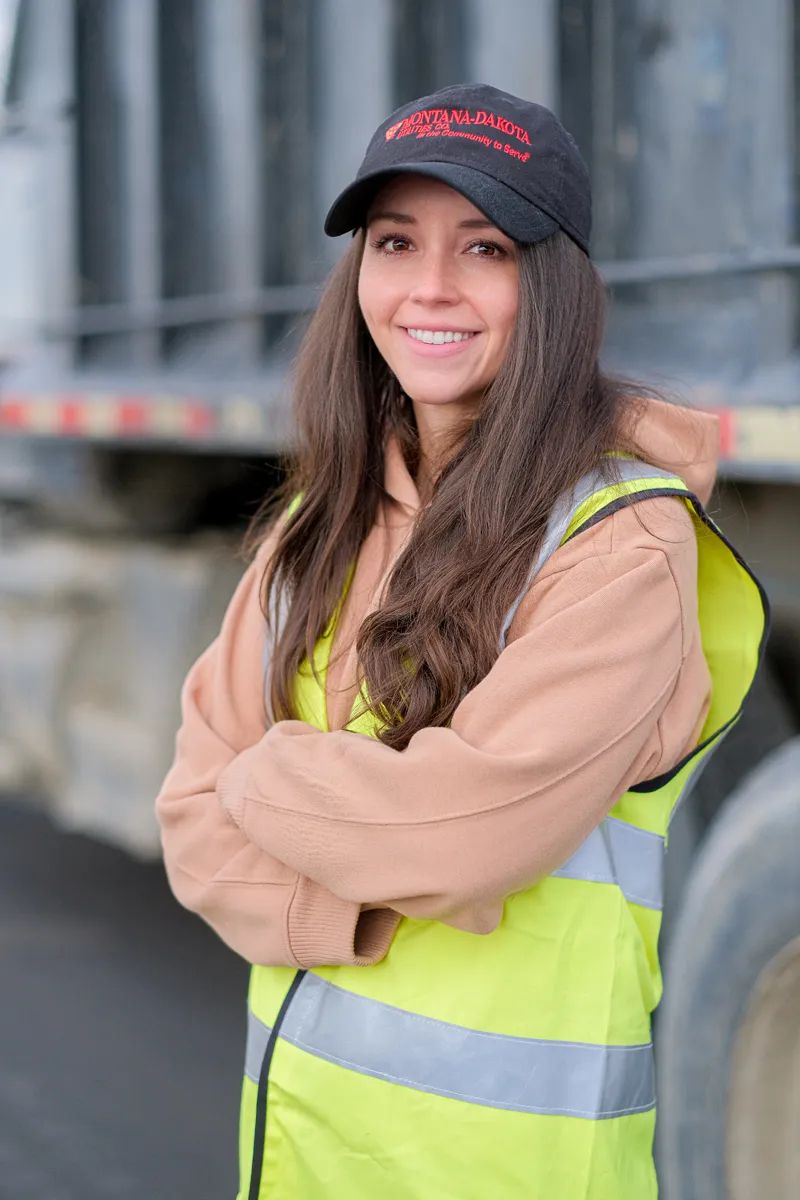 The combination of having a thick skin and a sense of humor serves Erin well. "I'm not very tall, so my yellow safety vest goes down to my knees," she says, with a smile and slight chuckle. "In college, there were no welding gloves that fit. And, it's tough to find work boots, as the demand's not there." Erin predicts, however, as more women seek careers in engineering and other typically male dominated fields, "It'll be built for girls."
She's already starting to see the growth.
"There's definitely more than when I was in college," she says. "One of my best friends works for an engineering company and we get to do on-site meetings together. There are so many opportunities with an engineering career."
Putting her degree to good use in the community brings everything full circle for Erin. She enjoys living close to family and has managed to get golf time in with her husband, Jayson. "He's picked it up a lot more," she quips.
On the job, it doesn't matter if you're a man or a woman, Erin says. It all boils down to "working hard and being respectful. That's what people want."