She's Got the Spark
Meet Welder Woman Reese Newman
Reese Newman is a woman on a mission. She's got it. She shows up early to the office every morning eagerly anticipating slipping through the door into the adjoining shop. In this big warehouse-type area Reese is the sparkle in the room.
Today may seem like an ordinary day in her world, but what this 40-year-old accomplishes rates as extraordinary. Grabbing a welding hood, she quickly positions it on her head and slaps down the face shield before firing up the welding gun. Welding is only part of what she does. She's also shop foreman, drafter and laser operator.
"I've been with Shepherd Stainless for over 14 years," says Reese, flipping up the shield. "I started my drafting skills at Action Electric after graduating MSU-Northern (Havre) in graphic design with two years of auto cad (drafting program). I like this type of work. This is absolutely fantastic to do for a living."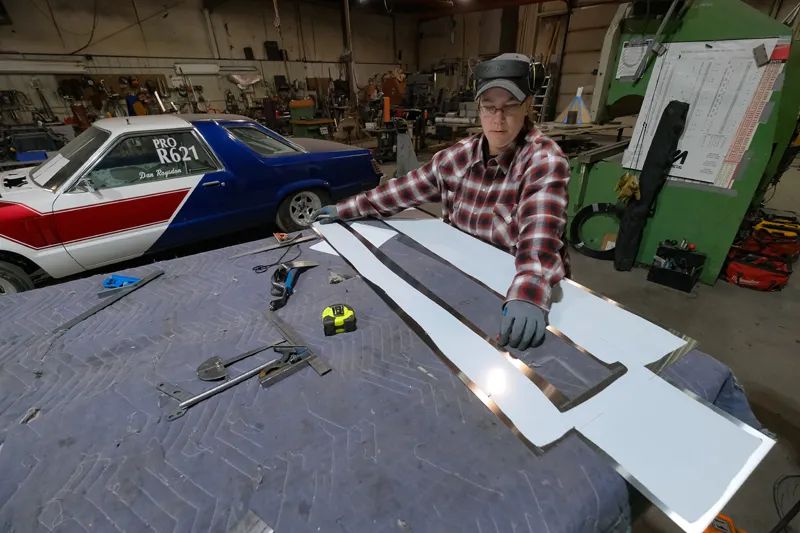 Working in a male-dominated field doesn't intimidate her in the least. "I'm the first one in and the last to leave," she says. "It's about gaining and earning respect through hard work. It's setting a good example. My mom, Rudy, was a positive influence in what I love to do. She was the only woman in a landscaping business. She used to take me to work with her."
Reese learned early about hard work. She continues working hard and she knows her stuff. "Guys come in and talk cars," she says. "One had a 427 Ford motor. I rattled on about it and his eyes got big, like, 'Whoa!' Then he really opened up when he knew what I was talking about."
Reese enjoys car talk. She especially enjoys fabricating trim pieces for vehicles. Her specialty is hot rods. "I do custom chrome pieces," she says. "Like the custom side fenders I've done on an El Camino — no one else will have one like it."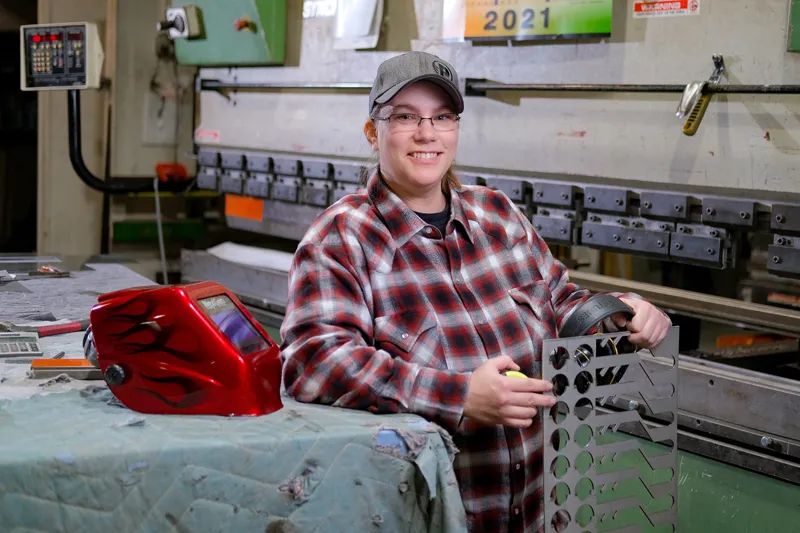 Reese shines with artistic talent. It plays an expressive role in her work. Whether it's for custom car trim, the fancy beer glass washer built into the drip rail she designed and created for a couple's new kitchen, or when she's creating metal artwork for customers.
"I use my artistic side for any form of art when I get the opportunity," Reese says. "A lady wanted a sign for her son and daughter-in-law with the name '59 Chevy pickup in the middle. She gave me free rein to design the signage to her liking. So I need to know a little bit about a lot."
Reese learned a lot her first days on the job at Shepherd Stainless Inc. The company, owned by Stan Swenson, has been in business for nearly six decades. "I took over running the laser from Stan's wife," Reese says.
"I also learned how to weld here, and run the press brakes. This gives me the ability to make a flat piece of metal into a finished product. We manufacture sinks and countertops. We did the drip rail for the Pollard bar in Red Lodge."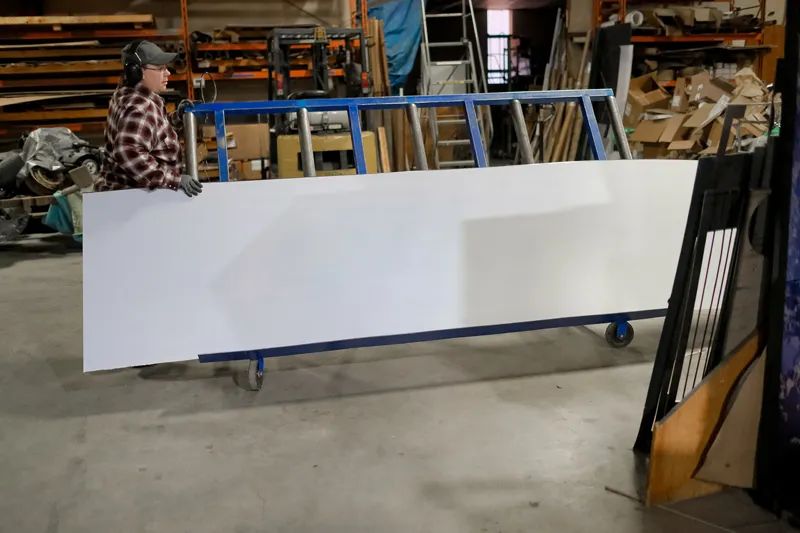 Walking over to the monster laser machine, this energetic dynamo spins a few dials before hoisting a sheet of stainless steel onto its surface. She flicks a switch. The sparks fly. The metal sheet dances across the laser bed while getting pummeled with laser points shooting out of the belly of the machine.
"This is what I love and get to do every day," she says with a big smile. "I run the laser machine and it never gets old. It's literally straight out of science fiction. It's the challenge of making it do new things. It's fun. I can have a flat piece of metal and turn out an exhaust hood for a kitchen. We do a lot of custom fabricating for commercial business. Everything is custom built per the customer."
Asked what was the most exciting project she's worked on, Reese responds without hesitation, "When we made parts for the World Trade Center Memorial in our shop. I was running the laser making panels for the names of those who perished. It was the most meaningful for me as I had seen the towers during a high school trip."
A native of Great Falls, Reese graduated from Charles M. Russell High School. She came to Billings after college, and here she met her significant other, Shane Beesley.
"We've been together 18 years and I'm a step-mom of three kids and four grandkids," she beams.
"Shane encourages me and has taught me a lot about mechanical," Reese notes. "It's challenging being a woman in male-dominated fields. I'd like to see more women in this field as we're few and far between."