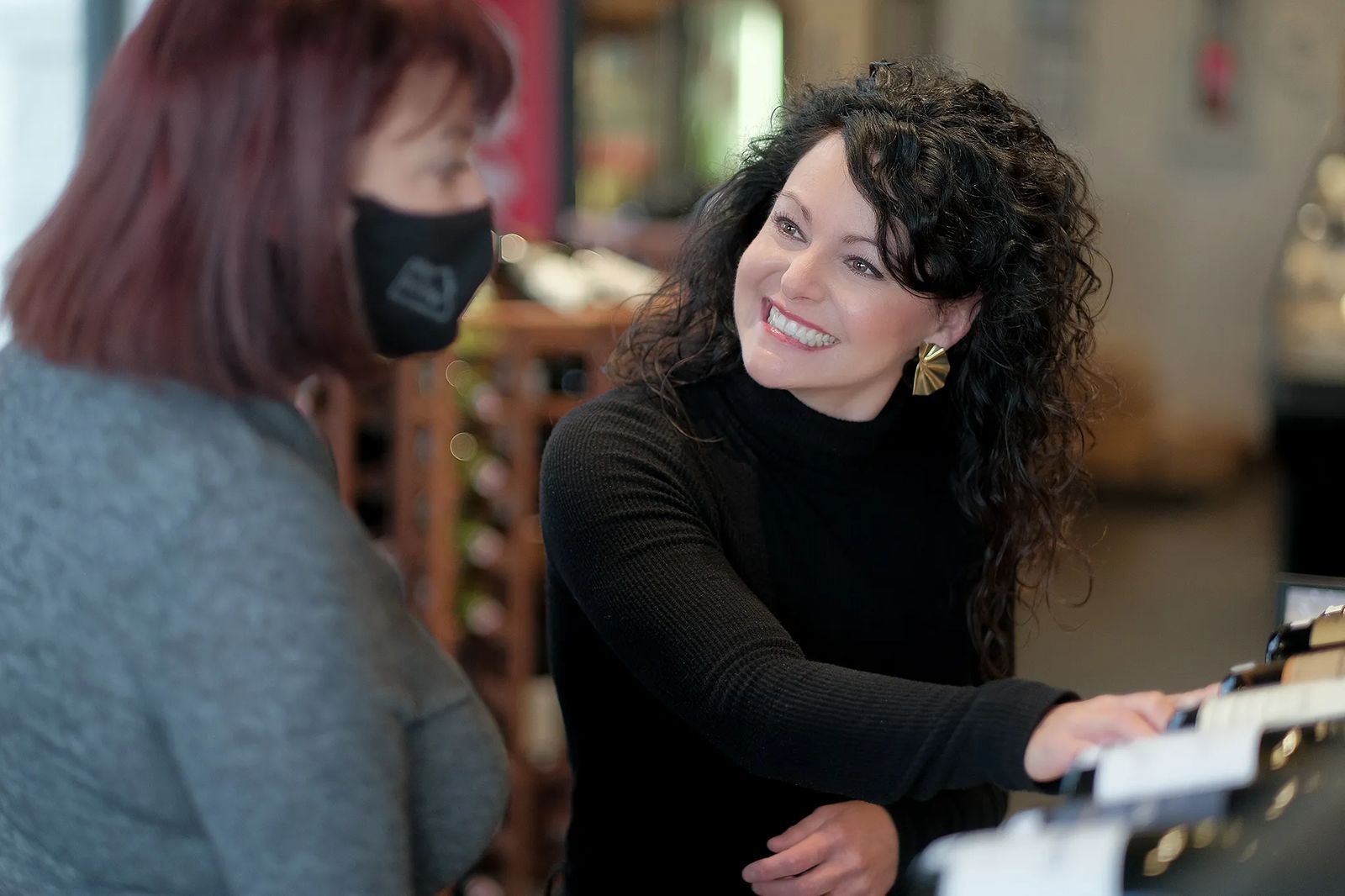 Sipping & Savoring
Abby Reno does both with wine and business
If you ask Abby Reno, owner of City Vineyard, what wine to have on hand for your next dinner party, she'll start with some questions to get to know your tastes, followed by more questions about what you'll be serving. She's learned that to help a customer find the perfect bottle of wine, it takes both understanding the customer and understanding wine. These days, she's a skilled matchmaker, but that wasn't always the case.
When Abby was just starting out in the business of wine, a regular customer came into City Vineyard, looking for a Bordeaux. Abby confidently led the older gentleman to a section of red wines at the back of the store. She wasn't too far into her sales pitch when he placed his hand on her shoulder and gently said, "Honey, you have a lot to learn. I'll take it from here." Abby looked at the wine and realized she'd brought him to the burgundy section.
"They're completely different," Abby says, remembering the flash-bulb moment. "They're both wine and that's about it."
Starting that day, she doubled down on her study of wine, its history and the cultures of the countries and regions where the different varieties are grown. She read books, pored over maps and took online courses. Today, five years later, she's a Level I sommelier, a certified expert in wine, and well on her way to earning her Level II sommelier certificate.
"I knew the foundations of business, but I didn't know wine," Abby says. "I had to learn wine and apply what I knew about business to this new industry."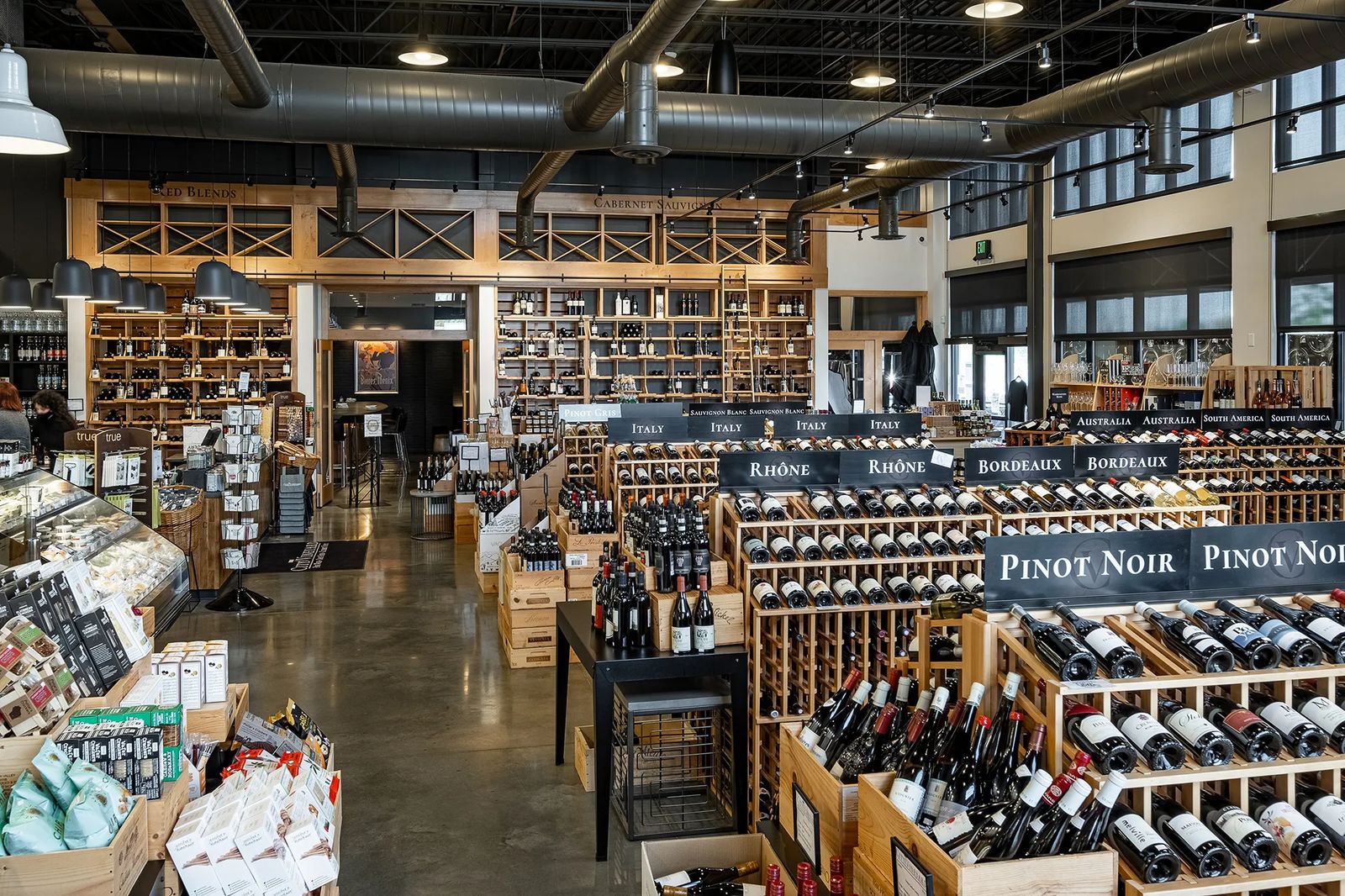 Her hard work is evident in every aspect of the airy, sunlit West End store. City Vineyard sells labels from all over the world and the store's offerings include wines for every taste and price-point. One entire wall offers a wide selection of craft beers, and the in-store gourmet market sells imported meats, cheeses plus other complements for wine and beer. Step a few paces into the lounge and you'll not only find 25 different wines by the glass, but 20 beers on tap, plus perfectly paired small plates for snacking. On weekends, the lounge serves brunch with mimosas made with fresh-squeezed orange juice. Once a month, you can catch a wine tasting class to help perfect your palette.
Abby, 37, is no newcomer to business. She's been at it since high school, working for her mother Becky Reno, former owner of the Billings-based City Brew franchise, established in 1998. While the initial push was coffee Becky started City Vineyard in 2000 after realizing there was a niche for an exclusive wine store in Billings. When Becky decided to sell City Brew in 2017, the company had grown to 23 stores in Montana, Wyoming and North Dakota.
Abby was the director of operations in the retail division for City Brew from 2006 to 2015. The job required lots of travel as she oversaw the opening of new stores and the marketing of new products. Abby's strength, according to her mother, has always been customer service.
"Good customer service is what builds a company, and it's consistency that makes all the difference," Becky says. "Abby has that gift."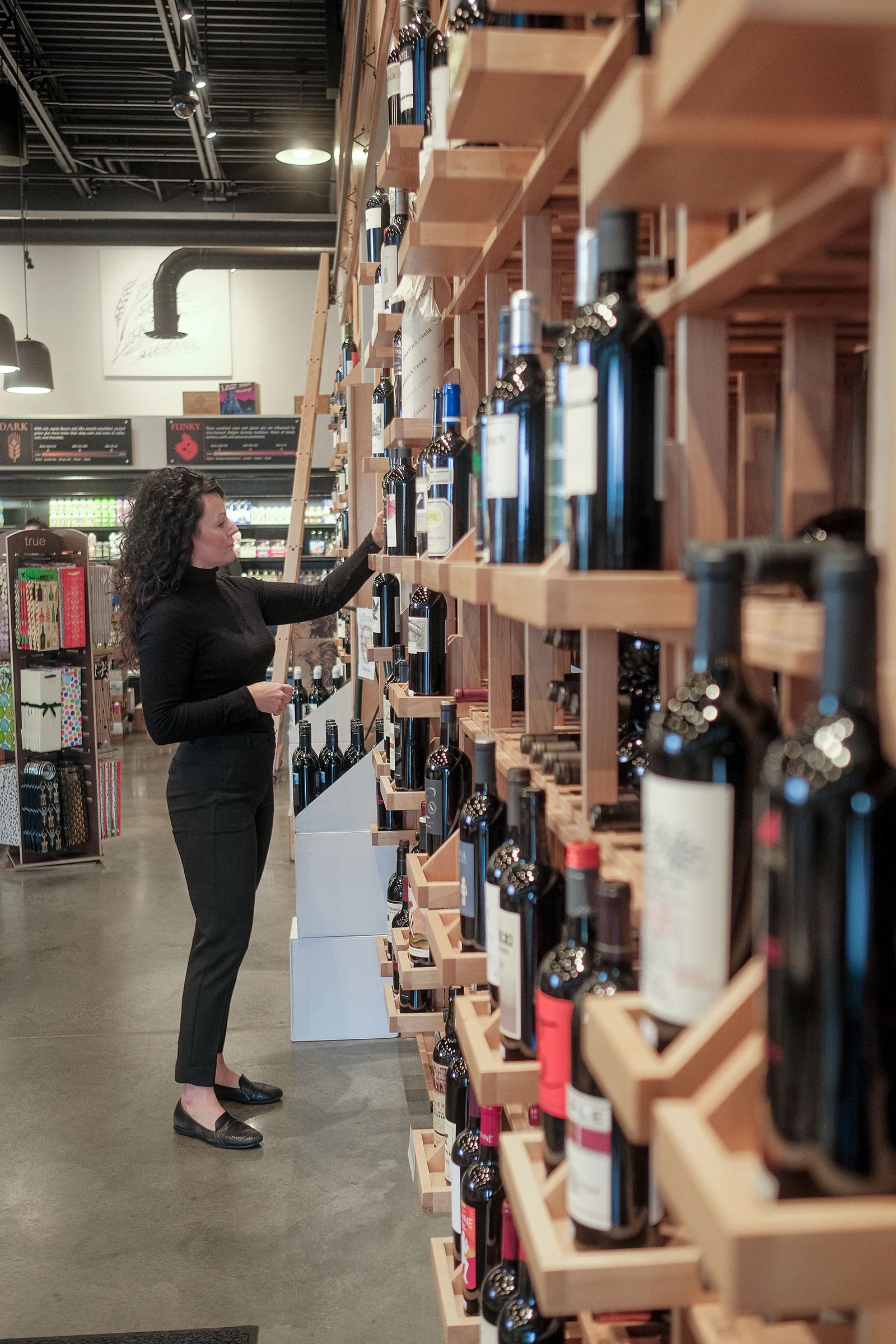 Visitors to City Vineyard are just as likely to be greeted by Abby as they are one of the many other knowledgeable staff members, and despite the demands of her leadership role, she still loves helping customers find the perfect bottle of wine. She enjoys suggesting foods to serve with each bottle that not only complement the taste but originate from the culture and region where the wine is made.
"Wine is experiential," Abby says. "You can be transported to that place and still be in your living room."
Abby says she has always had an interest in business, and after high school she attended the University of Montana School of Business. After graduation, she spread her wings in San Francisco, working for Nordstrom's. When Abby returned home to Billings, she went to work for Becky in executive leadership at City Brew.
"It really took being gone to understand the opportunity that I had," Abby says. "I knew I loved business. I didn't know anything else because I lived with a serial entrepreneur. She wanted me to have time to be on my own and do my own thing, so she encouraged me to leave the state and do something else. I'm so glad I did because I never would have appreciated who she was and what she'd done."
Abby met her husband, Ryan Nordlund, who was then deputy county attorney for Yellowstone County, at a mutual friend's barbecue 11 years ago. Though they'd both gone to Billings Catholic Central High and both attended the University of Montana, they'd never met. They discovered they had more than just their education in common.
"We were on the same beer pong team and ran the table all night," Abby says. "Obviously, we knew how to play together."
The two were married in 2013. Two years later, Ryan left his career in law and Abby left City Brew to take over operations of City Vineyard. By then, plans for expansion were already swirling.
"We were interested in getting involved in something we could grow and that was fun and different," Abby says.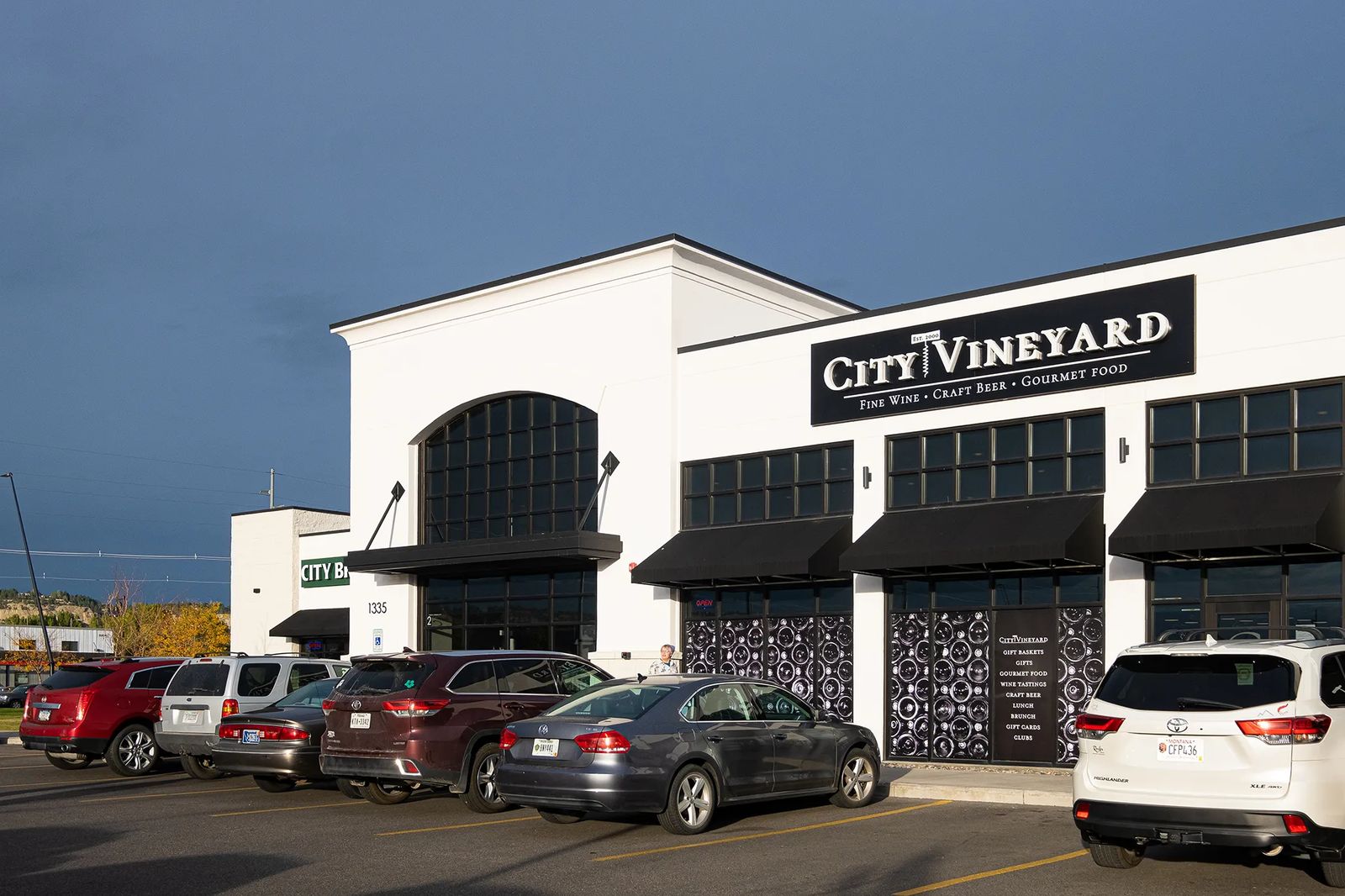 In 2017, City Vineyard left the small store at Grand Avenue and 17th Street and moved to its present 5,000-square-foot location near the intersection of 32nd and Grand. Ryan works in the back of the house, handling all the IT and, of course, legal aspects of the business. He's also passionate about beer and is the beer buyer for the store. Becky is still involved in City Vineyard as a financial partner.
"Because she's still involved, I never feel alone," Abby says. "There's been lots to learn, and it's been good to be able to tap into her wisdom."
Abby has been able to share wisdom of her own as she served on the University of Montana College of Business Dean's Advisory Board for three years. She had many opportunities to share her experience with students, and always reminded them that no matter what they chose to do, challenges would always be a part of business.
"It's OK to be afraid and if you work hard, you're going to get through it," she says. "Just put your head down, work hard and you're going to make it."
For Abby, her challenge was wine, which she's come to love. She's always on the lookout for a new wine or vineyard she's never heard of before. While she's always at the ready to share a new flavor, she says often the best suggestions come from her customers.
"We wouldn't be here and be successful if it wasn't for our customers," Abby says.
Abby and her staff have struck an intentional balance of providing next-level customer service, along with a carefully curated collection of wines all in a friendly approachable package. Their tagline is, "There better be dogs and wine where we are going."
The tagline is a nod to the staff and their pack of much-loved dogs, including Abby's 14-year-old heeler cross, Dixie, who wags her tail at the door to greet Abby and Ryan at the end of each work day.
"There's nothing like sitting in the back yard with a glass of wine and my fur-baby," Abby says.