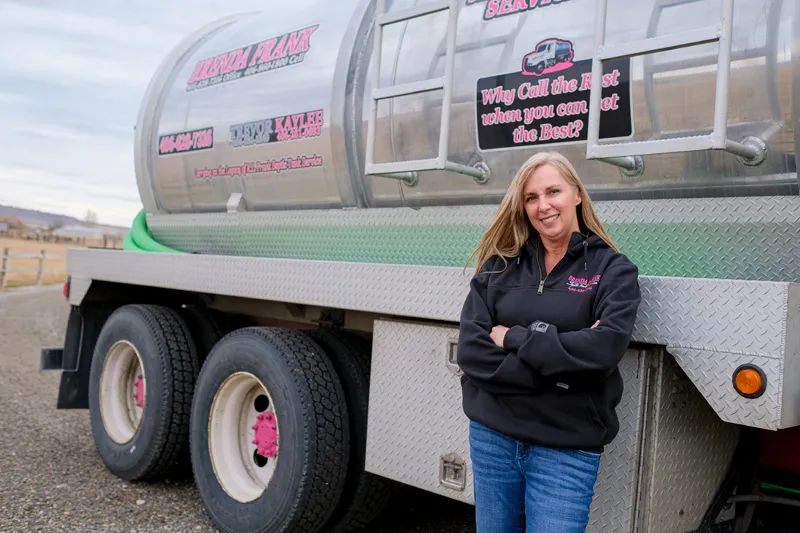 'Someone's gotta do it'
Laurel woman's business takes care of the 'dirty work'
Brenda Frank is not shy about what she does. The grandmother of three doesn't hesitate to pull on her elbow-length blue gloves, haul the hose off her truck and begin pumping her customer's septic system.
"In this line of work, there's no one stabbing you in the back trying to get your job," she says smiling. "No one wants this job, but I love this job."
Brenda's business – Brenda Frank Septic Tank Service -- is splashed across a billboard along I-90 near Park City.
"That's gotten me so much recognition," she says. "That was the best money I ever spent."
Though she's only officially owned the business for the past year and a half, she's been at it for more than 40 years. That's when she first tagged along after her father, the late R.L. Frank, who made a name for himself pumping septic tanks.
"It may not be a fun job, but my dad always made it fun," she says.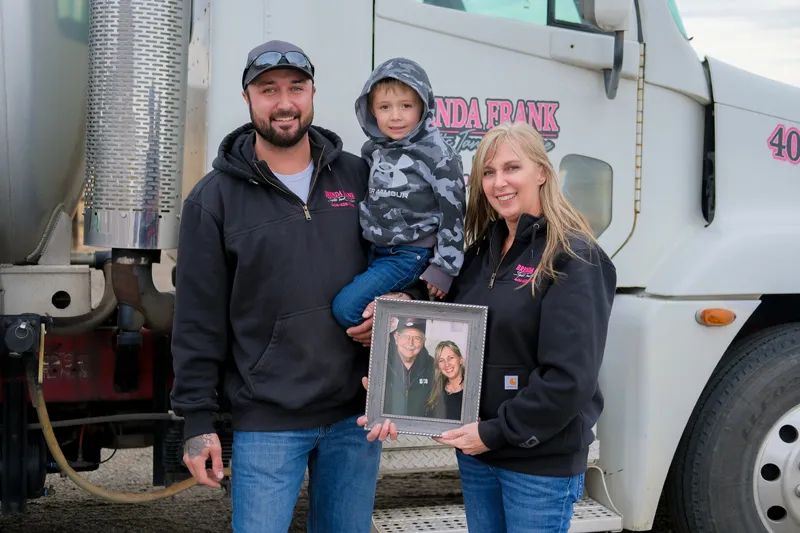 Brenda describes herself as a life-long tomboy-at-heart. She loves spending time with her horses and skimming across a lake on water skis. Above all, she thrives on hard work and has always grabbed any opportunity to spend her days working outside.
"I would much rather be on the truck than inside working on book work," she says, smiling. "When I go inside, I just keep thinking of things to do outside – watering, mowing…"
Growing up as her father's sidekick, Brenda recalls hauling hoses and prying lids off septic tanks when blistering summer days ratcheted up the fumes.
"We're super, super careful," she says. "We never want to leave a trace behind when we're done. When we leave, the only sign you can tell that we've been there is the bill in the door."
Just as Brenda helped her dad, her own children help her. Son Trevor has assumed most of the pumping duties while Brenda holds down her second job as manager at High Plains Brewery in Laurel. Meanwhile, daughter Kaylee has no qualms about helping out when she can. The grandkids, too, have a role.
"They keep me going and melt the stress," Brenda says. "They bring me joy."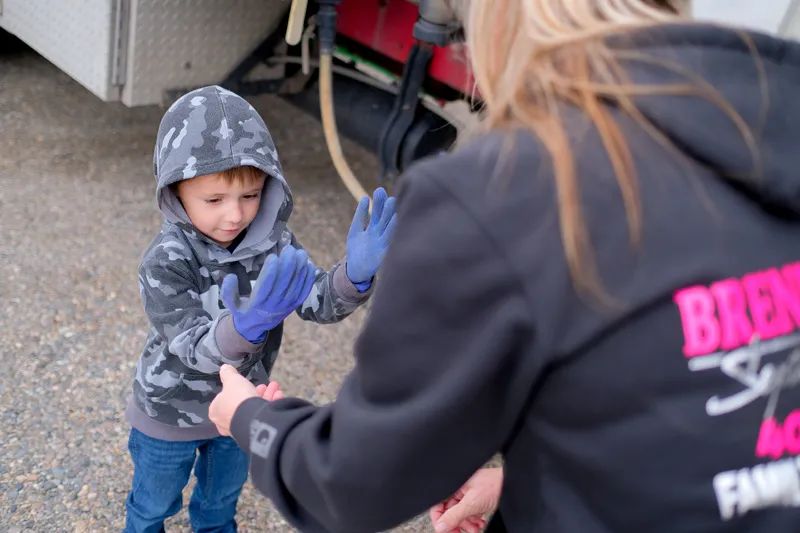 As she ponders her line of work, she doesn't consider it either a man's or a woman's job. She smiles as she tells how she's had tough-looking male customers retreat to the house when the pumping begins.
"People ask all the time how I can do this job," she says. "Or they'll say, 'I never did expect to see you on this job.' But a job's a job. There are pros and cons to every job."
For Brenda, the business weighs heavy on the plus side. She loves cruising the back roads, soaking in Montana's scenery, as she drives to the next job. She loves that the business employs her son and she loves that it allows her time with her grandkids. She also loves that she gets to chat it up with her customers. It's not so much about what Brenda does but how she does it.
"I don't feel it's all about the money," she says. "Anyone can come and pump the tank and leave. But if you don't treat your customers the way they want to be treated, you run the risk of hurting yourself."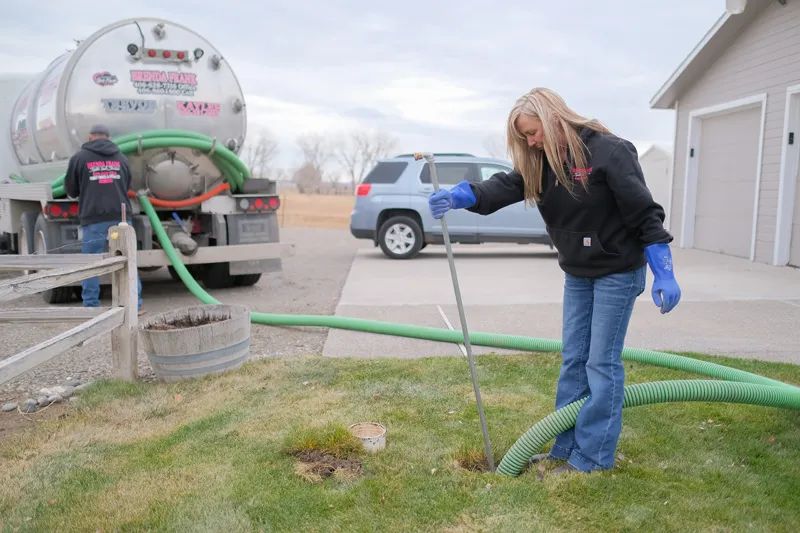 Brenda tells of one urgent, late-night call that sent her out in the truck, searching for an address in the hinterlands between Park City and Columbus.
"There were no lights – no cell service – and I said to myself, 'Oh, Lord, help me find the right road,'" she says.
Brenda was more than relieved to arrive at her destination, and the woman was more than relieved to see the headlights of Brenda's truck.
"She told me I was like an angel," Brenda says. "She said she prayed for me to get there and she would pray for me and my business to be a success. That just meant the world to me."
Brenda launched her business in June 2020 during a particularly painful period.
"Within a year and a half, I lost my dad and my mom and started a new business," she says, the emotion brimming in her eyes.
At the same time, differences among siblings and financial constraints weighed heavily on her. With support from sister Niki Fox, she decided to start anew, under her own name. But first she needed a truck.
"That's when Covid hit. There was no truck to be found in the state of Montana," she says. "I would have to travel to buy a truck. But then we had the lockdown."
She was about to throw in the towel when, while browsing a trucks-for-sale site, she swiped one last time. The photo that popped up was the spitting image of her father's truck.
"It was like my dad's truck's twin – the same model and year," she says, grinning. "The only problem was, it was in New Jersey."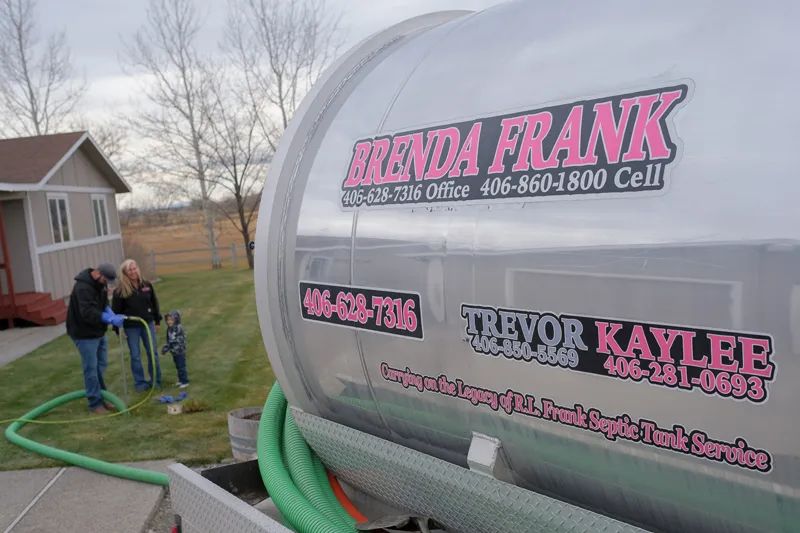 Considering it a sign, Brenda negotiated for the truck and sealed the deal. It was delivered to Billings and customized with trim in her signature colors: hot pink and black.
"We knew we needed to stand out," she says. "Those colors – you can't ever miss. And anyone who knows me knows I love pink. They'll know it's my truck."
Although Brenda was unable to purchase her dad's business, she considers that she's carrying on his legacy through the work ethic and professionalism her company shows.
"I don't care if I make a lot of money off my business," she says. "I want to make sure Trevor has a job and that we can maintain the truck. And if I make enough to go to Mexico and have a margarita on the beach, that's all I need."