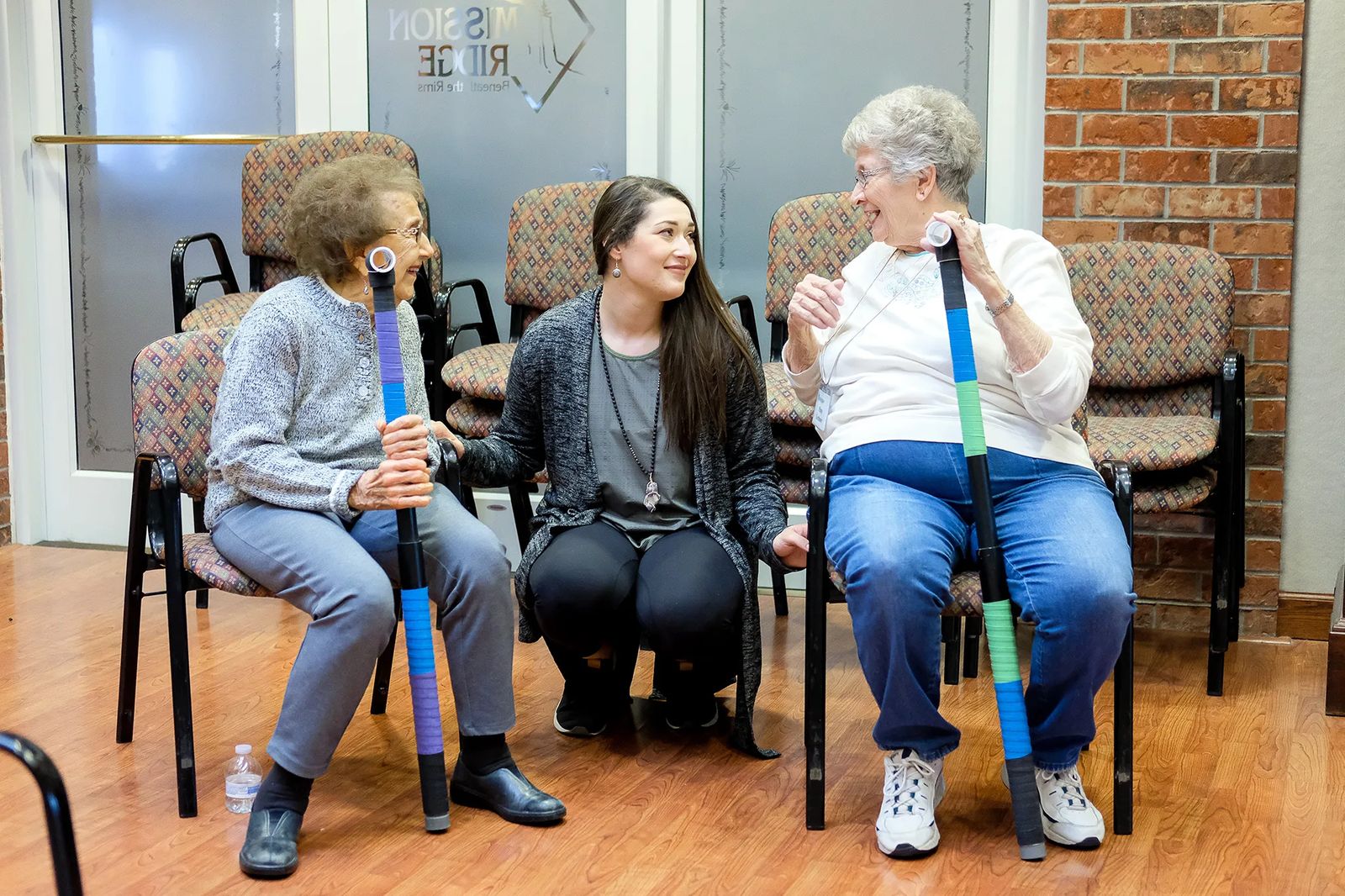 Not many entrepreneurs can say they were inspired by a spry old Russian woman with a broomstick, but Kelsie Hansen knows a good idea when she sees one. Kelsie is the inventor of the ISO-Stick, a high-tech riff on the broomstick she saw in a quirky fitness video, and her idea is taking off throughout the region.
Kelsie came across the YouTube video while researching new exercises for seniors at St. John's United Mission Ridge independent living facility. In the video, the woman demonstrated a series of simple movements, both sitting and standing. She used the long, wooden rod for strength exercises and balance support. Kelsie knew immediately the dowel-assisted exercises would be perfect for the more unsteady seniors in her classes. Kelsie took the idea to her supervisor, and after a quick trip to the hardware store, Kelsie started what she called "Stick-Fit" classes at Mission Ridge. They were a hit, and the twice-a-week classes quickly filled. Kelsie was having a blast teaching them, and participants improved their balance and strength.
"One of the No. 1 things doctors recommend is that people work on core strength," Kelsie says. "When you ignite your core and build strength, it helps you live your everyday life."
Kelsie is a tinkerer — the never-give-up kind — and one sleepless night she got to thinking about her Stick-Fit classes and what she could improve. She envisioned a stick that would provide adequate stability and security but was fluid enough that it could provide feedback for balance and resistance for a workout. Kelsie imagined a hollow, lightweight stick with a spring inside to create resistance.
The next day, she spent several hours drawing up a prototype of what would later become the ISO-Stick. Then, she hit up Home Depot, wandering the aisles looking for inspiration. She needed to find components for her invention but wasn't even sure what they looked like. What followed was another 12 hours in the garage, working late into the night, to deconstruct all her supplies and build what she envisioned.
"It was just a mess, but it worked," Kelsie says.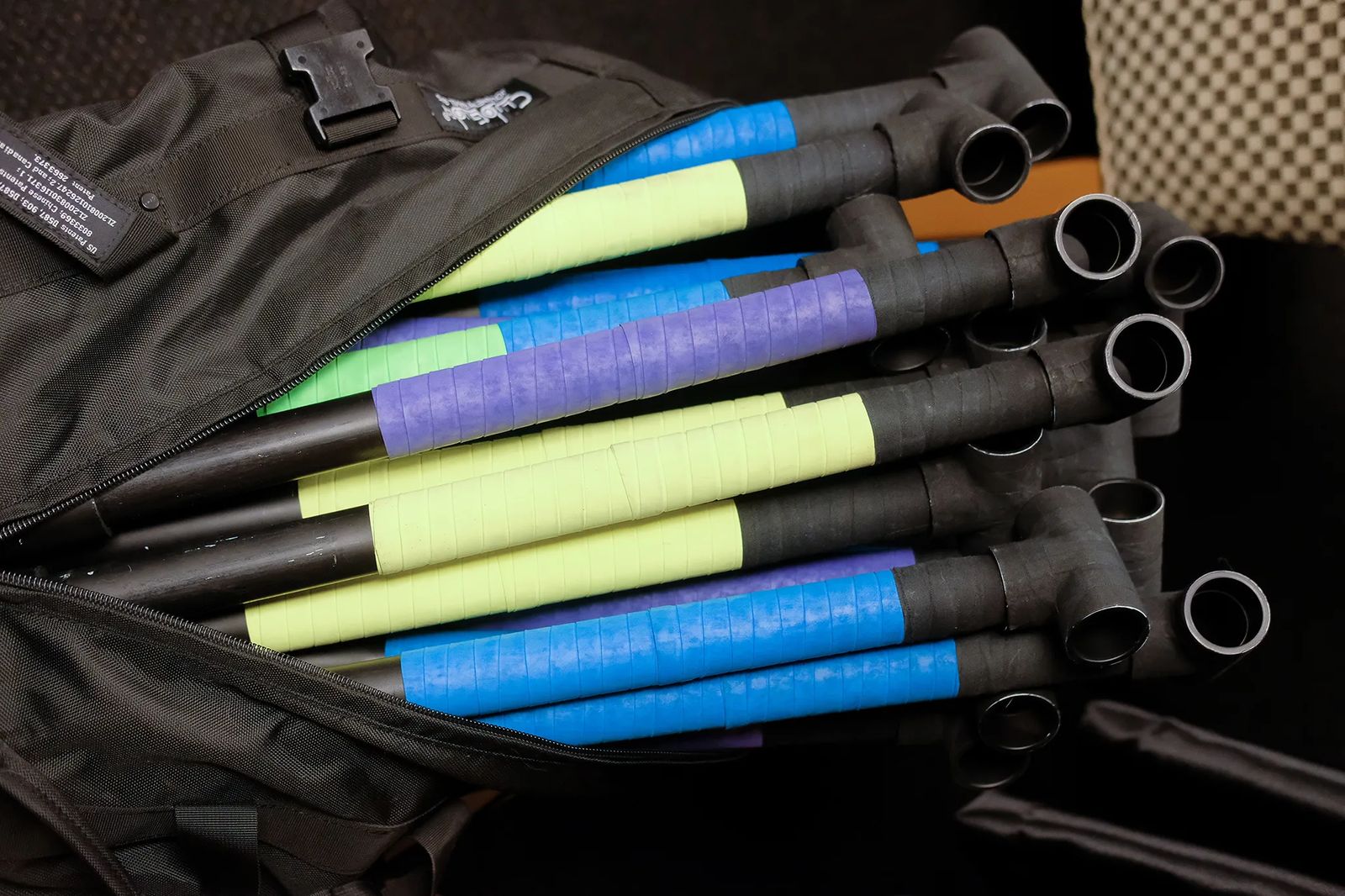 She continued to tweak the design, and by November 2018, she built enough ISO-Sticks to outfit the students in her exercise classes at Mission Ridge. They were a hit with residents who say the ISO-Stick was an improvement over the wooden dowel they used previously. Kelsie developed a new isometric workout routine that employed the spring action, which gave the residents an even better workout.
"Kelsie made it fun," says Patty Lechner, a retired nurse and resident at Mission Ridge.
One of the greatest advantages of the ISO-Stick for seniors is that it offers a core workout without getting up and down from the floor, which can often be difficult for older people.
"I needed the core exercises, and I've noticed a difference in my muscles, and it's given me a little bit more to strive for," Patty says.
Kelsie, 28, has always had a career in fitness. She's a certified personal trainer and yoga instructor and has led hundreds of classes and was a popular coach. However, she struggled with body image issues for years.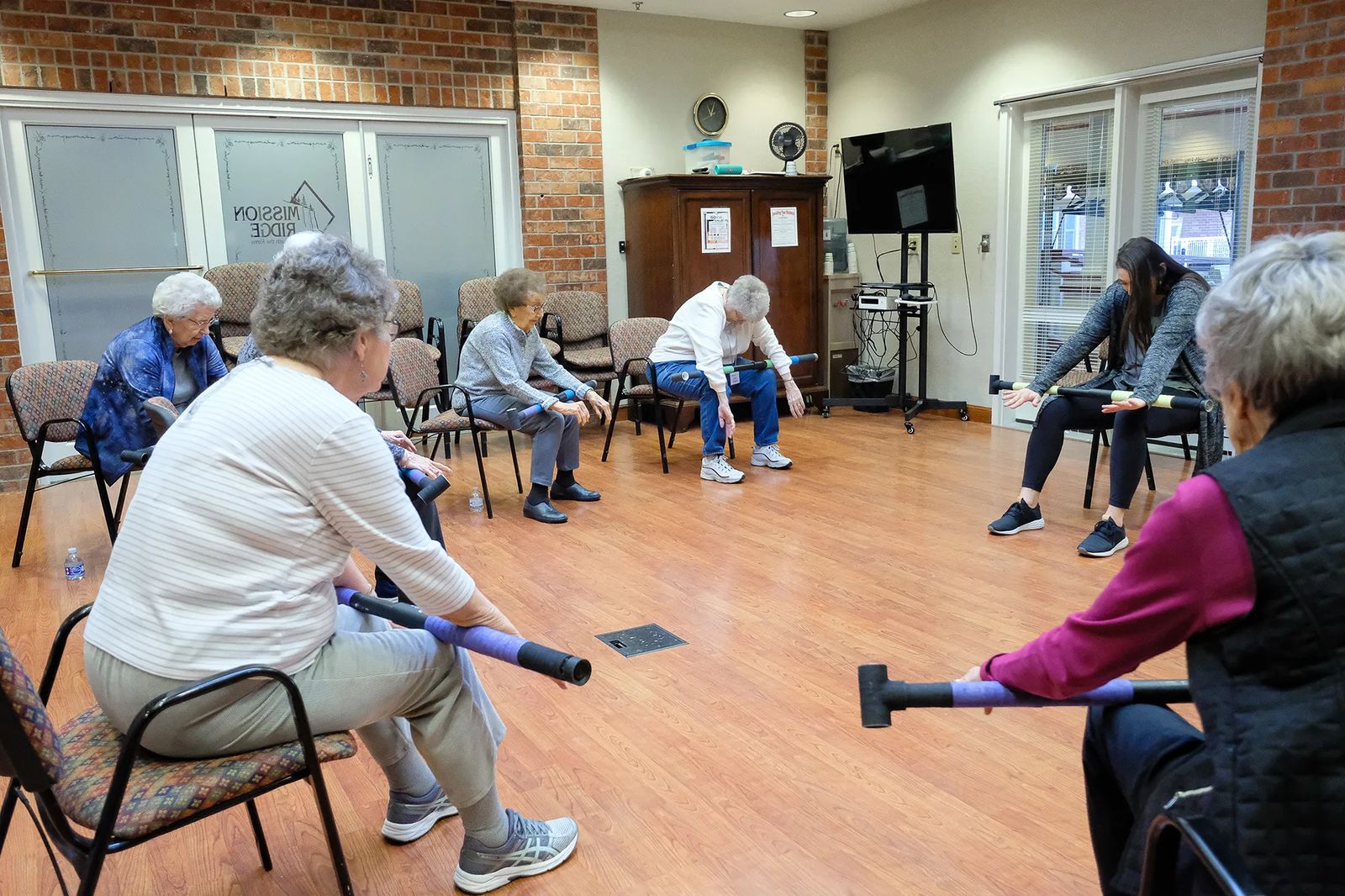 Competitive bodybuilding in her early 20s caused her to develop a body obsession, which led to severe depression and a binge-eating disorder. She became a personal trainer to lose weight, and with so many workouts, she was sure she would finally attain the body she wanted. It worked, and Kelsie shed the weight, but the lifestyle was corrosive. As a trainer, it was easy to put on a veneer of confidence, but inside she continued to battle with negative self-talk.
"The gym scene for me became a toxic environment," Kelsie says. "With my own struggles and insecurities, it tore me down rather than build me up."
At rock-bottom, she applied for the job as an activities coordinator at Mission Ridge. Looking back, it seemed like the job description was written just for her. It was her ticket out of the gym, so she was excited to apply and thrilled when they offered her the job.
"I just knew deep down that there was more for me," she says.
Working at Mission Ridge was a healing experience. As she got to know the residents, she gained a greater appreciation for her body and her experiences.
"I fell in love with simple movements," she says. "It made me realize how lucky and blessed I am to be in the body I have."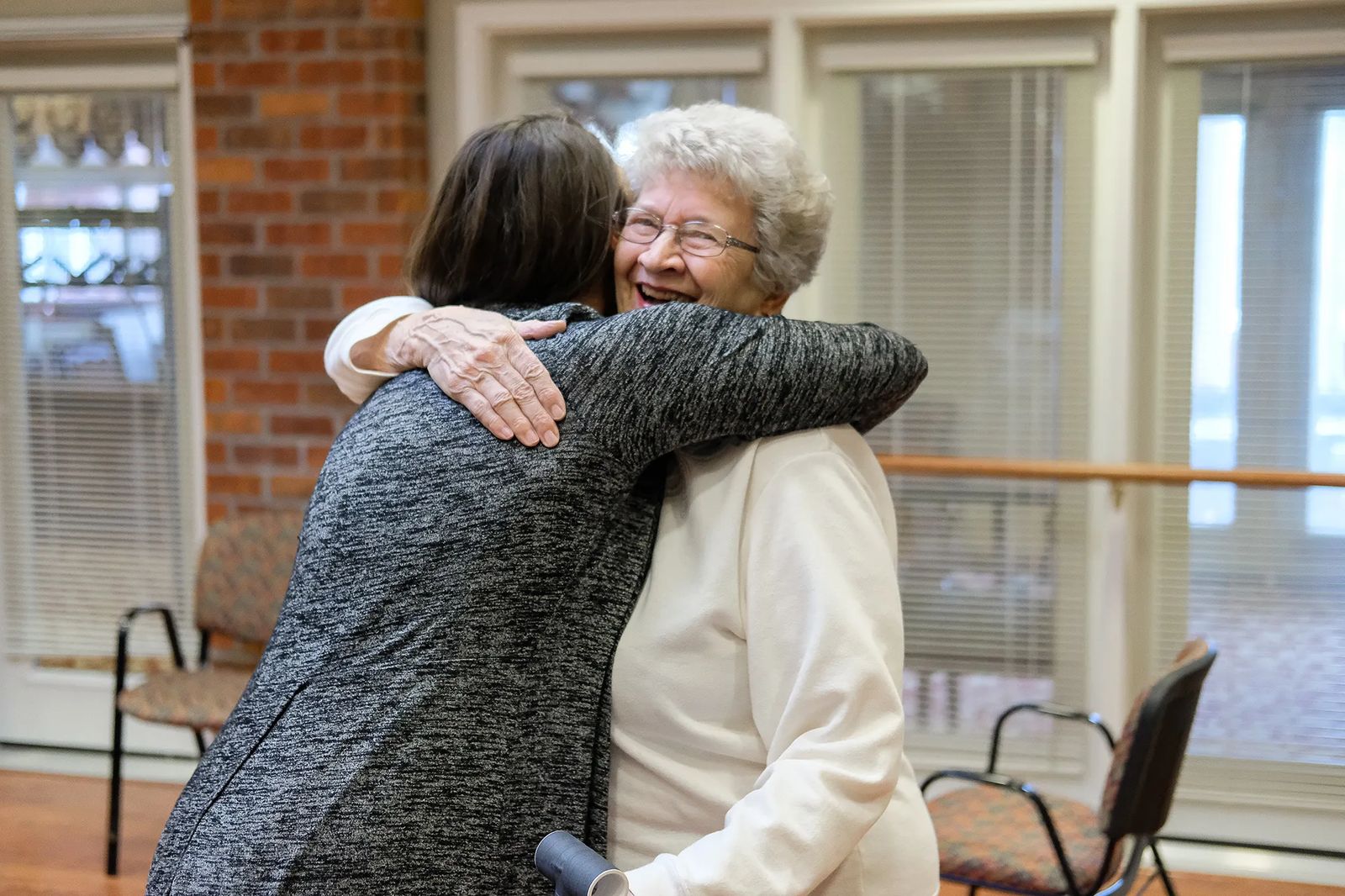 The residents at Mission Ridge became like a second family for Kelsie and provided a space for her to cultivate her passion for fitness. The enthusiasm and support from seniors fed her love for helping others.
"They stole my heart — every one of them!" Kelsie says.
Tina Price and Erin Adams, Kelsie's supervisors at Mission Ridge, say Kelsie had a unique ability to connect with seniors and staff. She was always willing to stop what she was doing and visit with them and make personal connections.
Kelsie began to wonder how she could help even more seniors improve their fitness. She thought that if she could supply other independent and assisted living facilities with her ISO-Sticks and help teach the fitness instructors there how to use them, more people would benefit. While Kelsie loved the idea of helping others, her husband Leo encouraged her to think of the business possibilities. Together they began manufacturing ISO-Sticks in their garage and visiting independent and assisted living facilities throughout Montana.
"I never thought of myself as a business owner or entrepreneur," she says. "My husband, on the other hand, that's all he saw. He's been my business co-pilot and mentor in all of this and has really helped me see the opportunity."
Last year, Kelsie made the decision to leave her job at Mission Ridge to pursue her ISO-Stick idea full-time, which included a move to Livingston to be closer to manufacturing opportunities.
"It was a leap of faith," Kelsie says. "I loved my job but knowing that we needed to grow the business, it was time."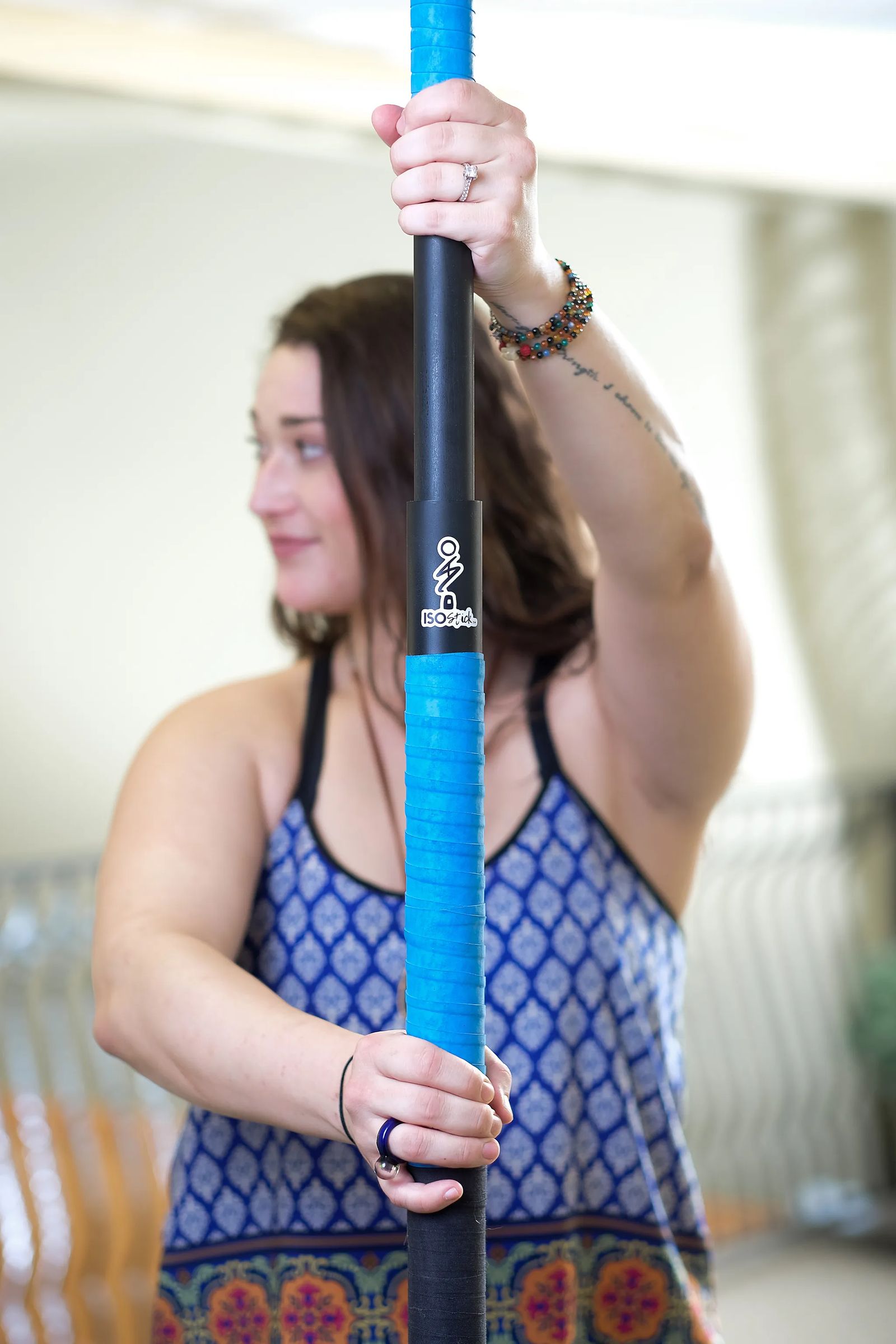 While she has been missed at Mission Ridge, everyone there is excited to see Kelsie pursue her dream and watch the ISO-Stick take off. When she can, Kelsie drops in for a visit.
"We miss her, but we support what she's doing. It's such a unique product and idea, we're proud of her," Tina Price says.
These days, Kelsie travels the region teaching instructors how to use the ISO-Stick and selling her invention to independent and assisted living facilities. She also teaches fitness instructors how to use the stick in their classes and has developed a training manual and series of ISO-Stick videos, which are available on YouTube, and DVDs. Kelsie's invention is now in use in numerous facilities across Montana and throughout the Northwest and into North and South Dakota.
"It's a very niche market but we're learning that every time we introduce it to a market they say, this is what we've been looking for," Kelsie says. "It's simple, easy to teach and accessible for all fitness levels. You can have a woman who is 103 sitting next to somebody who is 33 and they're getting the same benefit."
For Kelsie, the best part is the opportunity to work with seniors. Wherever she goes, she teaches ISO-Stick classes.
"The seniors are my biggest motivators. They've told me how it's changed their lives and they believe it needs to be in every community and every home because it has made such a difference for them," she says
For now, Kelsie and Leo are continuing to build each ISO-Stick in their garage, but they are hoping to find a manufacturer to help bring down the cost and make Kelsie's invention even more affordable for seniors. A nationwide marketing plan is also in the works. Everywhere she goes, Kelsie is eager to encourage others to pursue their one-of-a-kind ideas.
"If it's the thing you can't stop thinking about and it's in your heart, it would be an injustice to not give that a chance," she says.
Kelsie has always lived by a simple notion — Grow where you are planted — and it has informed her approach to entrepreneurship.
"You don't need to change to get there. Just keep digging in where you are," she says. "It's not about changing the scenery, it's about finding what the universe has already provided. We all have a purpose and learning to embrace that is going to propel you forward."
FOR MORE INFORMATION, visit ISO-Stick.com. Not only can you learn more about the ISO-Stick but Kelsie has some videos there to showcase exactly how the ISO-Stick works.