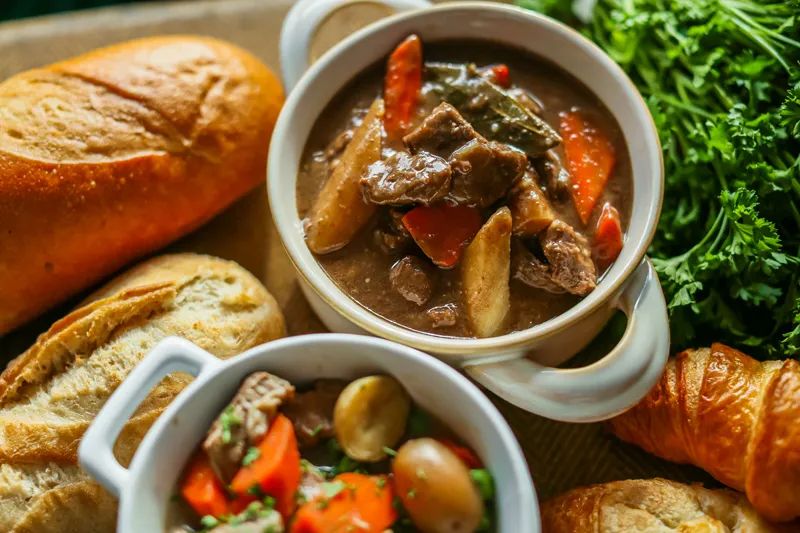 Stews & Brews
Slow cooked & savory with perfect beer pairings
It's a time to hunker down. The first few months of the New year typically bring gray skies, colder temperatures, gusty winds and snow.
Why not warm a fire, pick up a good book and simmer a pot of stew in the kitchen and let those wafting aromas warm our psyches and stomachs?
My "hunker down" go-to is my mother's Old-Fashioned Beef Stew. It was how she neutralized winters in northern Illinois. Over the years, I've updated it a bit to suit my family's changing tastes.
Another of my warm the body and soul recipes is my Favorite Lamb Stew, which has remained unchanged over the years (do not meddle with perfection) other than substituting mini potatoes or baby potatoes of various colors for cubed red potatoes.
Both are sure to cure the winter blues, especially when paired with a good brew. For suggestions, I turned to Uberbrew's Mark Hastings, Director of Brewing Operations for his suggested brews to pair with each stew. He chose The Bruce, Uberbrew's awarding winning Scotch ale, and the Annual Anniversary Release Baltic Porter served at the By All Means Tap Room.
So, when Montana's winter weather is starting to get the better of you, look to a good fire, a good book and a pot of stew, inviting you and your family to relax, knowing that spring will come eventually.
Enjoy!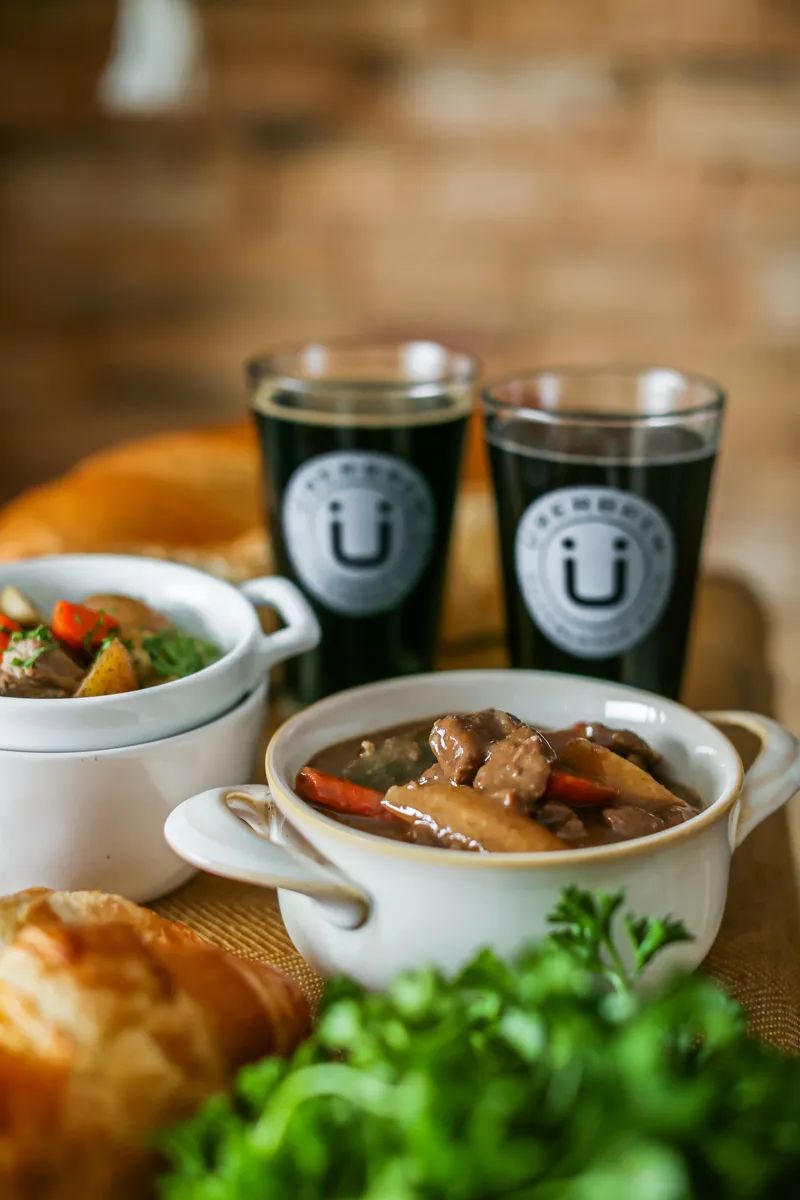 OLD FASHIONED BEEF STEW
2 lbs. of beef cut into 1-inch cubes (you can use stew meat, but I prefer to use top or bottom round)
2 T. grapeseed oil
2 c. low sodium beef broth
1 t. Worcestershire sauce
1 clove garlic minced
1 onion, diced
2 bay leaves
½ T. kosher salt
1 t. granulated sugar
½ t. paprika
¼ t. freshly ground black pepper
Dash of ground allspice
6 carrots, peeled and sliced in ½-inch slices
3 parsnips, peeled and cut into ½-inch slices
1 small turnip, peeled and cut into ½-inch cubes
3 T. flour
DIRECTIONS
In a Dutch oven, brown the beef in the grapeseed oil over medium heat. Remove the meat and add the onion and garlic until soft, making sure not to burn the garlic. Return the meat to the Dutch oven. Add the beef broth and the Worcestershire sauce, bay leaves, salt, sugar, paprika, black pepper, and allspice. Cover and simmer for 1½ hours, stirring occasionally to keep meat from sticking. Add the vegetables and simmer for 30 to 45 minutes or until vegetables are tender. Slowly blend 1/3 cup of cold water into the 3 tablespoons of flour until smooth. Slowly stir into the hot stew mixture. Cook and stir until bubbly and then simmer for another 5 minutes. Remove bay leaves and serve. NOTE: A loaf of crusty bread is my favorite to serve with this stew. It's great for sopping up the broth.
BREW FOR THE STEW: Baltic Porter (Annual Anniversary release). This brew offers flavors of caramelized sugar, cocoa powder and dark fruit.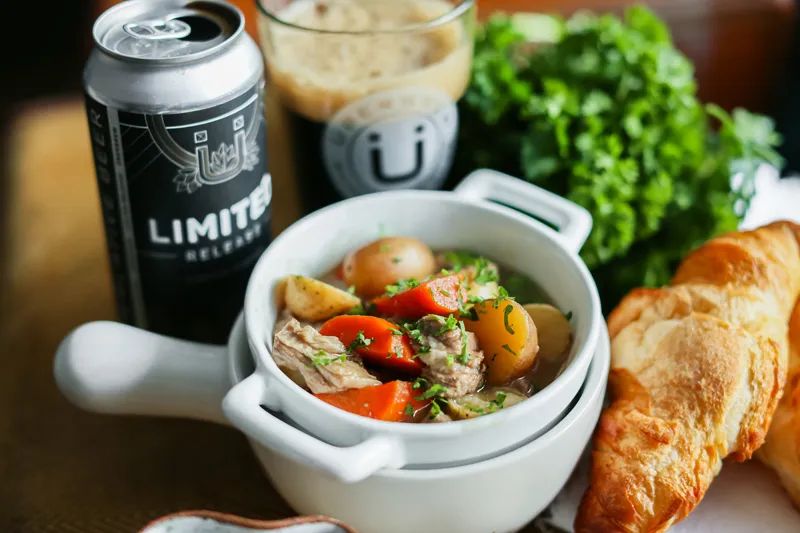 MY FAVORITE LAMB STEW
2 lbs. boneless lamb cut into 1-inch cubes (I use boneless leg of lamb or lamb shoulder)
1T. grapeseed oil
3 c. low sodium beef broth
1 clove of garlic, minced
2 t. kosher salt
1/4 t. black pepper
4 medium carrots, peeled and cut into 2-inch lengths
1 medium yellow onion, chopped
3 mini red or golden potatoes, peeled and cubed
½ t. dried basil, crushed
1-10 oz. pkg frozen peas (fresh baby peas are also divine)
2 T. chopped parsley
Salt and pepper to taste
DIRECTIONS
Coat the lamb cubes in flour. In a Dutch oven, brown the meat in the grapeseed oil. Add the 3 cups of beef broth, garlic, 2 teaspoons of kosher salt, ¼ teaspoon of black pepper. Cover and simmer for 1 hour or until meat is almost tender. Add the carrots, onion, potatoes and basil and simmer uncovered for 20 minutes or until vegetables are tender. Add the peas and parsley and simmer for 5 minutes. Taste and add salt and/or pepper as need. NOTE: With lamb stew, I like to serve a softer bread, like biscuits or croissants.
BREW FOR THE STEW: The Bruce is a Scotch ale with notes of caramel, roast barley, plum and fig.