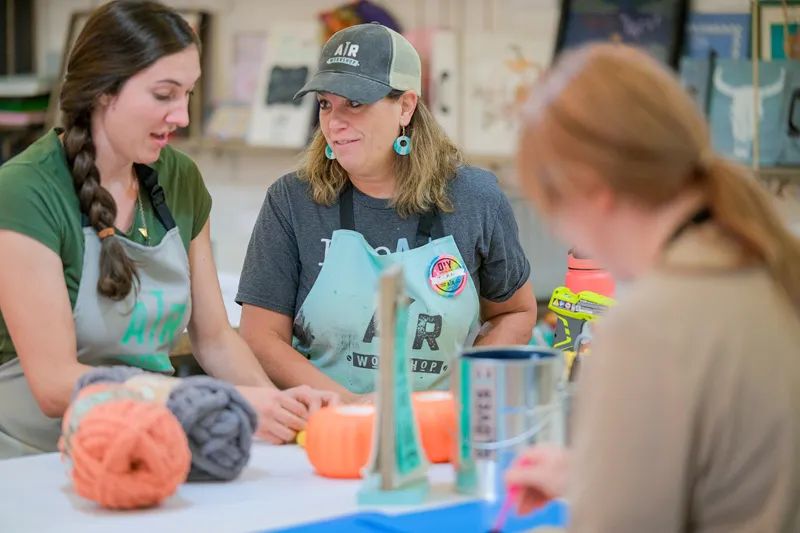 Take a Crafty Road Trip
Plenty of ways to take a walk on the creative side in Billings
I have tremendous appreciation for anyone who can turn a pile of fabric scraps into a quilt, or a pretty stone into a beautiful necklace. Tooled leather, crocheted sweaters or anything made from wood are wins in my book, especially since I can't do any of those things myself. I'm not crafty in any way, but I sure admire those who are.
Still, strolling into AR Workshop has the potential to give even a non-crafter the opportunity to try a project with confidence. A national franchise that calls itself a Specialty DIY Workshop, the cheerfully decorated space filled with worktables and supplies has an energy all its own. Finished samples featuring everything from hand-painted wooden wall hangings and scented candles to chunky yarn blankets are showcased as examples of what can be accomplished in the space of a few hours.
Owner Jean Candee greeted me with a smile and made me feel welcome. Though she wasn't teaching any classes when I walked in, she invited me to check things out anyway.
When I explained that I was a complete novice, she assured me that anyone can take a class and go home with a treasure.
"We take the work out of crafting," Jean explains. "Our customers are here to have fun and be creative."
As I strolled through her store, touching soft, colorful yarns, smelling candle scents and imagining what kind of sign I might paint for my house, suddenly I couldn't help but feel that dormant creative gene starting to wake up.
"The chunky blankets are one of our most popular classes," Jean says. "You 'knit' with your hands, so you don't have to know how to use knitting needles to make a beautiful blanket."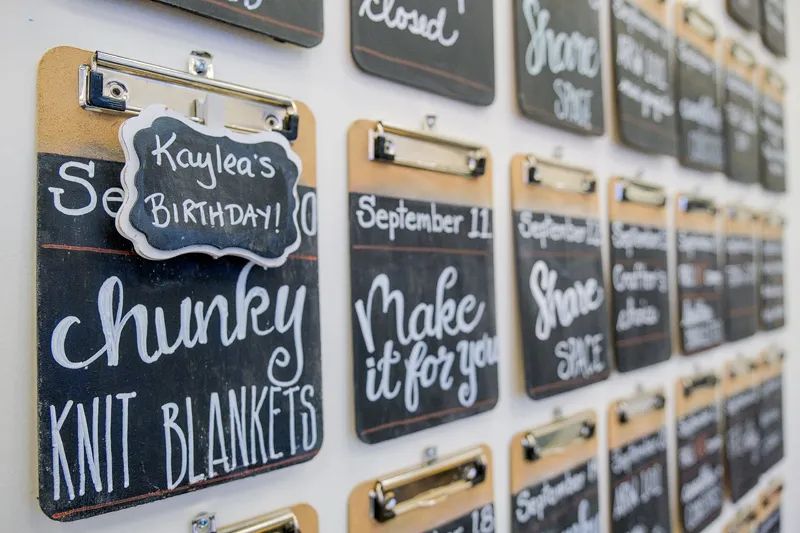 That, I might be able to handle. It seems the hardest part might be which color to choose. Jean stocks dozens of them. Along with hundreds of stencils, paint colors and sizes of wood, the plethora of choices are sure to get the creative juices flowing.
Classes average about 10 people and are a cross between a gathering of friends, company team building and a birthday party.
"Really, just being around a table, working on the same thing, and being together is fun for people," Jean says. "And it's fun because someone else will clean up the mess." She adds with a smile, "It's fun to watch our customers get excited watching their work turn into something beautiful."
Across town, at the Maker's Market, more than 100 vendors have their handiwork creatively displayed throughout the expansive 16,000-square-foot warehouse. Owner, Victoria "Vic" Eichel opened the business in June and within a very short time, sales have already surpassed $20,000 a month.
Proudly showing me around, Vic explains that her business is run a bit differently than most. She refers to the vendors as "makers."
"We help our makers with merchandising, pricing, packaging and branding," she says. "We offer classes on how to operate machines and give advice on where to make the best purchases for supplies. My team of mentors and I are willing to share everything we know to make sure of the maker's success."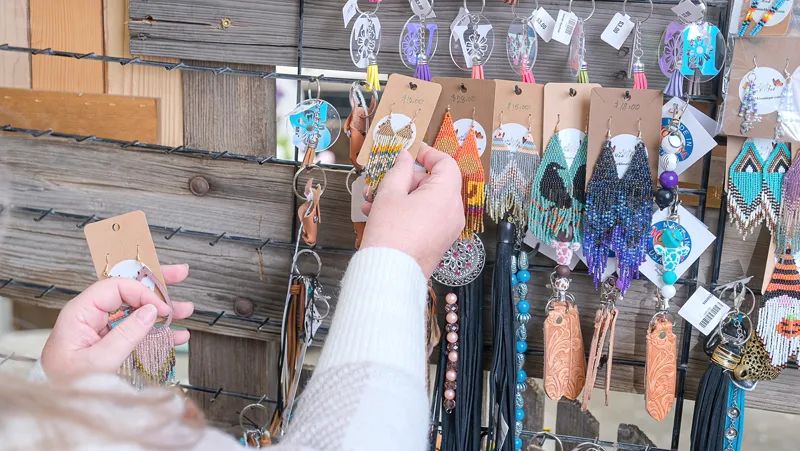 In a creative way to help makers pocket more profit, Vic came up with a membership program that allows the vendors to pay a monthly fee instead of a percentage of each sale. The amount is determined not by the number of items, but by the specific items that a maker carries. For example, it would be the same fee for 12 hats as 100 hats, but the price increases if the vendor decides to include scarves.
"It's a way for both of us to make money," Vic explains. "Our makers really appreciate it."
Here, you can also get a taste of what it means to make something by hand. Over the past few months, the Maker's Market offered classes on everything from creating your own fall pumpkin centerpiece to creating unique pumpkin candles out of small bundt pans.
After opening last July, it's only the beginning of what's to come in this space.
Vic's enthusiasm and her passion for her business are evident as we continue the tour, and she talks about plans for the future. A hefty notebook is filled with ideas that she's accumulated over the years.
"I worked full time for years, but something like this has always been my dream," Vic says. "I took a leap of faith with this building, and I think it's just perfect!"
The warehouse has been transformed by Vic, and with her sons' help, they have repurposed materials that most would never see as having another life and have implemented them into displays and attractive décor. Old doors face the front of the cash register, barnwood configured into attractive wall designs graces one wall and another has been framed with shelves. A discarded China cabinet was given new life as Vic removed the doors, which opened the shelves for displays. Wooden stock racks from an old truck have been repurposed into a creative wall for hanging photos, frames and wall hangings.
"We don't throw anything away," Vic says with a laugh. "We see something of value in almost everything."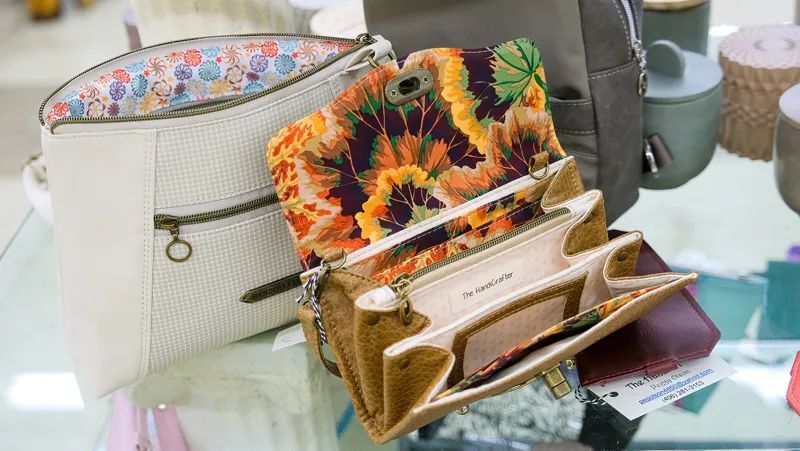 Also a bit different is the incorporation of all the makers' items into displays throughout the store instead of each one having their own table. As Vic explains, "A customer looking for baby items isn't going to find them as easily if they are scattered everywhere than if they are displayed together."
It's that theme that carries throughout the showroom and makes seeing all the work of the vendors even more special. The world of mass production, online shopping and "just pitch it" is not here. The tone seems to declare to slow down and appreciate this handcrafted talent. Vic welcomes visitors to take their time and come back often.
Twenty minutes away, on a side street in Laurel, is the Front Porch, a charming boutique with a front door flanked by colorful planters and a comfortable bench. Launched nine years ago by owner Cheryl Hill, the business has some commonalities with the other two, but she says it's set apart too.
"We saw a need for a place for women to gather and do crafts," says Cheryl. "I never dreamt it would turn into what it has."
From a space large enough for just 10 people, to the current location on First Street, the Front Porch has grown into a sought-after destination for medium-size gatherings, a boutique filled with the work of local artisans and a "make and take studio."
"I always want to stay true to my first intention and that's too have a place people can gather for events and not be hindered by the cost," Cheryl says.
Five years ago, she bought out her partner and moved to the current location, which was once the post office for the city of Laurel. Cheryl and her family remodeled the building, peeling back one of the walls to the original brick and adding repurposed wood as an accent wall to another. Used as the boutique area, the space holds handmade items by more than 25 vendors and includes such things as clothing, jewelry and home décor.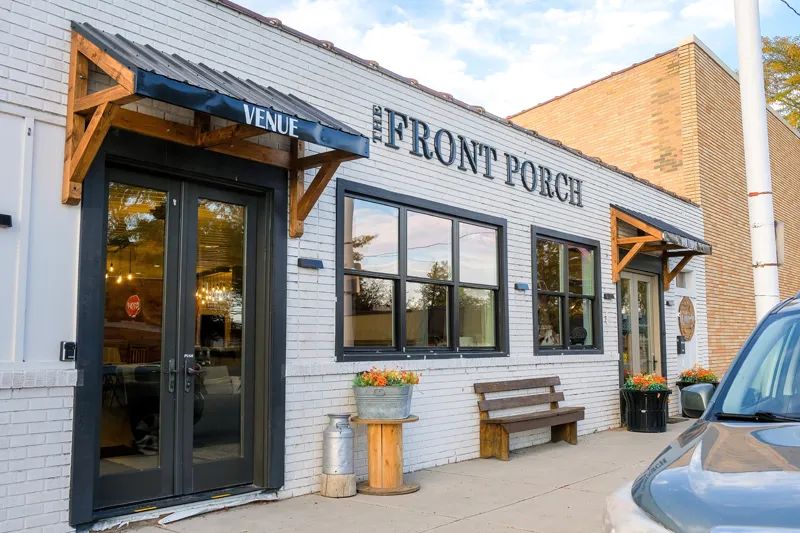 In the adjoining community room, decorated as tastefully as one's home, and large enough to accommodate 65 people, Cheryl has selected furniture that is not only attractive, but easy to move. Two comfy leather sofas, drapes and thick area rugs help make the space cozy, while tables and chairs and a concrete countertop allow the space to be transformed to feed a crowd or entertain dozens.
A kitchen was just added and has expanded the types of events that can be hosted. Micro-weddings, family and class reunions, showers and birthday celebrations have taken place in the venue, along with crafting classes.
"We're booked out about three months between events and craft classes," Cheryl says. "It's been a great thing for our town."
It's easy to see that Cheryl enjoys people and encourages her customers to relax and enjoy themselves when they're browsing her shop.
After my crafty road trip came to a close, I not only felt more in tune with the world of crafting, I made a few new friends as well. If you've always had an inkling to take on a DIY but didn't know where to turn, it's safe to say there are a handful of places who would love to help. I found out firsthand it's a great way to meet, catch up and have a little fun, either making something by hand or buying up other handmade treasures for those on our holiday gift list.
IF YOU GO
AR Workshop, 1595 Grand Ave., arworkshop.com/billings
Makers Market, 4220 State Ave., search the Maker's Market on Facebook
The Front Porch, 109 W. First St., Laurel, thefrontporch.info