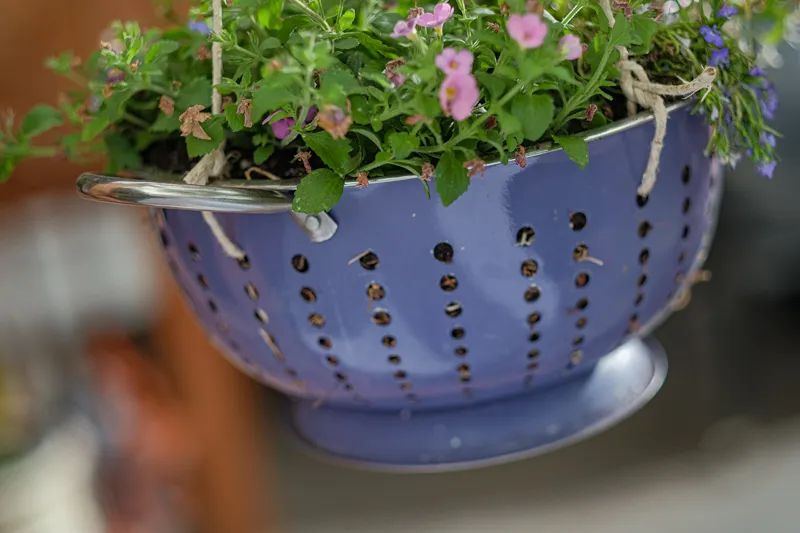 Taking the Strain Out of Planting
Creative container adds whimsy & charm
Don't strain your brain for fun planter ideas! This quirky planter checks all the boxes. It has a ton of personality and is perfect for any outdoor area. All you need is an old pasta strainer and a few bits of moss and twine and you have the makings for a patio accent that's sure to turn heads.
WHAT YOU WILL NEED
● Old pasta strainer
● Moss (I used Spanish moss)
● Hemp or twine cording, two pieces measuring 36"
● Cording or matching ribbon, one piece measuring 6"
● Topsoil
● Flowers of choice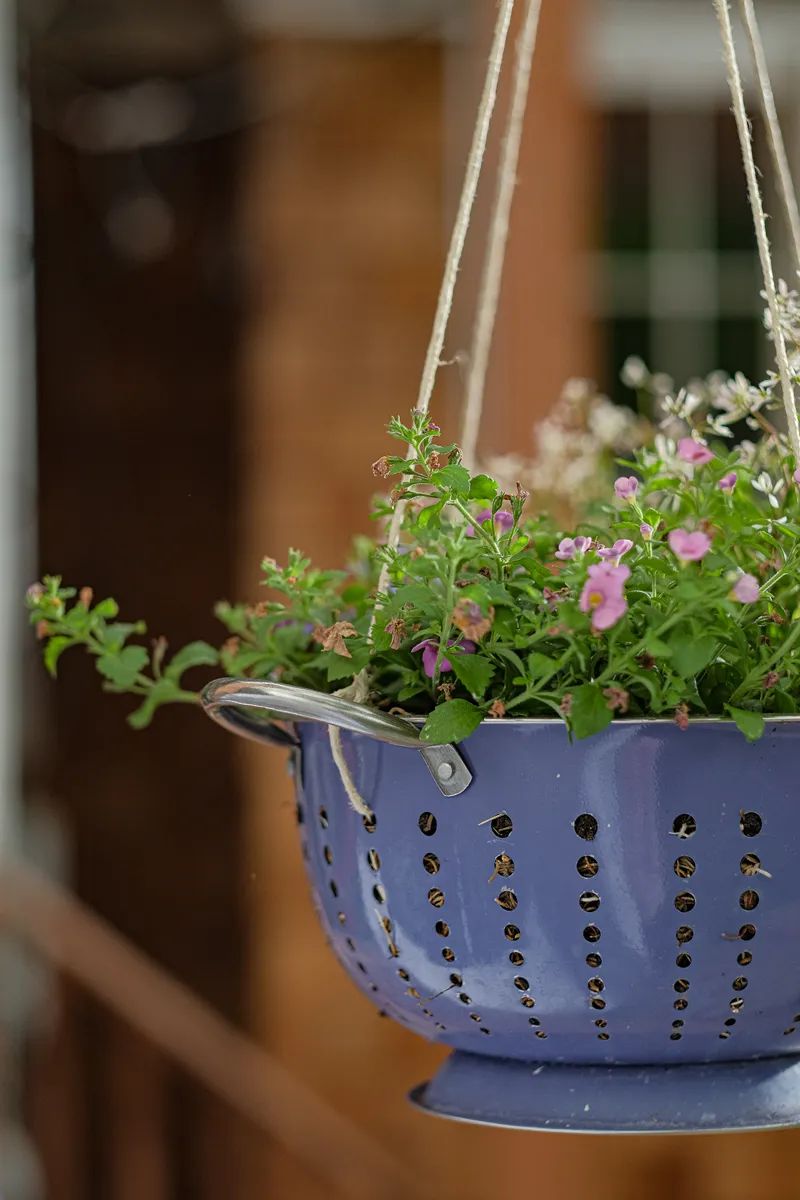 CREATING YOUR PLANTER
When on the hunt for an old pasta strainer, it's a great time of year. Check garage sales or make a run to one of our local thrift stores. Once you gather your supplies, cut two cords to measure approximately 36 inches plus another cord or ribbon to measure six inches.
With your strainer in front of you, let's look at it as though it were a clock face, noting where 12, 3, 6, and 9 are on the strainer. String one end of one cord about three inches through a top hole on the side of the strainer at the 12:00 position. Bring to the rim of the strainer and tie a knot with the remaining length. Take the other end of the same cord, do the same thing and tie at the 6:00 position. Grab the second cord, do the same thing and tie at the 3:00 and 9:00 positions. The cords should overlap in the center. Grab the cords where they cross in one hand making two loops. Slide your hand down about three inches and tie the 6-inch ribbon around the neck of the two loops. This is how you will hang your planter.
Now, hold your planter at the top of the cords to check and see if they will hang in a balanced way. If not, make any adjustments needed. You may need to tighten or loosen these cords for it to hang correctly. Trim any extra length on the ribbon. Set the cords aside and line your planter with the moss. This helps keep the topsoil inside the strainer without it all slipping through the holes. Make sure the moss is lined heavily inside the strainer. Add your topsoil and begin to plant up your planter with your annuals.
Get ready for the compliments to roll in with this sweet planter. It's fun, easy and will bring a ton of character to wherever you hang it.