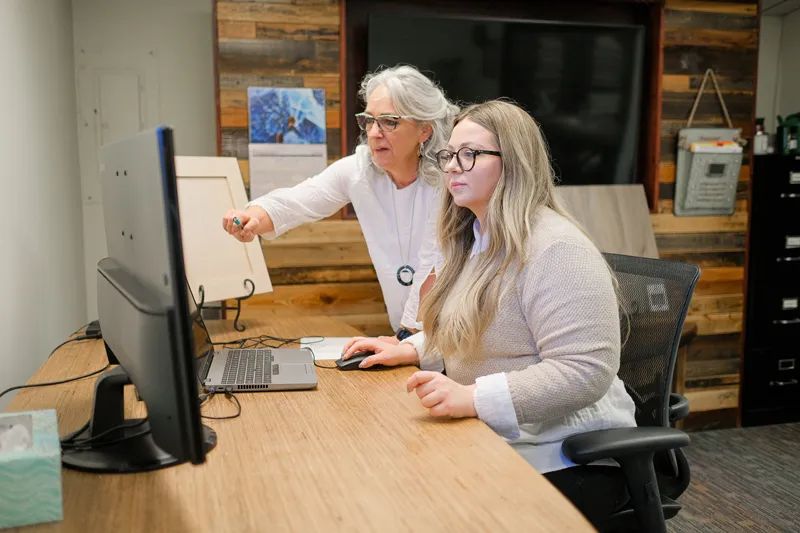 The Apprentice
Kitchen & Bath Designer Megan Reed learned on the job and earned national honors
Workforce shortages and supply chain issues haven't been kind to the construction industry. Kristy and Debbi Ferguson, the mom and daughter duo who own Beyond the Box, a Billings kitchen and bath design business, have felt the pinch for years.
"We were all sitting around talking about the labor shortage," Kristy says, remembering a Home Builder's Association meeting back in 2018. "The Montana Department of Labor had already realized there was a shortage and they were working on apprenticeship programs. Anyone interested could put their name on a list." Kristy and Debbie added Beyond the Box to that list.
In the 80 years that the department has run its apprenticeship program, the trades — plumbers, electricians, carpenters, sheet metal workers — have typically taken on these types of programs. When it came to a kitchen and bath design apprentice, Beyond the Box had to design a program from the ground up.
"A portion of it was book training," Kristy says. "Then, we paired that with boots on the ground training — everything from layout and design to going on deliveries and installs."
They put an ad on a national job site asking for apprenticeship applicants. It didn't take long for Megan Reed to apply.
"I didn't have high hopes," Megan says with a laugh. After all, she says, she knew nothing about kitchen and bath design. Her prior career was working as a veterinary technician.
"The moment I walked through these doors, that's when I knew I had to work here," Megan says. "It's such a warm and inviting environment."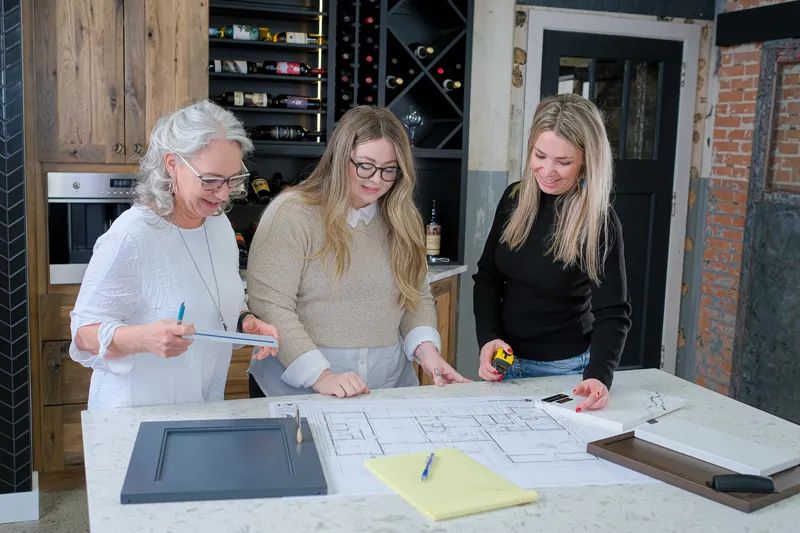 After a series of interviews, she landed the apprenticeship. By day, she learned the ins and outs of the program needed to draw up the detailed design of a room. By night, she'd crack open the manuals provided by the National Kitchen and Bath Association to work on her certification. At the end of the two-year program, besides earning her Associate Kitchen and Bath Designer certification, she received accreditation from the Montana Department of Labor.
"The first three months was just non-stop — trying to digest as much knowledge as I could. It was very overwhelming," Megan says. "I would do a lot of the backend work at home. That's when I would research design. Kristy always jokes that I would text her at midnight and ask, 'How does this work?'"
"Design is very much in theory," Kristy says, "and to put it in the real world is something quite different." Debbie adds, "It's learning on the job."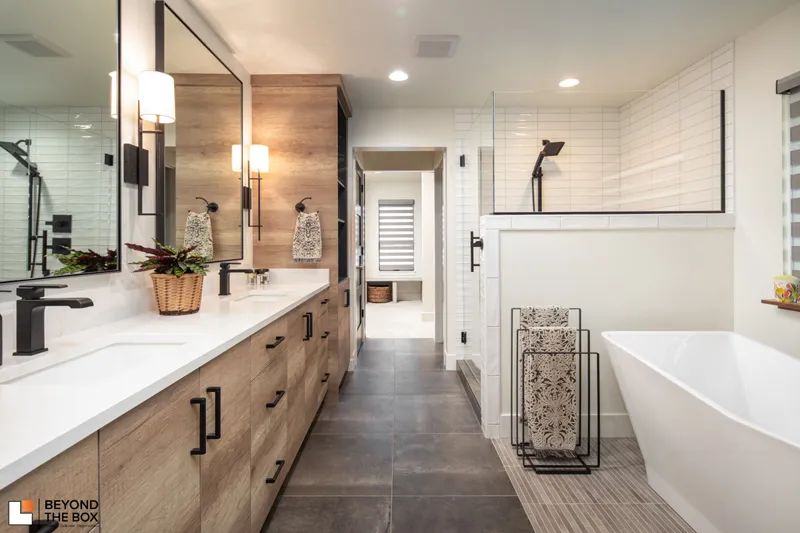 After making the push in recent years to increase awareness, Beyond the Box wasn't the only business to take the Department of Labor up on creating an apprenticeship program.
"Right now, we have 130 apprenticeship-able occupations, and they range from brewing beer to leather working," says Glen Disque, who is a registered apprenticeship specialist with the department. He works directly with employers to craft these programs, consulting on everything from a graduated pay scale to what that program should teach.
"With Megan, there really isn't a college that you can go to to learn what Megan had to learn. At the end of the program, Kristy had developed an employee with all of the requisite skills," Glen says.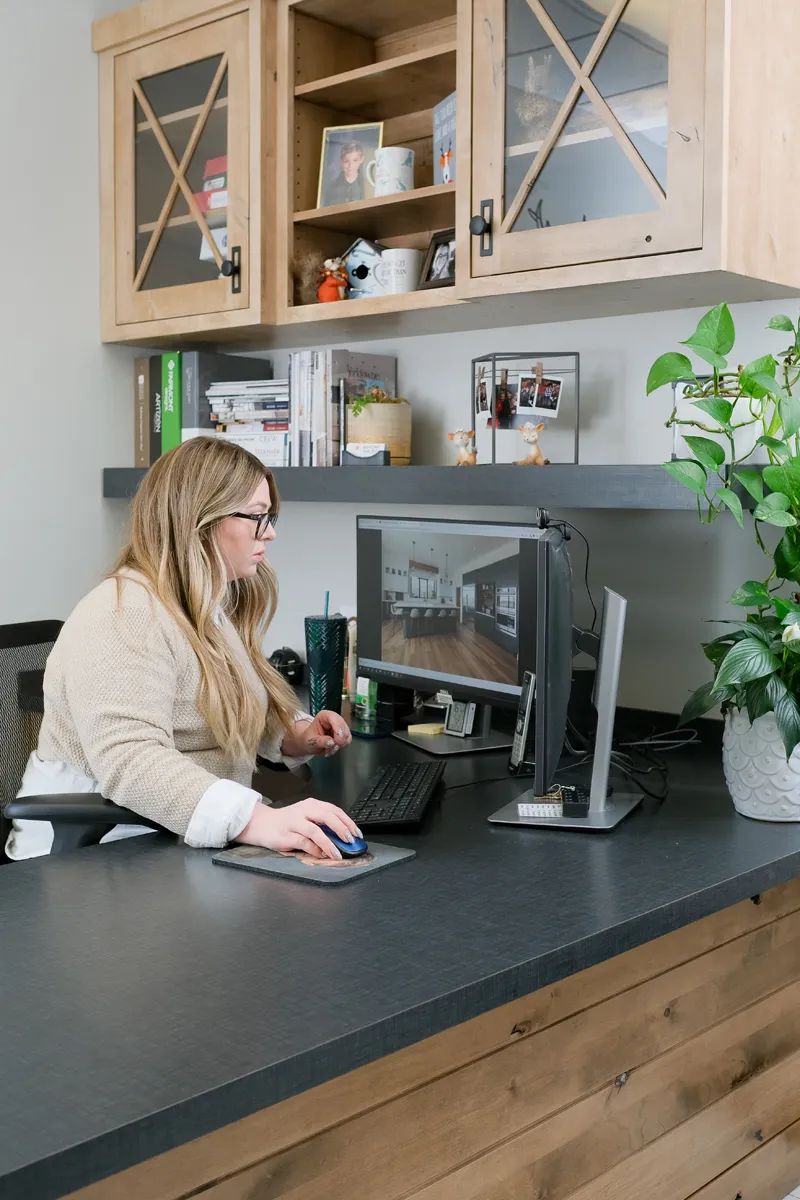 If you ask Debbie and Kristy, not only did Megan rise to the occasion, she rose above. It's why Kristy nominated Megan for the National Kitchen and Bath Association's 30 Under 30. The program selects and recognizes the rising stars in the kitchen and bath industry. Last fall, Megan found out she made that illustrious list.
"That's a pretty big achievement over a relatively short period of time," Kristy says.
As a part of the recognition, both Kristy and Megan were asked to speak at the Kitchen and Bath Industry Show this past February in Orlando, Florida. They were able to share just how impactful an apprenticeship program can be on the industry.
"She went from being an entry-level employee to having a full-blown career with a higher earning potential," Kristy says. "I have a lot more opportunity where I am at now than I ever did before," Megan adds, saying there's no ceiling to her potential here.
On any given day, you'll find this up-and-coming designer overseeing anywhere from 20 to 50 projects. Some might be at the first consultation stage, others might be close to being buttoned up. With each, Megan gets to flex her creative muscles and show off her love for modern farmhouse and mountain modern design.
"I think what I am most proud of is – there are projects that years later these clients are still a huge advocate of mine," Megan says. "They still refer my name and they still love the work that we did together. That's my favorite thing, building those relationships along the way."
And while she's not ready yet, one day, she'd love to pay it forward and mentor a future designer just like Kristy and Debbie did with her.
"I feel like I am still climbing. I feel like I am not ready to take on anything like that," Megan says. "But, one day, I would like to give someone the same opportunity."
TO LEARN MORE about the range of apprenticeship programs in the state, visit apprenticeship.mt.gov.