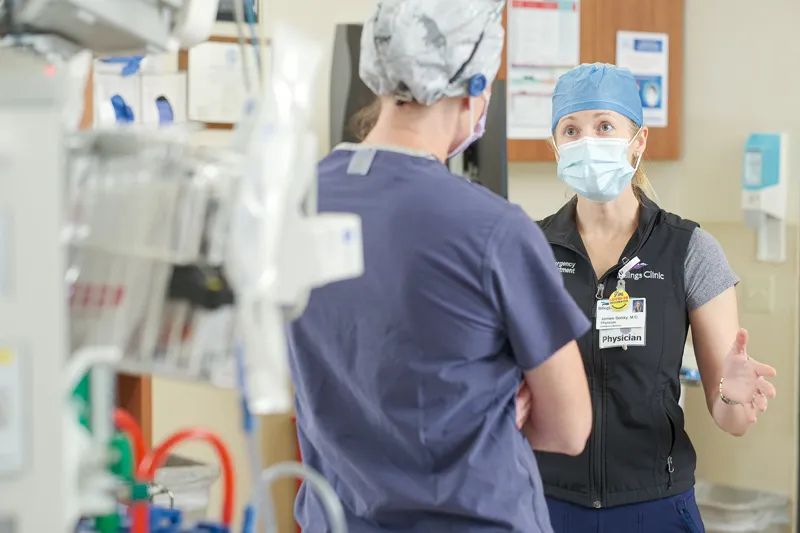 The Calm in Crisis
Experienced medical pair look forward to working in a Level 1 Trauma Center
Working in emergency medicine requires decisive action. So does picking up a scalpel to perform trauma surgery.
For two Billings Clinic physicians, the challenges that accompany that kind of care are part of what drew them to their specialties.
"We are the frontline," says Dr. Jamiee Belsky, emergency medicine physician and chair of the Emergency Department at the downtown hospital. On any given day, she might treat a 2-month-old infant with a fever, a 98-year-old woman suffering a stroke or a 22-year-old man felled by a gunshot wound.
"I really love to be the one in a crisis that can say 'I know what to do, I can help you,'" Belsky says.
DR. JAMIEE BELSKY
Dr. Lisa Merriman, a core member of the hospital's trauma surgical team and critical-care-trained physician, nods in agreement.
"I like being able to directly address something that's happening and provide a solution," she says, wearing her OR scrubs. "Not that that's always possible, but when it is, that's absolutely what drives me and makes me want to keep going."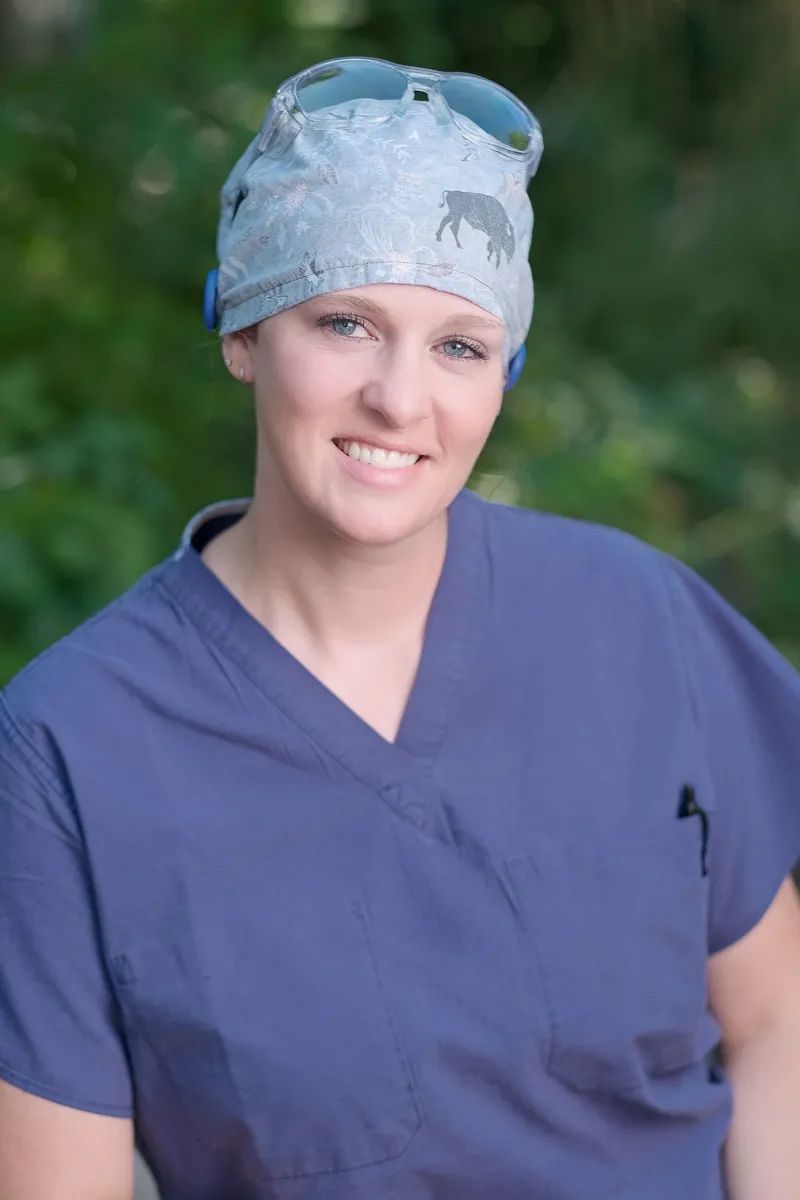 DR. LISA MERRIMAN
The two women came to Billings Clinic from opposite ends of the country. Belsky, 37, a native of Florida, trained and practiced on the East Coast, while Merriman, 42, was born and raised in Oregon's Willamette Valley.
One factor that brought both women to the Billings hospital was its decision to move toward becoming a Level I Trauma Center, which, for now, would make it the first of its kind within a 500-plus-mile radius. The official announcement came in March of this year, but the topic has been under consideration for much longer.
When Belsky interviewed at Billings Clinic about three years ago, she learned of the hospital's intention to transition up from a Level 2 Trauma Center, something she believes will "change the face of healthcare in the state of Montana."
Merriman, whose tenure began a year ago, held a similar conversation with her future surgical colleagues.
"It felt like that was going to be a really exciting and interesting way to both grow my skills and help build that," she says.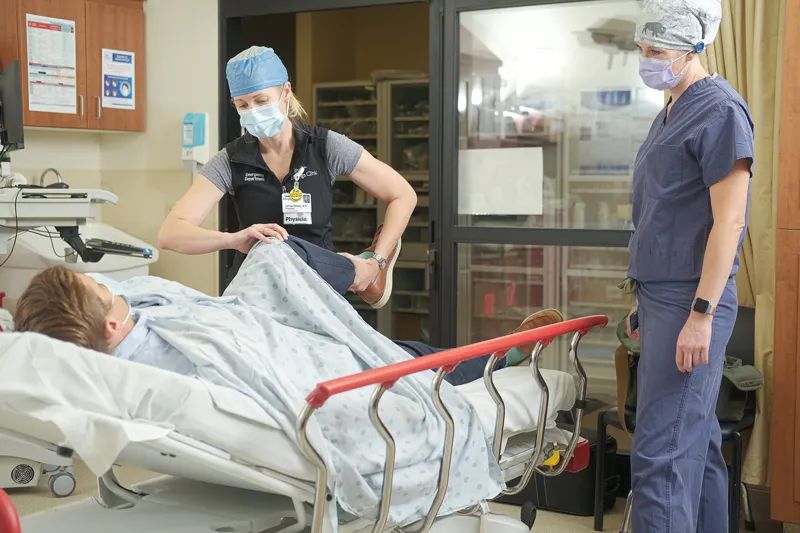 The two doctors came to their careers in different ways. Belsky initially volunteered at a hospital when she was 13 "and I was always drawn to the ER." After completing bachelor's and master's degrees and a year of research, Belsky attended medical school at the University of South Florida in Tampa.
She tried to keep an open mind as she completed rotations in the different medical specialties. She enjoyed them all, but her then-boyfriend-now-husband Dr. Mike Belsky noticed her excitement when she practiced in the ED.
"He said, 'You're so excited about what you've seen, who you helped, what you learned, there is no contest,'" she remembers.
After a three-year emergency medicine residency at Virginia Commonwealth University in Richmond, Virginia, Belsky worked at a number of hospitals.
The couple were living in a 650-square-foot apartment in downtown Washington, D.C., where he was finishing up his fellowship in rheumatology and she was commuting 90 minutes to work, when Mike Belsky got a recruiting postcard from Billings Clinic with a picture of Glacier National Park.
When he discovered the hospital was also seeking a physician for the Emergency Department, the pair interviewed at Billings Clinic and both accepted posts.
"They flew us in and we fell in love with the area, and with all the nurses and the physicians on staff," Belsky says. "We bought a house with a white picket fence and got a dog."
When not working, the couple like to hike. They're also training their rescue pup, Blue, and Belsky, a self-taught cook, enjoys exploring her culinary tastes.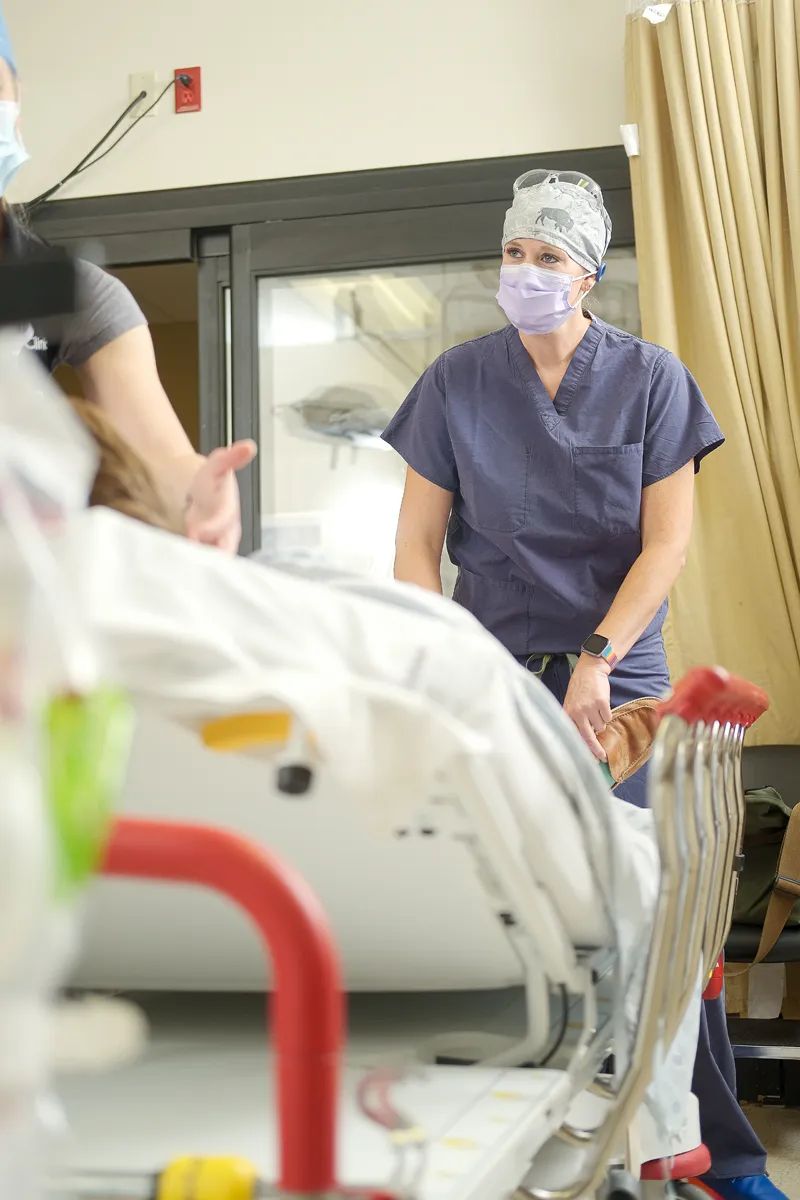 At the hospital, Belsky splits her time between seeing patients and, as chair of the Emergency Department, doing administrative tasks related to how the ED functions and how it can best serve patients.
Asked what she loves about her job, Belsky says it's the moments where she's able to establish a quick connection with a patient and sometimes turn their life around. She tells of one critically ill patient whose eye she was able to save "and possibly her eyesight."
"You're like, 'I made a difference today in that person's life,'" she says. "The rest of the day, I can catch every red light, I can burn dinner, it doesn't matter. If I did that, it's a great feeling."
The lows come when she has to break bad news to a family. Seventy percent of all patients come through her department, often the sickest of the sick, and some don't make it.
"We unfortunately have to give a lot of the bad news," she says. "That's a human, somebody's brother, sister, father or son, so that's always difficult."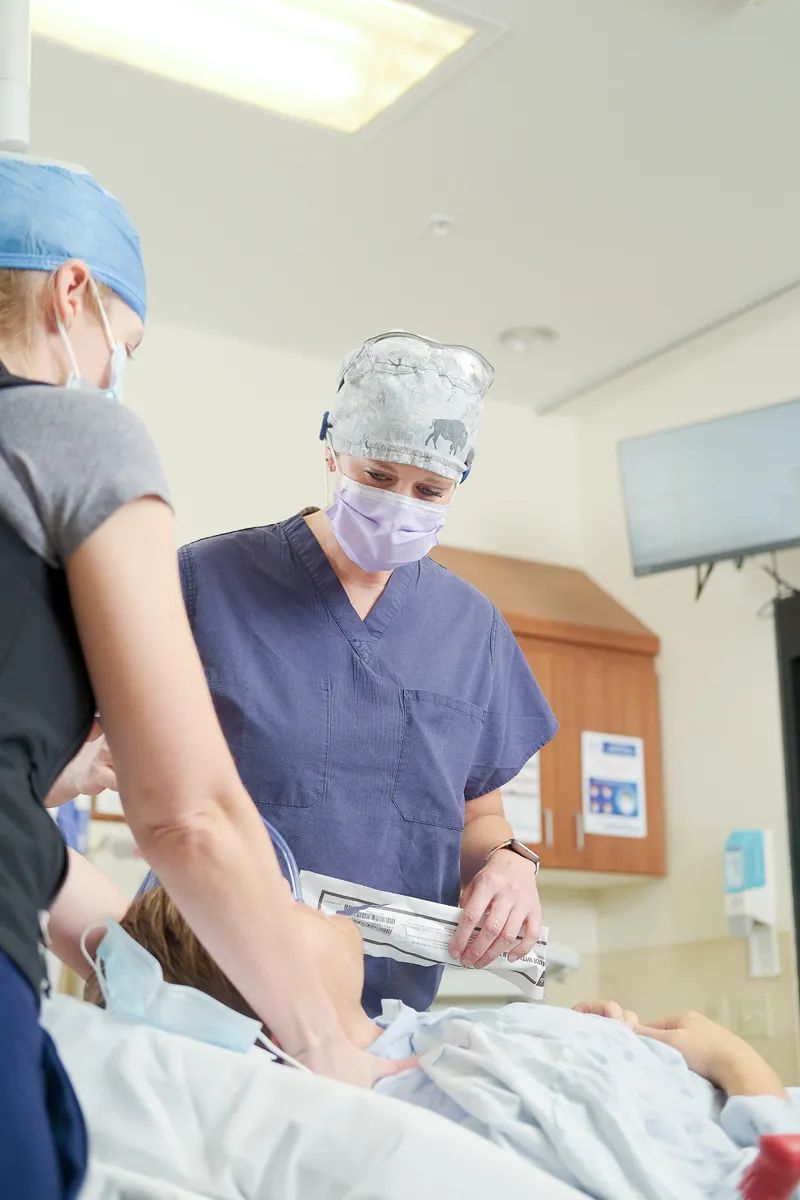 Merriman's interest in medicine bloomed in a different way. While she attended Portland State University nights and weekends to complete her undergraduate degree, she spent her days in a variety of jobs at a Portland hospital, starting as an admitting clerk.
"I also worked in the outpatient trauma clinic, actually as an office assistant which is where I got my first exposure to trauma," Merriman says, scheduling patients for appointments and finding herself engrossed, reading their medical charts. "And that's how I got the bug."
Eventually working in the offices of a neurosurgeon, a plastic surgeon and an orthopedic surgeon, she was able to interact with patients. She calls that time her "pre-med school" that led her to apply to med school at the Oregon Health & Science University in Portland.
Halfway through, she knew that performing surgery "was the thing that made me want to get up in the morning."
Merriman completed her general surgery residency at the University of New Mexico, as well as a fellowship in surgical critical care. When her training was done, she found a good fit for her skills at Billings Clinic.
"I do trauma surgery, so anyone who comes in with an injury that's caused by an accident, a car crash or a shooting or stabbing or a fall from a cliff and they need surgery on the chest or belly, that's my area of expertise," Merriman says.
Like Belsky, being able to create a quick connection with a patient and fix an urgent problem, "that's very satisfying, just to be able to make that difference."
Merriman also performs emergency general surgery for such conditions as appendicitis, a bowel obstruction or gallstone surgery. Unlike some of her colleagues, Merriman doesn't do elective surgery. But she does take care of surgical patients in the ICU.
Merriman can work anywhere from 10 hours a day to 12 or 16, performing surgery and making rounds, among her many duties. She's grateful that husband, Joel Merriman, who worked for 20 years to support her through college and medical school and then retired, "literally takes care of everything else because I can't."
In her free time, Merriman enjoys her two horses. It's been her longtime dream to own property and house her horses on her land, and ride them whenever she wants.
"Pretty much all my activities are outdoors," she says. "Whenever possible I like to be out exploring stuff, and on the back of a horse is even better."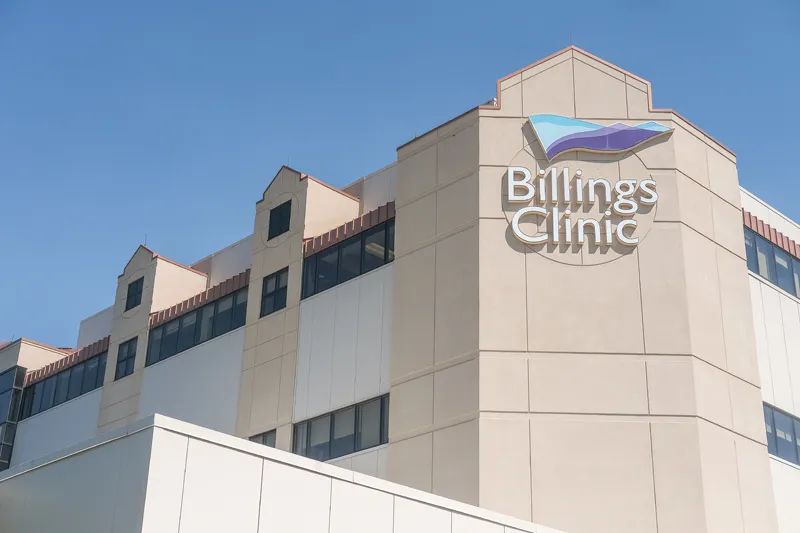 In addition to their regular duties, both physicians are pleased to be part of the multiyear effort for Billings Clinic to be designated a Level I Trauma Center. The closest hospitals with that label are in Denver, Salt Lake City and Seattle.
Many of the services needed for the Level 1 designation are already in place at the hospital, Belsky says, including dedicated trauma services, 24/7 multi-specialty services, immediately available operating rooms and fellowship-trained surgeons in specific specialties, among other things.
Billings Clinic, the busiest trauma center in Montana and Wyoming, has seen a 55 percent increase in trauma patients since 2010. To meet additional requirements for the new designation, the hospital is working to complete and publish trauma research and, in collaboration with the University of Arizona, has added a surgical residency.
A campaign is also underway to raise funds to expand operating rooms, build a new state-of-the-art transfer center and expand the Emergency Department. Providing regional care coordination between hospitals and trauma training to medical providers throughout the region are also crucial, Belsky says.
Merriman was heading out to Thermopolis the following week for a trauma outreach trip to an affiliate hospital "to give the nurses and providers some specialized education on things they maybe don't see as often so they are prepared to deal with it before it's transferred to us," she says.
The more knowledgeable medical people out in the field and the vital communication between hospitals can make all the difference, Belsky adds. In an emergency situation, it boils down to the "golden hour," the first 60 minutes after a person sustains a serious injury.
"That's the most critical time because if you don't stop the bleeding or if you don't take care of that airway in the first hour, the rest isn't going to matter," she says.