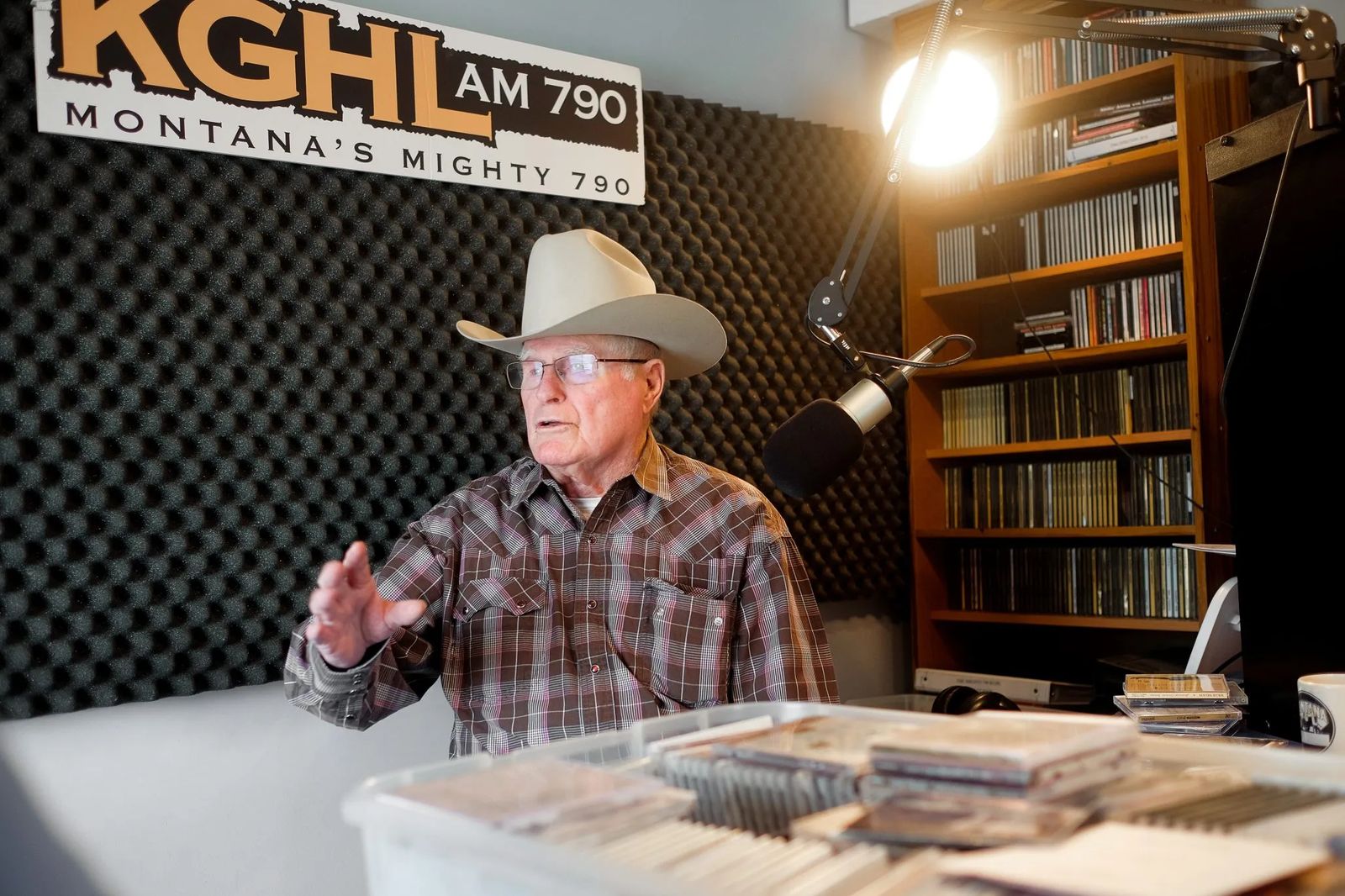 The Classic Country of Lonnie Bell
Decades of musical fame for the man behind the mic

What makes a good country song? According to Country music DJ Lonnie Bell, a good country song must evoke a feeling everyone can relate to, and tell a story everyone can believe. If that's true, he may be the perfect country song.
Every Sunday from 8 a.m. to noon on Montana's Mighty 790, Lonnie Bell hosts Lonnie Bell's Classic Country. His listeners are taken back to the early years of country and western music: soulful ballads, quick-step dance tunes, simple harmonies, and down-to-earth songs, sung by the likes of Tennessee Ernie Ford, Lefty Frizzell, Bob Wills, Hank Williams, Patsy Cline, and Loretta Lynn.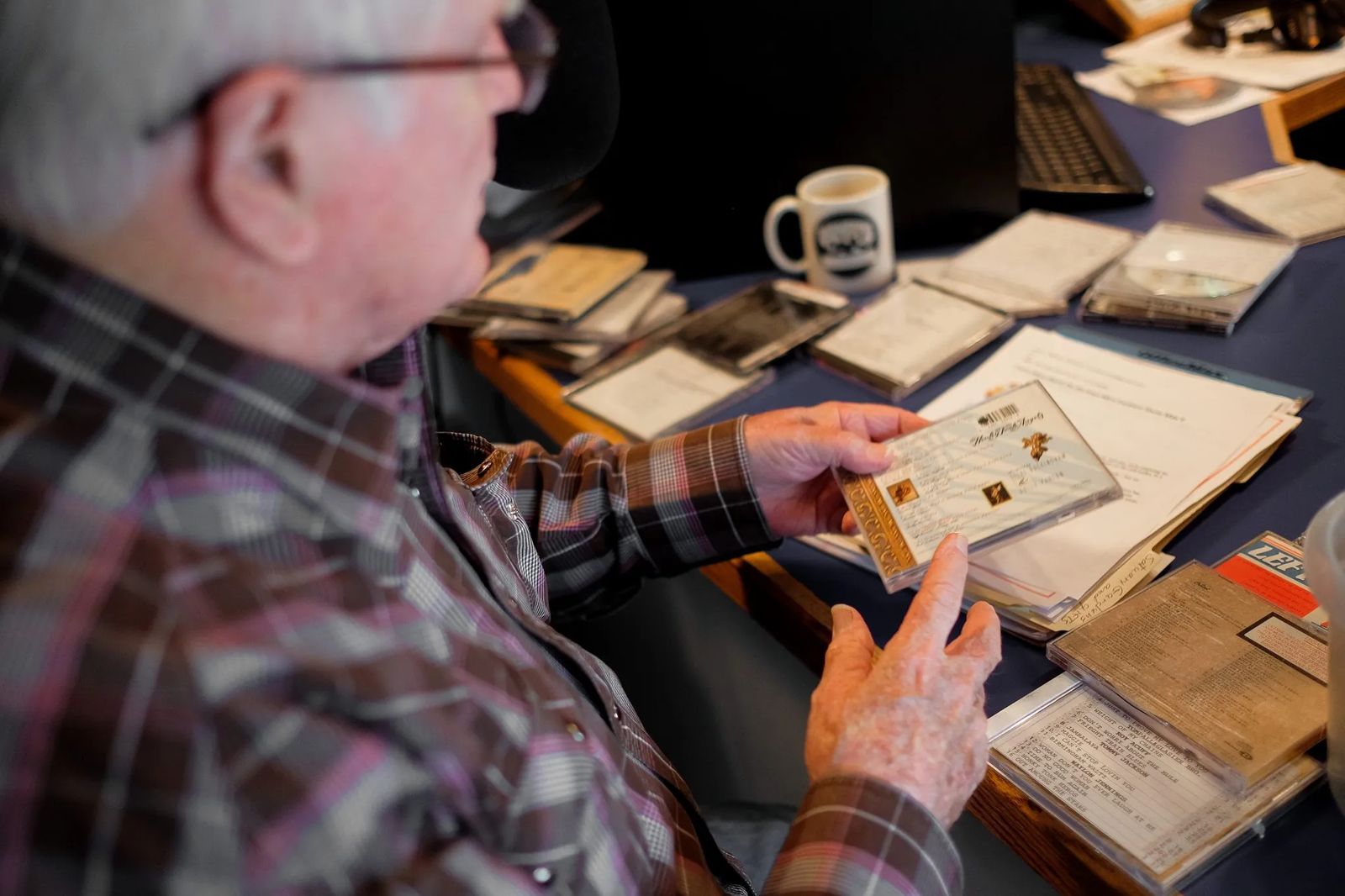 In an era when technology has left many radio studios empty, Lonnie hosts his show live from the official Lonnie Bell Studio on the second floor of the Northern Ag Network building on First Avenue North. He hasn't missed a Sunday since the show started in 1985.
In every corner and on almost every flat surface are boot boxes full of CDs, hundreds, many of them burned from the thousands of vinyl records he used in his show over the past 60 years. At 93, Lonnie is a vault of country music knowledge that comes from living the scene, personally knowing the performers, and promoting country music his entire life.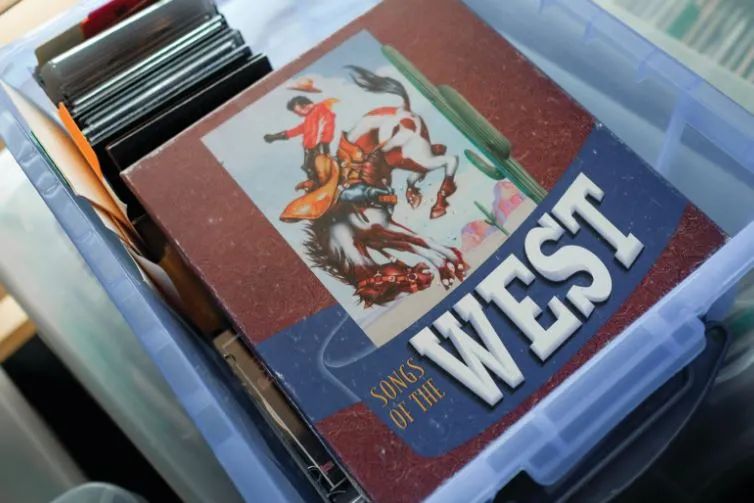 "People want a personal connection," Lonnie says between songs on a recent Sunday morning. "We give them that connection to the music."
At his right hand, his partner, Ed McIntosh, queues the CDs as Lonnie introduces the songs and reads the ads. Lonnie Bell's Classic Country isn't a call-in show, but plenty of people call anyway. Sometimes they have requests or questions about a particular song, but most of the time they call to say thanks for playing classic country and western music.
"People say that it's the music they grew up listening to, or it reminds them of their father or grandfather," Ed says. "It speaks to them."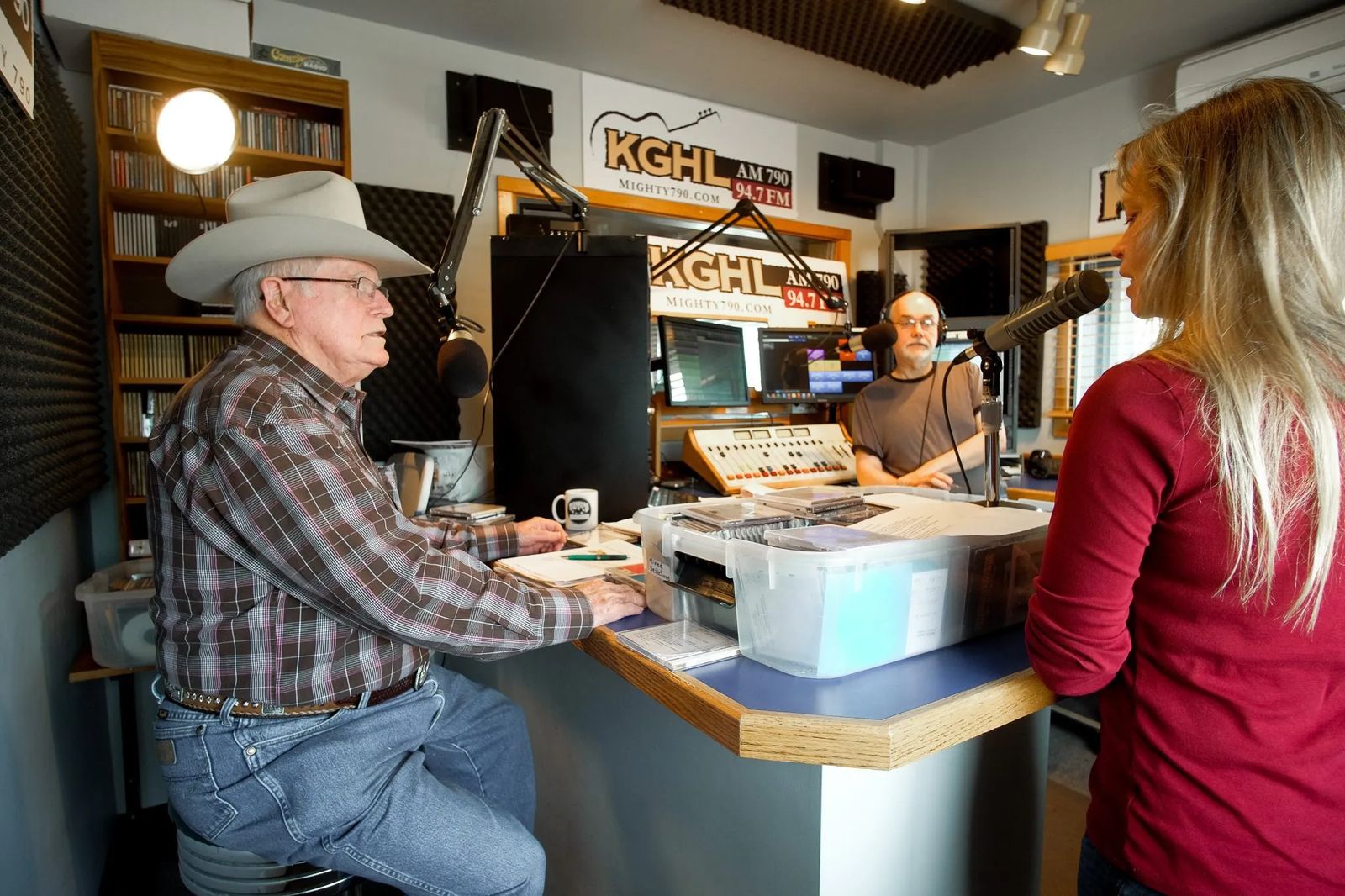 At 10:10 a.m. Lonnie breaks for the Poet's Corner, and Tammy Holland, a local poet, comes into Lonnie's studio to read "Winter Sundays" by Robert Hayden. It reminds Lonnie of a song and he asks Ed to play Tanya Tucker's "Daddy and Home," a hit from the 80s. The song reveals another memory, another song, another story, and the show goes on in this pattern all morning.
THE EARLY YEARS
Lonnie was born in 1924 in West Virginia coal country, and by the time he was 10 years old he was singing and picking with his buddies on the front porch of a beer joint across from his home. The style of music they played was brand new and it was called country. Radio was brand new too, and Lonnie and his family tuned in to hear the Carter Family, Jimmie Rodgers, and the live-broadcast WSM Barn Dance, which later became the Grand Ole Opry.
Lonnie's early years listening to the radio and singing for a few coins on the stoop of a post-prohibition bar ignited a lifelong passion for country music, but it was sidelined by World War II.
Lonnie was 16 years old in 1940 when he lied about his age and joined the Navy. A little more than a year later he was on his way to Pearl Harbor, arriving 20 days after the Japanese surprise attack that pulled the United States into the war. Lonnie's military career spanned more than 20 years and included the Battle of the Coral Sea and the Berlin Airlift.
For much of that time he was stationed in Honolulu, and he brought his love of country music to the island. He started a five-piece band called Lonnie Bell and the Melodiers, and they played nightclubs, and occasionally opened for country music acts that came to Hawaii to entertain the troops. In 1953, he was invited to host a country music show on a local radio station, and with microphone in hand, Lonnie's second career was born before his first even ended.
"No station was full country back then, they just had country shows," Lonnie says. "I think I had a good voice for it, with my southern accent. I just announced the records and read the ads live."
A year later, Lonnie's show, which ran from 11 a.m. to 1:30 p.m. every day, was number one on the Hooper Ratings, a national survey which measured listenership.
While still in the Navy and stationed at Whidbey Island, Lonnie took a job at KAGT in Anacortes, Washington. Country music was really starting to catch on and in more populated areas there were full-time country stations.
In those days, it paid for a musician – particularly those just starting out – to develop relationships with DJs, and Lonnie opened his studio doors to numerous emerging country stars as well as established entertainers. When he wasn't working at the radio station, he fronted a band and played nightclubs in towns all over western Washington. He was also gaining a following as a concert promoter and hosted a weekly dance that featured lots of new talent.
Lonnie was always looking for musicians to add to his shows, and when a buddy said he should check out a gal singing up in Bellingham, Lonnie took a chance and drove up. He pulled up a seat at the bar in the basement of the American Legion just in time for a 23-year-old Loretta Lynn to take the stage and sing, "I've Got Nothing but Sorrow Since You Went Away."
"I couldn't imagine why she wasn't already a star," Lonnie says.
He hired Loretta on the spot for his Saturday night shows. As her following grew, he recorded her songs and began playing them on his radio show. Within a few months, Loretta Lynn gained a strong regional following, and Lonnie used his connections to get Loretta her first national record deal.
"From that first day I met her, I did all I could to help her along and push her, and to this day, I still do," Lonnie says.
The two have remained friends for more than 50 years. Loretta Lynn has performed twice in Billings, and Lonnie had the pleasure of introducing her on both occasions.
THE MOVE TO THE MAGIC CITY
Lonnie arrived in Billings in the winter of 1964. Between jobs, he followed a lead from a radio producer who he knew from Washington that was looking for help at KOYN, a new station in Billings that happened to be the first full-time country music station in Montana. Lonnie was impressed with the quality of country music that was played in Billings' nightclubs by local musicians. He joined right in, DJ-ing a morning radio show, selling ads in the afternoon, and singing and playing honky-tonk and western swing shows at night.
"Billings was a hotbed for country music," Lonnie says. "Many, many great musicians played here while traveling through."
As always, Lonnie's studio door was open, and he fell into step promoting the acts that came through.
"He brought country music to Billings when there were only 80 full-time country music stations in the country," says Taylor Brown, president of the Northern Ag Network.
Lonnie met the love of his life, Marty, at one of his dances at a bar called the Red Rooster in Shepherd. Marty had heard Lonnie on the radio, and a friend from the station invited her out.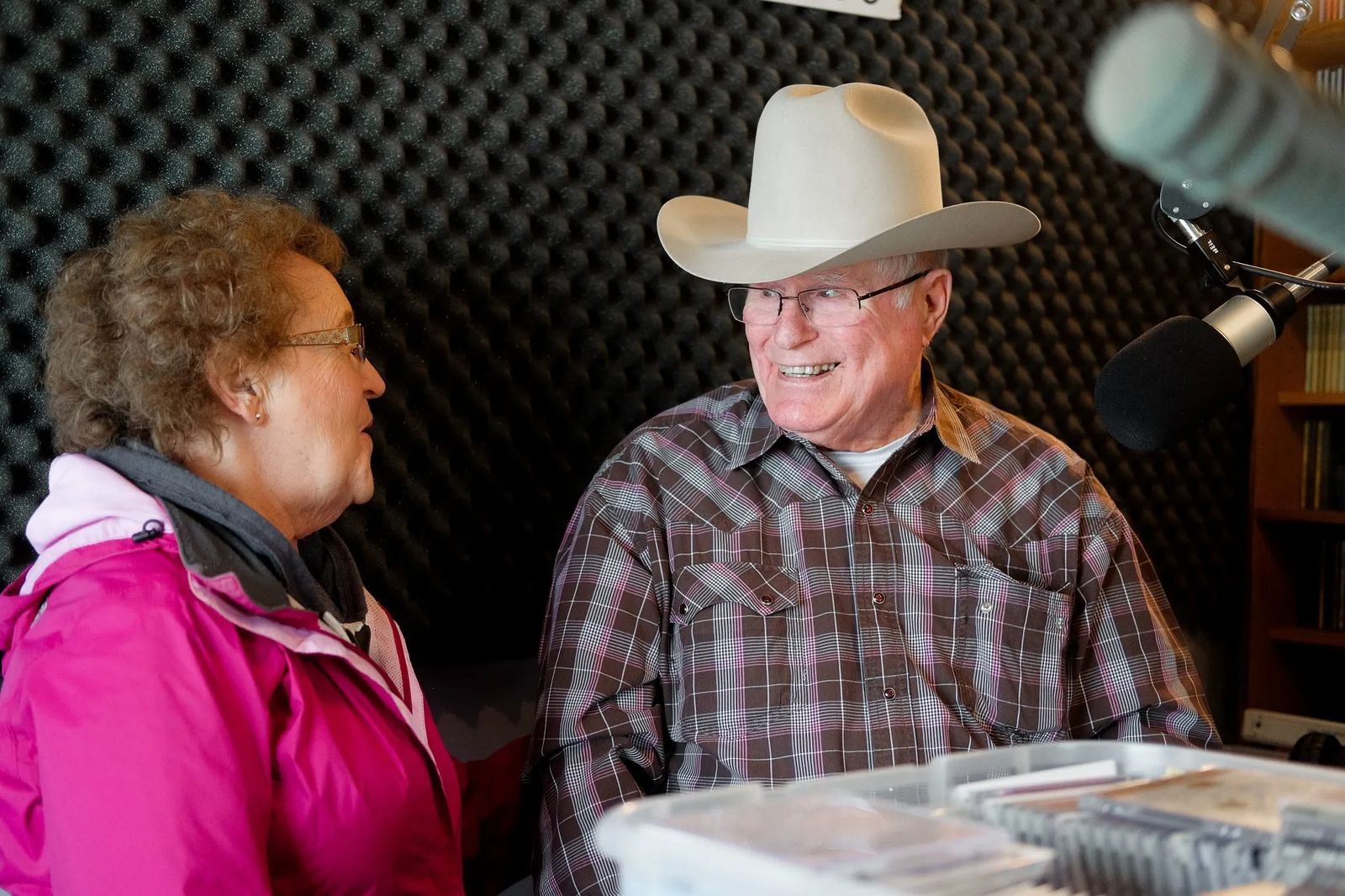 "I just went up to him and introduced myself," Marty says. "The Red Rooster is not very big."
The two were married a few months later and Lonnie continued to work at the station until he retired in 1984. Lonnie Bell's Classic Country is his retirement show, although it's now been running longer than his full-time radio career.
Lonnie still calls on sponsors every couple of weeks to sell advertising, and he comes into the station during the week to record ads. On Saturday, Lonnie and Ed get together and run through the show.
In his career, Lonnie has been honored with numerous awards, including membership in the Montana Broadcasters Hall of Fame, the National Country Radio Broadcasters DJ Hall of Fame, and the Montana Cowboy Hall of Fame. A bronze statue of Lonnie, made by renowned sculptor Bill Rains, is located at Rimrock Auto Arena at MetraPark.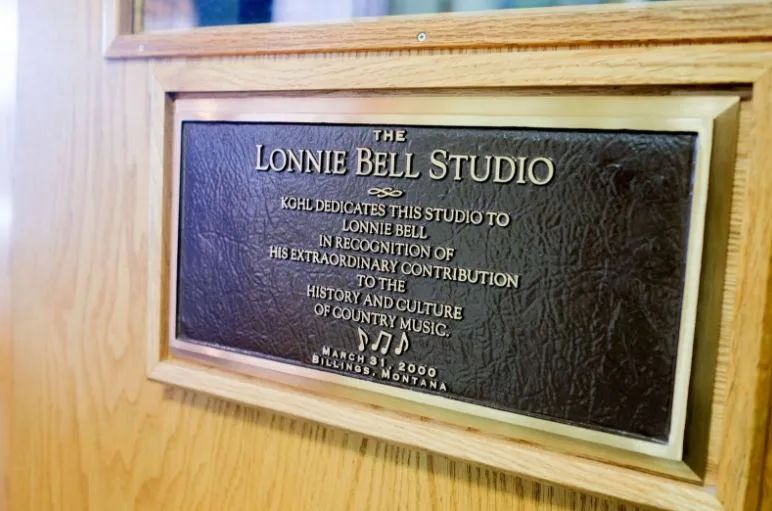 Lonnie is also widely recognized for his charitable work, specifically an annual horseback ride from Reed Point to Billings to raise money for the March of Dimes. His life and memories have been recorded in a biography written by Lonnie's nephew Harold Hollingsworth and Taylor Brown called "Slidin' Along with Lonnie Bell"
Lonnie laments how country music has changed in his 65 years as a DJ – "It's not about the song anymore. It's all about that rock beat," he says – but as long as he's alive he's going to be sure the classic songs are played, every Sunday from 8 a.m. to noon on Lonnie Bell's Classic Country.
"I always loved country music," Lonnie says, "and somehow I managed to make a living at it."
TUNE IN TO LONNIE BELL'S CLASSIC COUNTRY every Sunday from 8 a.m. to noon on KGHL AM 790 or FM 94.7 or online at mighty790.com.