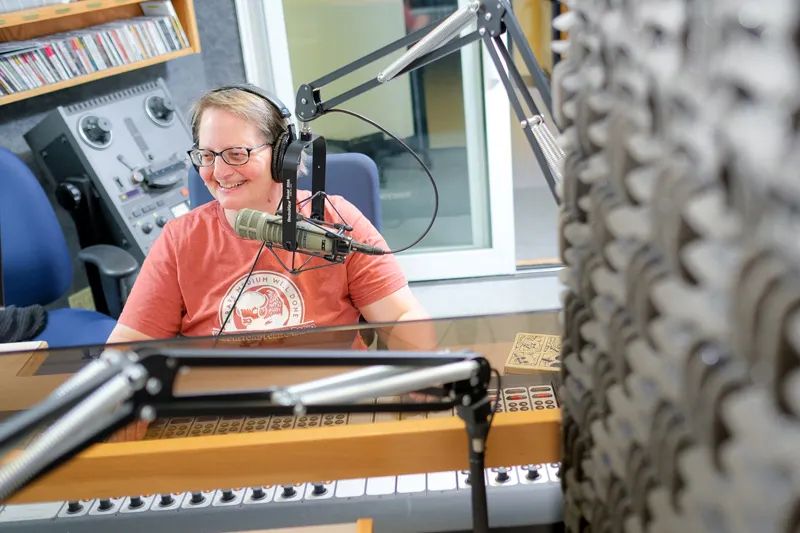 The Dead of Night
Grateful Dead Scholar Sue Balter-Reitz takes her love of the band to the radio airwaves
Even when the moon is not in the Seventh House and Jupiter aligned with Mars, Sue Balter-Reitz lets the sunshine in. The Grateful Dead scholar and host of Yellowstone Public Radio's "The Dead of Night" says, "I was belting out the 'Age of Aquarius' at the age of 4 or 5." She admits she never perfected her singing, but she did develop a deep love and knowledge of music.
On Friday nights at 9, Balter-Reitz cues up the music created and inspired by the Grateful Dead. The Dead, formed in 1969 in San Francisco, is synonymous with the hippie and American counter-culture movement, and founding member Jerry Garcia is considered a folk hero. The band's logo — the lightning skull and those infamous dancing bears — live on today. In her hour-long radio show, Balter-Reitz talks to scholars, musicians, music industry insiders and fans who reflect on the band's timeless influence.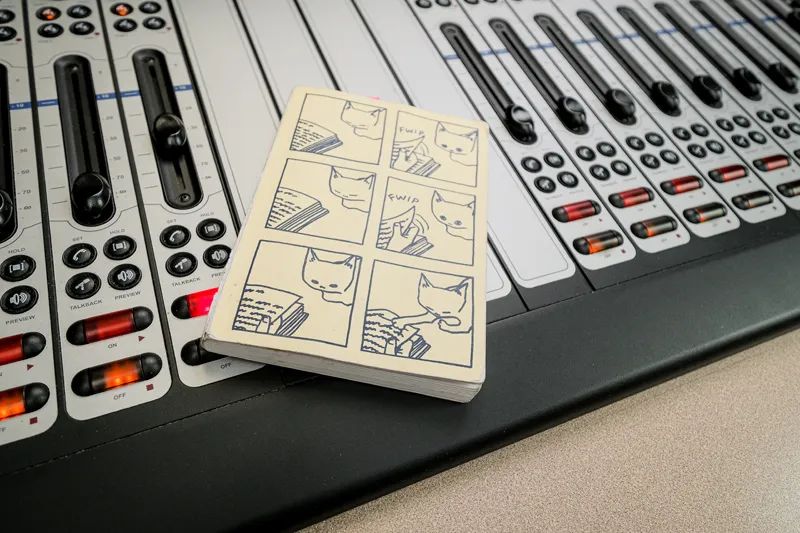 How Balter-Reitz became a "Deadhead" started in her childhood. In music, she found solace and entertainment while growing up in a family of academics in New York. She says her father, a medical physicist, and mother, a psychologist, both loved music.
"My first concert experience with my parents was Irish music at 8 or 9 years old," she says. They took their oldest child with them to see Tommy Makem and the Clancy Brothers. About the same time, she received the album "Europe '72," recorded during a Grateful Dead tour of Western Europe.
"Being born in the early '40s was the right age for the folk scene in New York's iconic clubs in the East Village," she says, referring to her parents. "He was a folkie, with suit, glasses and a crew cut," she says. Then her uncle, Bob Ader, an actor and performer, tried to teach her how to play the piano.
"We realized it was a dead end. I didn't have enough of an attention span," she says. "Also, my fingers were teeny weeny."
Balter-Reitz grew up as a "latch-key kid" who surrounded herself with words and sounds as her parents were "so open with music and books." While other children in early grade school may have been given albums by the Partridge Family or Bobby Sherman, the first album she got from her parents was "Jesus Christ Superstar."
The Big Apple continued to nourish her imagination, and her family belonged to the Metropolitan Museum of Art. "I met Saturday mornings to do art at the museum and it was the back door to the Met (Metropolitan Opera House)," she says.
At Cathedral High School, an all-girls Catholic school, Balter-Reitz says, she received a "fabulous Jesuit education," instilling in her the belief that a high-quality education creates a life of leadership and service.
"I chose the school because of the TV production studio," she says, and there she excelled in broadcast competitions, learning how to produce and edit mini documentaries.
She and her classmates were also invited to do plays with the boys' high school. Working on the behind-the-scenes team, she says, "I loved the process. I loved the rehearsals. I loved to organize. I loved the process more than the product. I loved designing the sets, designing the lights."
Outside of school, Balter-Reitz says, "We were free-range children. I was either babysitting or at clubs or at media production." She escaped the two-bedroom apartment she shared with her sister and three brothers into the East Village that then became the birthplace of punk-rock, hip-hop and anti-folk.
Her desire to pursue broadcasting and production led her to the new media center at Eastern New Mexico University. Soon after enrolling in a public speaking class, she found herself in a tournament where she won $75 in her first speech competition. A job at the campus radio station from 1981 to 1985 exposed her to many genres of music. "At the AM station, record companies sent albums," she says. "We would get everything from college rock to new wave."
"After college, CNN wanted to hire me at minimum wage," she says. "They were just starting and would hire anyone with a broadcasting degree," but "I loved debate so much that I thought I would go into law." Instead, she went to the University of Wyoming in Laramie to pursue her master's in Persuasion. While working the graveyard shift waitressing at Shari's Restaurant, she met her husband Paul Reitz, who was working as a cook.
"She brought back an overdone burger," he says of the patty he had cooked up. "'C.B. It's cheeseburger; it's not charred burger,' she said. I cooked it again and it was fine." Things became fine enough for the two to move to Seattle together, where Balter-Reitz earned a Ph.D. in Rhetoric and Law.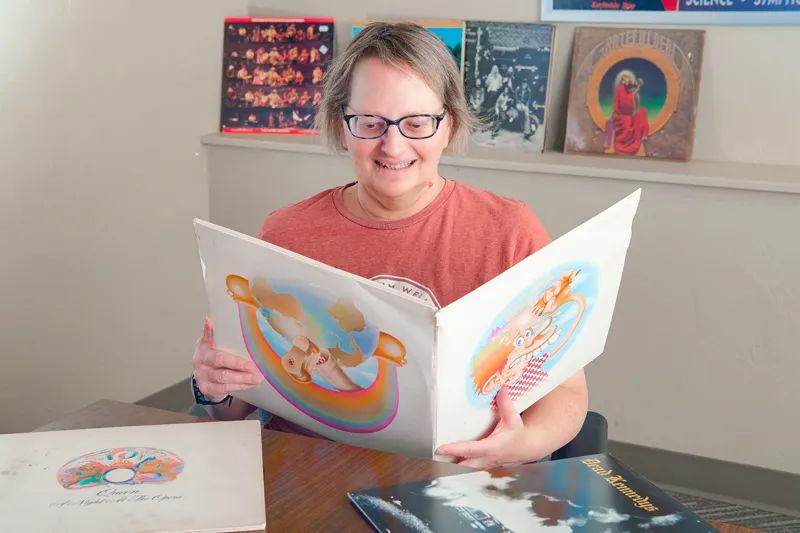 In 2002, the two settled in Montana when she took a faculty position in the Communications Department at MSU Billings, which she now heads up, with time directing the e-learning department and a stint as the interim provost and vice chancellor of academic affairs. She is also a charter member and incoming president of the Grateful Dead Studies Association. The group launched in 2019 and is made up of scholars, writers and academic professionals who study the Grateful Dead phenomenon.
On May 14, 2019, Balter-Reitz joined Mark Parker and Ken Siebert to produce "In the Strangest of Places" on Yellowstone Public Radio. The series was a 45th anniversary tribute to the Grateful Dead's appearance at the Harry Adams Field House at the University of Montana in Missoula. The popularity of the show brought Balter-Reitz back to YPR in the beginning of 2021, when she kicked off her weekly broadcast.
Her favorite Grateful Dead songs—"Unbroken Chain," "Brokedown Palace," "The Other One," and "Hard to Handle"—evoke longings for love, expressions of sorrow and yearnings for belonging, all of which provide the basis and inspiration for her show.
"Sue leverages her education and career in the field of communication to broaden the scope of the show considerably," says YPR General Manager Ken Siebert. He says her choice of guests and her interview style create a unique way to encounter The Grateful Dead.
"One week it's a deep dive into the intersection of Indian philosophy and the music of the Dead, and another week it's comparing the gonzo journalism of Hunter S. Thompson to the band and the scene they inspired," Siebert says.
"It is amazing," Balter-Reitz says of her guests. "I cannot believe how people are so generous, how vulnerable they are. I cannot believe the depth of the interviews." Her hour-long show includes music from the Grateful Dead, along with songs influenced by the band as well as segments of short interviews. "Based on their story, I then build the music around them," she says.
For now, it seems the planets are aligning every Friday night at 9 o'clock for Balter-Reitz, even in the dark of night.