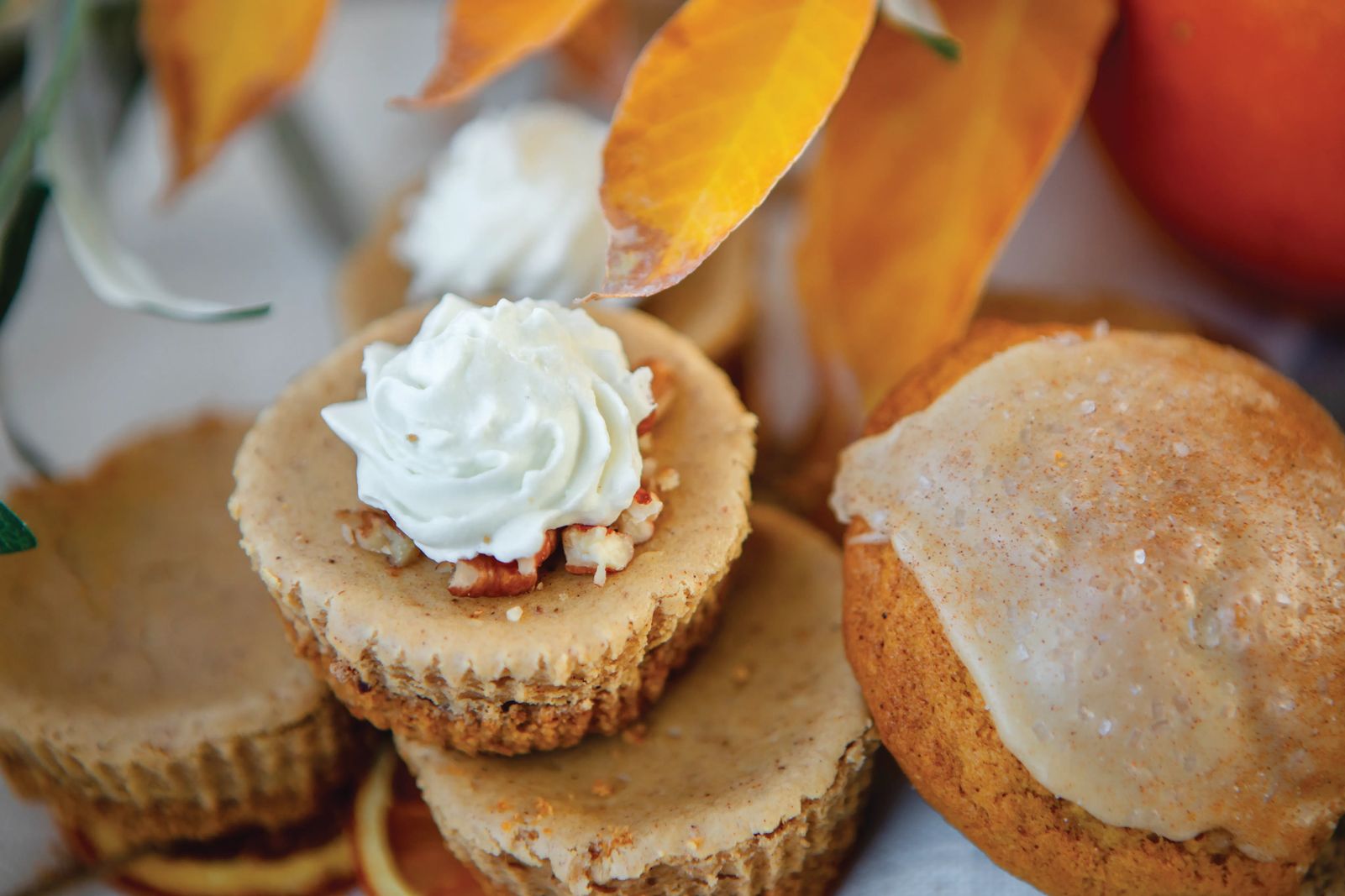 The Delicious Flavors of Fall
Cinnamon, Nutmeg and Ginger
Say the word "fall" and so many things pop into the mind — the harvest, rich colors, sweater weather and yes, of course, pumpkin spice. What is this flavor of fall? Depending on which brand of pumpkin spice you reach for, it's typically a mix of cinnamon with lesser parts of nutmeg and ginger. Some brands might throw in a dash of clove. This delicious meld of spice seems to conjure up thoughts of sitting by a fire, snuggled in with a pumpkin spice concoction to nibble or sip on. And, that's exactly why we decided to round up some of our favorite tried and tested recipes to dish up some of these flavors and spices of fall.
From Pumpkin Spice Cookies that will melt in your mouth with a delicious brown sugar frosting and bite-sized gingerbread cheesecakes to a hot caramel pumpkin pecan cobbler — we have the mouth-watering recipes that are a perfect fit for fall.
Enjoy!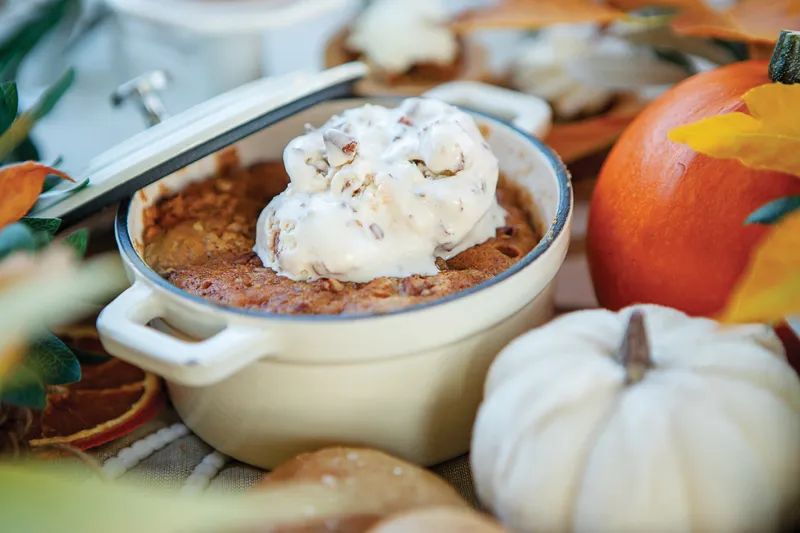 CARAMEL PUMPKIN PECAN COBBLER, serves 8
1 c. plus 3 T. all-purpose flour
2 t. baking powder
½ t. salt
¾ c. granulated sugar
1 t. cinnamon
½ t. nutmeg
½ t. cloves
½ c. pumpkin puree
¼ c. milk
¼ c. melted butter or vegetable oil
1½ t. vanilla
FOR THE TOPPING
½ c. granulated sugar
½ c. brown sugar
¼ c. chopped pecans
1½ c. boiling hot water
INSTRUCTIONS
Start by preheating the oven to 350 degrees. In a bowl, stir flour, baking powder, salt, sugar, cinnamon, nutmeg and cloves. In a smaller bowl, stir and combine pumpkin puree, milk, melted butter and vanilla. Pour wet ingredients into dry ingredients and mix to create a thick batter. Pour into an ungreased 8-by-5-inch bread loaf pan and spread evenly. In a separate bowl, stir sugar, brown sugar and pecans together. Spread over the top of the batter evenly. Resist the urge to stir everything together. Next, pour hot water over the entire pan and bake for roughly 40 minutes until the middle of the cobbler is set. You'll want to set your loaf pan on a baking sheet as you place it in the oven just in case your cobbler bubbles over. Cool for 5 to 10 minutes before serving with vanilla ice cream.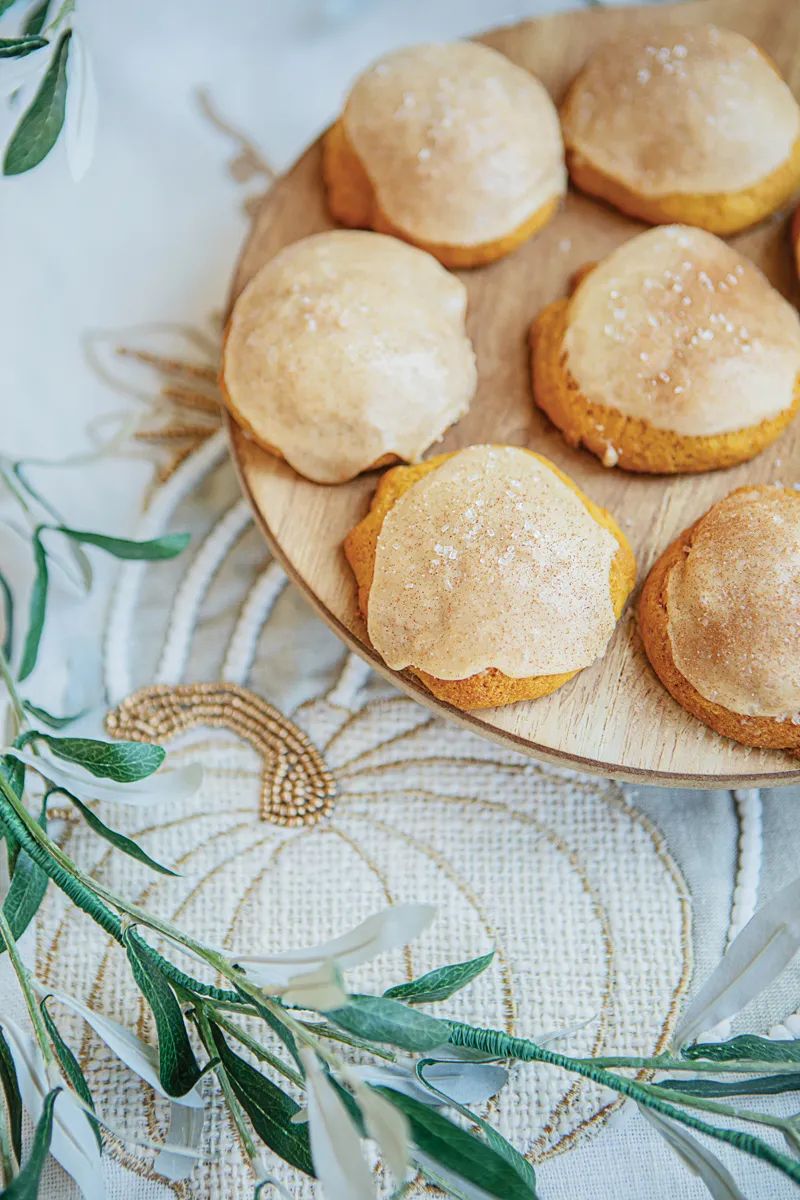 PUMPKIN SPICE COOKIES, makes 60 cookies
2 c. butter, softened
2 c. granulated sugar
2 t. baking powder
2 t. baking soda
1 t. salt
1 t. ground cinnamon
1 t. ground nutmeg
2 eggs
2 t. vanilla
15-ounce can of pumpkin
4 c. all-purpose flour
FOR THE FROSTING
½ c. butter
½ c. packed brown sugar
¼ c. milk
1 t. vanilla
2¾ c. powdered sugar
Optional: extra cinnamon to sprinkle on top of the cookies
Preheat oven to 350 degrees. In a large bowl, beat two cups of butter using a hand mixer for roughly 30 seconds. Add granulated sugar, baking powder, baking soda, salt, cinnamon, and nutmeg. Beat until combined, scraping the bowl occasionally. Add eggs and 2 teaspoons vanilla, beating until combined. Add pumpkin. Mix in as much of the flour as you can using the mixer. Using a wooden spoon, stir in any remaining flour. Drop dough by heaping teaspoons 2 inches apart on an ungreased cookie sheet. Bake in the preheated oven for 10 to 12 minutes or until tops are set. Transfer cookies to a wire rack and let cool. In a small saucepan, heat 1/2 cup butter and brown sugar until melted and smooth. Transfer to a medium bowl. Stir in milk and 1 teaspoon vanilla. Beat in powdered sugar until smooth. Spread frosting on cookies. If desired, sprinkle with additional cinnamon.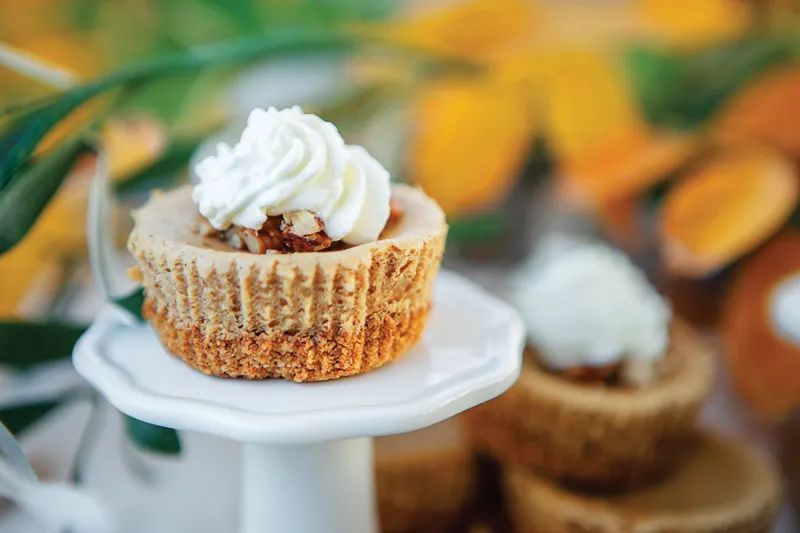 MINI-GINGERBREAD CHEESECAKES
3 oz. graham crackers (about 6 full graham cracker sheets)
¼ c. pecans
1 t. dark brown sugar
2 T. unsalted butter, melted
12 oz. full-fat cream cheese (use block cream cheese, not the tubs), room temperature
2 T. plus 2 t. sour cream, room temperature
⅜ c. granulated sugar
1 T. molasses
1 ½ t. cornstarch
1 t. ground ginger
1 t. ground cinnamon
½ t. ground cloves
½ t. ground nutmeg
⅛ tsp. salt
2 t. vanilla extract
1 egg plus one egg yolk, room temperature
¼ c. chopped pecans
Ground nutmeg, for sprinkling
INSTRUCTIONS
Preheat oven to 375 degrees. Line a muffin pan with muffin liners (12) and set aside. To make the crust, add graham crackers, pecans and sugar to a food processor. Pulse until there are fine crumbs with no large chunks remaining. Add melted butter and pulse until combined and the crumbs begin to stick together. Divide the crust among the 12 muffin liners and press the crumbs into a solid crust using the back of a spoon. Bake the crusts for 5 minutes, then remove the pan from the oven and turn the oven down to 325 degrees. Let the crusts cool while you prepare the cheesecake.
In a large bowl, add cream cheese, sour cream, heavy cream, sugar, molasses, cornstarch, spices and salt. Using an electric hand mixer, beat on medium speed until smooth. Add vanilla and beat until combined. Add egg and yolk and beat until combined.
Spoon cheesecake onto the crusts so that muffin liners are ¾ filled.
Return the pan to the 325 oven and bake for 20 minutes or until the edges of each cheesecake are set. The centers might still move when you jiggle the pan. Turn off the oven and let the cheesecakes sit in the warm oven with the door closed for 10 minutes. Then crack the oven door open and let the cheesecakes sit for another 10 minutes. Transfer pan to a wire rack and allow to cool completely (about an hour). Transfer the pan to the fridge and chill the cheesecakes for at least two hours. Once cooled, top with whipped topping, chopped pecans and a sprinkle of ground nutmeg before serving.