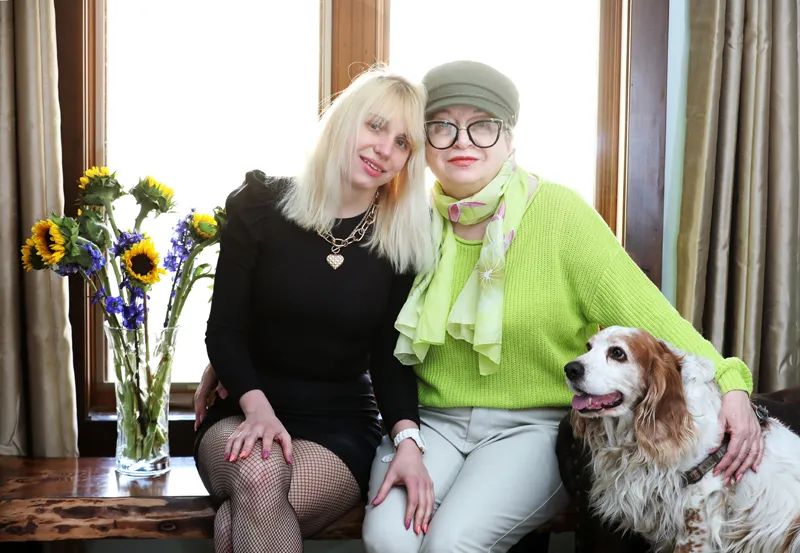 The Long Journey Home
A messaging app, a dear friend & her faith helped Yuliya Johnson unite with her Ukrainian mother
When Russia unleashed its soldiers on the eastern edge of Ukraine on Feb. 24, Billings resident Oxana Gamba sat in disbelief.
"None of us thought that the Russians would actually attack," she says. "It was out of nowhere. We knew they had troops by the border, but I didn't think they would attack."Oxana moved to the United States in 2014 after an earlier Russian invasion of her home country.
Oxana worried about her mother, who still lives in Ukraine, and about the mother of her dear friend, Yuliya Johnson. It was priority number one for her to help get both to safety.
Oxana and Yuliya became fast friends in Billings a few years back. Oxana laughs as she looks at her friend and says, "We're drinking buddies," adding that they met in the most unlikely of ways.
"Ukrainian women overdress for everything," she says adding a bit tongue in cheek that you might see a Ukrainian woman in fur and diamonds taking out the trash. When Oxana saw Yuliya at a Billings Walmart dressed to the nines, Oxana says with a laugh, "I knew she was my people."
They've been tight friends ever since.
On March 8, when the eastern Ukrainian city of Sumy was being lit up by Russian bombs and gunfire, Oxana knew that Yuliya's mom, Marina Petrusenko, was in the heart of it all.
"Yulia was devastated. She kept asking me the same question, 'Do you think I will see my mom again?' I said, 'Yes, you will! Your mom and my mom will sit right here at my dinner table eating dumplings.' I was trying to encourage her," Oxana says.
"My mom, many times when we finished our phone calls, she would say, 'Remember I love you no matter what happens, remember I love you,'" Yuliya says. More than once, their conversations were cut short by the sound of bombs and air raid sirens. Her mom once told her, "You know that you will have one more angel in the sky."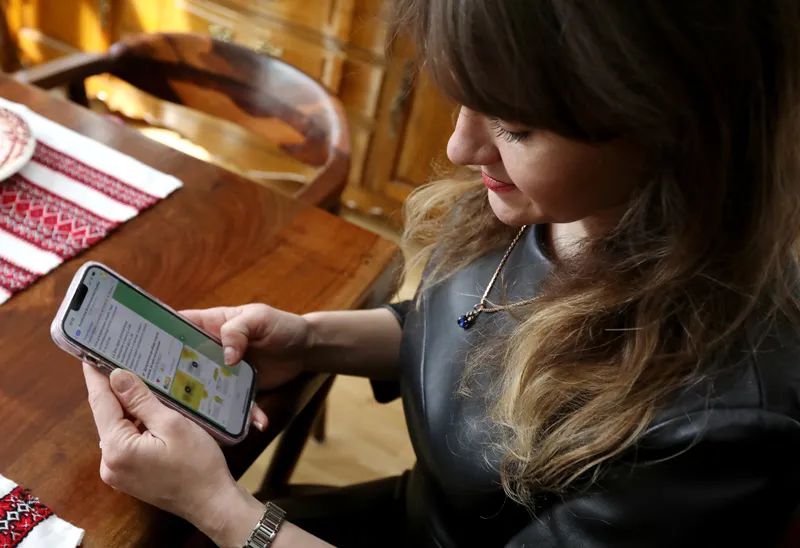 Oxana, using the Telegraph app, signed up for news alerts from every humanitarian group she could find. She stayed glued to her phone looking for information on open humanitarian corridors. When it was 8 p.m. in Billings, dawn was just starting to break in Ukraine.
"People would just start texting me," Oxana says. Using the alerts from humanitarian groups, she would connect people on the run with those in nearby towns offering shelter. Many nights, she didn't sleep. She'd start her workday at 6 a.m. as a draftsman at A Line Drafting and Design, only to do it all over again the next night. She has no idea how many Ukrainians she's helped so far.
On March 9, just after midnight in Billings, Oxana finally found a humanitarian corridor Marina could slip through.
"Yuliya and Oxana kept telling me, 'Mom you have to leave, you have to go,' but I couldn't make the decision," Marina says, adding that one of her former students knocked on her door and made the decision for her. "Olga, she just came to the house and told me, 'You have 20 minutes to get ready and if you will not go, I will just grab you and drag you into the car.' I didn't take any jewelry or any possessions. I just took the dog and some clothes. I left everything. I just left."
When Oxana found out Marina, Olga and Marina's dog Savva were on the move, she says, "I told her, 'When you leave, you tell me what your next stop is, which town you are going to and I will find you shelter in that town.'"
When a town didn't show up on a map, Oxana got creative.
"I went on Facebook and found a phone number for the administrative building of that town," Oxana says. "I don't even know how that happened, but they called the mayor and found her shelter. We had a lot of stories like that."
It was a harrowing 800-mile, six-day journey for Marina to get safely from Sumy, Ukraine, to the small town of Vysoké Tatry in eastern Slovakia. At that point, Yuliya had the green light to fly overseas to help get her mom back to the States.
"I booked a ticket at the last minute because we didn't know what border she would be able to get to," Yuliya says. She ended up flying into Prague, Czech Republic, then, since trains are free in Europe to Ukrainians, she used her Ukrainian passport to travel a few hundred miles to Slovakia. Somewhere on the journey, her cell phone died, cutting off access to her mom. Yuliya ended up borrowing a phone to let her mom know she arrived and was standing right outside the shelter where Marina was staying.
"She started to cry and I started to cry," Yuliya says. "We didn't believe this was really happening."
Yuliya went through three countries to get to her mom. Once there, she'd run between Bratislava, Slovakia, to Vienna, Austria, trying to get the paperwork to bring her mom home. Because she wasn't familiar with the public transportation routes, she'd often just walk, logging more than 70 miles in a matter of days. From there, they took a flight to Istanbul, Turkey, and another from Istanbul to Chicago. Yuliya's boyfriend, Kom, drove 20 hours straight to be there waiting for them.
"I was ready to kiss the doors of the Chicago airport," Yuliya says with a laugh.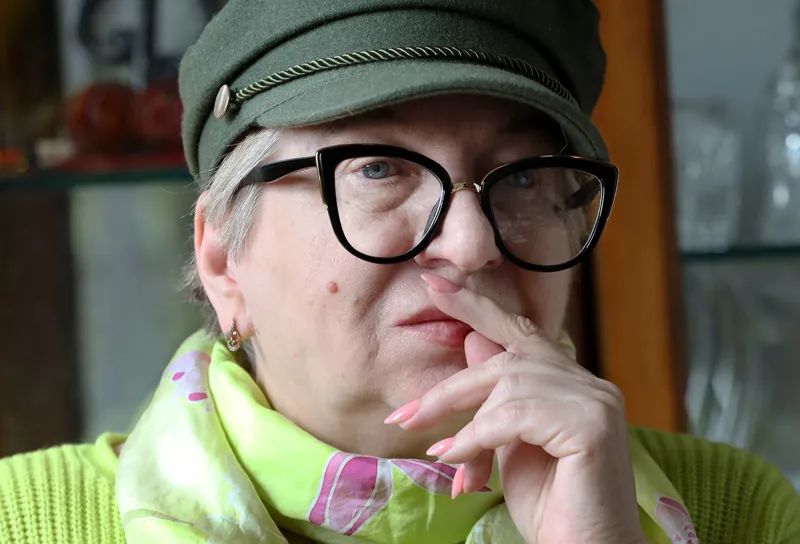 In early April, as Marina sits at Oxana's dining room table, you can see a woman worn around the edges. Her peaceful demeanor doesn't match the stories of war she shares.
"I saw how my students were dying, young boys. They were just 22 years old," Marina says. Before the war, Marina was a psychologist for students at Sumy Agrarian University.
The town of Sumy used to be a military base. It's still home to a military college, which made her neighborhood a Russian target. Bombs blew out her windows. In the midst of it all, her cherished dog Savva sat by her side. During the day, she'd take her dog out for a walk, many times stepping around bodies left in the streets.
"Those boys, they were not ready. They had no special training, but they would walk toward the tanks to protect our city," Marina says. "Russians, they saw these boys coming toward them with bare hands, but they would still fire at them."
Marina is hopeful that when the war ends, she'll be able to return to Sumy.
"I believe I will have something to go back to," Marina says. "I believe in those kids. I believe in those boys that they will protect. Ukrainians are very tough. They can't destroy us."
Yuliya's father, Igor Petrusenko, a 57-year-old colonel in the Ukrainian Army, is also actively fighting in the war. Yuliya and her mom try to call and check on him daily.
"His specialization is artillery and tanks," Yuliya says. "He is helping right now to relocate the Russian tanks captured by the Ukrainian military." She adds, "He refuses to leave and wants to help his country."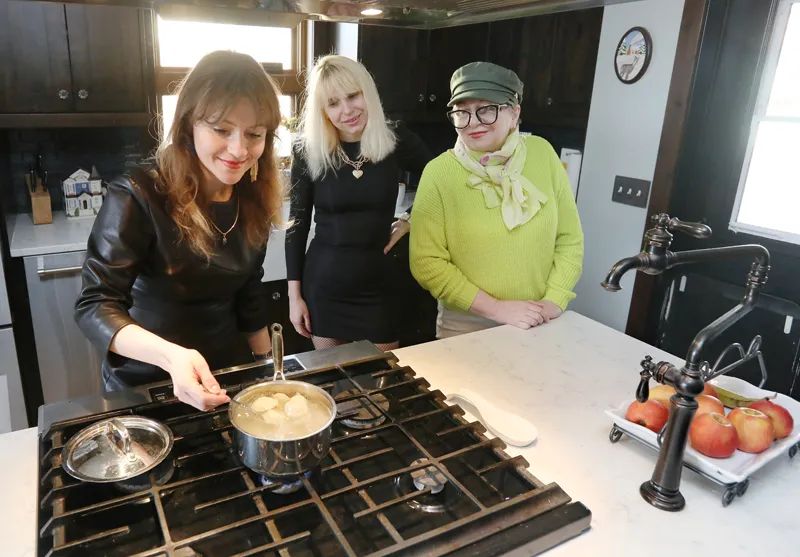 On a Saturday in April, just as Oxana promised, she, Yuliya and Marina take turns stirring a pot on the stove cooking up some of the dumplings Oxana's mother made during a recent visit. Sunflowers, Ukraine's national flower, sit in a vase at the center of her dining room table. There's just one person missing — Oxana's mom, Iryna. She was on her way out of the country when she fell and severely broke her leg.
"She can't travel. It's a complete mess," Oxana says. "She was on the road and couldn't get appropriate help. She already had two surgeries and they are just trying to restore the bone." She flips through photos on her phone showing her mom's leg with multiple pins holding the bone in place. Iryna is healing at the hospital in Ternopil, a city in western Ukraine. Oxana hopes she can safely stay there until she's strong enough to travel.
"Everything is in God's hands," Oxana says of her mom's safety. "I just pray. That's all I have. Prayer is a powerful weapon."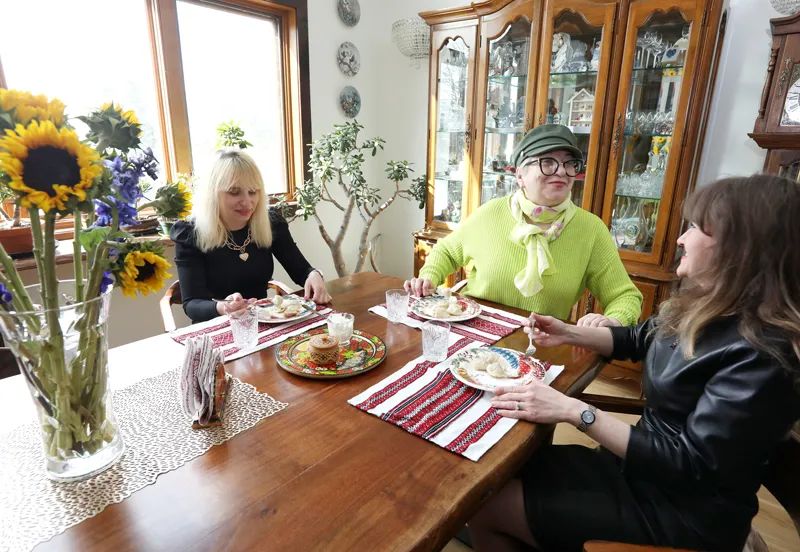 As the three enjoy their long-awaited meal together, Oxana says the fact that Yuliya and Marina were reunited was nothing short of a miracle.
"The odds for Yuliya to get there were really low," Oxana says. "The odds for them to get back? Even lower. Everything together was absolutely mission impossible. Every step along the way, it was just God directing us."