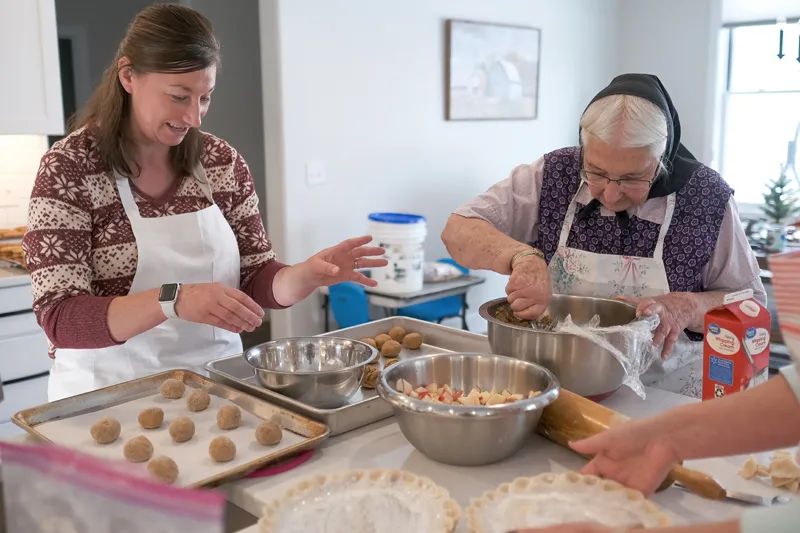 The Most Wonderful Time of the Year
Baking Up Holiday Cheer
When the Wollman sisters gather to bake together, it's the most wonderful time of the year. While that's true every day, it's even more so during the holidays. For them "It's the hap-happiest season of all."
On a fall Saturday morning, sisters Miriam Stahl, Junia Wollman and Tammy Huseby gather in Laurel in Tammy's kitchen sharing the sentiments of the Andy Williams song with their hearts glowing with loved ones. Sisters Helen Stahl and Marlene Martin couldn't join in the fun, but their mother, Susie Wollman, sat at the dining room table within earshot of the activity, proudly watching her family kick off the holiday baking season.
The sisters were making her apple pie recipe, her molasses cookies and the family's favorite chocolate chip cookies. "I told my girls how to do everything," Susie, 84, shares with pride as she physically can no longer participate.
Dressed with a black scarf covering the lower part of her glimmering silver hair with a purple flowered skirt and vest over a white blouse, the traditional dress of her Hutterite culture, she listens to the chatter while passing on an occasional comment or question, mostly flavored with fond memories.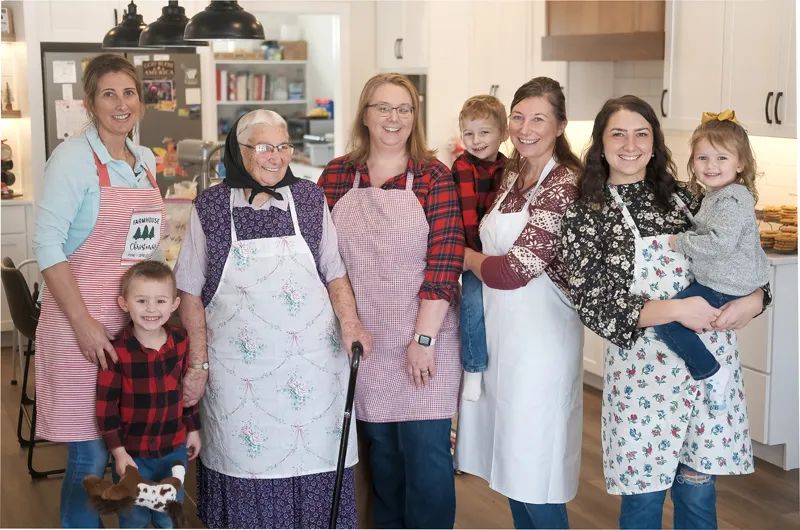 These days, Miriam holds the recipe book that had been passed down from her mother. Most of the recipes were written on index cards with detailed ingredients but only brief instructions.
Miriam, smiling, says, "My daughter Muriah said, 'The stuffing recipe does not have directions.'" Her response to her daughter, who lives in Seattle was, "This is why you get to call me."
Miriam's youngest daughter, Sonya Scheetz, is there for the festivities. As the women work in the open kitchen, aromas of ginger, cinnamon and apples fill the air while Tammy's sons, Wyatt, 5, and Hunter, 3, circled around the house with Sonya's 3-year old daughter, Addison.
After being in the kitchen for only a couple hours, five batches of molasses cookies, a couple dozen chocolate chip cookies and four apple pies were baked. Cooking and baking in large volume was never a daunting task for the sisters, having grown up in the Hutterite colony at the Flatwillow Ranch in Roundup. There they learned to cook for a crowd. With 45 members in the community at its fullest, feeding everyone needed to be well coordinated.
"We baked 40 to 50 loaves of bread on Tuesday," says Junia. "On Wednesdays, we made rolls, 24 dozen times five. Then on Thursday, we made hundreds of cinnamon rolls. Friday was noodles and pies."
"We took turns. There were three parties of seven or eight women," Miriam says. Junia adds, "Those of us who got up at 1:30 in the morning to mix dough were free during the day."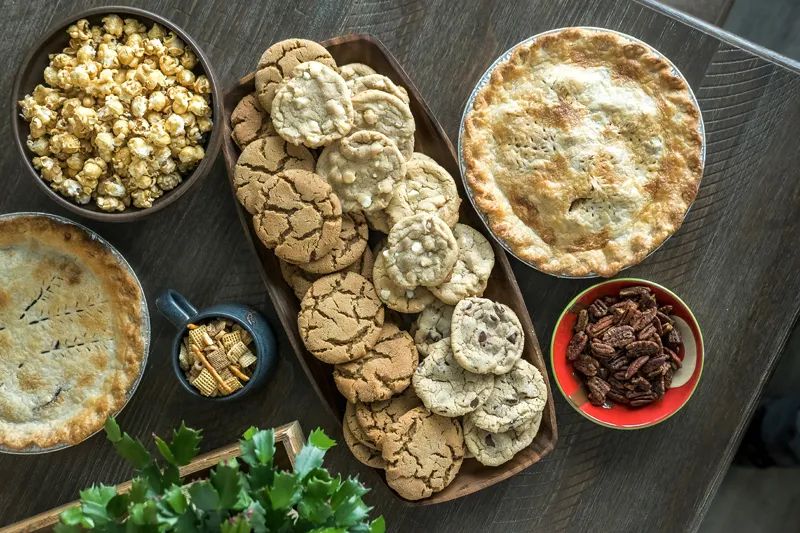 Youngest sister Marlene left the colony in the early 1980s with her husband Lester to open Martin's Home and Garden in Tennessee. Miriam departed Flatwillow in 2014 with her husband, Rueben, to start Yellowstone Valley Farms, a greenhouse growing basil in Laurel. About six months later, Junia and Tammy found their new home near their sister to take on housekeeping jobs in Billings. Helen and brother Mick remained living in the colony along with their parents, Mike and Susie.
"What makes it so special about baking with family is that we're all together," Tammy says. "The happy chatter of ladies, the smell of good coffee brewing. The older ones still teaching us younger ones." They also love giving away their homemade goodies or keeping a few extras in the freezer. If someone drops by for a visit, a fresh pie could be baked and enjoyed.
Apples, picked in the fall, are peeled, sliced, salted and frozen until use. These apples are then mixed with a combination of sugar, clear gel and cinnamon.
Juneberry pie was another family favorite as Susie recalls picking these berries that look like medium- size blueberries with apple and pear-like qualities when she was a child in Saskatoon, Canada. She continued to harvest these native fruits that ripened in July when she moved to Lewistown. In recent years, however, relatives from Canada send the berries just for pie making.
On Christmas Eve, the sisters may be with their own families, but the heart of the meal — for the most part — remains the same. And it all started with mother, Susie.
"The family met at mom's," Junia says. "We would have turkey, mashed potatoes, homemade stuffing, cranberry relish and homemade roll. "There was lots of laughter, fun games and visiting. It put a smile on Mom's face."
This year will be no different. Hearts will be glowing "when loved ones are near for it's the most wonderful time of the year." After all, that's when the Wollman family shares the food that they've baked and cooked with love and care using recipes that have served them for decades.
Jumbo Molasses Cookies
The number of cookies baked from this recipe depends on the size of the dough balls. The index card this recipe was written on did not specify the amount. Also, instructions were very abbreviated. Vary the baking time for doneness, looking for set edges.
8 c. flour
2 T. plus 2 teaspoons baking soda
2 t. cinnamon
1 t. salt
1 t. ground cloves
1 t. ground ginger
3 c. butter-flavor shortening
4 c. sugar plus extra for rolling
1 c. molasses
4 eggs
In a large bowl, add flour, baking soda, cinnamon, salt, cloves and ginger. Mix well and set aside. In a large mixing bowl, cream together shortening and sugar. Add molasses and egg. Beat in until combined. Add dry ingredients to shortening egg mixture. Mix together until combined. Cover and refrigerate for 1 to 2 hours. Grease or line a baking pan with parchment paper. Add sugar to a small bowl. Shape into balls and roll in sugar. Place on prepared pan. Bake at 350 degrees for 10 to 15 minutes or until edges are set.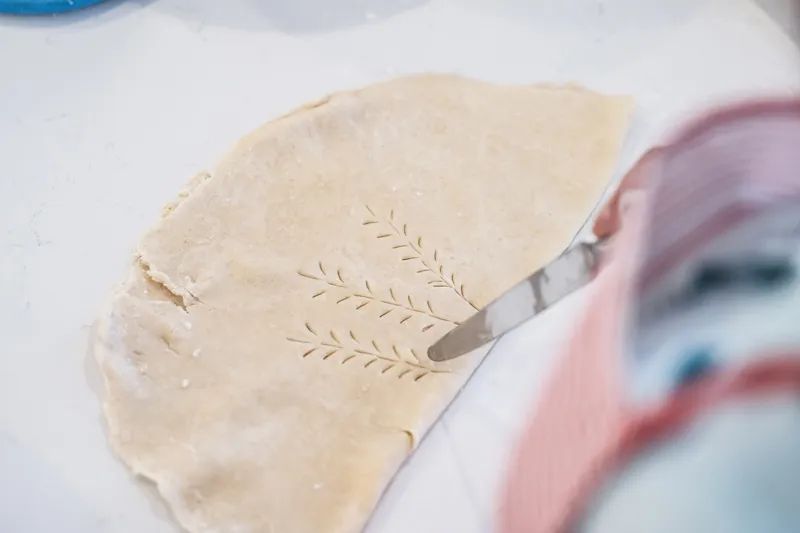 Mom's Pie Crust, makes 2 pie shells
On this recipe handwritten on an index card, there were no instructions and just the ingredient amounts. On the same card were also amounts for a Rhubarb Custard and Perfect Meringue. This showed that Miriam, who was the owner of the cookbook, holding her mother Susie's recipe, already knew how to make these recipes and just needed to be reminded of how much to use.
1 c. shortening
3 c. flour
1 t. salt
¾ c. cold water
With a pastry blender or two knives, cut shortening into the flour and salt. When dough is crumbly add water and bring dough together into a ball. Refrigerate for 1 hour before rolling out.
Pie Sweetener and Thickener, makes 8 cups
The Wollman sisters make this recipe in bulk and just sprinkle ¾ cup on top of the fruit when making pie. (To keep the apples and to preserve their color, 4 to 5 cups of sliced apples can be mixed with 2 tablespoons of salt, bagged and frozen.) After rolling out the pastry into the pie pan, 4 to 5 cups of apples are added with this mixture sprinkled on top. The top pastry is placed on and at this point, the pie can be put into the freezer and baked at a later time. A frozen pie will take about 1 hour to bake in a 350-degree oven until the pie is bubbling and the crust is golden.
7 c. sugar
1 c. clear gel
1 t. cinnamon
Combine sugar, clear gel and cinnamon and store in a large plastic bag. Add ¾ cup to 4 to 5 cups of sliced apples.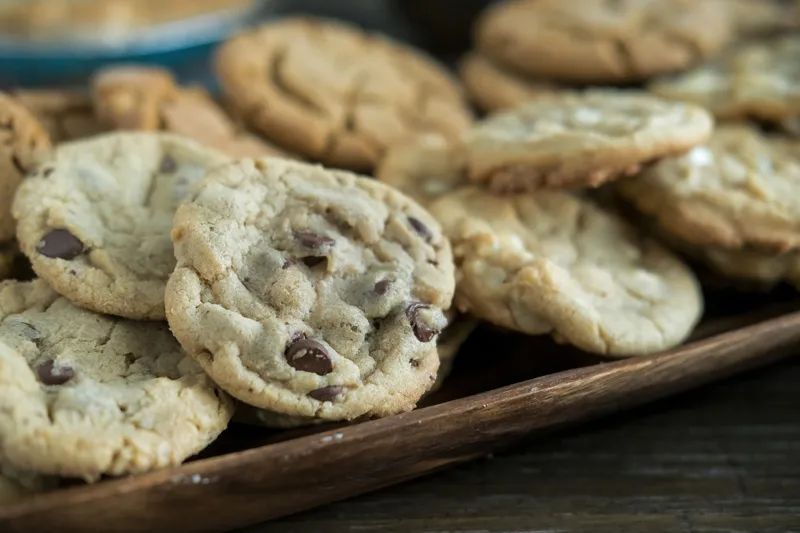 Chocolate Chip Cookies, makes 5 dozen cookies
This recipe came from "At Home in the Kitchen, Mennonite, Hutterite & Amish-Style Cooking," by Judy Walter, and is why the instructions are more complete. For Miriam, this is her go-to cookbook when she is not using her mother's recipes.
1 c. butter or margarine, softened
1 c. brown sugar
1 c. white sugar
2 eggs
1 t. vanilla
3 c. all-purpose flour
1 t. salt
1 t. baking soda
2 T. hot water
2 c. milk chocolate chips
1 c. coarsely chopped pecans
Heat oven to 350 degrees. Grease or line a baking pan with parchment. Set aside. In a mixing bowl, cream butter and sugars together until fluffy. Add eggs and vanilla; beat until creamy. Blend flour and salt; dissolve soda in hot water. Add to creamed mixture; mix well. Stir in chocolate chips and nuts. Drop by teaspoons 2 inches apart onto lightly greased baking sheets. Flatten slightly with a glass tumbler. Bake for 10 to 12 minutes for chewy cookies. Cool on baking sheet for 2 minutes. Remove to wire rack to cool completely.