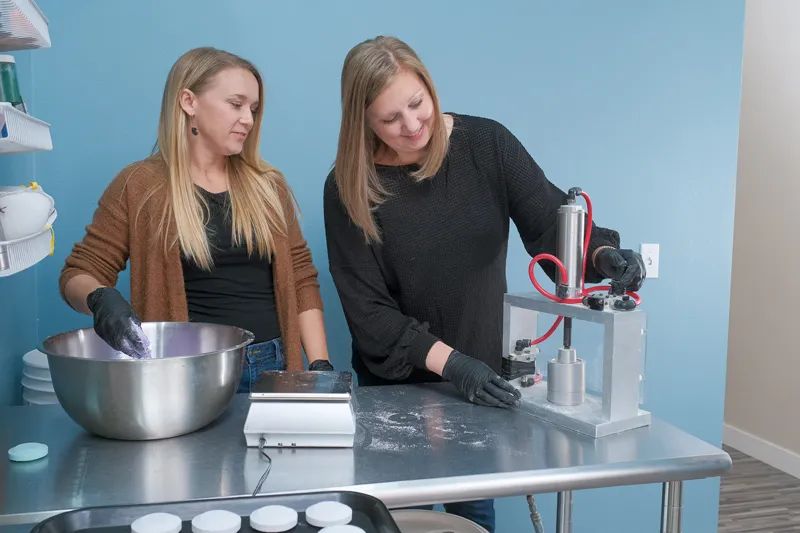 The Sweet Smell of Success
Friendship leads to growth of Rock Creek Soaps
When Rachael Brower talks about scents, she has more to say than most people. She's the founder of Rock Creek Soaps, based in Billings, and for every scent she can identify top notes, those that pop first, bottom notes, those that linger the longest, and middle notes that create complexity. Most scents call to mind a corresponding color.
Rachael's sense of smell has developed over the years as she's learned to blend scents to add to the unique line of handcrafted soaps she makes in a small but mighty workshop on Fourth Avenue North.
"Some scents are just amazing but don't work well in the process," Rachael says.
That process takes more than a month from start to finish, and at any given time, Rachael and her business partner, Jenn Dillabaugh, might have several test batches going while more than 1,000 bars of soap cure on racks in their immaculate drying room. They have names like Big Sky, Amber Waves, Starry Night, Glacier, Wanderer, Switchback Trail, and Caldera. The Home on the Range Collection includes Bison, Bear, Moose, Elk and Wolf.
"All of our soap names are inspired by the Rocky Mountain region," Jenn says.
The ingredients in Rock Creek Soaps are all organic and sustainably sourced. The safflower oil they use is Montana-grown and processed. Creating all-natural sustainable soap is a commitment they've had from the beginning. Their scents are derived from essential oils and are free of phthalates, an endocrine disrupter frequently found in synthetic scents.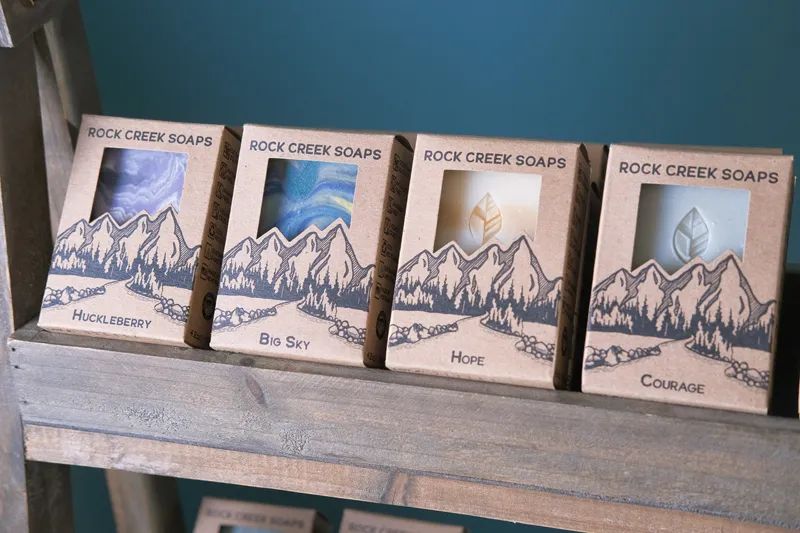 Rachael's love of soapmaking started years ago when her husband bought her a soapmaking kit. It made only 17 bars, but she was so taken with the process that she soon had more soap than she could ever use.
"I played with the idea of making soap as a business for a couple of years before I jumped on it," Rachael says.
She made that leap in 2015. While Rock Creek Soaps started out as a home-based business, Rachael quickly outgrew her space and moved into a small workshop — a couple of renovated motel rooms — in the Heights. Jenn joined Rachael in 2017.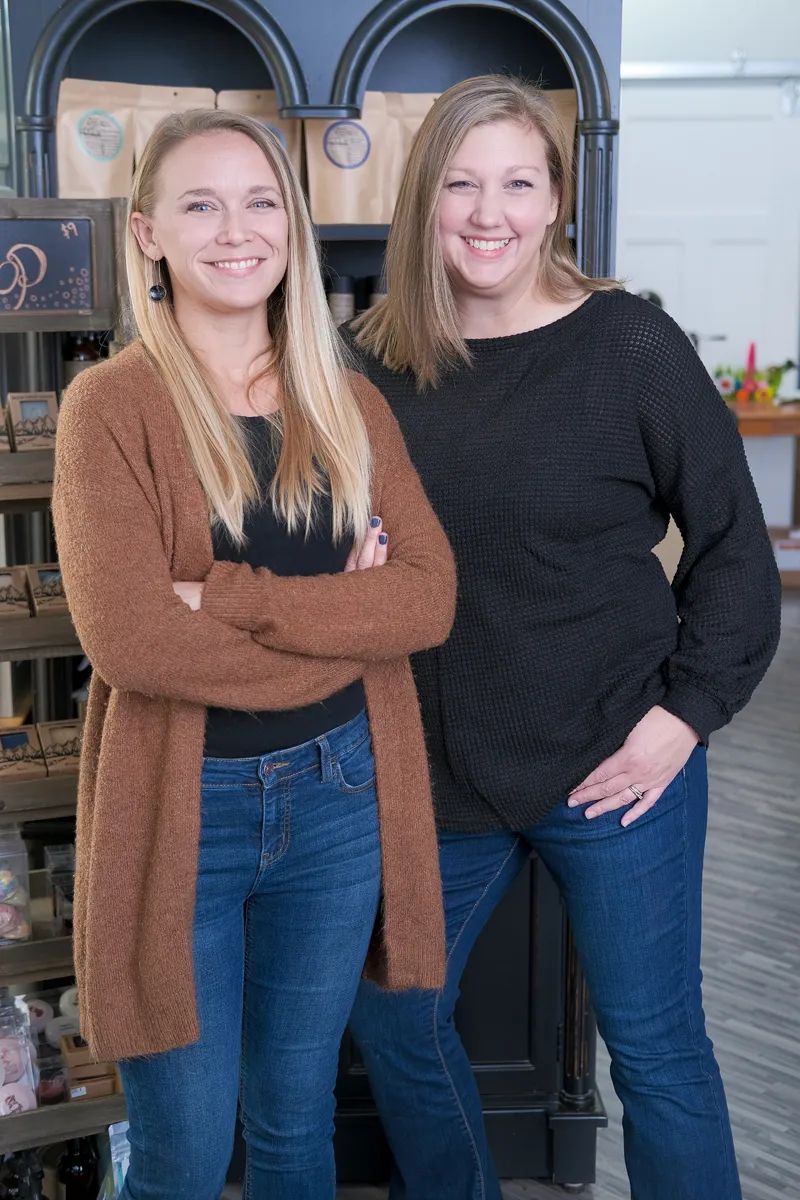 They'd been friends for years, and when Jenn learned about Rachael's soapmaking business, she approached her and asked if she could work for her.
"For a minute I thought she might have thought I was joking but I wasn't," Jenn says.
"It didn't take much to convince me," Rachael adds.
That arrangement quickly developed into a partnership as the two women set about building the business. They each bring unique strengths to the table, and the collaboration has been highly successful.
"It's a unique relationship being both friends and business partners," Rachael says. "It's been really rewarding."
Rachael, who has a bachelor's degree in business administration, brings strategy and long-range planning to the table. Jenn adds her customer service and employee-relations skills. Together they collaborate on branding and marketing.
"She pushes the train forward and I'm good at coming along behind and making sure everything goes according to plan and is in line with our vision," Jenn says.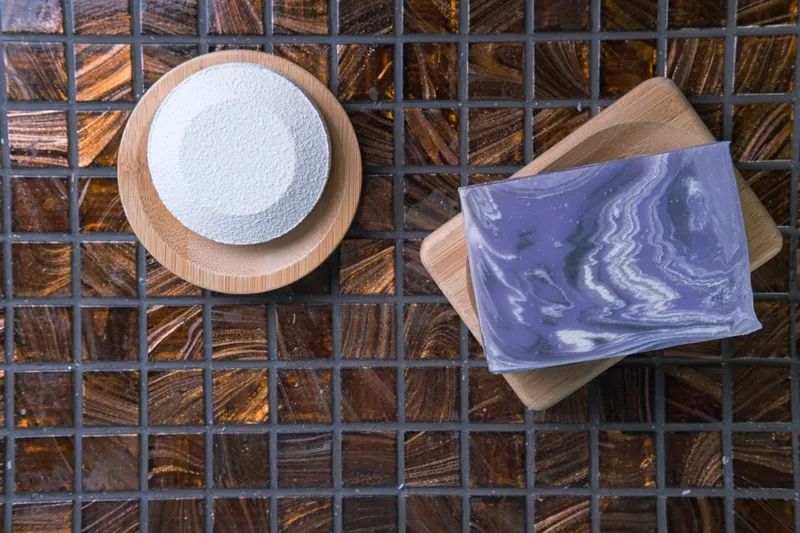 Soaps are their mainstay, but the Rock Creek Soaps line also includes lip balm, face oils, bath bombs, shower steamers, sugar scrubs, bath salts and, more recently, solid shampoo and conditioner bars. At any given time, they have about 18,000 bars of soap and other products on hand for distribution. All of it is made in their workshop and individually packaged by hand.
Rock Creek Soaps are stocked in retail locations in all 50 states, with a few locations in Canada. Rachael and Jenn sell wholesale through regional and national markets. It's a model that works well for them because they enjoy talking with retailers about their products.
Rock Creek Soaps can also be found at local markets like the Moss Mansion SpringFest, YAM SummerFair, and the Holiday Food and Gift Festival at MetraPark. Their products are stocked year-round at Aspenwell, Liberty and Vine, and Frae Everyday Goods.
In 2018, Jenn and Rachael brought on their first employee, and like many small-business owners, 2020 threw them into a nose-dive, but by the end of 2021, they had rebounded and then some. In fact, last year was the strongest year they have had to date. They brought on more employees (there are now eight counting Rachael and Jenn) and have grown as a team.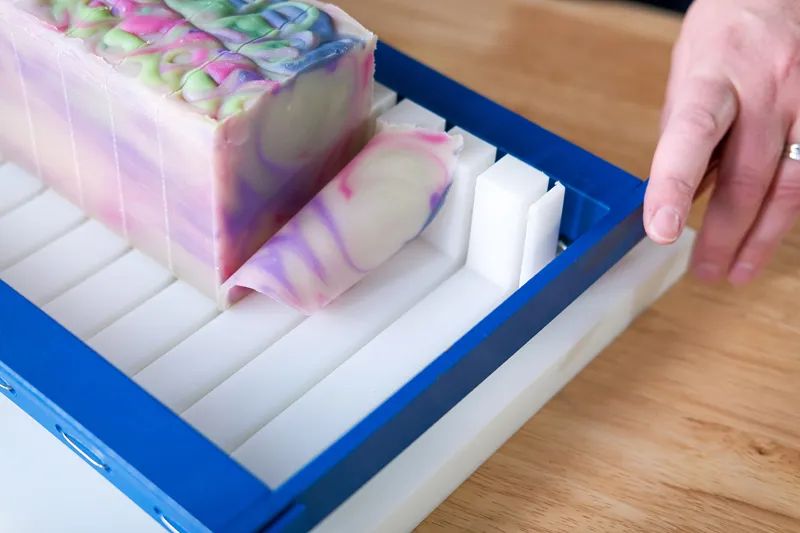 "I enjoy employing the people we do and providing them with a great working environment," Jenn says. "We try to have a positive attitude and be super gracious and forgiving."
"Hopefully they will feel like it's just like a big family," Rachael adds.
At any given time, they may also be opening their doors and arms to a woman from the HER Campaign, a local faith-based nonprofit. The mission of HER Campaign is to help survivors of human trafficking heal, grow and find their purpose. They do that by providing emergency shelter, residential care and transitional living support.
"We knew Britney and Sammy (founders of the HER Campaign) and wanted to do something that could benefit our community and make a difference," Jenn says.
Rachael and Jenn provide the women with work experience. It helps them build a resume and gives them employable skills in a nurturing environment. The women can stay as long as they want or as long as their recovery program allows. Some have gone on to become permanent employees.
"It's always been really energizing," Jenn says. "We've always wanted a safe working environment where people feel encouraged and loved, so it has been a good fit for us."
Rock Creek Soaps also includes a line of soaps stamped with a leaf, the HER Campaign logo, and a portion of the profits from the sale of those soaps goes to the Her Campaign.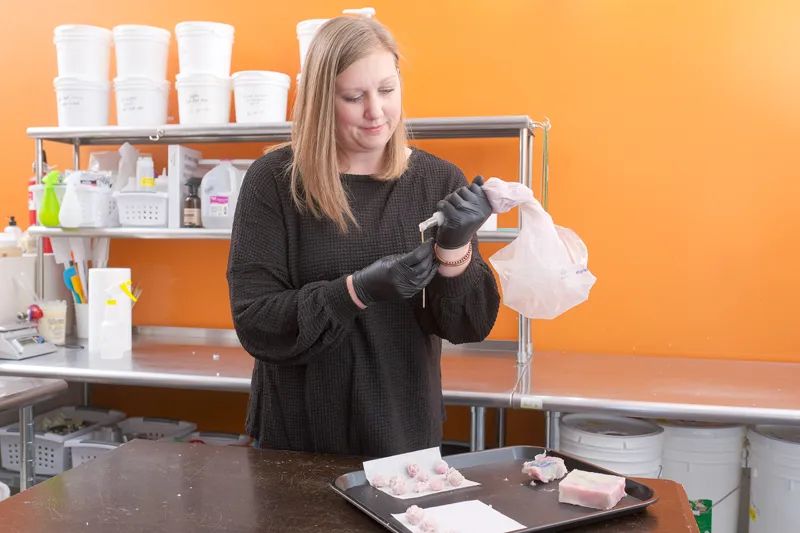 While many people may be excited to level-up a hobby into a business, Rachael offers some advice.
"First, find a good business partner," she says, sending a smile in Jenn's direction. "And then, know your numbers. It's all fun and games until you have to pay the bills. There's a big difference between a hobby and a business, and you need to ask yourself, am I going to still love this when I have to do it every day?"
In business, Rachael and Jenn strive to be flexible, adaptable and willing to change. This year, their challenge has been in dealing with inflation and scarcity of ingredients. Still, they continue to grow.
"From day one we've been open to where God leads the business," Jenn says. "So far that's what it's been. We trust Him with every step."
ROCK CREEK SOAPS has a retail space at the front of their workshop where shoppers can purchase handmade soaps and other spa products as well as accessories and gifts. The store, located at 2319 Fourth Ave. N., is open Monday-Thursday from 10 a.m. to 4 p.m.