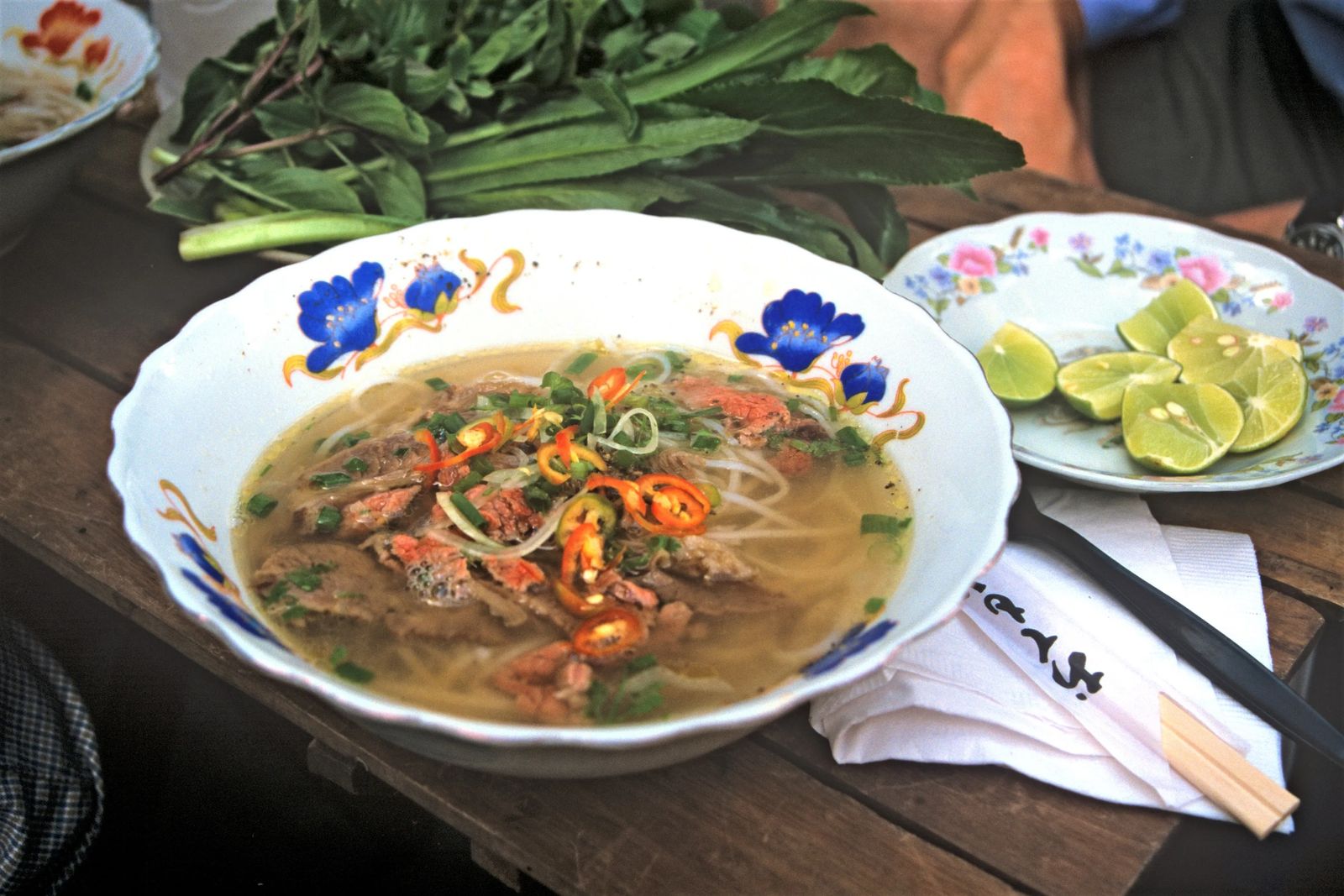 The Taste of Vietnam
Dish up some Beef Noodle Soup, Pho Bo
Vietnamese beef noodle soup, or pho bo, is considered Vietnam's national soup. Pronounced "fuh," this dish typifies Vietnamese eating where dishes are finished with garnishes and accompaniments. In this Southeast Asian country located south of China and east of Laos and Cambodia, pho bo is served day and night at almost every street corner. The Vietnamese soup consists of broth, rice noodles, herbs and meat, usually beef (pho bo) or chicken (pho ga).
I learned of pho bo 20 years ago when I traveled to Vietnam with the Culinary Institute of America on a tour led by restaurateur and cookbook author Mai Pham. I fondly remember slurping noodles while seated on knee-high stools alongside a busy street in Hanoi as trucks and mopeds buzzed by.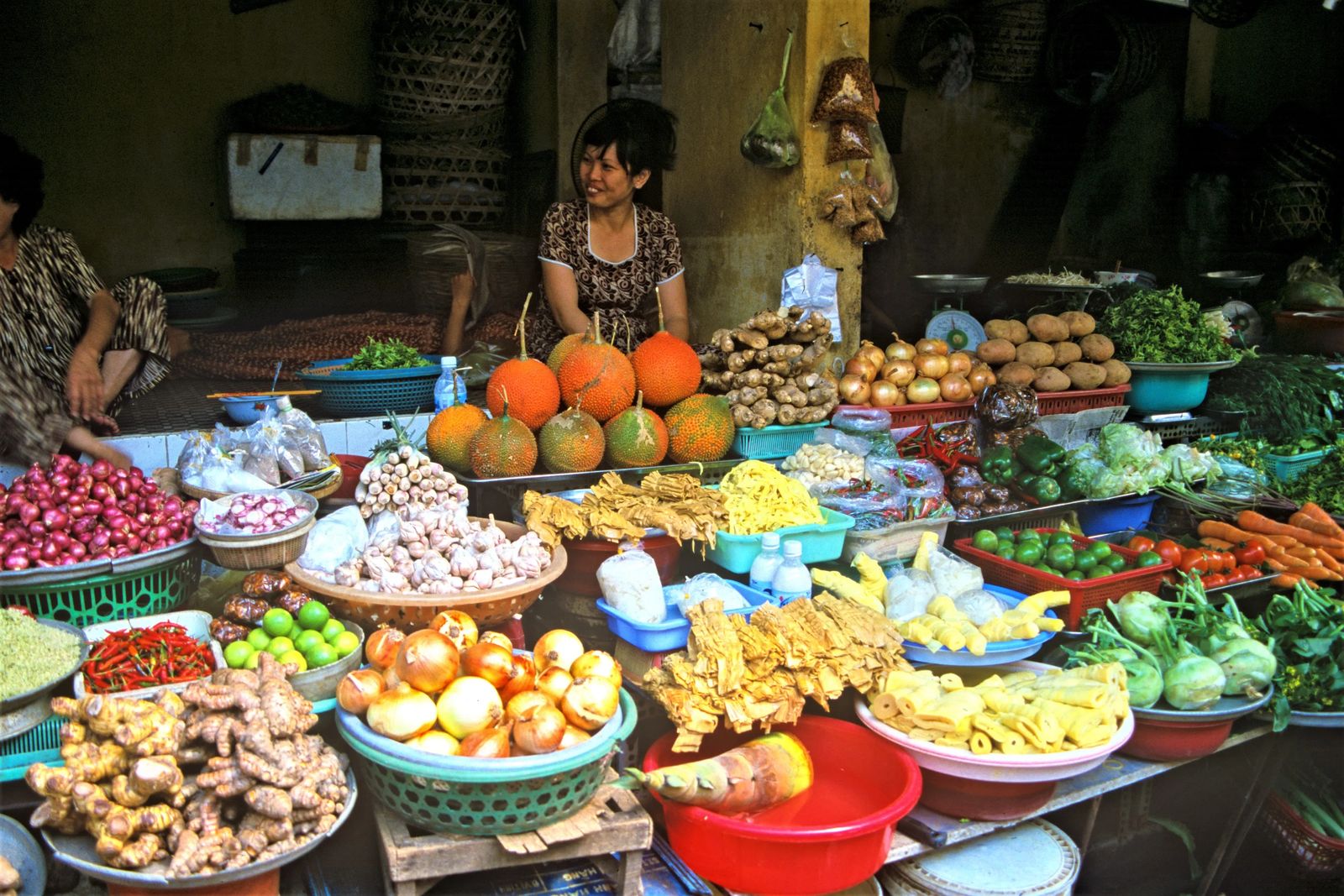 When I was growing up in the San Francisco Bay Area in a Chinese household — my mother was from Hong Kong and my father from southern China — Cantonese food dominated our table. This style of food features seafood, meats and poultry in its most natural form. Soy sauce and sesame oil gently flavor the food. My palate danced when I discovered the heat from peppers, pungency from basil and sourness from lime juice, all highlighted in Vietnamese fare.
The traditional pho broth is clear, but I find the broth takes on more richness when the meat has been roasted. Because my husband is not a fan of star anise, I use the five-spice powder freshly made from the recipe in "Flavors Under the Big Sky: Recipes and Stories from Yellowstone Public Radio and Beyond." The traditional broth is enriched with the addition of star anise, cloves and cinnamon. My preference is to use medium-sized rice noodles for this dish but it is usually served with thin vermicelli noodles in Vietnam.
For the garnish, instead of the saw leaf herb, I use fresh cilantro. The long serrated leaf imparts a strong cilantro flavor, but unfortunately is not available locally. Thai basil, which has essences of cinnamon and licorice, is the other garnish that is used, but I substitute Genovese basil and add some mint leaves.
Sriracha sauce, a bright red, multi-purpose hot sauce made from red chili peppers, garlic, vinegar, salt and sugar, originally from Thailand, is a nice addition, adding a dimension of spiciness.
The accompaniments encourage the freedom of adding the flavors you want, contributing an element of playfulness, and freshness. Vietnam is a country once conquered that is rising again and sharing its culinary treasures with the rest of the world.
BROTH
4 pounds beef bones with some meat on the bones
4 inches ginger, unpeeled
1 yellow onion, peeled, halved
1 T salt
¼ c. fish sauce
1 T. sugar
1 t. five-spice powder
NOODLES
1-pound dried medium rice sticks
ACCOMPANIMENTS
3 green onions, sliced on the diagonal
1 pound bean sprouts
6 fresh mint sprigs
24 sprigs of cilantro
12 fresh basil sprigs
2 jalapeño chilies, thinly sliced
2 limes, cut into wedges
Fish sauce
Sriracha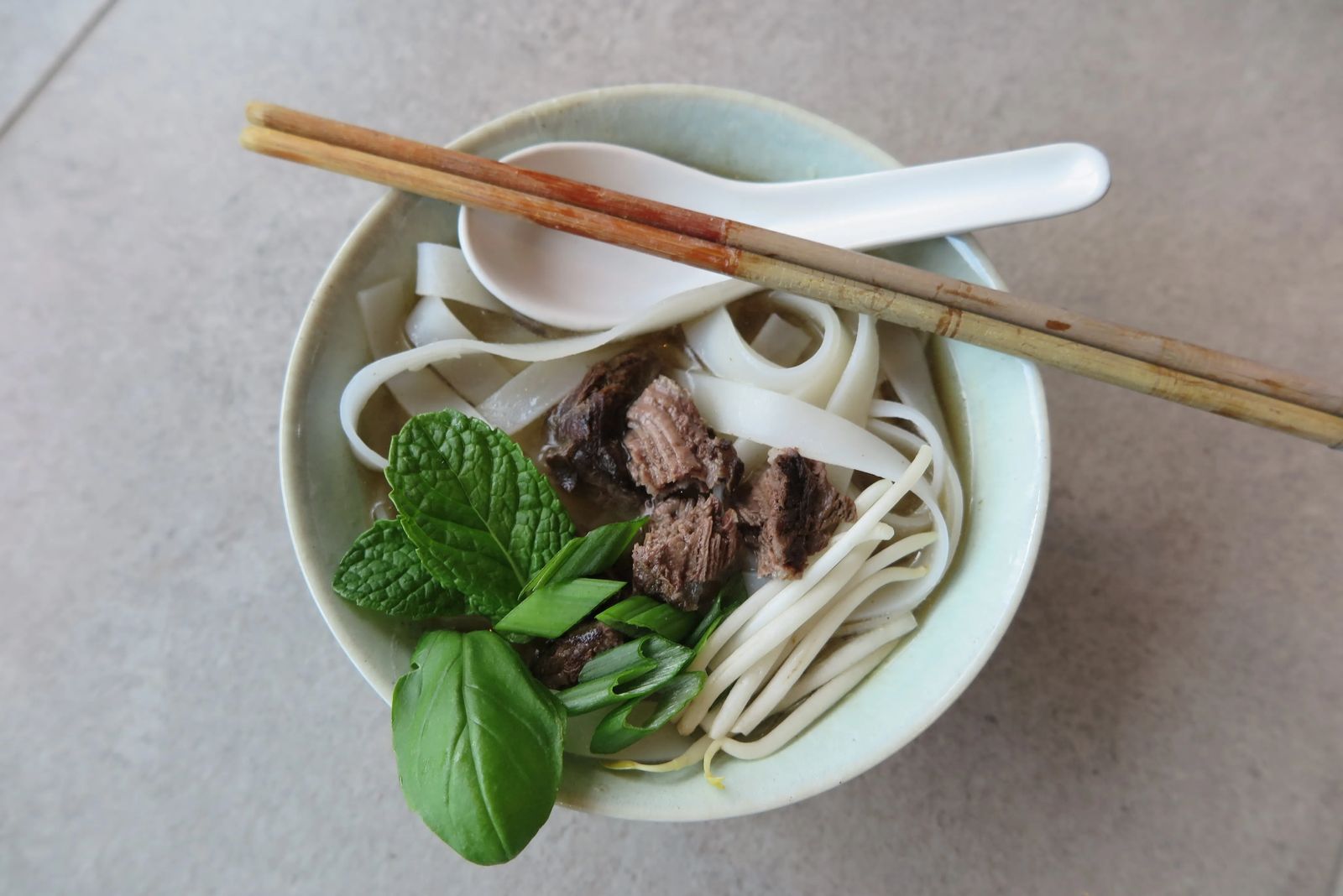 DIRECTIONS FOR BROTH
Preheat oven to 425 degrees. In a rimmed pan, roast bones for about 20 minutes until browned. Remove bones, then roast ginger and onion until blackened, about 10 minutes.
In stockpot over high heat, add bones with enough water to cover 1-inch above the bones. Bring to a boil. Skim off impurities. Add ginger and onion, salt, fish sauce and sugar. Bring to a boil. Reduce heat to a simmer, and simmer for three hours, skimming as needed. Remove bones and set aside.
Add five-spice powder and continue cooking for another hour.
Remove stock from heat and with a slotted spoon, discard the solids. Strain stock through a fine-mesh sieve layered with cheesecloth into a large bowl. Let broth sit at room temperature for about one hour and then skim off fat. Let stock cool completely and transfer to airtight containers to store in the refrigerator for up to three days, and in the freezer for up to four months.
Remove meat from the bones, cutting into bite size pieces. Set aside.
DIRECTIONS FOR NOODLES
Boil a pot of water. Place noodles in a large bowl. Pour water over noodles and soak for about 20 minutes. Drain and cover noodles with more boiling water if noodles are still firm. Soak for another 10 minutes or until noodles are tender. Drain. Leave noodles in bowl.
TO ASSEMBLE
Just before serving, bring a large pot of water to a boil. Pour the boiling water over noodles to re-heat them. Transfer warmed noodles to six large, warmed soup bowls. Divide beef on top of noodles. Ladle hot broth soup over the noodles.
Arrange fresh accompaniments on a large plate. Allow each diner to top soup with green onions, bean sprouts, mint leaves, cilantro leaves, basil and jalapeño. Have bottles of fish sauce and sriracha on the table.
FIVE-SPICE POWDER
From my cookbook, "Flavors Under the Big Sky: Recipes and Stories from Yellowstone Public Radio and Beyond," five-spice is the flavor of the childhood dishes of steam sweet rice wrapped in lotus leaves and barbecue pork. I have customized the formula because my husband does not like the flavor of star anise.
1 T. Sichuan peppercorns
3 star anise
1 t. whole cloves
1 stick cinnamon
2 t. fennel seeds
Put all ingredients in a spice or coffee grinder and grind to a fine powder. Store in an airtight container for up to several months.
WHERE TO FIND ASIAN INGREDIENTS
Two retail operations in Billings might have what you need. Visit Amaya Oriental Market at 520 Wicks Lane or Isabella Asian Market located at 1005 24th St. W.