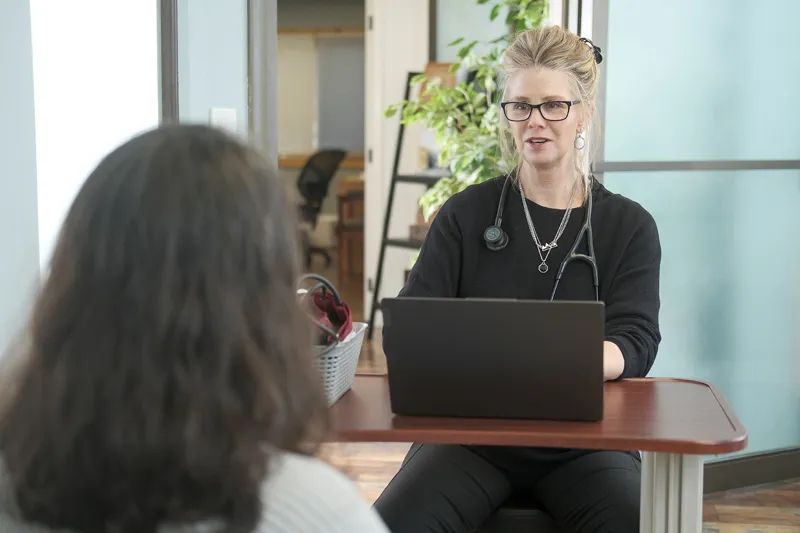 The Winding Road to Success
Wendy Donaugh heals with a heart of compassion
Walking into 406 Arthritis Clinic is like being invited into someone's home. The warm, inviting waiting area may as well be a living room with its comfortable seating and homey touches like the intricate handmade quilt hanging on the wall. All through the office, a warm, subdued color palette replaces the stark white walls found in most clinics. Very little in 406 Arthritis Clinic looks like a typical healthcare office. That's by design because Wendy Donaugh, the clinic's owner, isn't your typical healthcare provider.
Wendy, a nurse practitioner, has spent nearly her entire career helping patients with rheumatoid arthritis and other autoimmune diseases. She doesn't often wear a white coat, and she's on a first-name basis with all her patients. She knows that when someone first walks through the door, it's because they are often in pain and desperate for answers and relief.
"I just really have a heart for my patients," Wendy says.
Wendy, 52, opened 406 Arthritis in December of 2021 with a new philosophy of care, one that involves spending time with every patient. At rheumatology clinics where she'd worked in the past, it wasn't uncommon for a provider to be expected to see 16-18 patients a day. If you ask Wendy, one 15- to 20-minute appointment isn't enough time.
"Rheumatology is a constantly changing field and patients' situations are complicated," she says. "It requires more time with patients to find out what's going on."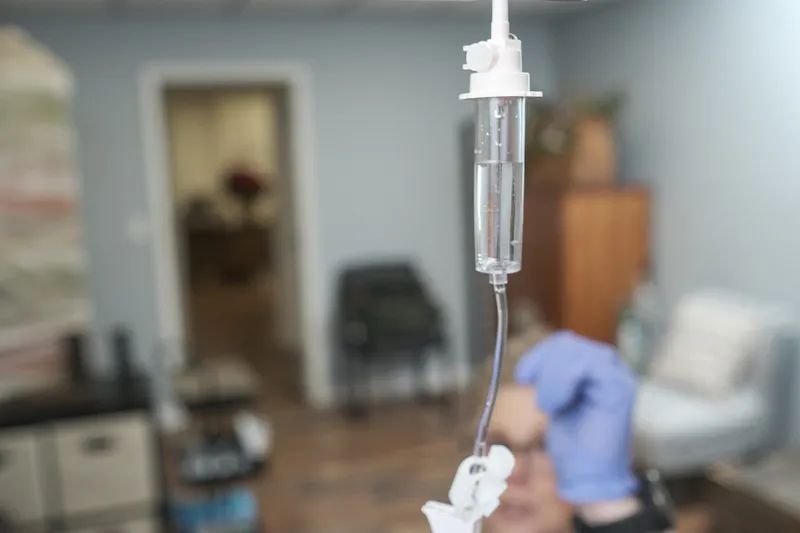 In her clinic, Wendy sees three or four patients each day, and on a busy day she may see up to 10, which is reaching her limit.
"I'm not in it to get rich, I just want my patients to get what they need," Wendy says.
Besides treating rheumatoid arthritis and autoimmune diseases such as lupus, Wendy can also help with gout, osteoporosis and fibromyalgia, as well as joint and back pain. Her clients are people of all ages, though she doesn't specialize in treating children.
You could call 406 Arthritis small but mighty. Wendy can handle all the various oral and injectable medications along with IV infusion treatments. She can perform X-rays and take bloodwork. Above all, with new drugs and treatments coming out each year, she dedicates time to stay on top of it all.
"If you get someone on the right treatment, it's life-changing," Wendy says.
Bruce Hoiland was diagnosed with system arthritis in 2013, brought on by a severe injury. He's been seeing Wendy since before she opened 406 Arthritis and credits her with a breakthrough in his treatment.
"She knows me, and she knows my body, and if I say it's not working, we try new things until we find something that helps," he says.
Under Wendy's care, he's seen significant improvement. He's also seen her commitment to her patients, providing personalized care with each one. He knows she's just a phone call away, always ready to listen.
"I trust her. From top to bottom. She keeps track of me," he says. "I don't know another provider in this community that does that."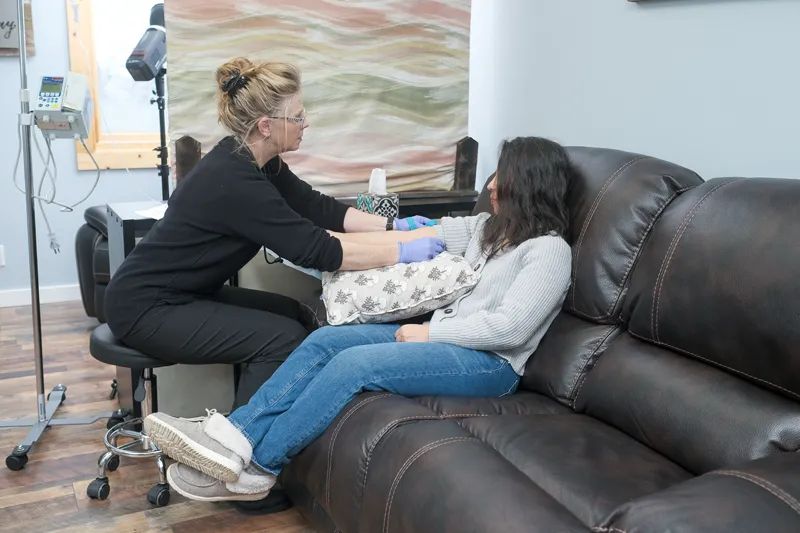 Wendy will often see new patients come to her with very little understanding of the illness they have or the treatments they're on. That's why she is dedicated to education. She takes the time to explain to patients what they need to know and empowers them to make treatment decisions.
To keep education at the forefront, she started a support group for those living with rheumatoid arthritis and autoimmune diseases. It's created a community for those who attend. Wendy arranges guest speakers to talk about everything from anti-inflammatory eating to the benefits of physical therapy. The group meets once a month and everyone — not just 406 Arthritis patients — are welcome.
At 406 Arthritis, Wendy employs a receptionist and a nurse, and her husband Doug pitches in around the clinic as well. Wendy and Doug invested their life savings into starting the business and have yet to take out any loans for startup or day-to-day operations. They're committed to running the business debt-free by expanding it slowly, working out the kinks as they go.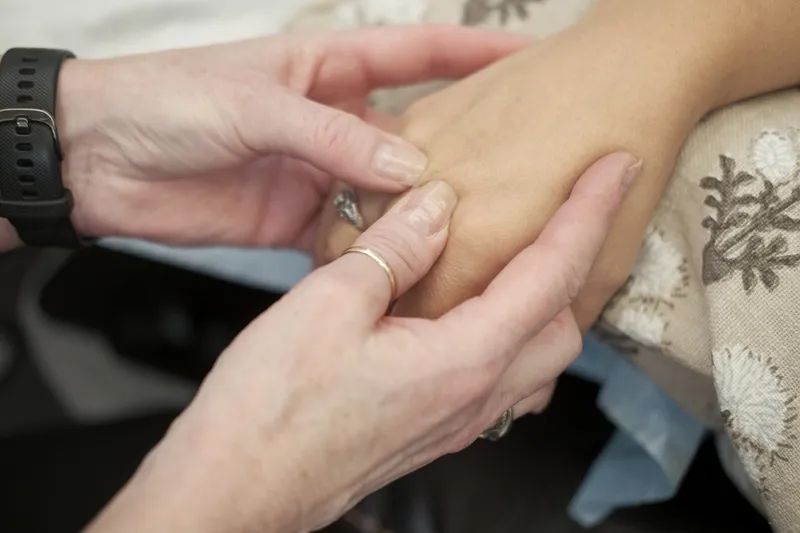 Wendy knows from experience that there's no straight path to success. She's taken her time getting to where she is today.
Wendy grew up in Bozeman, dropped out of high school and left home by the time she turned 16. She got "tangled up" with a man 20 years than she. He was involved in drugs and prostitution, and Wendy became pregnant at age 17. Her son was born the day after her 18th birthday, and though it was a heartbreaking decision, she knew she wasn't ready to be a mother, so she placed him for adoption.
"I've never met him, and I'm at peace with that," she says. "I said to him, this is not because I don't love you. I do. I just want to give you life."
It wasn't long before Wendy's boyfriend ended up in jail, and Wendy was on her own, stuck in California, working at a Dairy Queen and living in her car. Desperate, she moved in with her grandmother in Nevada, and with a little stability in her life, she earned her GED and attempted community college.
She eventually married and had three kids and cared for her husband's ailing parents in their home. It was more than the marriage could stand, she says, and the couple divorced when their youngest was 5 years old. She relocated to Billings with her children and set her sights on nursing. Though it took some time and sacrifice, she earned a bachelor's degree and became an RN in 2002.
Wendy's mother has always been her inspiration. Wendy's father left Wendy and her mother when Wendy was 4. Undaunted, her mother pursued a teaching degree, eventually even earning a master's degree. She valued education, and although her mother couldn't help financially, she was Wendy's biggest cheerleader as she pursued her nursing degree.
"I watched all this, and I knew I wanted to do what my mom did," Wendy says.
In 2002, Wendy went on to become a nurse practitioner. It's been the perfect fit.
"Physicians are trained to fix you. To them, you're a problem to fix," Wendy says. "As a nurse practitioner, we are trained to look holistically at a patient. Everything about you matters. That's how we are trained."
Wendy admits that her profession can easily lead to burnout, but she has learned to build
downtime into her days. She loves spending time walking with her dogs on the small farm that she and Doug share near Park City. She doesn't mind the commute. It gives her time to think and prepare for the day and decompress on the way home. When she has time, she likes to quilt. The quilt in the waiting room is her handiwork. She also finds peace in her faith and sees her work as a calling.
"I've always had a heart of compassion for people," she says, "and I've always known that's been because of the Lord."