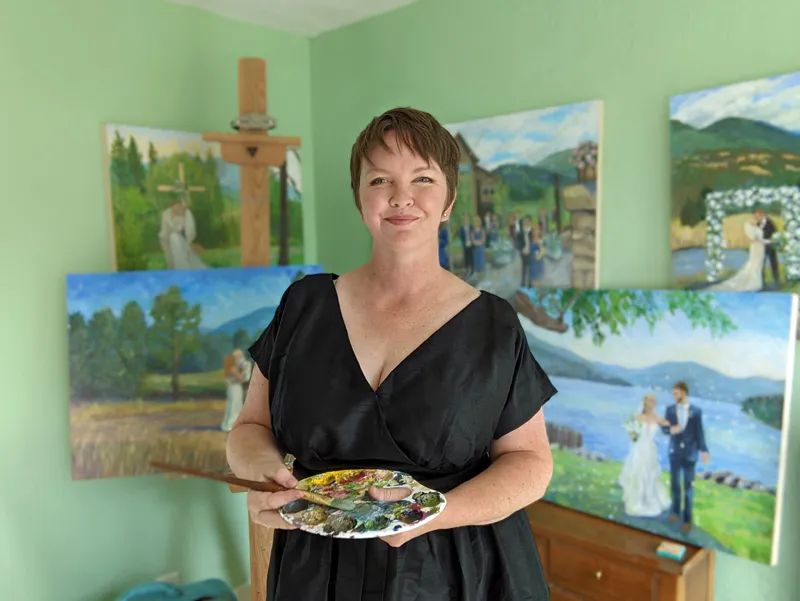 To Have,to Hold & to Hang on the Wall
Livingston artist honors special day with brush strokes
Photography courtesy Whitney Sarah Photography
Kay Potter is no wedding crasher, but she's frequently peeking from the sidelines as couples exchange vows. She thrives on their magic moments and she's a sap for hearing the fateful twists and turns that brought them together. She's not an invited "wedding guest" per se, yet she's a welcome face at more and more ceremonies.
Kay is a live event wedding painter. She travels with easel and paints, ready to recreate the magic of that "special day" wherever it may be. With daubs and strokes of color, she strives to capture the singular spirit of the honored couple in a work of art they'll treasure forever. Her artist's eye interprets the moment in a medium that no photo could match.
"Painting allows a looseness, a familiarity with something that can grow and change," she says. "So that in 40 years, it'll still look like you."
Kay is particularly adept at what she does because she offers the ideal combination: she's a trained artist with an outgoing personality.
"Working in the studio can be a little lonely," she admits. "I really enjoy talking to people while I'm making art."
And that's precisely how she approaches the process. A self-described sucker for how-we-met stories, Kay chats with the couple long before the ceremony. She listens for the details that will give context to what she will paint.
"I want them to be connected with everything around them," she says. "It's really important to know who they are before going into it."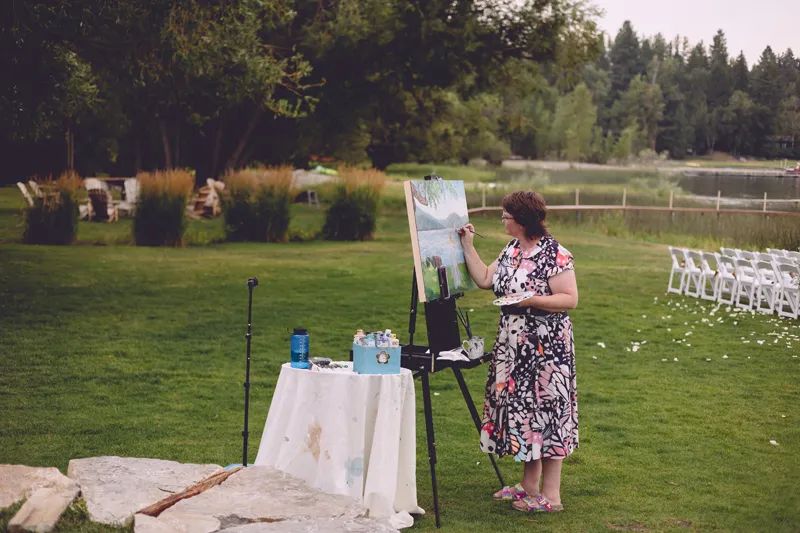 Opportunities to chat continue through the wedding reception, as guests drop by to watch Kay's work take life. For Kay, the highlight comes when the bride and groom first wander over to check out their painting.
"It can be very emotional," she says. "It's their first kind of 'here we are now' glimpse of their wedding day."
Although live wedding painters are only recently becoming a "thing," Kay points out that painting people and places is a centuries-old tradition.
"I like to say it's a new trend that's actually a very old trend," she says.
And as the new/old trend gains popularity, Kay finds that her clients run the gamut. There was the "New York godfather," who wanted to impress with the best wedding present. And there was the enemies-to-lovers couple, where the bride-to-be spurned her demanding CrossFit coach – until emotions took a dramatic turn and they fell in love.
Sometimes her clients come in groups, like Chelsea DeWeese and her nine friends. They pooled their money to give the honored couple a unique gift.
"The picture of the bride and groom dancing at the reception was perfect!" Chelsea says.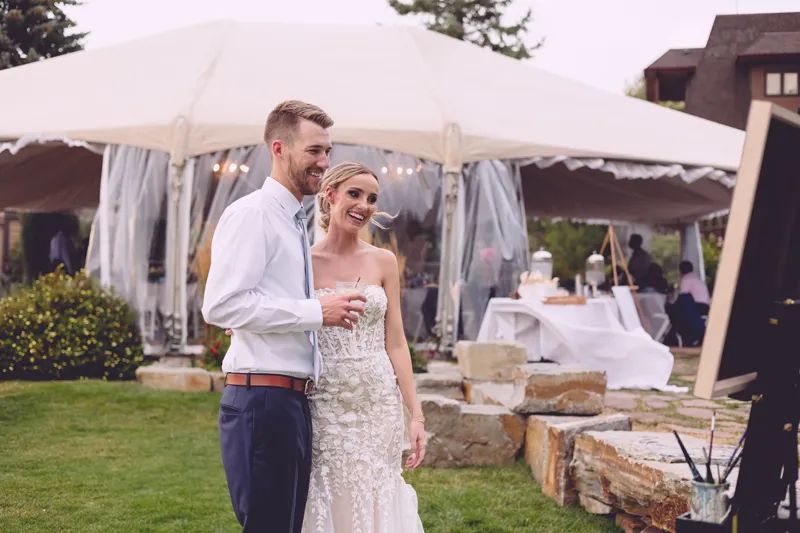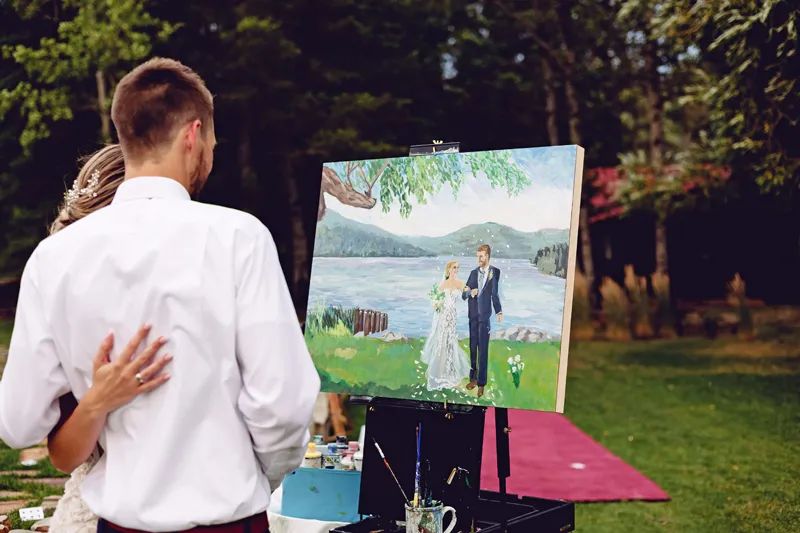 Kaylen Surges and Ian Yott decided a live wedding painting would be the perfect wedding gift to themselves. The whole process was so much fun, Kaylen says, adding that every time she glances at the painting in their living room, it reminds her of their magic day.
"Kay really tries to get a sense of who you are as a couple and what fun things can be put into it to make it especially unique to you," Kaylen says. "The final product still brings me to tears every time I look at it. The painting is our favorite thing!"
A native of the Bozeman area, Kay traces her passion for art to her middle school art teacher, Mr. Charron.
"He taught us that art is really about seeing," she says. "Once you start being able to really see, you can start making good art."
After cultivating her talent at the Savannah College of Arts and Design in Georgia, Kay returned to Montana and took seasonal stints as a raft guide and ski lift operator. Sensing little future in those jobs, she made a life-changing decision. The decision itself was part of Kay's own love story. She had just pushed through a tough breakup when she made a conscious decision to find happiness on her own. And that led right back to her art.
"Just as my career was starting to take off, I met someone one night … and while it wasn't exactly love at first sight, it might as well have been," she says.
This new love, Jim, supported her and her choice of careers. Two years later he proposed on the banks of the Yellowstone River.
"I won't say he completed me, but I will say he gave me space to become my best self," she says.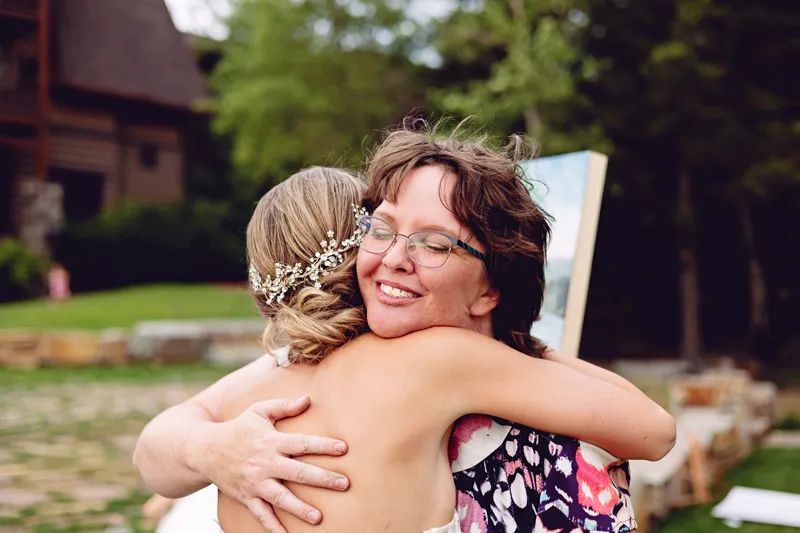 For her own wedding, Kay knew she wanted a grand celebration. She saw it as an expression of gratitude to her family and friends. She reflects on her wedding day as one of the best memories of her life, yet the thought of painting weddings did not occur to her then. She was busy painting portraits of pets when a friend asked Kay if she'd consider painting her wedding. Feeling totally unprepared, Kay began researching live wedding painters. The more she learned, the more it seemed a perfect fit.
"I woke up one morning and decided 'this is really what I need to do,'" she says.
Today, two years later, Kay has painted weddings across Montana and will soon be traveling to Houston for another. She loves the challenge and she loves sharing joy through her profession.
"I do it because I so value the choice two people make when they say 'I do' to each other," she says. "And I believe that love and that commitment deserve to be elevated to museum-quality fine art status."
Besides, she adds with a grin, "If love isn't the best thing to paint, then I don't know what is."
TO LEARN MORE about Kay Potter and her live wedding work, visit kpotterfineart.com.