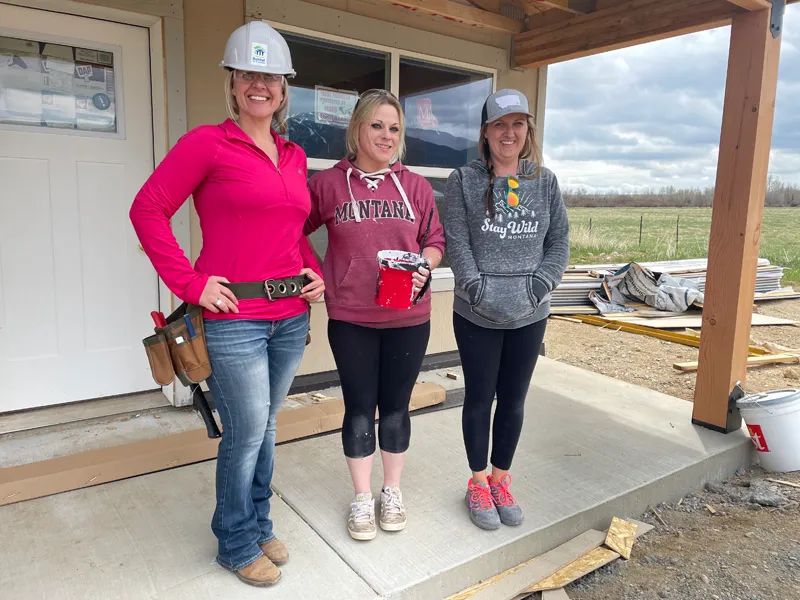 Together They Build
3 Women band together to make home ownership a reality
Perched on a ladder with paintbrush in hand, Terry Sue Johnson-Rogers cut in the corners of her daughter's bedroom ceiling with white primer. Helping her out in the living room, Tanya Hay rolled a coat of rich gray-brown paint across one wall. Outside, with a toolbelt across her waist and a hard hat on her head, Kristen Hobson attached soffit under the eaves.
The three women never imagined they would spend their Saturdays on a construction site, but then again, they never imagined they'd own their own homes – or have a hand in building them. Kristen, Tanya and Terry Sue are part of the Owner-Built Housing Project, a program of the Red Lodge Area Community Foundation in partnership with Helena Area Habitat for Humanity and Trust Montana.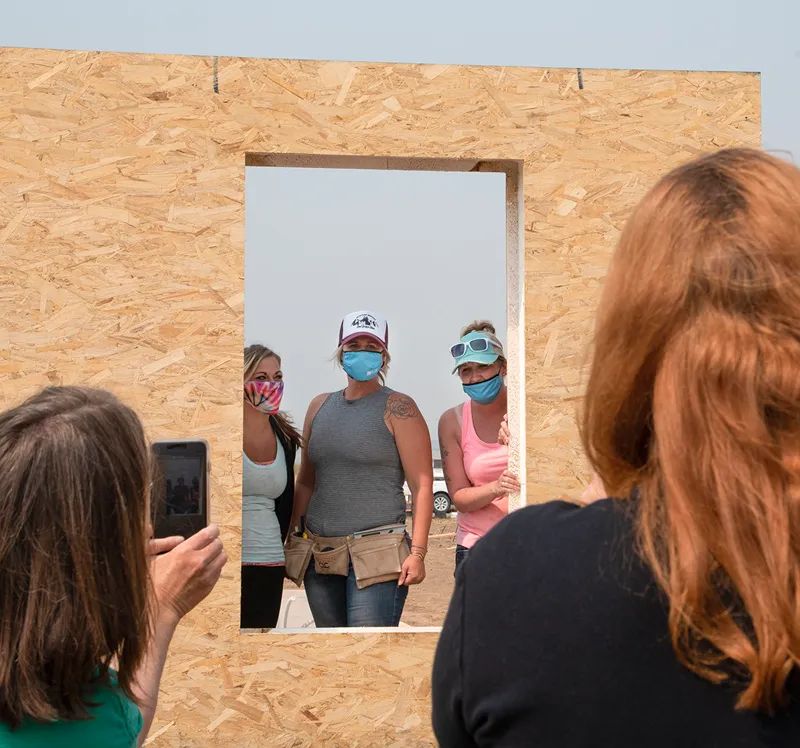 For more than a year, the three women have been working hard and digging deep to tap emotional and physical reserves they didn't know they had. Later this summer, they will be moving into their homes, all next door to one another in a quiet subdivision on the outskirts of Red Lodge.
Operations at the build site are overseen by a construction supervisor with the Helena Area Habitat for Humanity, who helped provide the women with an education in every aspect of the building process. Habitat for Humanity's model relies heavily on volunteers, but because of Covid-19 restrictions very few volunteers helped on the Red Lodge project. That left Kristen, Tanya and Terry Sue to shoulder a good portion of the labor, committing to work at minimum every Saturday all day and on Wednesday evenings every week. The sweat equity they put into the building process brings down the overall cost of the homes they will eventually purchase.
They all agree that the prospect of homeownership has been worth the effort.
"This is a dream come true," says Tanya. "I've always wanted to own a home here."
Tanya's extended family has lived in the Red Lodge area for four generations, and her teenage daughter and young son represent the fifth generation. The thought of living anywhere else was heartbreaking, but recently, with rising housing costs and a shortage of rentals, she was faced with the real possibility of being forced to leave.
"If I hadn't been selected by Habitat I'd have had to move," she says, standing in her unfinished kitchen. "It's comforting to know that this is where I get to live for the next 30 years-plus."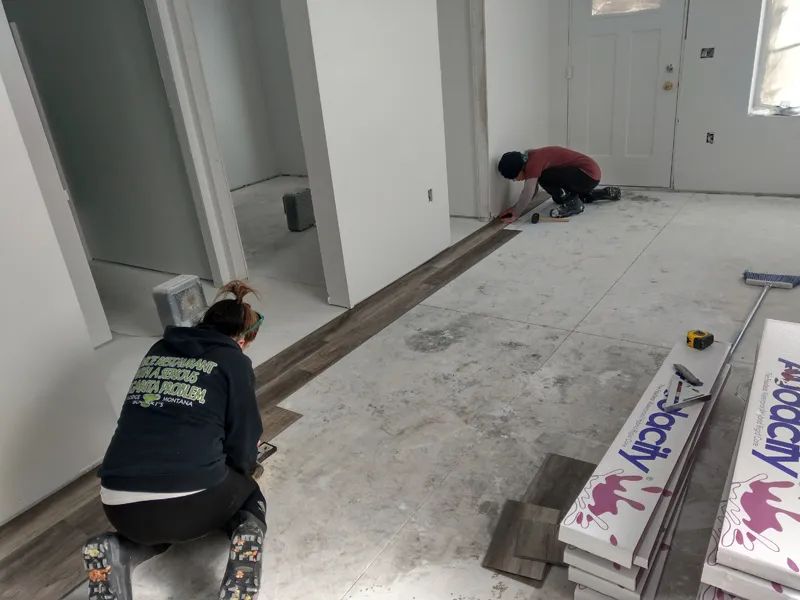 Along the wall are swatches of paint in an array of blues. She's settled on a midnight-blue accent wall in the living room. She's also chosen dark cabinets and coordinating countertops. The choices are overwhelming and liberating at the same time.
"In an apartment you're stuck with what you get," she says. "You don't have a choice."
Terry Sue is ready to leave her rental behind as well. She's moved more often than she likes to admit and has lived with her mother a few times when she couldn't afford rent. All she wants is stability for her three kids.
"Now I'll have a place where I know I can stay, and I can grow old here and my kids can grow up here and after they leave and move on, they'll have a place to come back to because I'll be here," Terry Sue says.
Kristen has lived in Red Lodge for 12 years. She has two sons who are 21 and 13. In all the years she's rented, she always dreamed of homeownership.
"It's been a lifelong goal of mine to make this kind of investment and have that safety and security," Kristen says.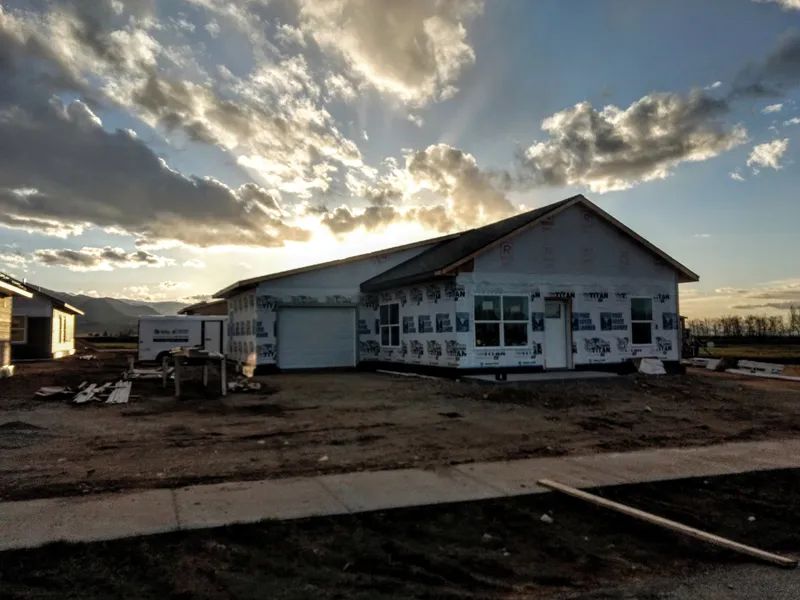 These women know all too well that finding a place to live in Red Lodge is a real challenge. Many residents say they have seen a shift as long-term rentals have been converted into vacation rentals. Home prices have drastically increased as well, encouraging landlords to sell and pricing out most of the workforce in Red Lodge. The median sale price for a home in Red Lodge is $391,000, compared to $244,000 just five years ago. In that time, the median household income has stayed flat.
"It's become increasingly difficult to find affordable housing everywhere, but here, it's a crisis," says Robin Adams, the workforce housing coordinator at the Red Lodge Area Community Foundation.
To help the situation, an eight-unit affordable housing complex is slated for construction adjacent to the owner-built housing project, and Robin is actively recruiting owner/builder applicants for additional Habitat for Humanity houses. She admits that the additional 14 units will barely make a dent in the housing shortage but is hopeful that, when combined with other initiatives, they are a big step in the right direction.
"It's a multifaceted, complex problem, and it's going to require a multifaceted, complex solution," she says.
Trust Montana, a statewide nonprofit, is supporting the project by holding the land where the homes are built in a trust. By placing the land in a trust, it ensures that the homes will remain affordable long into the future. And because the cost of land isn't calculated into the mortgage, its more affordable for the homeowners who pay a small monthly lease on the property. Financing for the projects is provided by Altana Federal Credit Union.
To qualify for the low interest mortgages, Kristen, Tanya and Terry Sue have had to take financial literacy classes, which teach them the basics of saving, lending and investing.
"It's shown me how to set myself up for my future," Terry Sue says.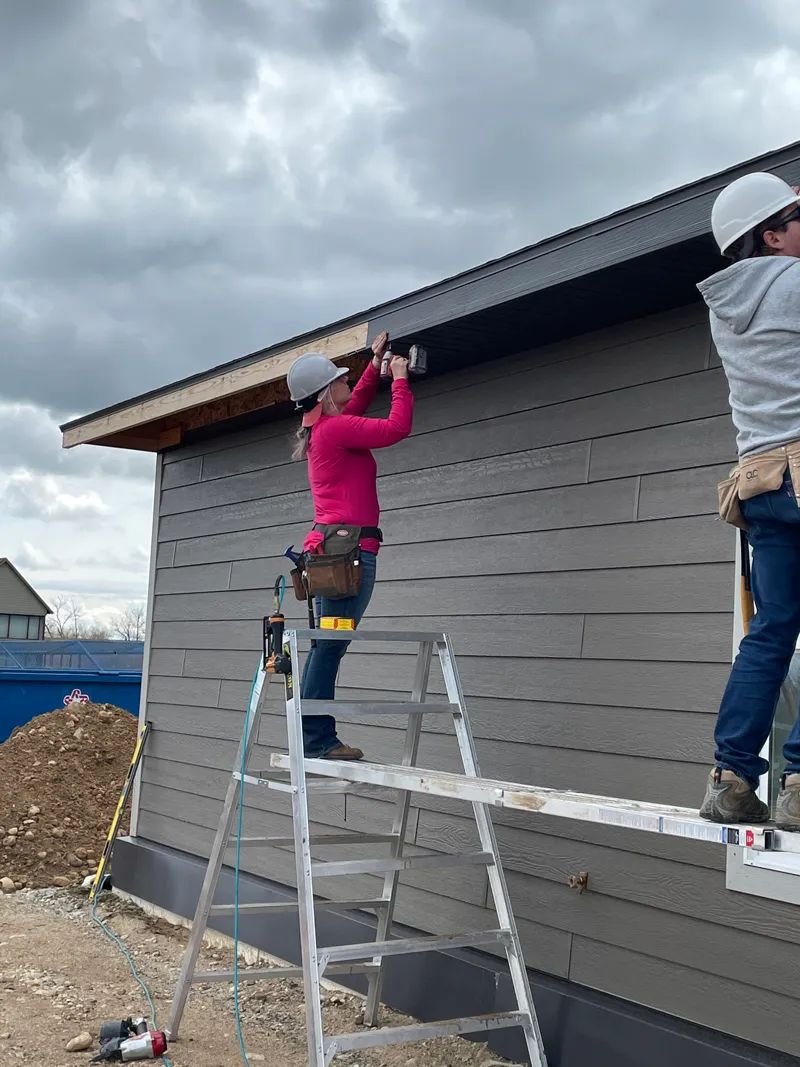 Throughout the process, the women have supported each other and helped with the construction of each other's homes. Though they didn't know one another before, they've become close friends.
"I can't imagine working with a greater group of women," Tanya says. "We've become our own little community out here."
"We each have our strengths and we each have our weaknesses and we play off each other in the most positive way," Kristen adds.
Kristen, Tanya and Terry Sue will be neighbors for at least the next 30 years, and that's just fine with them.
"To work side by side with them this year with all the joy and tears and the successes has been amazing," Kristen says. "We've proven to ourselves that we can do hard things."