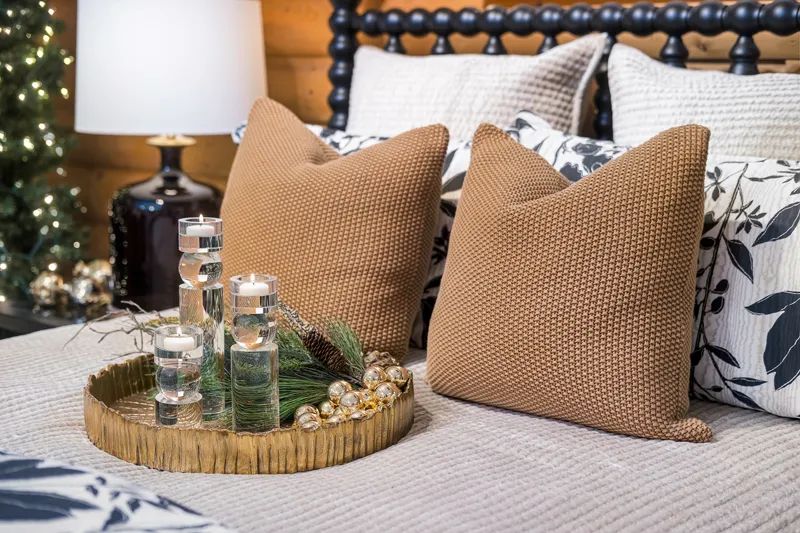 Warm & Welcoming
Beat the chill outside with these cozy looks for your entire home
When winter brings its chill, there's nothing quite like settling into your humble abode and making it more of a haven. To ramp up the cozy factor, we turn to plush fabrics with lots of texture, rich colors and accents that add visual warmth. Need a few ideas to create that warm and welcoming space? We tapped some of the city's best designers for their insight.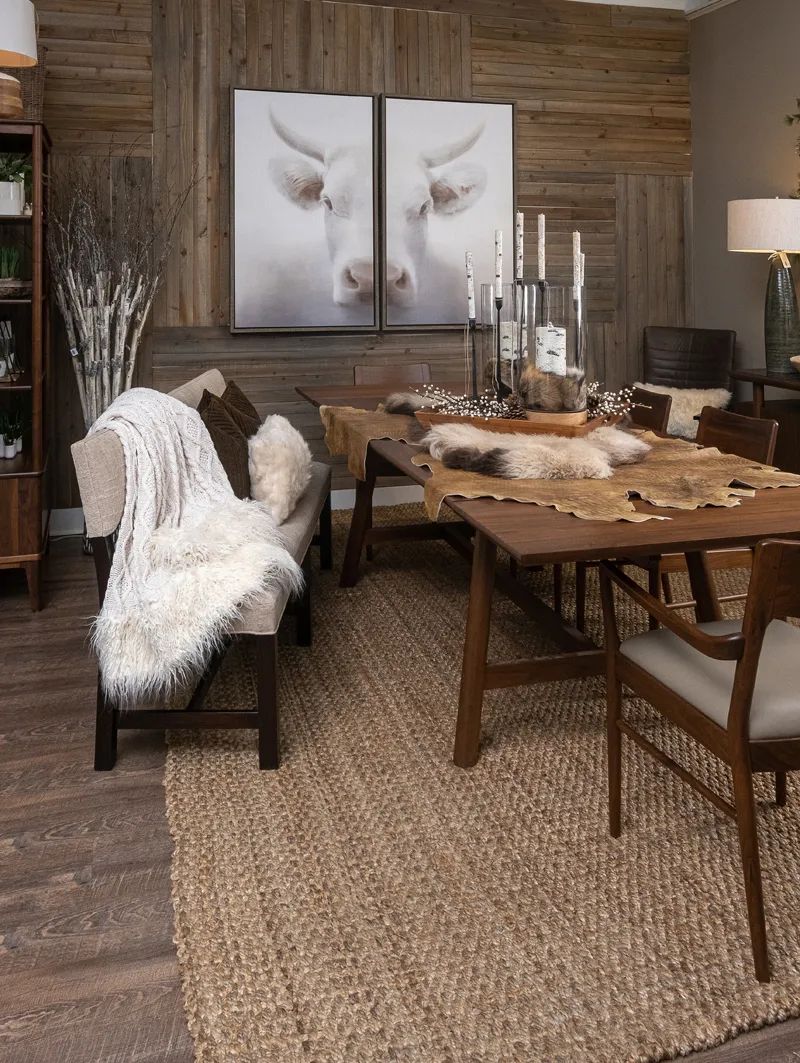 RELAXED DINING: DESIGNER, LAURA METTLER
Winter is the perfect time to cuddle inside, not only for you but when you play host with family and friends. This dining ensemble sets the stage for cozy with its warm tones and rich elements.
"We've got a lot of texture in this room," says designer Laura Mettler from Toad N Willow. "We have a cable knit throw with fur-lined ends on it. We have a real sheepskin pillow hanging over a bench with velvet pillows, which are so cozy and warm."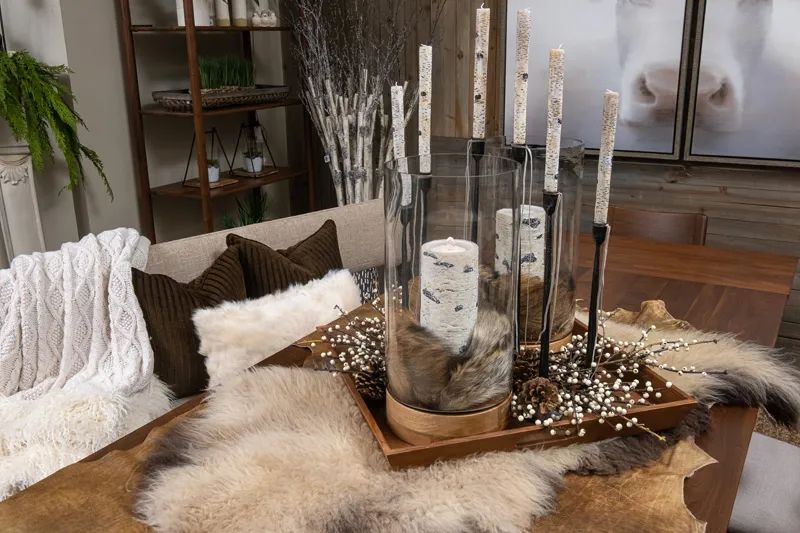 At the center of the dining space, you'll find a showstopper of a design element.
"On the table, we took a tanned hide and layered it with a sheep hide. It just sets this space apart," Mettler says. Candles that look like birch branches sit in the middle.
"In that jar, we've layered the candles with coyote tails and foxtails. There's a mixture of both wrapped around the candle." Mettler says you could also use pinecones, berries or even black beans in the jars to add a splash of visual interest.
"There are so many ways you can make this look a little different."
Around the table, Mettler pulled in comfortable bench seating to create a little staying power for your next gathering.
"If you are hosting a dinner party and you're sitting with a bunch of people, it's nice to be sitting in a comfortable seat," she says. "You want to make sure that it's comfortable because the more comfortable it is, the longer your guests will stay and visit."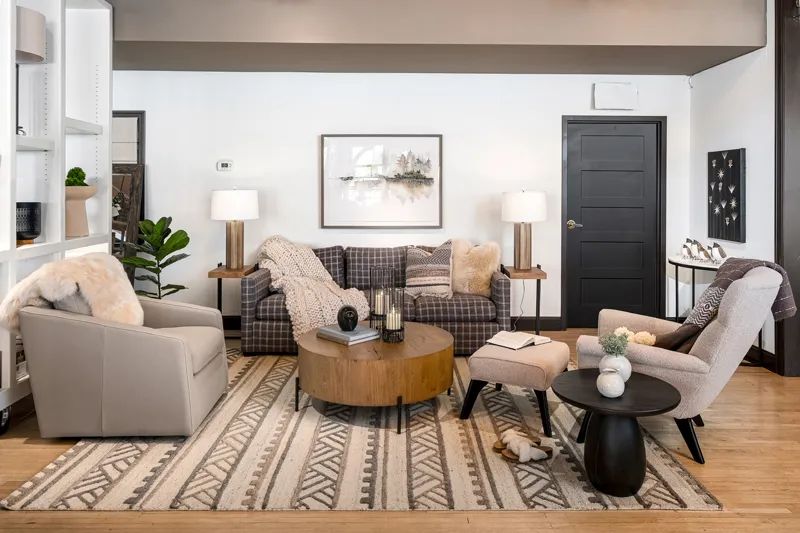 LAYERED COMFORT: Designer, Tiff Blades
Since the living room is, after all, where we do our living, we may as well make it the best place to get cozy.
Designer Tiff Blades of Davidson Home Furnishings and Design has just the right recipe, using unique fabrics that are both warm and inviting. This room is also heavy with a fur flair. Blades says sheepskin has an irresistibly soft texture that can easily be thrown over a chair, on a couch or even underfoot as a rug.
"It automatically gives this room that cozy feel," she says.
Since cold winter months are a prime opportunity to settle in with your favorite book, Blades created a reading nook that starts with a relaxed armchair and matching ottoman.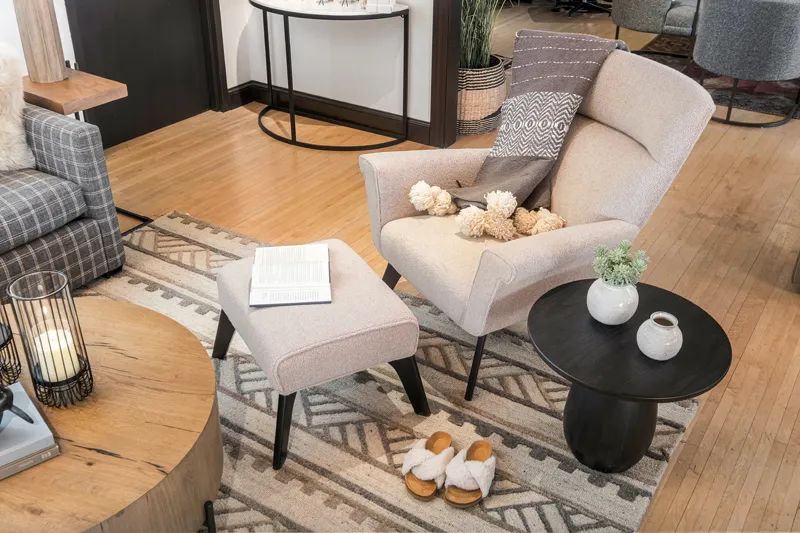 "The textured fabric on this chair makes it unusual and interesting," Blades says. Not only is the fabric super soft, the slanted back eases you into the perfect position. The sleek table next to this set creates just the right space for a hot glass of cider or tea.
When it comes to decorating, Blades advises choosing the unexpected to add some emotional warmth.
"In your artwork and personal things, you don't have to have family pictures everywhere but instead, have well-placed items that matter to you, things that tell a story," she says. "A lot of people have things from places where they've traveled. It's an instant conversation starter."
You'll also notice the rich mix of wood that serves as a neutral backdrop for all this texture. That, too, is by design.
"This is a really nice medium-toned wood," Blades says. "For the last few years, the natural wood look is something people feel comfortable with. It's not too formal. It's not rustic. It's a good in between."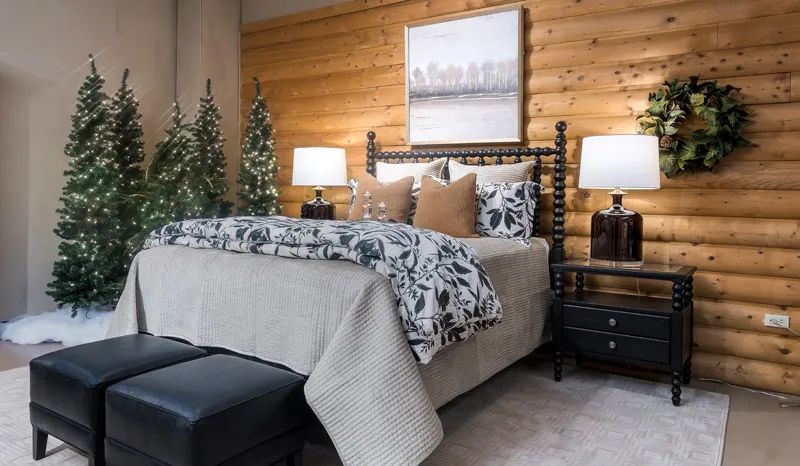 WOODSY WARMTH: Designers, Diana Krumm & Alexandra Hicks
After a long day, there's nothing quite like slipping into comfort to let the stress fade away. This master suite creates just the right retreat.
Designers Diana Krumm and Alexandra Hicks of Ethan Allen created woodsy warmth with a whole host of layers — layers of light, layers of bedding and layers in texture.
"It keeps the room feeling soothing and comfortable," Krumm says about all the different light sources in this space. There are bedside lamps for task lighting, overhead lighting, plus a mix of subtle mood lighting.
"We added the 'tree forest' with warm twinkly lights, which feels cozy and festive, as well as the tealight candleholders, which immediately add warmth and ambiance to the room," Krumm says. One simple thing you can do, Krumm points out, is replace any cool-temperature lightbulbs in your home with a warm-toned bulb. She says that alone can quickly change the feel of a room.
On this plush bed, you'll find a few extra layers to draw you in.
"There's really nothing like the feeling of natural materials to make a room cozy," says Hicks. You'll find that in the velvet quilt, in the down comforter that adds that extra layer of fullness and in the moss stitch pillows.
Even the wall behind the master bed creates visual warmth.
"By incorporating wood on the walls, we've given the room a cabin feel," Hicks says, "which adds a sense of warmth and brings out the wood grain in the duvet cover and shams."
The color scheme is what you might call the exclamation mark on this comfortable look.
"The warm neutral color palette also makes the room feel cozy … from the rich honey colors, golds, creams and sage green to the black as an accent color," Krum says. "These warm tones evoke a sense of warm and welcome."