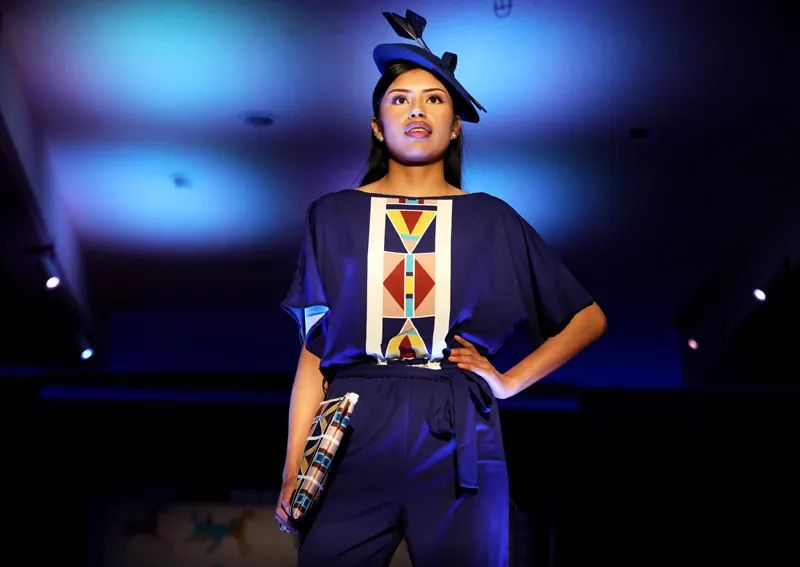 When Culture Meets Fashion
Indigenous designers put their native-inspired looks on the runway
Special thanks to Levi Black Eagle for his portrait photography
Colorful flashes of geometric prints, traditional beadwork in bold splashes of color and bass-thumping music set the stage to put Native-inspired fashion in the spotlight. The night in mid-April brought 11 Indigenous fashion designers together to unveil their latest looks. The room was packed with more than 500 tribal members from all over North America.
The well-choreographed production — Big Sky Indigenous Women in Fashion and Art Gala — was the brainchild of Cora Chandler, a member of the Fort Belknap Tribes and owner of the event company, Cora Kay Productions. It was first of what she hopes will be many events designed to create a platform for Montana's Indigenous artists.
"This is the first time in the history of Montana that we have had this many Indigenous women come together to showcase their items all in one place," Cora says. "We get tribalistic with each other with our different tribes, even within the state. It's unlikely to have this many artists come together and have that unity."
Before the fashion-inspired gala, Cora and Tonya Plummer with Montana Native Growth Fund capped off a day full of entrepreneurial education. The symposium for Native entrepreneurs offered education on everything from creating the right elevator pitch and understanding the legal lingo of operating a business to developing networking skills and finding opportunities for capital.
"We want to help these artists realize their worth," Cora says.
Some of the designers showcased are seasoned, others are just emerging. Della Big-Hair Stump of Designs by Della has been designing gowns to reflect her heritage since 2016. Carrie Moran McCleary not only creates fashionable clothing adorned with Indigenous art but has her own Native doll collection. Brocade Stops Black Eagle uses photos of her traditional geometric bead designs and digitally displays them onto her clothing line. And Angela Howe Parrish is one of the newcomers who is about to launch her designs in an online boutique.
If you ask these designers, they'll tell you the success of Bethany Yellowtail of B. Yellowtail Designs helped pave the way for their companies. A member of the Northern Cheyenne Tribe, Bethany left Montana behind to attend the Fashion Institute of Design and Merchandising in Los Angeles. While she started her career with the big-name fashion label BCBG Max Azria, she left in 2015 to launch her own line. Since then, she's opened the B. Yellowtail Collective, an initiative designed to create economic opportunities for other Indigenous entrepreneurs.
Meet the Designers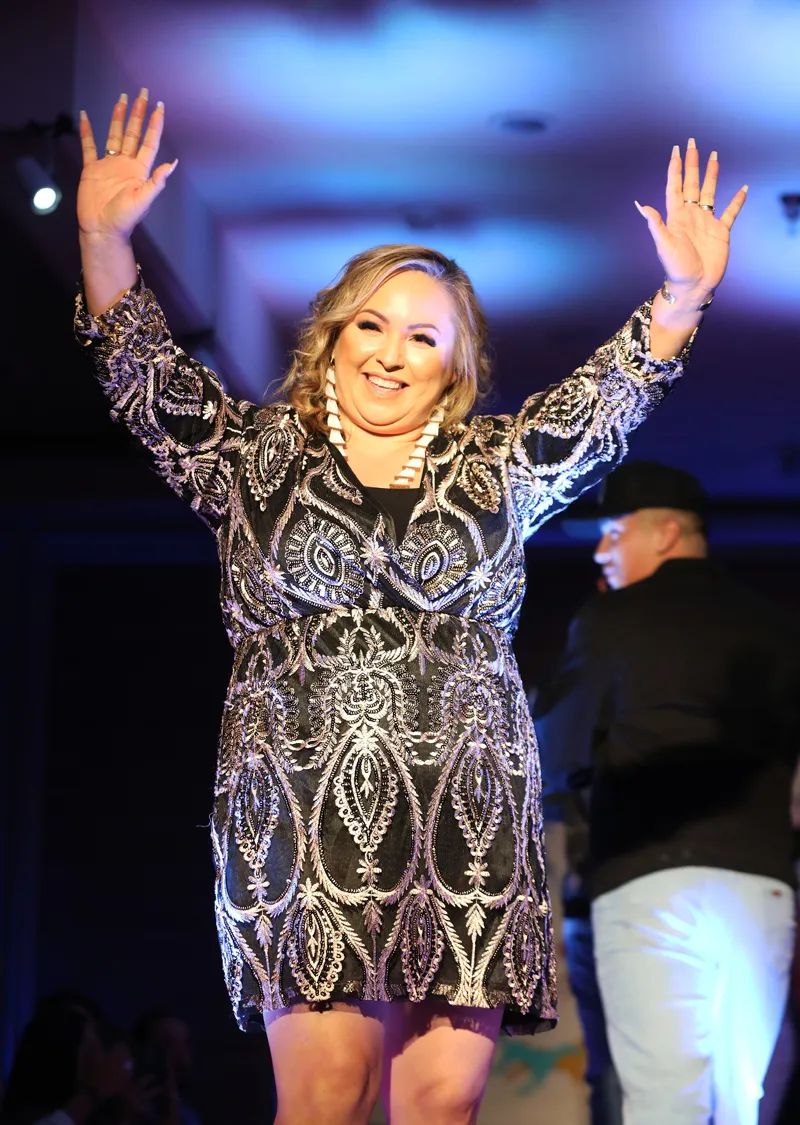 CHOKECHERRY CREEK DESIGNS, ANGELA HOWE PARRISH
Strands of tiny, colorful seed beads often surround fashion and jewelry designer Angela Howe-Parrish. Each one is picked and set into place with a stitch and a prayer, creating a beautiful tapestry of color and bringing to life a bit of her Apsaalooke heritage. Some designs highlight her tribe's traditional geometric prints. Others are whimsical floral patterns handed down through the generations.
"My great-grandmother from my Blackfeet side always beaded and had outfits and was dancing," Angela says smiling. "Even up until her 80s she was out on the powwow trail. That's where it came from — being inspired by all my relatives."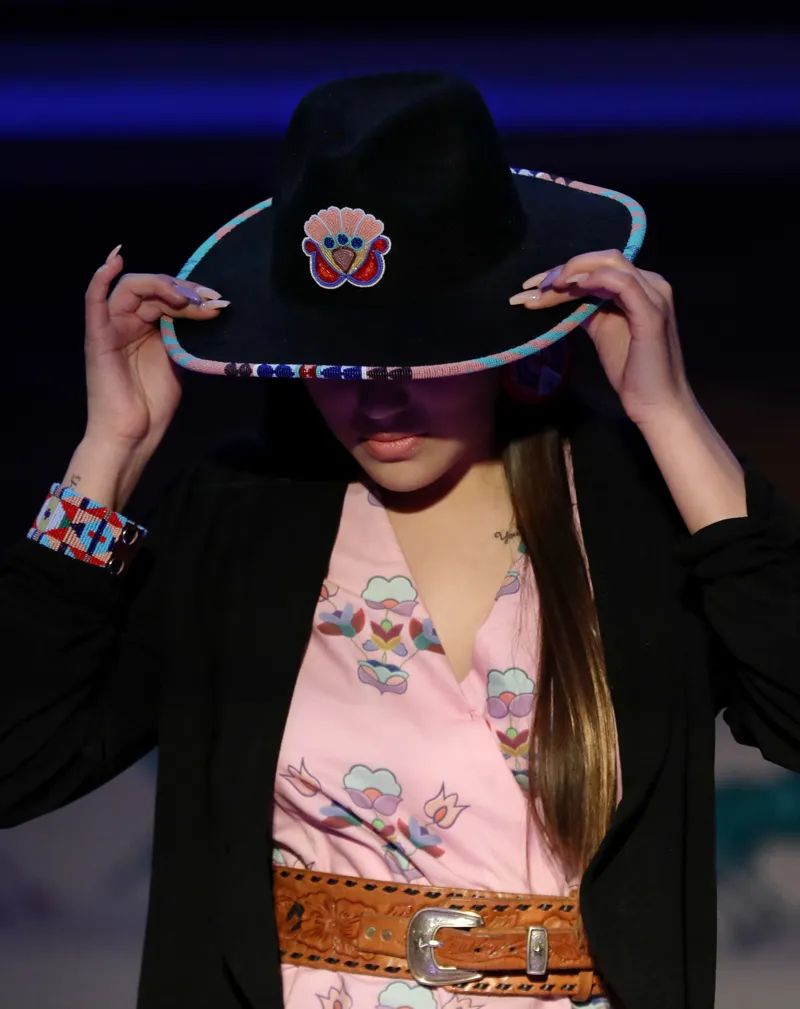 Her aunt, she says, was fortunate enough to work at the Custer Battlefield Trading Post in Crow Agency. Angela remembers going to visit and looking closely at all the work from Native American artisans every time she'd walk through the doors.
"You are surrounded by beadwork there," she says. "It's inspiring sitting in the middle of all of that. I told myself, 'You need to create things like this!'"
Her aunt taught her how to bead more than two decades ago. Even before that, her mom, a seamstress, gave her sewing lessons. Now Angela's bridging the two to launch Choke Cherry Creek Designs, a ready-to-wear fashion line.
"People will see our culture though not just the beadwork. This is exposure," Angela says. "It's showing the world, look at us. Look at what we can do. We still have our culture. It's beautiful. We are Indigenous. We are living today and we are here."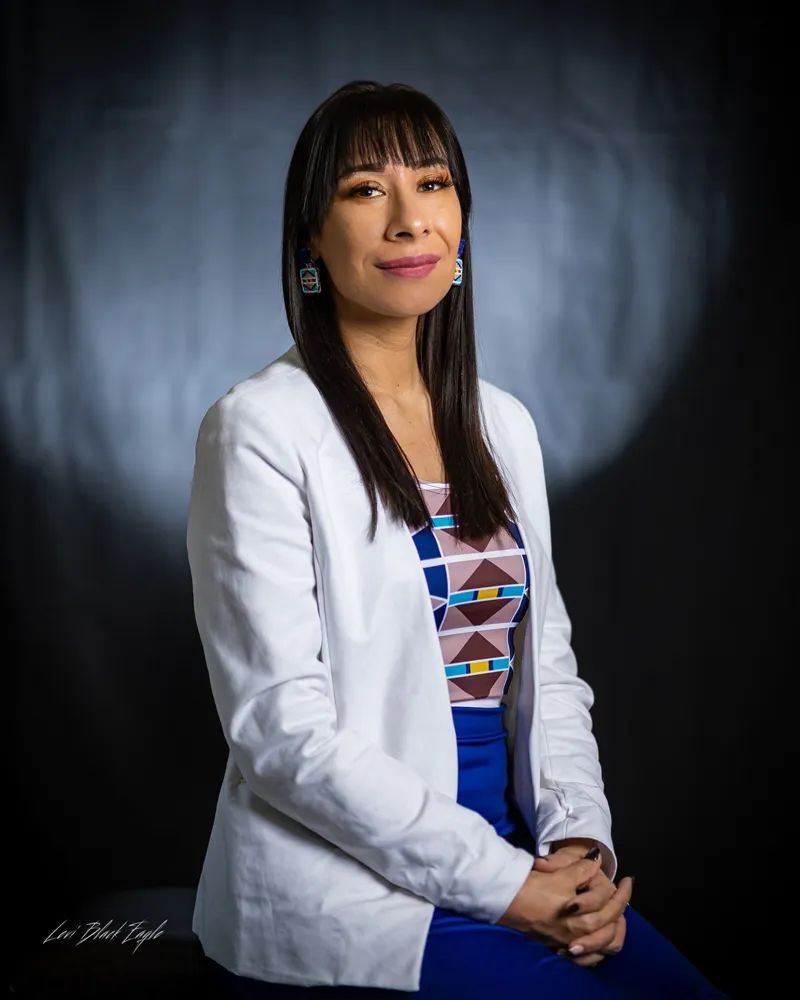 BROCADE DESIGNS, Brocade Stops Black Eagle
For Brocade Stops Black Eagle, beading delivers healing. When she lost her mother to cancer a few years ago, it was devastating. "The only thing that got me out of it was beading," she says. "I got to sit there, pray and think about her. For me, beading has healing powers."
She remembers the women in her family beading in her early years but, like many other families on the Crow reservation, "We were in the mode of just trying to survive so the beadwork we had, we had to sell," Brocade says. "I think what has changed for us is that we're able to make beadwork and keep it for our families."
While she keeps the larger pieces, Brocade does craft smaller pieces like belts and jewelry as a part of her business, Brocade Designs. Her husband, Levi, photographs some of her larger designs and that's what she's used as the backdrop for the fabric in her ready-to-wear fashion line.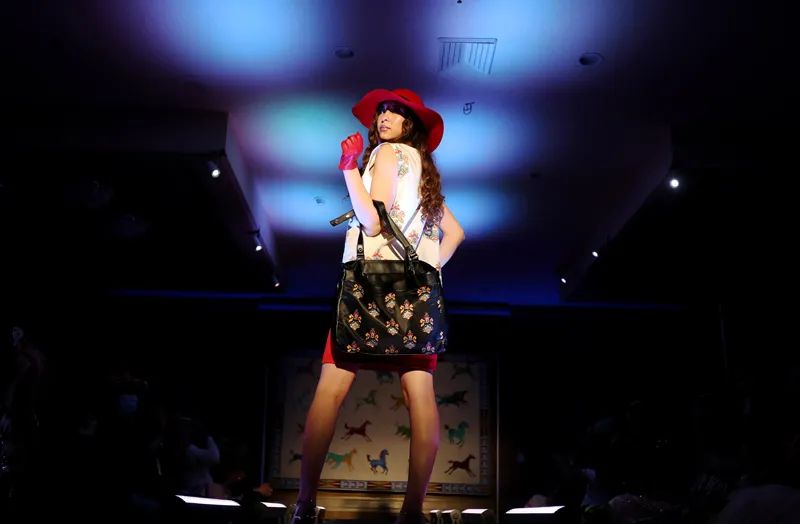 Some of her work found its way onto the B. Yellowtail Collective. While she's been in business only five months, that connection has elevated her business, especially when B. Yellowtail Designs shares some of her work with the company's nearly 200,000 followers on Instagram.
"She reaches further than I ever could on my own," Brocade says. "Women, we elevate each other," she says, knowing that it's a gift that keeps on giving. "If there is a happy woman, there is a happy family."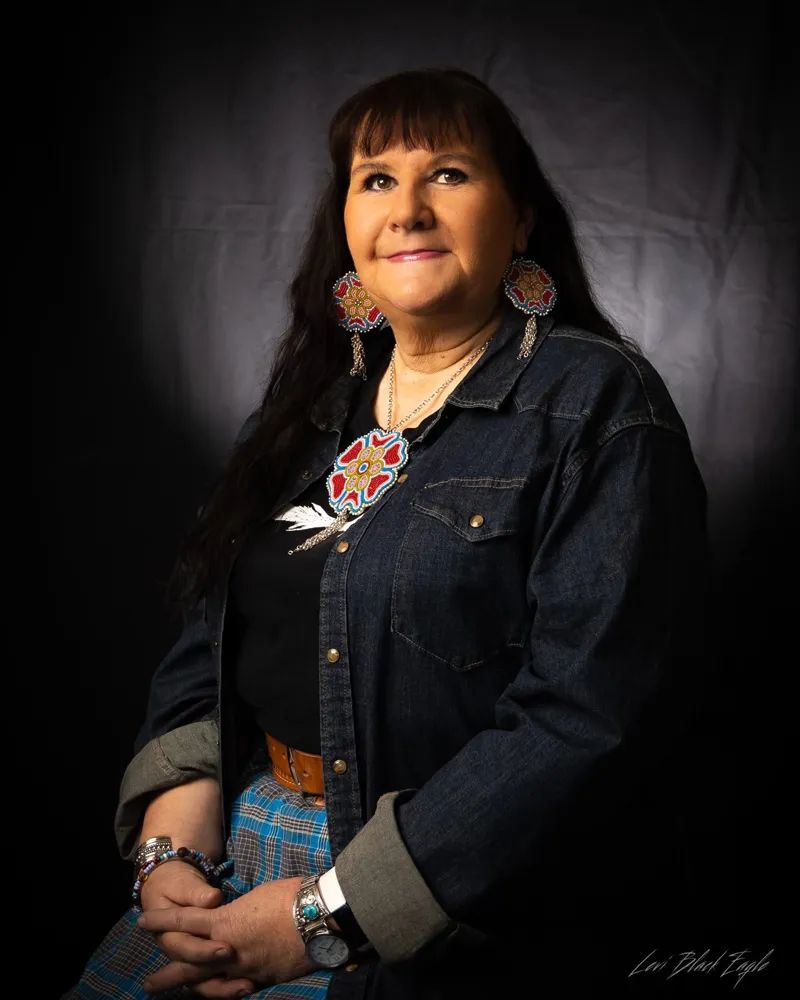 PLAIN SOUL, CARRIE MORAN MCCLEARY
When Carrie Moran McCleary was a little girl, she wanted two things in life. She wanted a farm and she wanted to be a fashion designer. Today, after raising her kids, she has both.
"It seems like those things don't coincide, but lucky enough for me, it's panned out," Carrie says.
Five years ago, she was commissioned to create a line of Native-inspired dolls by a woman in Santa Fe, New Mexico. Carrie says instead of re-creating the 1880s primitive-style doll, she gave the dolls sparkly shirts and a contemporary flair. Each doll was one of a kind.
"They are called the Fierce One Doll Collection," Carrie says. "They represent successful, modern, Indigenous people. Each doll has a name and they are named after women I know and admire."
In time, the B. Yellowtail Collective picked up the line and while Carrie says they were slow to take off, "Now, I try to send her 12 dolls every other month. She sells them out generally within two or three hours."
Carrie's business, Plain Soul, marries traditional designs and contemporary style.
"Most of my beadwork will use silver chains," Carrie says. "It's not buckskin and I always have fringe because if loving fringe is wrong, I don't want to be right."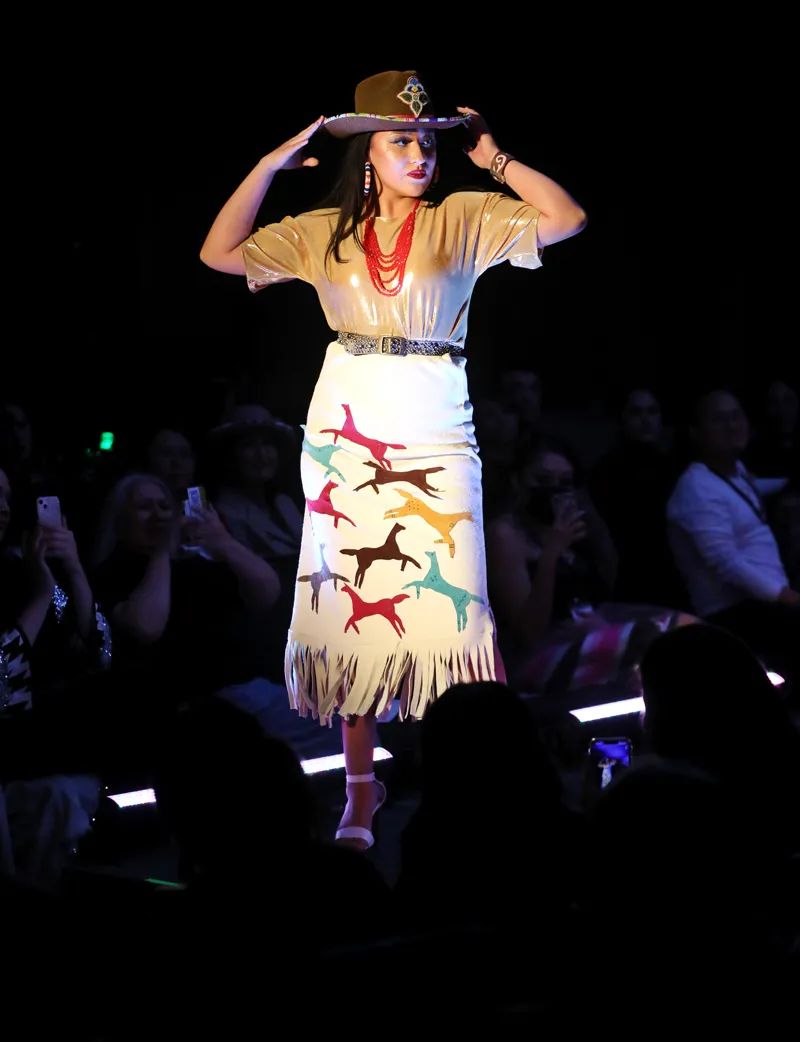 Carrie hosts online beading nights via Zoom to help show other women that beading can be a lucrative business or side hustle. She's happy to pass on what she's learned knowing other women mentored her along the way.
"You have a lot of opportunities as an entrepreneur to make a better place for your family and then there is no ceiling. You can go as far as you want," she says. She feels a duty to the younger generation as well. "Our job is to propel our youth into success and into a position to make change across their communities and the rest of Indian Country," Carrie says. "I need to remember that all the time."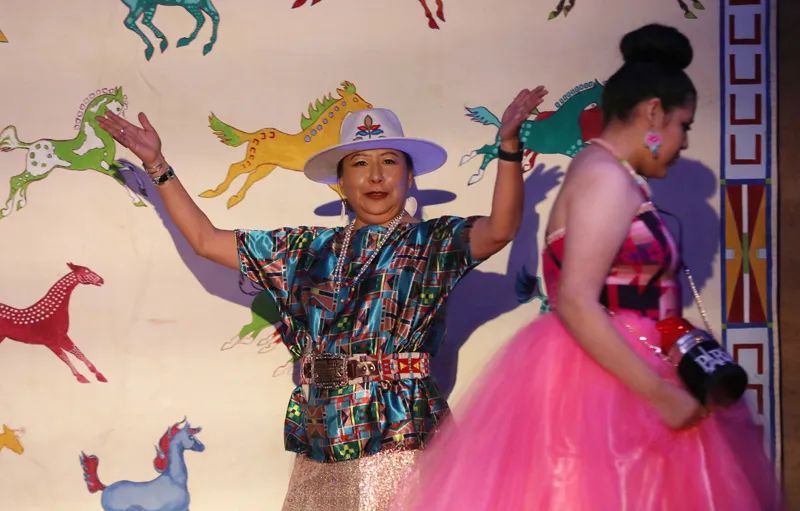 DESIGNS BY DELLA, Della Big Hair Stump
Della Big Hair Stump doesn't remember a time in her life when she wasn't surrounded by artistic expression.
"Growing up, I saw my grandparents sit around, my grandmother would be beading, someone would be sewing, someone would be drawing. My grandpa would be doing feather work," she says. "Our family is really strong in our culture. I was raised that way."
When her daughters started going to high school dances, Della noticed there wasn't much on the market for a young Indigenous woman to express her heritage.
"How come there is only Southwest? We are not Southwest. We are Plains Indians, and our diamonds are elk ivory," Della remembers telling herself. She started crafting her own line of prom dresses.
"I wanted to represent who I am and where I come from," Della says. "I started posting photos of my dresses. Teen Vogue got a hold of it and they did a feature. From there, it caught on like wildfire." That was in 2018.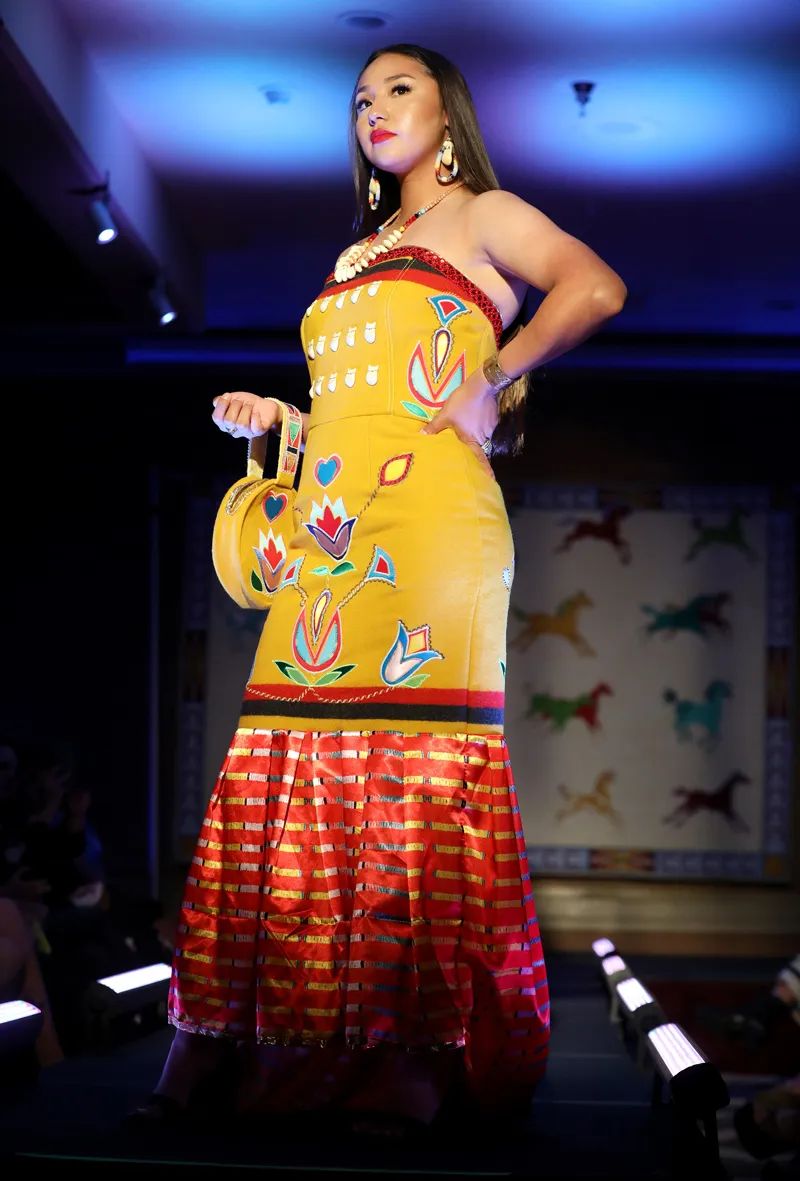 Since then, she's been to Paris Fashion Week, sharing one of her lines at a show in the Eiffel Tower and hitting Native American markets and shows all over the country.
"It doesn't happen overnight," she says. Her ideas are never sketched out, she just starts cutting and sewing. Each dress is one of a kind. Today, her email is packed with requests for dresses and she's branched out to design Native-inspired wedding apparel.
"It's pretty cool because your name is out there and people are interested in your work," Della says. "I saw three girls wearing my dresses at one event," she says. "I was in awe. It just hit me: I really am doing something here."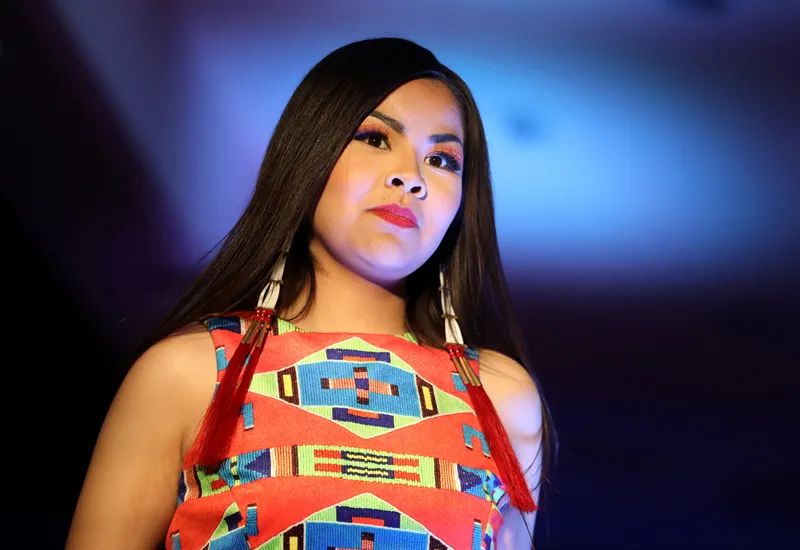 FASHION FOR ALL
While their looks are a nod to their heritage, all will agree, it's not only for their Native sisters and brothers.
"I get the question, aren't you selling out your culture?" Della says. "I say no, I am sharing my culture. My grandparents showed me how to do this and we are still here."
"I want non-Native people to buy our work and feel like they are an ally within our community," Carrie says. "Now you are a member of our community. You are representing us and doing it in a good way."